Moving to Richmond VA | 2022 Cost of Living and Relocation Tips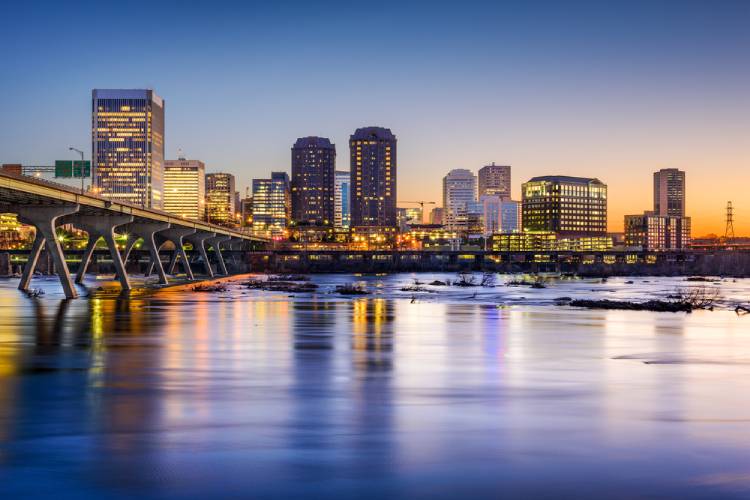 Would you like to relocate to one of the oldest cities in America and also be next door neighbors with the nation's capital? Then Richmond is a good candidate.
Richmond in its essence is a river city that has a low cost of living but enjoys similar amenities to well established cities. If you're considering moving here, it's normal to feel curious about what's going to be different in Richmond. That's why we've covered all the information that you'd need to get familiar with if moving to Richmond.
Weather In Richmond
Something that you've to start getting comfortable with once you move to Richmond is the rainfall. This mainly because of the city's close proximity to the James River that causes severe flooding mostly in the month of March or early fall time. On an average the city experiences precipitation for roughly 112 days of the year.
Otherwise typically, the climatic conditions fall in the category of humid and subtropical-ish. The city is situated in the mid-Atlantic region so it's always moderate, never too hot or too cold. You can expect winters to be mild and summers that aren't the type where you could hypothetically fry an egg on a car's hood. All we're saying is that yes, you'd have a balanced kind of weather.
About Richmond Winters – You won't have to worry about preparing for a heavy snowfall during the winters. On an average it could be 37.9°F (3.3°C) from early December to early February. Temperatures go below the freezing mark occasionally, but it's not a permanent situation. By this we mean that the freezing temperatures won't last for days on end but it's always changing.
About Richmond Summers -You'd most probably experience the humidity we spoke about in the month of July and August. The lower average could be somewhere around 79.3°F (26.3°C), and the high temperatures reach or sometimes even exceed 90°F (32°C). Thanks to global warming, Richmond also gets to see days when temperatures are at 100°F for days in a row. Overall for summer temperatures, you can expect high humidity and things to be somewhere between 79.3°F (26.3°C) to 90°F (32°C).
October gets tagged as the most beautiful and enjoyable time of the year. It's not too humid and the winter temperatures haven't settled in so it's the best time to visit beaches, the Blue Ridge Parkway, the Shenandoah National Park and more. Temperatures should roughly be in the range of 48°F (8.8°C) to 82°F (27.7°C).
All in all the weather conditions in Richmond are actually the city's forte, it's not the insanely extreme type but more of the neutral type.
Few things to bear in mind –
Your first August to September will be humid. It's going to be muggy so give yourself time to get accustomed to it.
Carry an umbrella or light rain jacket with you in the summer. There could be a decent number of unexpected rainy days and you never know when you might need it.
Transportation
Public transportation options in Richmond aren't equally distributed. In some areas like the downtown portion, you could possibly get around without owning a car but in other parts of the city the same can't be said. This proves that the public transit coverage is not below average but isn't above too.
For instance, counties like Henrico and Chesterfield can take advantage of the Greater Richmond Transit Company (GRTC). This is a bus line serving the suburban areas in Downtown Richmond. The bus rapid transit systems in the city are actually the lifelines for residents pursuing to commute without a car. But buses always have limitations, it's possible that the bus stop is too far away and the frequency isn't great, so it can be a pain to use this mode.
Other than depending on the bus systems, the city is extremely bike-friendly. On the platform WalkScore, the city of Richmond earned a score of 81 out of 100 suggesting that it is a convenient city for cyclists. In terms of being walkable, the city received an even higher score of 86 on 100 proving that you could probably get to your destination on foot.
Train Stations In Richmond
The city of Richmond has 2 Amtrak railway stations within the city itself namely –
Main Street Station – You can easily get here from the Greater Richmond area. Residents take the Northeast regional train line from here. So this means you can get to DC, New York, Hartford, Providence/Springfield, and Boston from here. If you take the train that runs from east to west, you can visit Norfolk/Newport News and Virginia Beach.
Staples Mill Road Station – You can have access to 4 Amtrak train lines from this station. They are the Silver Star, Silver Meteor, Palmetto, and Northeast Regional.
Airport In Richmond
Residents in Richmond have easy access to the Richmond International Airport so if you're someone who has to travel a lot, this is a great perk to have. Do note the airport is just 20 minutes away from the city center.
Job Market In Richmond
Many of the most established firms in the state of Virginia all rush to set their headquarters in the city of Richmond. It's almost like the city acts as a magnet for firms and businesses to take abode here.
One of the most obvious reasons for this is its prime location. It sits right next to the Baltimore-Washington area and because of this there's an overflow of enterprises moving into Richmond. It's almost like a what's mine is yours and what is yours is mine type of situation, and this is a huge advantage for residents of the city. This is why it should also come as no surprise that there's 6 Fortune 500 companies concentrated in the city namely –
Altria
Genworth Financial
CarMax
Owens & Minor
Dominion Energy
Performance Food Group
When it comes to which job fields that have a strong presence it typically gets linked to jobs related to banks, law firms, and advertising agencies. There's also plenty of government jobs because of being next door neighbors with Washington, D.C.
We've just scratched the surface for the sectors that are the top performing ones so you have an understanding of the strength of the job market in Richmond.
Just a tip that Henrico and Chesterfield counties have some of the most high-paying jobs in the city. This also means salary wise you'd probably see a hike depending on where you're moving from.
Renting
The median average rent in Richmond stands at $1,025 and this is not as expensive as the state average which is $1,234. This means you should be able to find some decent homes for a humble cost for rent in Virginia.
Some of the neighborhoods where the rent price gets outrageously expensive are Westbourne and Still Meadow. Also, it goes without saying but the further you move away from the city center the lower costs would get. Some of the more affordable parts of the city are Austin Park, Austin Heights, and Brooklyn Park.
Cost Of Living In Richmond
When you start to structure how much money it takes to build a comfortable lifestyle in Richmond, you'll probably start with the basics like housing costs! So let's look at how much it takes to get a roof over your head.
Housing Costs
The median value at which homes are sold in Richmond stands at $230,500, this is way lower than the national average of $295,300.
To help you get a perspective on price, this means you'd be roughly paying $214,400 for a home in Richmond that actually sells for $258,400 in the state of Virginia.
The good news is that houses in Richmond aren't drastically expensive depending on the area you pick to live in. Windsor Farms, areas near the University of Richmond, City Center, and Grove Avenue are some of the expensive neighborhoods. In these areas, housing prices would be on the higher average which is $267,878.
Median Household Income
According to Niche, the median household income in Richmond is $47,250. This is way below the national average that is at $62,843. But on the plus side, families can live comfortably with a 50K salary so the median household income is in sync with the cost of living. But if you'd like to live more than comfortably, 80K to 100K a year is a good household income for 2 adults.
Cost Of Utilities
For a single adult on an average the figure could round upto $140 to $160 a month. This is for power, water bill, sewage and garbage. This is once again well below the national average. For basic cable and internet the figure could roughly be $90 to $100. Upon taking into consideration entertainment, groceries, gas for your car the total monthly expenses can round up to $1,940 a month.
See also: Top Cities with the Lowest Cost of Living
Top Schools And Universities In Richmond, VA
Top 5 Best Rated Universities
University of Richmond
Virginia Commonwealth University
Randolph-Macon College
Virginia Union University
Richard Bland College of William & Mary
Top 5 Best Rated Schools
Short Pump Elementary School (Henrico County)
Tuckahoe Elementary School (Henrico County)
Pemberton Elementary (Henrico County)
Gayton Elementary (Henrico County)
Nuckols Farm Elementary (Henrico County)
Best Neighborhoods In And Around Richmond, VA
Glen Allen
Glen Allen is an active neighborhood located in close proximity to Downtown Richmond. It's filled with several lakes and parks so there's no shortage of recreational spots. It's also pretty diverse so you'd be able to meet and bond with people from different cultures. There's also a train station within the area so you can commute easily to DC if needed.
Median Value Of Homes – $241,500
Median Rent – $1,336
Short Pump
Short Pump is a suburb of Richmond that's situated in Henrico County. This county is a favorite for families because it is considered to have the best school district. It's an upscale area so the real estate is on the expensive side. Be assured that the returns are worth the price paid. It's easy to fall in love with the community here that can make you feel at home. All in all Short Pump adequately fits the image of a family friendly and peaceful neighborhood.
Median Value Of Homes – $413,900
Median Rent – $1,434
Woodlake
The neighborhood of Woodlake is situated in the heart of the much-loved Chesterfield County. The suburb sits right next to a lake and if you've always dreamed of having a lake-facing home then this could be a reality here. This neighborhood is cut off from all the noise of the city, it's almost like Woodlake residents get to breathe a lot more pollution-free air than the rest. The only downside is that it lies 30 minutes away from Richmond, so getting to the city center daily can become a chore.
Median Value Of Homes – $284,200
Median Rent – $1,410
Oregon Hill
Now if you want to reside closer to where all the city action and activities are then Oregon Hill is a good pick. It's not too crowded but is a neat little place to reside in for young professionals. You can easily plug into the city center that's minutes away from this neighborhood. It's small but you'd be able to find your supermarket and stores within walking distance. You can bike to get to various points of interest from here.
Median Value Of Homes – $257,500
Median Rent – $1,551
Bon Air
Bon Air is another suburb that is pretty close to all the main areas of the Richmond metropolitan area. This neighborhood gets brownie points for accessibility because it's close to business districts and enjoys a lakefront view. If you choose to live here you'd have good access to parks and other recreational spots. It's also not as expensive as the other suburbs on this list.
Median Value Of Homes – $241,000
Median Rent – $1,381
FAQs
How much money do you need to live comfortably in Richmond VA?
A median household income of 50K-80K for 2 adults is a good amount to live a comfortable lifestyle in Richmond. But it's going to be expensive if you choose to live in Henrico and Chesterfield county.
Is Richmond a nice place to live?
Richmond is an interesting place to live and is situated at a prime location. The city is lively, friendly, and rich in history since it is one of the oldest cities in America. The cost of living is surprisingly low and this draws more people to it.
Is it safe to live in Richmond VA?
Crime is an issue that you must consider before moving to Richmond. The city has a high property crime rate compared to most other cities in the country. As per the data shared by NeighborhoodScout, it has a violent crime rate of 4.73 per 1,000 people, which is slightly higher than the national median of 4. But the city has a property crime rate of 38.30 per 1,000 people, which is way higher than the national median of 21. So if you're moving here, you should consider safe places like Windsor Farms, Bon Air, etc.
Where should I move in Richmond VA?
If you want to enjoy all the city activities and live near the business districts of the city, you should consider moving to Oregon Hill or Bon Air. But if you want to live in a friendly neighborhood, Glen Allen, Short Pump, and Woodlake can be your best options.
Is Richmond VA expensive to live?
Richmond is not that expensive to live in. As per the research conducted by BestPlaces, compared to the overall COL (Cost Of Living Index) of 100 in the US, Richmond has a COL of 95.1 which is less than the national average. Do keep in mind that it can get expensive for you if you choose to reside in the expensive areas of Henrico or Chesterfield.
Is living in Virginia expensive?
The COL (Cost Of Living Index) in Virginia is almost 103.7 which is slightly higher than the US average of 100 according to the research conducted by BestPlaces. Since Virginia's COL is higher than that of the national average, it's expensive to live in. But you can choose to live in cities like Covington or Roanoke, which have a low cost of living.
Where is the ghetto in Virginia?
Some of the ghetto areas in Virginia with high crime rates are Petersburg, Danville, Portsmouth, Bristol, Norfolk, and Richmond.
What should I know before moving to Virginia?
Virginia has the most amazing beaches where you can relish the state's all-time favorite seafood like crabs and oysters. In terms of education, you'll find some of the best educational institutions in the nation. You'll also get to explore various historical sites as the city has played a major role in various political events. If you live here, you'll get to greet several military families as the state has almost 27 military bases. But keep in mind that you'll have to deal with traffic problems and bear the high cost of living if you're planning to move here.
What are the bad areas of Richmond?
There are certain areas in Richmond that have a really high crime rate which can be considered as bad to live in. Some of the bad areas in Richmond with high crime rates are Hillside Court, Creighton, Jeff Davis, Oakwood, and Fairfield.
Can I live in Richmond VA without a car?
No, you don't really need a car in Richmond as the city has a very good metro area. You can easily get around in the city by using the transportation services by GRTA (Greater Richmond Transit Authority). But if at all you work in the Downtown area and want to travel comfortably, then you might want to buy a car.
Why are people moving to Richmond Virginia?
Many people are moving to Richmond because of the city's vibrant culture and amazing seafood. The Virginia Commonwealth University that's located here has attracted many young students with educational prospects. Also, the city's several wineries, cideries, and restaurants have lured many people to move here.
What is the nicest part of Richmond?
Glen Allen is one of the nicest parts of Richmond as it's known to be family-friendly where you can explore several lakes, parks, and enjoy recreational activities. One of the perks of living here is that commuting is much easier in this area.
What percentage of Richmond VA is black?
According to the analysis of World Population Review, 48.6% of the residents in Richmond are black or African-American.
---
Our Take On Richmond, VA
Some of the advantages of moving to Richmond is that the cost of living is low for having access to Washington D.C. The city also keeps expanding at a rapid pace but luckily for residents, the prices don't seem to be acting up and rising too. You also always have the James River within city limits so that opens up several recreational opportunities. Overall it's a pretty great city and if you plan to move here and need some advice on picking the right mover, we'd be happy to help with that part too.
See also: Best Moving Companies in Richmond