5 Best Military POV Car Shipping Companies


VanLines Inc
Secure Storage
Easy Booking Process
Fully Trained Employees
GET A QUOTE

Colonial Van Lines
Storage Services
Long-Distance Moves
Corporate Relocations
GET A QUOTE

Moving APT
Available Nationwide
Award-Winning Movers
Extensive Vetting Process
GET A QUOTE
Have you received an order for a Permanent Change of Station (PCS)? Or are you being reassigned to a new base across the country? In either case, you're probably trying to juggle all tasks and costs that are associated with moving, right? While quite a few of your other moving-related tasks could be taken care of by a professional moving company, moving your POV, or privately owned vehicle in military terms, is an additional cost that you'll have to figure out.
You might want to drive your vehicle if moving within the continental US, but at times your order might come at such short notice that it might get rather difficult to get your schedule on track. Fortunately, there are a few auto transport companies that have the relevant experience needed for military POV car shipping. We've chosen the best of the lot to help you efficiently plan your military car shipping.
5 Top-Rated Military POV Car Shipping Companies
1. Sherpa Auto Transport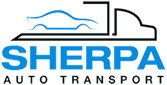 The company that takes the first spot on our list has to be the one offering some of the best military discounts. Yes, it's Sherpa Auto Transport that we are talking about. If you're an active duty member of the military, you can easily avail a discount of up to $100 when shipping your car with Sherpa Auto Transport. That's definitely amongst the best bets offered by car shipping companies in the US. And the Price Lock Promise offered by Sherpa is just the sweet cherry on the top you've been looking for.
Through this price lock guarantee, Sherpa Auto Transport promises to give you a binding estimate with no unwanted or hidden fees to surprise you at the end. This keeps you in the loop about the final costs and helps you plan a budget that suits your pockets as well. Are you looking for some more benefits? Then Sherpa's Clean Car Guarantee is just going to hit the right spot for you.
Your car is likely to get dirty when shipped in an open carrier transport and instead of just leaving it the way it is, Sherpa Auto Transport takes the effort of going that extra mile to deliver your car clean. How this guarantee works is that you initially pay $20 for a car wash but you can be reimbursed for it as well. All you need to do is submit the receipt with the bill of lading within 30 days after you've received your car at the new location.
What most people love about Sherpa Auto Transport is the top-notch customer service they deliver to their clients. They have seen the worst in the industry and are determined to provide the best to their customers by bringing a positive transformation in the car shipping industry. Not just for military personnel, but Sherpa Auto Transport has a variety of services for college students, seasonal travelers, snowbirds, individuals, and corporates as well. They have both open and enclosed transport services to suit all your car shipping needs. These meticulous services along with their customer-centric approach make Sherpa Auto Transport one of the best car shipping companies in the US.
Sherpa Auto Transport Contact Details
Email ID – sales@sherpaautotransport.com
Contact Number – 877-850-1231
Address – 5605 Carnegie Boulevard Suite 250, Charlotte, NC 28209
Operational Hours – Monday to Thursday (8 am to 9 pm), Friday (8 am to 8 pm), Saturday (9 am to 7 pm), Sunday (10 am to 8 pm)
Website – sherpaautotransport.com
Sherpa Auto Transport Reviews
Google Reviews – 4.7/5
Yelp – 4/5
Consumer Affairs – 4.9/5
2. SGT Auto Transport

Dependability, honesty, efficiency, and commitment are the core beliefs of SGT Auto Transport company. Serving their customers since 2014, SGT Auto Transport has made a place for itself in the auto transport industry. The company recognizes the special needs of military moves and offers customized car shipping solutions to suit all your needs. Open, enclosed, door-to-door, and express auto transport are some of the services commonly provided by the company. Whether it is interstate car shipping or international car shipping, you can trust SGT Auto Transport to get your vehicle transported efficiently from one location to another.
Along with personalized solutions and round-the-clock customer support, you can also get hold of some special military discounts offered by SGT Auto Transport. These discounts are applicable to both active and retired members of the military. We suggest that you get in touch with their representative to know the exact details of the discounts and any other offers that you could make use of. Another noteworthy aspect about SGT Auto Transport is that it includes full insurance coverage in their military car shipping rates. So, you don't have to worry about paying extra to get that additional safety assurance for your vehicle.
One of the other qualities that make SGT Auto Transport stand out from the rest is that it has a very informative website. Not only can you easily get your quotes from their website, but they also have some informative military blogs to guide you all along the moving process. SGT Auto Transport can help you ship all types of cars including classic and luxury cars. Catering to the vehicle shipping needs of various individuals and providing 24/7 customer support, clubbed with their professional expertise and experience, are reasons enough for SGT Auto Transport to grab a spot on our list of the best military POV car shipping companies.
SGT Auto Transport Contact Details
Email ID – info@sgtautotransport.com
Contact Number – 864-546-5038
Address – 220 N Main St Suite 500, Greenville, SC 29601
Operational Hours – Monday to Friday (8 am to 10 pm), Saturday & Sunday (8 am to 5 pm)
Website – sgtautotransport.com
SGT Auto Transport Reviews
Google Reviews – 4.7/5
Yelp – 3/5
Transport Reviews – 4.3/5
3. Montway Auto Transport

With nationwide availability and 14+ years of experience in the industry, Montway Auto Transport is yet another popular name in the car shipping industry. Not just in the US but Montway Auto Transport has even expanded its services to some places abroad. Whether you're moving from state to state or need to cross the bridge and go overseas, Montway has the expertise you need to safely transport your vehicle. In business since 2006, Montway Auto Transport is known to have transported over 747k+ vehicles to date.
The reason why Montway Auto Transport has earned a spot on our list of the best military POV car shipping companies is because of the attractive military discount that it offers. They have vehicle shipping discounts for active duty, veterans, Reserves, National Guard, and military dependents as well. You can reach out to a Montway representative to get details about the discounts, but to give you a glimpse, military discounts of up to $50 could be up for grabs when moving your vehicle with Montway Auto Transport.
Another interesting feature about Montway Auto Transport is that its services are not just limited to car shipping. Over the years, they have expanded their services to a variety of vehicles including motorcycles, cars, RVs, as well as ATVs. You can choose from their open, enclosed, and expedited transport services as per your needs and convenience. Along with addressing the needs of the military, Montway Auto Transport also caters to college students, individuals, and corporations.
Round-the-clock customer service and cost-effective prices are also some of the quality adjectives associated with Montway Auto Transport. Their highly professional staff is quick and adept in answering all your vehicle shipping queries. Their website also has a special military blog to guide you through every step of the moving process. If you're looking for some added perks, Montway Auto Transport offers guaranteed pick-ups for all your vehicles. Military moves usually stick to a schedule and these guaranteed pick-up dates only help you execute that schedule efficiently. However, you might have to pay a few extra bucks to avail of this policy.
Montway Auto Transport Contact Details
Email ID – feedback@montway.com
Contact Number – 888-497-9792
Address – 425 N Martingale Rd, Suite 550, Schaumburg, IL 60173
Operational Hours – Monday to Friday (6 am to 10 pm), Saturday (8:30 am to 6 pm), Sunday (9 am to 9 pm)
Website – montway.com/auto-quote-3
Montway Auto Transport Reviews
Consumer Affairs – 4.9/5
4. AmeriFreight

Based in Peachtree City, Georgia, AmeriFreight has been around in the car shipping industry since 2004. It has gained a lot of popularity among their clients for offering not just a wide range of services, but also some very catchy discounts. From first responders and senior citizens to college students, early birds, and return customers, AmeriFreight has great deals and discounts to delight everyone's pockets. And when it comes to members of the military, AmeriFreight offers up to $35 as a military discount on your total costs. You might even get hold of some other ongoing deals about which you could inquire from an AmeriFreight representative over call.
Known to ship over 30k vehicles each year, AmeriFreight has a range of services for you to choose from. Along with catering to your car shipping needs, they also have the expertise to move your bikes, motorcycles, boats, RVs, and golf carts. Open, enclosed, and expedited transport services are available for both national as well as international moves. You can easily opt for their terminal-to-terminal shipping services or get the convenience you need with their door-to-door facilities.
Along with offering eye-catching discounts, AmeriFreight also offers a price match policy to add the icing on the cake. This policy not only helps plan your car shipping within a suitable budget but also ensures that you get the best deal on your chosen services. The coverage plans offered by AmeriFreight are also something interesting to look out for. Though you may have insurance for your car, some unforeseen circumstances may not be applicable in its coverage. Here's when Amerifreight's AF Total assurance (AFta) coverage plan comes in handy.
Basically, the AFta coverage is an additional assurance of your vehicle's safety, over and above your standard insurance. There are three gap plans provided by AmeriFreight for you to make a choice from. Starting from $48 is their Basic plan covering around $600 for minor damages. Next is their Standard plan, priced at $78, which covers up to $2,000 for major damages, $800 for minor damages, and $300 for lost or stolen keys. If you need some flexibility with the cancelation policy, then you could also go for their Comprehensive plan that covers everything under the standard plan and offers cancellation coverage as well. This plan is priced around $98.
All in all, AmeriFreight strives to give you the assurance that your vehicle is being transported safely from one point to the other. To add to this assurance, AmeriFreight prides itself in being accredited by the Better Business Bureau and holding an A+ rating with them.
AmeriFreight Contact Details
Email ID – smedia@amerifreight.net
Contact Number – 877-719-0916
Address – East: 417 Dividend Drive, Suite D, Peachtree City, GA 30269
Operational Hours – Monday to Friday (8 am to 11 pm), Saturday (9 am to 6 pm)
Website – amerifreight.net
AmeriFreight Reviews
Google Reviews – 4.8/5
Yelp – 3.5/5
Consumer Affairs – 4.6/5
5. American Auto Shipping

In business since 1999, American Auto Shipping aims to be your one-stop shop for all vehicle shipping needs. From shipping cars to moving your bikes, motorcycles, boats, and RVs, there's a variety of vehicle shipping services provided by American Auto Shipping. Along with providing the standard services for open and enclosed transport, they also offer priority shipping and expedited shipping services. So, if you're planning a last-minute move or need to get to your new station at the earliest, American Auto Shipping can definitely help you squeeze your car shipping just in the nick of time.
One of the best features of American Auto Shipping is the highly competitive prices. In most cases, their prices are below the industry average and can help you efficiently plan your car shipping process. They even have some special discounts for military service members, helping you save on a few additional bucks. Getting quotes from American Auto Shipping is an easy process as well. Adding to these benefits is their locked-in pricing policy that gives you the assurance of paying only as per the quote you agreed upon.
American Auto Shipping also has some of the best customer reviews in the car shipping industry. Timely deliveries, personable customer service, and budget-friendly prices are some of the commonly mentioned qualities across a number of reviews. The company only works with auto carriers that conduct background checks on their drivers to ensure maximum safety of your vehicles. Interestingly, American Auto Shipping will also assign a personal concierge who will be there to guide you on every step of your car shipping process.
If you're still hunting for some other qualities; American Auto Shipping also offers free rental cars and car wash. While a free rental car can be availed if your shipment is delayed beyond 14 days of the delivery date, you can get a free car wash each time you ship your vehicle with American Auto Shipping. To add to it, they also offer a damage-free guarantee with a deductible of up to $500 for instances when your car shipping carriers' insurance fails to cover any damage. With so much to offer to its clients, it is easy to see how American Auto Shipping has built a reputation for itself in the car shipping industry.
American Auto Shipping Contact Details
Email ID – support@americanautoshipping.com
Contact Number – 800-930-7417
Address – 3283 E Warm Springs Road Suite 100, Las Vegas, NV 89120
Operational Hours – Monday to Friday (6 am – 7:30 pm), Saturday & Sunday (9 am – 3 pm)
Website – americanautoshipping.com
American Auto Shipping Reviews
Google Reviews – 4.8/5
Transport Reviews – 4.8/5
FAQs
How Much Does It Cost To Ship A Car On Military Discount?
As a member of the military, you can avail discounts between $35 to $110 on your auto shipping expenses. In other words, it would cost between $300 to $550 to ship your car on a military discount for an approximate distance of 500 miles. Factors like the make and model of your car, the total distance, and the type of service that you choose (open or enclosed transport), would play a key role in determining your final costs.
Some auto transport companies may even offer military benefits in terms of services. These benefits may not always be advertised by the company. So we recommend that you inquire and ask about all military discounts available from the auto transport company representative.
See also: Vehicle Transport Costs
Will The Military Ship My Car Stateside?
In most cases, the Military will usually pay to ship one Privately Owned Vehicle (POV) for you to your new station. However, if you're living within the continental US and are moving to your new station that's within the continental US, then the Military might not pay for your auto shipping expenses, though there are always a few exceptions. If you're moving overseas, the auto shipping expenses for at least one of your POVs will most definitely be covered by the government. You can reach out to your Transportation Office (TO) to get further clarity on their auto shipping policies.
Does USAA Offer Car Shipping?
No, the United Services Automobile Association or the USAA does not offer car shipping services per se. They do, however, provide insurance, investment, and banking-related solutions to the members of the Military, both active and veterans.
What company does the military use to ship cars?
USTRANSCOM provides vehicle transportation, storage, and other related services for the military. The company operates 38 VPC's around the world to meet this need.
Will the military pay for shipping my car?
The military will ship your car for free if you're an active military member and have received permanent change of station (PCS) orders. According to the Department of Defense, the government only pays for one Privately Owned Vehicle to be shipped!
How much does it cost to ship a car on military discount?
Active duty military service members and their families can take advantage of discounted rates on shipping to move their household belongings from one location to another. Shipping costs are calculated based on the weight, distance, and dimensions of the vehicle.
Does the military move you for free?
There are no such things as free rides. Soldiers must pay for their transportation to and from the post through their payroll or allotment, depending on whether they are transient or PCS. When deployed overseas, the government will reimburse all of the necessary expenses incurred towards that deployment, one being the cost of travel and transport of vehicles. In other words, if you want a free relocation "ride," you will have to pay for it yourself in advance.
What do I do with my car when I join the military?
There are several places you can take your car when you join the military. Your service branch might provide a list of services available to service members, but it typically comes down to these channels – selling the car privately, donating or auctioning on popular auction sites for a tax deduction, or trading in at a dealership.
Conclusion
Military moving can genuinely be a stressful process, no matter the number of times you're assigned to a station. And if you have to move a vehicle as well, you definitely need a company that has the best expertise in dealing with military moves. Sherpa Auto Transport, SGT Auto Transport, Montway Auto Transport, AmeriFreight, and American Auto Shipping, are our top picks for your military POV car shipping. Along with having the relevant experience of military moving, these companies also offer some great military discounts. That's a good combination to make use of, right?
See also: PCS Tips for Military Families | International Car Shipping Guide