Sherpa Auto Transport Review 2022 (with Pricing)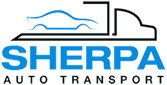 Established in 2017, Sherpa Auto Transport may be a relatively new name in the auto shipping industry, but it has already garnered the trust of a lot of clients across the country. Interestingly, the founders of this company had witnessed the worst in this industry, right from no-show drivers to dented bumpers, and that's when they decided to bring about a transformation in the car shipping industry.
Using their expertise in business leadership, technology, and customer service, Sherpa has earned a reputation for itself in the auto shipping industry. The guaranteed prices and personable customer support provided by the company are a few reasons for its popularity among clients. If you're wondering whether Sherpa seals the deal for you as well or not, go ahead and read our Sherpa Auto Transport review. Along with the services provided by the company, we've also covered their costs and pricing, and other relevant details that you could be looking for.
Overview Of Sherpa Auto Transport
Sherpa Auto Transport is a licensed, bonded, and insured auto broker in the US. It has a vast network of auto carriers to accommodate all your auto shipping needs. Even though the company does not personally shift your vehicle, it is actively involved in the shipping process. Using their proprietary ranking and scheduling algorithms, Sherpa ensures that you are only connected with a vetted carrier that understands all your auto shipping needs. Not only do they have a stringent process in place for selecting carriers, but they also keep a tab on each carrier's performance to ensure only the best services for their customers.
Along with catering to the auto shipping needs of a variety of people, Sherpa also attracts customers with its price lock and clean car guarantee. While quite a few companies add hidden fees to your final bill, Sherpa Auto Transport ensures that you only pay for what you signed up for. Plus, you get a free car wash from the company, so you need not worry about transporting your vehicle even in an open transport carrier.
Let us now have a detailed look at the kind of services offered by Sherpa Auto Transport, so you know if the company is a match for your auto shipping needs or not.
What Services Does Sherpa Auto Transport Provide?
Open Auto Transport
One of the most popular and budget-friendly ways of transporting your vehicle is through an open carrier transport. Since around 8 to 10 cars are usually transported together in an open trailer, it becomes an easy way for both auto carriers and customers to save a little on their costs. Like many other auto shipping companies, Sherpa too offers open transport solutions to take care of your shipping needs within your budget.
Enclosed Auto Transport
To protect your vehicle from all weather conditions and road debris, Sherpa offers enclosed auto transport services. If you're transporting an expensive or antique vehicle like a classic car or a luxury car, you would prefer using an enclosed transport that provides maximum protection for your vehicle during transit. The company has a stringent vetting process in place for all its carriers and makes sure that you are only connected with the ones having the relevant experience as well as the expertise needed to carefully transport a high-end vehicle.
Do keep in mind that these enclosed transport services could be a costly affair for many. However, with Sherpa Auto Transport you get the bonus of availing some of the best prices for enclosed shipping across short distances.
Corporate Relocation
Sherpa Auto Transport provides auto shipping services to individuals and businesses alike. As a corporation, if you're looking for an auto shipping company to assist your employees with vehicle shipping, you can trust Sherpa to handle the job for you. Having a vast network of carriers all across the country, Sherpa can help with the efficient and easy relocation of your vehicles. Just get in touch with their representative to devise a customized plan that meets your shipping requirements.
Military Shipping
Sherpa Auto Transport understands the requirements of military moving and so provides customized auto shipping solutions to make it a hassle-free process. With the relevant expertise and experience, Sherpa ensures secure and stress-free transportation of your vehicle. Irrespective of whether you have just weeks or months to relocate after your Permanent Change of Station order, Sherpa promises to provide rapid as well as white glove services to transport your vehicle. The company also offers special discounts for active-duty members of the military.
Auto Shipping For College Students
If you're a college student whose campus is located across the country, or you've got an interesting internship in another state and need to get your car transported, you can trust Sherpa to handle it for you. Driving might not always be a feasible option and it adds to your miles as well. Sherpa's flexible door-to-door delivery ensures that you get your car transported to your preferred location as and when you need it. The company also offers special discounts and round-the-clock customer service, so you can reach out to them to get all the clarifications that you need.
Auto Shipping For Dealerships And Auction Buyers
This is one unique service provided by Sherpa for car dealerships and auto auction buyers. Not only can Sherpa safely transport new or preowned vehicles for car dealers, but can also take care of all vehicle shipping needs of buyers at auctions. No matter the number of vehicles that you purchased at an auction in the US, Sherpa will make sure that all the vehicles are delivered safely and efficiently at your preferred location.
Auto Shipping For Snowbirds
Sherpa offers special auto shipping services for seasonal travelers and snowbirds. So, if you're planning a long vacation across the country and would prefer having your car around for local sightseeing, you can make use of the snowbirds' auto shipping services provided by Sherpa.
In addition to transporting your standard car, Sherpa Auto Transport also helps in transporting SUVs, sedans, pickup trucks, and vans. Motorcycle and boat shipping services are not offered by the company as yet.
Key Takeaway
Offering a good variety of services, Sherpa Auto Transport caters to the shipping needs of many people. With its customer-centric care and meticulous services, the company strives to provide a wholesome vehicle shipping experience to all its customers. Not only are they passionate about providing high quality services, but also believe in keeping their pricing strategy as transparent as possible. You can easily get a free quote from Sherpa but you will have to get in touch with a company representative over call. All in all, Sherpa Auto Transport is still setting its foot in the industry but is already a tough competition to many other auto shipping companies out there.
How To Contact Sherpa Auto Transport?
On Call
Whether you need a free quote or have a few doubts to clarify, you can easily get in touch with a company representative by giving them a call at 877-850-1231.
Email
You can also drop them a mail at sales@sherpaautotransport.com and they'll get back to you at the earliest. Alternatively, a live chat facility is also accessible on their website, if that's something you would prefer.
In-Person Visit
Sherpa Auto Transport services are widely available in many US States; and if you're based in North Carolina, you can also visit their headquarters in person and get all your doubts clarified. Here's the address of Sherpa Auto Transport headquarters:
5605 Carnegie Boulevard Suite 250, Charlotte, NC 28209, United States
Do note that the company's business hours are between 8 am to 9 pm from Monday through Thursday, 8 am to 8 pm on Friday, 9 am to 7 pm on Saturday, and 10 am to 8 pm on Sunday.
Sherpa Auto Transport Fee Structure
On average, you can expect to pay around $260 for moving your car across a distance of 200 miles with Sherpa Auto Transport. To elaborate further, shipping a 2016 Honda Accord across a distance of 1,000 miles would cost around $860 in an open transport and around $1,340 in an enclosed transport. As compared to its competitors, you'll notice that the prices quoted by Sherpa Auto Transport are about 10% above the industry average.
Now, that surely could be a concern for people wanting to ship their vehicles on a budget; but here's the catch – Sherpa offers a Price Lock Guarantee. This promise ensures that you won't be paying anything above your quote, even if the carrier demands more. When you take this feature into consideration, you'll realize that some other auto companies may end up charging you the same amount or even higher than Sherpa after you've added all their hidden costs and fees. Interestingly, Sherpa offers some of the best prices for short distance and enclosed transport moves.
All in all, these car shipping prices witness a lot of fluctuations because of a number of factors. Let us have a look at these factors that affect your costs.
The type of transport you choose (open or enclosed)
The route taken by the carrier
The distance or miles covered
The size, weight, and condition of your vehicle
Services that you choose
Your vehicle modifications, if any
The time of the year or the seasonality
Your location (urban, metro, or rural area)
Additional insurance coverage
These factors together account for the prices that you would pay for shipping your vehicle. Since every move is unique and no two quotes can be alike, we suggest that you get in touch with a Sherpa representative to get an accurate quote and all other details relevant to their pricing.
Also See: How To Get An Auto Transport Quote?
Why Choose Sherpa Auto Transport For Car Shipping?
Now that you've got a fair idea of the services provided by Sherpa, the next question you might be wondering about is probably what makes Sherpa stand out from the other companies in the market. Yes, with a number of auto shipping companies offering similar services, it can get a little tricky to choose the best one for you. But what makes Sherpa special is the fact that it offers a price lock promise to all its customers. This is just one of the many reasons why people love the company. Let's have a quick look at them to find out if there's something that seals the deal for you as well.
Transparent And Guaranteed Prices: The price lock promise offered by Sherpa ensures that you don't pay a single dollar above the quoted price. By providing a transparent quote, the company makes sure that you aren't greeted with some unexpected shocks when looking at your final bill. Basically, you don't have to worry about the bait-and-switch pricing when moving your vehicle with Sherpa Auto Transport. You can also look out for some special discounts offered by the company especially for college students and for members of the military.
Easy Availability In The US: Serving the majority of states in the US, Sherpa Auto Transport provides easy availability of its services for all its customers. The company has a vast network of carriers who have the expertise of transporting your vehicle locally, from state to state, and even across the country.
Clean Car Guarantee: Now, this is yet another of our favorite features about Sherpa Auto Transport. The company takes the effort and goes the extra mile to give a free car wash to each of its customers. How this guarantee works is that you initially pay $20 for a car wash but you can be reimbursed for it as well. All you need to do is submit the receipt with the bill of lading within 30 days after you've received your car at the new location.
Round-The-Clock Customer Service: Sherpa Auto Transport values every customer and strives to provide a customized and personable experience to each of its clients. The company is committed to enhancing its customer centric-approach by understanding the unique needs of every customer and working its way to provide the best customer experience. Not only is Sherpa accredited by the BBB, but also has some near-perfect customer ratings on a number of third-party platforms. Helpful, professional, and efficient are some of the common qualities that customers associate with the staff of the company.
Insurance Coverage: All carriers associated with Sherpa are not only vetted and insured but also need to have a liability insurance of at least $750,000 in coverage. In addition to that, these carriers should also have a minimum of $100,000 as cargo insurance if they want to be associated with Sherpa. All in all, Sherpa understands the value of your vehicle and ensures safe transportation of the same at all times.
Things To Keep In Mind About Sherpa Auto Transport
Sherpa has a lot to offer to its customers but there are also a few things which you might want to know about before pinning down on your choice.
No Online Instant Quotes: While Sherpa does offer a binding quote, it does not provide its customers with an instant online quote, at least as of now. Their website does have a live chat feature available, but that is just a bot that connects you further with a company representative. However, it's smooth sailing once you get in touch with a representative as they are friendly and professional in answering any queries that you might have.
No GPS Tracking: If GPS tracking is an absolute must for you, Sherpa might not be able to stand up to your expectations. The company does not provide a live GPS tracking facility to its customers. However, you can definitely reach out to a customer service representative to get all the updates about your vehicle.
A few other things to take note of about Sherpa is that the company only facilitates door-to-door shipping and does not deal in motorcycle, RV, or boat shipping.
Our Take On Sherpa Auto Transport
What is commendable about Sherpa Auto Transport is that it offers quality services backed by a price lock promise. With even better customer service and customer reviews, the company is definitely worth considering for your auto shipping needs. Though the prices quoted by them might be a little over your budget, you at least get the assurance of paying only the amount that was decided.
The services provided by Sherpa are widely available in the US and their above-average customer reviews only highlight the trust they've built with their customers. You might not be able to get an instant online quote from Sherpa, but once you reach out to a company representative, all your queries will be duly answered. All in all, if you're looking for professional assistance to ship your vehicle, reaching out to Sherpa Auto Transport can be a good place to start.
FAQs about Sherpa Auto Transport
Where Is Sherpa Auto Transport Located?
Sherpa Auto Transport is based in North Carolina. The exact location of its headquarters is 5605 Carnegie Boulevard Suite 250, Charlotte, NC 28209.
Is Sherpa Auto Transport A Broker?
Yes, Sherpa Auto Transport is a fully licensed, insured, and bonded broker. The company is registered with the USDOT with a broker license number 3053476. They are associated with a vast network of licensed and insured car carriers that provide nationwide services.
Is Sherpa Auto Transport Legit?
Yes, absolutely. Sherpa Auto Transport is a registered broker with the FMCSA (MC Number – 51106). The company is also accredited by the Better Business Bureau and holds an A+ rating with them as well. You will also find a majority of above-average reviews about Sherpa on a number of third-party platforms.
What's The Cheapest Way To Transport A Car?
Using an open-air carrier for shipping is the cheapest way to transport a car from one location to the other. Alternatively, shipping your car by train or driving your car over a short distance can also help you save on those shipping costs.
What is the best auto transport company to use?
There are several factors to consider when selecting an auto transport company. You need one that offers affordable rates, fast transport times, and excellent customer service. The best auto transport services in the industry all come from Sherpa Auto Transport because they provide guaranteed service and hassle-free transactions for your vehicle.
Can I put stuff in my car when I ship it?
Although some companies allow you to place items in your vehicle or trunk, they usually recommend that all personal belongings be removed. There is always a risk of theft and damage during transport, so many shipping companies discourage this practice for safety purposes.
How do I ship a car across the country?
When it comes to shipping a car across the country, it is crucial to keep in mind that there are various ways of doing so. Shipping may be done by renting Truck Rental services or could be done by hiring a professional auto shipper company.
See also: AmeriFreight Review | Montway Auto Transport Review