Montway Auto Transport Review 2022 (with Pricing)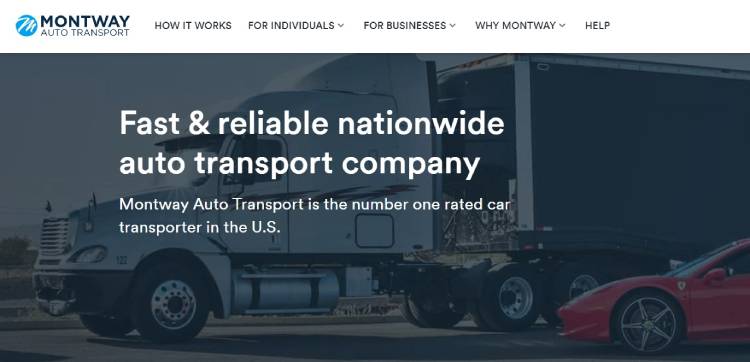 As a frequent mover who owns a number of vehicles, you most probably must have come across Montway Auto Transport. A popular car shipping company in the US, Montway Auto Transport has been in business for over a decade. As a broker, the company is associated with over 15k drivers providing services all across the country. Not just to cars, but Montway Auto Transport also extends its services to a variety of other vehicles.
If you're looking for further details on what the company has to offer and the kind of services that it provides, you've landed just at the right spot. Our Montway Auto Transport review takes a comprehensive look at the company, its services, and fee structure. To give you a sneak peek, the company is popular among its clients for its easy availability, cost-effective prices, and high quality customer service. Just read along further to figure out if Montway is the right choice for you.
Overview Of Montway Auto Transport

Headquartered in Illinois, Montway Auto Transport has become one of the best names in the car shipping industry today. The company is a fully licensed and bonded broker and is registered with the FMCSA (Federal Motor Carrier Safety Administration). It acts as the connecting link between customers and a vast network of licensed and insured motor carriers. With an experience of over 14 years, Montway has transported over 747k+ vehicles to date, not just around the US but also in some places abroad.
The auto transport industry is a vast network in the US with new companies making an entry time and again. In this highly competitive market, the wide and easy availability of Montway in all the 50 states of the US is what makes the company stand out from the rest. Even if you're located in the faraway states of Hawaii and Alaska, availing the auto shipping services of Montway isn't a tough deal to crack. With its technology-driven approach, the company has also expanded its services to a variety of vehicles including cars, motorcycles, RVs, and ATVs.
Now that you've got some idea about what the company is like, let us have a detailed look at the kind of services offered by Montway Auto Transport.
What Services Does Montway Auto Transport Provide?
Open Auto Transport
As a cost-effective and easily available solution, open transport is probably the most popular way of shipping a vehicle. In most cases, around 8 to 10 vehicles are transported together in an open trailer which makes it a quick and money saving option not just for the customers but for the auto carriers as well. Montway Auto Transport offers open transport as one of their most affordable shipping solutions.
The company also offers a top load option if you don't want any other vehicles to be loaded on top of yours during the open carrier shipping process. Do note that this option might be available at some additional cost. All in all, the open auto transport solutions provided by Montway are one of the best ways to transport your car within a budget. You will not be charged any upfront payment unless a carrier has been dispatched for your order.
Enclosed Auto Transport
When you're transporting an expensive or exclusive vehicle like a classic car or a luxury car, using an enclosed auto transport will probably be your preferred way. Montway Auto Transport provides enclosed shipping solutions to protect your vehicle from extreme weather conditions and other outside elements as well. Hydraulic gates for low ground clearance are an added special feature only available for enclosed transport services. The company makes sure that you are only connected with vetted and experienced enclosed carriers who also have the relevant expertise needed to carefully transport a high-end vehicle.
Though enclosed transport provides maximum security for your vehicle, these services could be an expensive affair for many. As per Montway, you can expect to pay around 30% – 40% more when using an enclosed carrier. We suggest that you consider these services only if you have a high-end vehicle, or if you've made a heavy investment and have newly purchased your car.
Expedited Auto Transport
Are you in a situation where you need to get your car transported at the earliest? And if driving the car isn't a feasible solution for you, then the expedited auto transport services provided by Montway could come to your rescue. The company offers guaranteed pick-up dates and door-to-door transport services to get your car transported in no time. You can also easily reduce the wait time to secure a driver and get a shipping window between 24 to 48 hours. Just keep your vehicle and keys ready because that's all you would be needing when using these services from Montway Auto Transport. No vehicle registration documents would be needed as long as your destination location does not need them.
In addition to express transport, you also get to ship one bag full of personal items in the trunk of your vehicle at no extra cost. However, these items should be weighing under 100 lbs and the assigned driver might even check those belongings following the safety standards. That's not all; you also get insurance and timely updates for your vehicle during expedited auto shipping.
Door-To-Door Auto Transport
Another convenient service offered by Montway is door-to-door transport. If you don't have a terminal located close to you, or if you don't have the time to drop off your vehicle, you can make use of these door-to-door services. Basically, your assigned driver will pick-up and drop off your vehicle at your preferred locations. You can also use this facility to shift multiple vehicles together.
As part of this service, you'll be able to inspect your vehicle, get an inspection report from the carrier, as well as oversee the loading and unloading process. And what makes this even better is that you won't be charged any upfront payment unless a carrier has been dispatched for your order.
Shipping To And From Hawaii
Like we mentioned before, Montway Auto Transport is one of the only few car shipping companies that provide shipping services to and from the Aloha State. Your vehicle transport is facilitated through port-to-port or door-to-port shipping services. In most cases, auto shipping to Honolulu (Hawaii) from other cities like Chicago, LA, and NYC, takes around 8-19 days. As per estimates on their website, the cost of shipping to and from Hawaii could range between $1,500 to $2,100. You can sit back and relax as Montway will also take care of customs and all the necessary documentation that's required in the process.
International Shipping
Although Montway isn't an international car shipping company as yet, it does have tie-ups with a number of carriers who facilitate international shipping. Irrespective of whether your shipment is loading at the port or at the airport, the carriers associated with Montway have the expertise of handling your vehicle in all situations. No sales tax or hidden fees will be applied to your international shipping quote. However, you might have to pay the additional costs for any permits needed for your international transport.
Military Shipping
As a member of the Armed Forces, you might be used to relocating time and again. While moving your belongings could be a stressful process, vehicle-moving could be a different task altogether. Understanding the needs and requirements of military moving, Montway Auto Transport specializes in providing auto shipping services to the members of the military.
Not only do they have the required expertise, but their carriers are also fully insured to make the shipping process easier. In some cases, the military may bear the cost of your auto transport, and even if that's not the case, Montway offers special Permanent Change of Station vehicle shipping discounts for active members, veterans, military dependents, Reserves, and National Guard as well. Ideally, it's a win-win either way!
Auto Shipping For College Students
If you're a college student whose campus is located across the country, you surely must be aware of how tedious it could be to transport your car to and from campus. To lift this stress off your shoulders, Montway provides special auto shipping services for college students. They offer flexible door-to-door pick-up and delivery options as well as customer support that's available all throughout the day. Understanding the budget needs of college goers, Montway offers affordable solutions with its 'Discounted Cash Price' payment option. As an added bonus, you also get to transport one suitcase of your personal items weighing up to 100 lbs.
Auto Shipping For Snowbirds
If you're planning a long vacation far from home but would prefer having your car around for local sightseeing, you can make use of the snowbirds auto shipping services provided by Montway. Offering this unique service, Montway ensures that you enjoy the comfort of your vehicle, no matter the location you're heading to.
Key Takeaway
All in all, Montway Auto Transport can cater to almost all kinds of auto shipping services. They are available at cost-effective prices and can be availed from any state in the US. Montway aims to be recognized as the company that has made vehicle shipping as simple a process as pizza delivery. To provide a wholesome experience to all its customers, the company offers innovative logistics solutions blended with its commitment to provide high quality services.
How To Contact Montway Auto Transport?
On Call
To get all of your queries answered and to get in touch with a company representative, you can directly reach out to Montway on their toll-free number – (888) 666-8929.
Email
If talking over the phone isn't really your comfort zone, you can also drop them a mail at feedback@montway.com and they'll get back to you at the earliest. Another alternative is to use their live chat facility available on their website between 6 am to 12 am.
In-Person Visit
Montway provides services to all the states in the US and if you're based in Illinois, you can also visit their headquarters in person and get all your doubts clarified. Here's the address of Montway Auto Transport headquarters:
425 N Martingale Rd, Suite 550, Schaumburg, IL 60173, United States
The company's business hours are between 6 am to 10 pm from Monday through Friday, 8:30 am to 6 pm on Saturday, and 9 am to 9 pm on Sunday.
Montway Auto Transport Fee Structure
Another reason for us to love Montway Auto Transport is the cost-effective prices offered by the company. On average, you can expect to pay between $350 to $700 for moving your car across a distance of 500 miles with Montway Auto Transport. To elaborate further, shipping a 2012 Chevrolet Silverado from Chicago to Houston (approx. 1,080 miles), would cost around $880 in an open transport, and around $1,270 in an enclosed transport.
However, these prices are only general estimates. Calculating your total car shipping cost isn't as straightforward, as it is highly dependent on industry fluctuations as well as a number of other factors. Some of these factors that you would need to take into account are:
The type of transport you choose (open or enclosed)
The size, weight, and condition of your vehicle
Your vehicle modifications, if any
The route taken by the carrier
The distance or miles covered
The time of the year or the seasonality
Your location (urban, metro, or rural area)
Additional insurance coverage
Services that you choose
All these factors would be taken into consideration when determining your auto shipping costs. You can easily get an instant quote from Montway, so we suggest that you get in touch with a Montway Auto Transport representative and get an accurate estimate for your vehicle shipping.
See also: Vehicle Transport Costs
Why Choose Montway Auto Transport For Car Shipping?
After learning about the services provided by the company, if you're leaning towards Montway, you'll probably want to know more about the benefits that it offers, right? We've already mentioned easy availability and affordable prices, but those are just a few perks offered by the company. Here are a few more reasons that highlight the popularity of Montway in the auto transport industry:
Guaranteed Pick-ups: Have you ever found yourself stuck in a situation where someone has bailed on you at the last minute? Well, if that was just a casual dinner outing that got canceled, you can replan it for the next time. But, if your car transporter bails on you like this, it's definitely going to shoot your stress levels up the roof. Montway does not want any of its customers left hanging in that situation, and so offers guaranteed pick-ups for convenient auto shipping. Their expertise in expedited transport services ensures that all your last-minute worries are at bay.
Wide Availability In The US: You will find a number of companies that provide auto shipping services in all major states in the US, but you'll only find a few of them servicing all 50 states of the US. Montway Auto Transport takes care of your auto shipping requirements irrespective of your location in the country. Its vast network of carriers is ready to help move your vehicle either locally, from state to state or even across the country. Just get in touch with their customer service and they'll help you with all the guidance you need for your vehicle shipping.
Cost-Effective Pricing And Discounts: Irrespective of the type of move you're planning, budget is surely going to be an important aspect to consider for all. Car shipping can be an expensive affair and an added expense in your already high moving costs, but the affordable prices offered by Montway ensure that you don't end up burning a hole in your pockets. The company offers some of the lowest prices in the industry for enclosed transport as well as for shipping a truck or an SUV. To add to it, they also have some interesting discounts for members of the military among others.
Customer-Oriented Approach: With multiple options to get in contact, Montway Auto Transport ensures that its customers' queries never go unanswered. With the live chat facility available on their website, the company offers round-the-clock customer support to all its clients. From getting quotes to getting updates until the delivery of your vehicle, Montway provides guidance at every step of the shipping process. The company's staff is well trained, personable, and easily approachable at all times.
Insurance Coverage: All carriers associated with Montway are fully insured with at least $100,000 in coverage. In addition to that, the company also offers $250,000 of no-deductible coverage in case the carrier assigned to you does not provide adequate coverage.
Things To Keep In Mind About Montway Auto Transport
When researching a company, it is important that you consider both the pluses and the minuses. Like others, Montway Auto Transport also offers a lot of benefits, but there are a few things which you might want to take note of before finalizing your choice.
No GPS Tracking: This is one facility that isn't provided by Montway Auto Transport. While you can call up their customer service and get some updates about your shipment, the company does not provide live GPS tracking of your shipment.
Cancelation Fee: If you happen to cancel your reservation after the booking has been confirmed and a driver has been assigned for loading, then Montway auto Transport will charge a $199 service fee or the amount of your partial payment, whichever is lesser. If you aren't sure of your move or your moving schedule, we suggest that you plan it through before booking your order at Montway.
Customer Reviews: On a number of third party platforms, Montway does have a majority of positive reviews but on a few others like Yelp, you might come across a bunch of mixed reviews. However, when you look at the complete picture, you'll realize that Montway does offer a fair variety of services and that not all experiences will be alike.
Our Take On Montway Auto Transport
Providing a wide variety of services at cost-effective prices, Montway Auto Transport is a company worth considering for all your auto shipping needs. The company has a number of above-average reviews and offers good quality customer service as well. Whether you have to accommodate a last-minute move or are looking for services in some rural parts, Montway's wide outreach and guaranteed pick-ups make it easy to handle all your auto shipping needs without much trouble. What's even better is that the company offers all of this at cost-effective prices. All in all, if you're looking out for auto transport companies in the US, checking out Montway Auto Transport is definitely worth a shot.
FAQs about Montway Auto Transport
Where Is Montway Auto Transport Based?
Montway Auto Transport is based in Illinois. The exact location of its headquarters is 425 N Martingale Rd, Suite 550, Schaumburg, IL 60173.
Is Montway Auto Transport A Broker?
Yes, Montway Auto Transport is a fully licensed and bonded broker. The company is registered with the USDOT with a broker license number 2239816. They are associated with a vast network of licensed and insured car carriers who provide nationwide services.
Who Is The Best Auto Transport Company?
Montway Auto Transport, Bargain Auto Transport, AmeriFreight, Sherpa Auto Transport, and Ship A Car Direct are some of the best-known auto transport companies in the US. While some of them offer great discounts and affordable prices, a few others also offer easy availability and a variety of services as well. The best auto transport company for you will be the one that best caters to all your needs.
Is Montway Auto Transport legit?
Montway Auto Transport has an average rating of 4.2/5, and it's easy to see why! Reviewers praise the company for their exceptional service and quick delivery time frames that are on-point with what customers expect. What sets them apart from other auto transport companies is how they honor their quotes; if a price goes up during shipping, you won't have to pay more than expected without your permission first – which doesn't often happen anyway.
How long has Montway Auto Transport been in business?
Montway Auto Transport was founded in 2006.
Who owns montway transport?
Mihail Mihailov is the founder and CEO of Montway Auto Transport.
How much does it cost to ship a car cross country?
Many factors go into the cost of shipping a car cross country. The average industry rate is $2 per mile for journeys less than 200 miles, but this can vary depending on distance and company. For example, it's been reported to be as low as 58 cents for long-distance moves over 1,500 miles which means you should do your research before choosing an auto transport company!
Is Montway Transport safe?
Montway Transport is safe, and their insurance covers up to $100,000.
How is Montway Auto Transport rated?
Montway Auto Transport has a rating of 2.5 stars
What days is Montway Auto Transport open?
Montway Auto Transport is open Monday-Friday from 7:00 am to 8:00 pm. They are also open Saturday and Sunday, where they close at 5 pm