Should You Move to a Beach Town?


VanLines Inc
Secure Storage
Easy Booking Process
Fully Trained Employees
GET QUOTE

Colonial Van Lines
Storage Services
Long-Distance Moves
Corporate Relocations
GET QUOTE

Moving APT
Available Nationwide
Award-Winning Movers
Extensive Vetting Process
GET QUOTE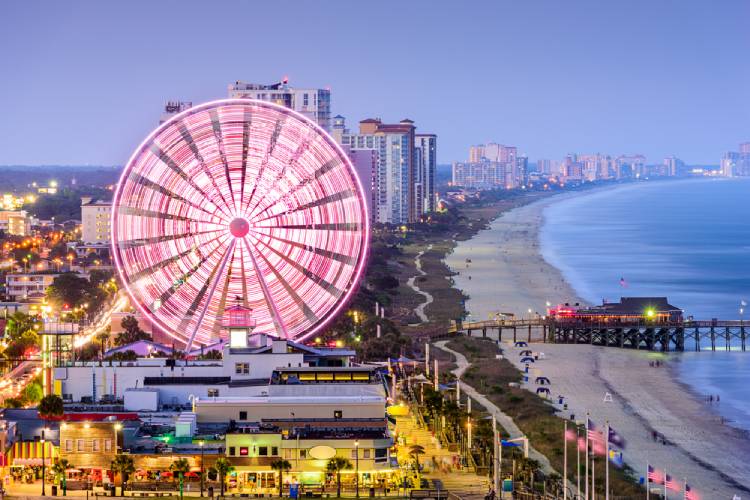 Relocating to a beach town may sound like a dream come true for those who desire it, and if you wish it, you can have it. Many people choose to spend their free time on the sand, by the water, in the water, participating in water sports, reading a book, or simply sipping a cold cocktail while basking in the sun and warm weather. As a result, they relocated to the beach. If you want to relocate to the beach, coastal living offers many advantages and opportunities that winter climates do not.
For generations, the attraction of the coast has inspired many people to seek a better way of life right next to the sea. This trend continues today, with many city dwellers desiring to trade their fast-paced lifestyle for easy access to a beach and a slower, more relaxing pace of life.
Simply relocating to a new location can be a complex and intimidating process. As a result, it is understandable that the prospect of leaving the familiar to pursue a dream lifestyle can be daunting. And, as with most of the things in life, having more information makes making life-altering decisions easier. 
Reasons to Relocate to the Beach
The Climate
Of course, this is the primary reason people want to relocate to a beach town. Whether you are looking for a summer move or a permanent move, you will have this advantage. If you're tired of shoveling snow, putting on layers of clothing, throwing salt or sand in front of your garage, so your car doesn't drift on the ice, and you don't want to pay those hefty bills any longer, then you're looking for a warm-weather place to live, and a beach town can provide that.
The water
Who wouldn't want to go swimming, surfing, diving, snorkeling, and so on over the weekend without having to drive for hours in their car? If this sounds like the kind of life you want, think about moving to a beach town. If you choose to relocate to the coast, you will have access to natural stress relievers and healers, such as the soothing sound of the ocean and the warm rays of the sun.
Better Health
Living in a beach town has one significant advantage: it can help you live a healthier lifestyle. The air near the water is good for breathing. The ocean water itself is beneficial to your rhino pharynx, sinuses, skin, and other organs, as well as helping to alleviate allergies. The sun aids in vitamin D production, which has numerous beneficial effects on the body, including cancer prevention.
Love for Nature
If you enjoy seaside animals, bird watching, and exploring the sand and beach environment, then relocating to a beach town will be a dream come true. If you are comfortable with such places, you may find natural beach lines near some beach cities that no one has yet maintained. So, nature in beach towns has various things to offer anyone willing to look for them.
Kids love it
What would be the easiest way to raise your children than to introduce them to water sports and provide them with a healthy surrounding to grow up in? Beach towns offer more opportunities for children to interact and socialize. While the winter weather allows them to gather at home and play outside for a while, they can spend more time outdoors if they have access to a beach and a warm climate, which is also beneficial to their health. Instead of being drawn to video and computer games, they will almost certainly prefer to spend more time outdoors.
The disadvantages of living on the beach
As difficult as it may sound, the challenges of coastal living may cause you to regret moving to the beach.
Crowds
A small beach town can be peaceful and serene in the winter, early spring, or late fall, but it becomes a swarm of activity during the summer. Hundreds of visitors arrive, crowding the beaches, restaurants, and shops, leaving trash behind, and worsening traffic. Expect longer lines, heavier traffic, louder noise, and various other inconveniences during the tourist season. All local businesses and beaches will be packed, there will be trash everywhere, parking will be difficult to find, and it will all be very annoying.
Tourists are beneficial to local businesses, but to them, your home is nothing more than a vacation destination, and they treat it as such. Furthermore, if you live on the beach, your friends and family will want to visit as frequently as possible – and you may not be pleased if they use your home as a hotel.
Increased home prices, maintenance expenses, and insurance premiums
As previously stated, oceanfront properties are extremely valuable, so purchasing a home on the coast will be extremely expensive. Even renting a place in a coastal area can be costly. Furthermore, living near the ocean means higher maintenance costs, owing to the corrosive nature of saltwater and the havoc that salty air causes on wood, metals, and glass. Because salt accelerates rust and causes abrasions, proper home maintenance in coastal areas necessitates a significant amount of effort – as well as a substantial amount of money for repairs and replacements. Home insurance is also quite expensive because of the beach erosion, increased wear-and-tear, and potential flood damage.
Increased risk of damage
The proximity to the ocean is a great benefit, but it is also a disadvantage. Hurricanes and tropical storms are prevalent along the coast, and the large crashing waves pose a significant threat to waterfront properties. Seaside homes are particularly vulnerable to flooding and structural damage during tidal surges and violent storms. Please read our blog on How to Hurricane Proof Your House if you are planning to build a Beach Home.
Privacy
Beach towns that see a lot of traffic during the summer can see their population grow exponentially in weeks. This can be a huge change for those who enjoy a little extra excitement. However, if all you want is to escape to your private corner of the beach, your options are limited. Fortunately, The Outer Banks has several popular beach communities, each unique. If you want to live somewhere quieter, towns like Duck or Southern Shores are ideal!
How to Relocate to a Beach Town
Moving to a beach town is much like moving to a small town or village, and much of the same advice applies. But, there are some major variations to be aware of.
Learn about the locals.
When you move to a new neighborhood, it is always a good idea to spend some time getting to know your new neighbors. This will make the transition to your new way of life a little easier. You can even plan a housewarming Party at your sea facing house.
Explore the surroundings
Knowing what the area offers is a great way to begin your new life at the coast. Beaches are owned by various charities and the military, who use them for wildlife sanctuaries and training exercises. Knowing about these areas ahead of time can help you avoid getting into trouble.
Be ready to find sand in everything
If you've ever been to the beach, you know that sand will be in your pockets, shoes, and home for weeks. Prepare to find sand everywhere if you live in a beach town, no matter how frequently and meticulously you clean.
Expect large crowds of tourists
During the summer, hordes of people flock to unsuspecting beach towns searching for summer fun. Expect your town to experience a sudden increase in population, as well as long lines in stores, crowded beaches, and more expensive parking. The benefit of this is that if you have a creative hobby, such as painting, and want to sell your creations, or if you have a good seasonal business idea, you can earn extra money during these months.
Prepare for a long, cold winter
Winter on the coast can be challenging. With strong sea winds and freezing air, you may be tempted to hibernate until the warmer weather returns. Make sure you have a good winter jacket before moving to the coast to combat the biting wind. Thermal underwear is always a new addition to help you get through the winter. Read our guide on winter home maintenance tips to get more ideas for maintaining your house in winters.
Also See: Best Coast to Coast Movers in the USA
What you learn when you move to a beach town
Relax
Because of the slower pace of life at the coast, most people will discover that they have become more relaxed in their mindsets and daily lives. Slowing down allows you to fully appreciate your surroundings, friends and family, and the smaller details that often go unnoticed in city life.
Feel the energy
As summer approaches, it is difficult not to notice a shift in the town's energy as everyone prepares for the tourist season. Shops, cafes, bars, and restaurants begin to reopen, exciting events are planned and advertised, and local artists start to squeal with delight. It's easy to become irritated by the influx of tourists, and no doubt some locals will express their displeasure to everyone within earshot. However, if you remember that this is only a temporary situation and learn to enjoy the tourist season, your life at the coast will be much more enjoyable.
The after-tourist lull
It's understandable to believe that beach towns become desolate wastelands devoid of life and happiness during the autumn and winter months, but it's when the tourists leave that the locals come out in force. After spending almost the entire summer ensuring that tourists have a good time, locals can finally relax at the beach and enjoy the remaining warm weather. Furthermore, you will no longer need to make reservations if you want to go out to dinner, and familiar, friendly faces will surround you.
Conclusion
So, is it a good idea to move to the beach? Now that you're aware of the benefits and drawbacks of living in a beach town, you can easily find the best solution for you. If you can get past the crowds of tourists and the harsh winters, the benefits of living near the coast are yours to enjoy. Don't worry about the never-ending accumulation of sand in everything you own. You'll get used to it in time.
Frequently Asked Questions
Is it healthy to stay near the ocean?
Living near the ocean encourages people to get out and enjoy the salt air and sunshine, allowing them to stay active and reap the health benefits of daily exercise.
Is investing in oceanfront property a good idea?
Purchasing a beach house can provide an excellent return on investment, a consistent income stream, and access to a wonderful vacation destination.
What exactly is the beach lifestyle?
The beach lifestyle is all about your health and well-being. It all comes down to living your best life. It is a place where you can have fun as well as exercise.
See Also: Best Moving Companies in Myrtle Beach | Which Moving Company Should I use for Coast to Coast Move?