Guide for Buying a Beach House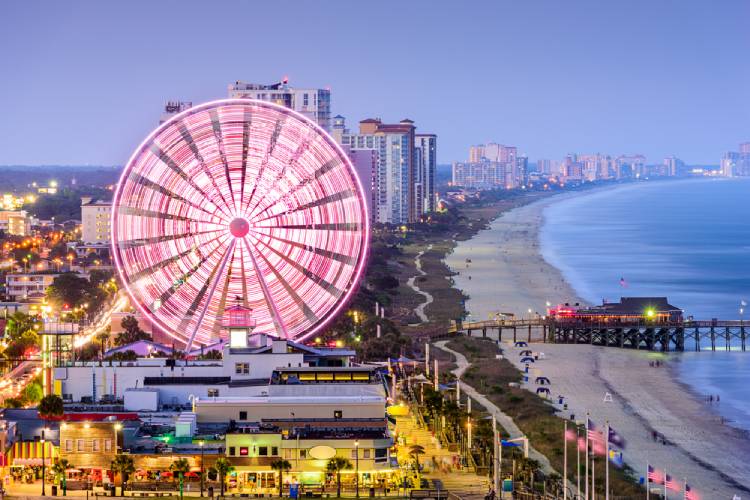 Buying a beach house is an exciting and expensive endeavor. It's also one of the most important decisions you'll make in your life, so it needs to be done right.
There are many things to consider when buying a beach house, and some of them can be confusing. You need to know how much it costs to buy a home near the ocean, what kind of mortgage rates you should expect, whether or not there's enough space for all your friends and family at once…the list goes on!
Many things can go wrong when buying a beach house. You could end up with something you don't like, or worse yet, lose money on the deal!
That's why we created this guide for buying a beach house.
This guide will cover everything from how to find the perfect property for sale at the best price, choosing an area with good schools and low crime rates, to finding out if any nearby natural disasters could affect property values, all through closing and beyond. We will walk you through every step of this process so that you feel confident and prepared throughout your search for a dream home by the sea.
What is a Beach House?
First, let's get the basics out of the way. What is a beach house? This question isn't as simple to answer as you might think.
In one sense, a beach house can be anything from a small shack by the shore to a multi-million dollar mansion on the water with all the bells and whistles.
But in a more practical sense, a beach house is usually a vacation home that you use for several weeks or months out of the year.
You can make this definition as loose or as strict as you like. Let's say you want to rent your summer getaway to tourists for a week at a time. In that case, it's probably not a beach house—it's a bed and breakfast or a vacation rental.
On the other hand, if you own a simple house near the ocean's edge in a good area, it might be easier to rent it out for short vacations rather than full weeks. The same goes for an apartment in a nearby town that happens to have great views of the ocean.
If you can't decide whether your home is a beach house or not, don't worry the point of this guide is to show you how to buy the best property for sale that fits both your needs and budget. You can go through our article on Tips to buy New House in New City.
How do I Find a Beach House?
If you're looking for a property on the outskirts of town, you can just go to your local newspaper's houses for sale section and look through the results.
If you're looking for something more specific, like a beach house by the water or waterfront house, it's best to do some research before you start looking. You might want to ask family and friends if they know about any good deals on vacation homes, and you can also check classified listings and online real estate portals.
As we mentioned before, there's a lot of information to consider when you're planning to buy a beach house. Take your time and do your research carefully before making that first call or viewing!
How much does it Cost?
This answer is as complicated as the concept of a beach house itself. A good, affordable property by the ocean doesn't have to be in perfect condition or an expensive area. It just needs to give you access to the waterside while still being close enough to town for convenience.
If you're on a strict budget, finding an older home that needs renovations can be much cheaper than buying a brand-new house that's finished.
But if you're not afraid of hard work, then buying something that isn't perfect could be the best choice for your budget—and your patience!
Also See: Tips to buy an old House
What is my Mortgage Rate?
It's important to consider what kind of mortgage rates you'll have to pay when you're buying a beach house. After all, it doesn't matter how much your monthly payments are if you can't afford to pay them in the first place!
Fortunately, there's no need to stress over this part of the process—the bank will do most of the work for you. You just have to decide what kind of loan you want to take out, and then the bank will advise you on the best interest rates available.
For example, if you want a fixed-rate mortgage with a small down payment, the lender might also offer an adjustable rate. These can be risky in some cases—but they could also save you big bucks in the long run by cutting your interest payments.
Most people find that a fixed rate works best for them because it ensures they never have to worry about their mortgage rates changing unexpectedly.
See Also: Tips to pay-off the Mortgage faster
What can I Afford?
This is one of the most important questions you should ask yourself, and the answer is as simple as your budget! If you spend all of your free time looking at high-end beach houses and vacation homes, you might start to think that buying one is out of reach.
And while it can be tempting to save up for a big dream property, you should always remember that the perfect home is within your budget if you know where to look!
If there's something specific in mind, make sure you include the price of renovations and building a new home in your original budget. That way, you won't go spending more than you can afford and instantly regret your decision to buy your dream place on the beach!
What's my Timeline?
It's easy to get so caught up in finding a great deal that it feels like an eternity until you finally get the keys to that beach house you've always wanted.
While it can certainly be a very long and difficult process, there's no need to rush! Take your time and try not to let yourself get stressed out about how long everything is taking—it will all be worth it in the end when you finally have your new home on the shore!
Where is it located?
This is another important factor to consider before you start looking for that perfect place on the beach. It's not just about finding a great deal but finding something close enough to town.
In some places, you might find no local shops or restaurants near your property. That's not always a showstopper with all the restaurants and shops in nearby towns, but it can be inconvenient if you don't like having to drive for miles every time you need some groceries or a cup of coffee!
This is one of those things that you probably won't notice until after you've already bought your beach house. Make sure you include the price of driving to and from your property in your original budget to make up for any extra gas or ferry costs. Read our blog on how locality matters in real estate.
Consider Your Lifestyle
It's important to consider your lifestyle when you're considering buying a beach house. Weekends and holidays might be enough for some people, and other people may need to have a place built so they can move in full-time! How often will you get the chance to use it?
In other words, think about exactly how and when you'll be using your new home. If you plan to spend most of the year living at the beach, ensure you get a big enough space to accommodate all of your furniture and belongings!
On the other hand, if it's going to be mostly for weekends and vacations, you probably won't need anything too huge. If you think about when and how your property will be used, finding the perfect fit will be a lot easier!
What's your backup plan?
No matter how prepared you are for buying a home on the beach, there's always the possibility that things won't turn out as planned. Like any other property, you never know what could happen when buying a beach house.
In the event of any unforeseen circumstances, it's a good idea to have a backup plan in place just in case you need to sell your property before you move in. This will greatly reduce any stress with trying to find a new home.
As long as you stay flexible and keep your mind open about the possibilities, you'll be able to find the perfect fit for your lifestyle without too much trouble!
Taking Help of an Expert
One of the most important rules when buying a home is to make sure you get help from an expert. This will not only help you save time and stress, but it can also reduce any unnecessary spending along the way!
There are plenty of real estate agencies that specialize in beachfront properties; they'll be able to give you advice on anything and everything that comes along with buying a home on the beach.
They'll help you navigate your way through what can be a very difficult and unpredictable process, from finding great deals on properties to giving you tips on how to make the best offer without overpaying!
In some places, they may even have connections with people looking for new homes as well, so they can help you out with quick sales!
Remember to have everything in writing before you sign anything final. This will be especially important when it comes time to sell your property if unforeseen circumstances come along while buying a home on the beach.
Remember! It's always a good idea to get help from an expert when you're buying a home on the beach, especially if it's your first time. They can help ensure that everything goes smoothly without any unnecessary surprises along the way.
Conclusion
Beach houses are great for relaxing on weekends and vacations, but they can also be a source of stress if you don't prepare properly. When buying a home on the beach, there are many things that you'll need to look out for.
It's important to always do your research before making decisions about purchasing a property. Make sure that you figure out what kind of lifestyle you're looking for before you start shopping.
Also, consider how often the property will be used because this will help determine if it's worth spending too much money on something that may sit empty most of the year.
FAQs
What factors should you consider when buying a home on the beach?
Think about how and when you will be using your new property before making any decisions. You'll find it much easier if it's something that you've thought over ahead of time!
Consider whether or not your budget can accommodate your needs, and don't forget to factor in taxes and fees when making a final decision.
When you're thinking about how to decorate your new property, think about the kind of beach house you want to live in. Do you need a lot of space for entertaining, or will it be used much more like a vacation home?
Make sure that you have a backup plan just in case something goes wrong during the process. This will allow you to stay flexible and keep from being stressed out!
What should I look for when getting help from an expert?
Make sure that they have experience both buying and selling beach homes. You don't want your agent making any costly mistakes along the way!
A real estate agency specializing in beach homes is your best bet; they know the area and will be able to give you the best advice on finding great deals.
What should I look for when making an offer?
Make sure that everything is written down clearly before signing anything final! This includes any fees or fines that may come along with purchasing a home on the beach.
If you're seriously interested in a certain property, make sure to offer a price that is slightly lower than what you feel it's really worth! This will allow you to negotiate and keep from overpaying.
Make sure that you're putting down the correct amount of money and include things like moving costs in your offer. You'll be reimbursed for these expenses later on if everything goes as expected!
Also Read: Interstate Moving Companies in the US | Beach towns in US to move to | Hurricane Proofing your Houses | Is Moving to a Beach Town a Good Idea