Leaving Washington DC? 5 Best Places to Move from Washington DC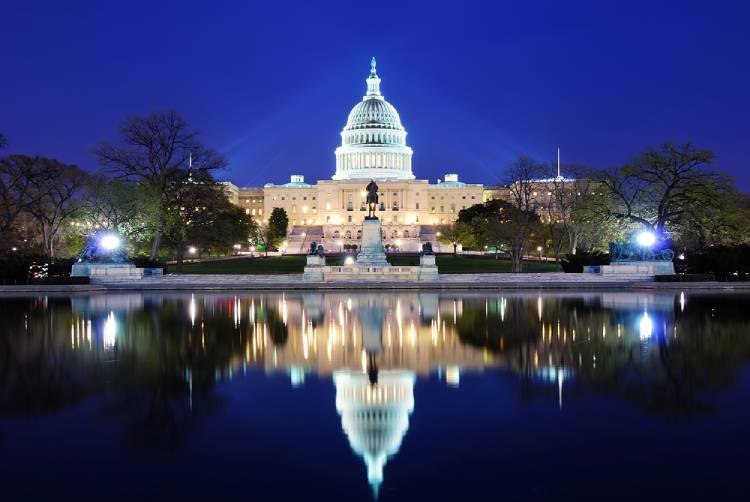 Living in the capital of such a powerful nation does come with a lot of perks. Be it the lavish lifestyle or the plethora of rich history lessons the city has, Washington DC caters to the needs of one and all. However, the glimmer-shimmer of the city often masks the real problems that don't come to the forefront easily.
The high crime rate for starters is something that has been a major reason why flocks of people are finding a new abode away from DC. Not to mention the high expense of living, which strains many residents' finances. So, if you are one of them and looking for something new, take a look at the below list of some of the best places to move from Washington DC.
5 Best Places To Move From Washington DC
Bethesda, Maryland
Rockville, Maryland
Arlington County, Virginia
Alexandria, Virginia
Frederick, Maryland
Bethesda, Maryland
If you are looking to move to a much more upscale part of the country, Bethesda fits the description perfectly. The vibrant arts scene in this city has amassed a great population from all around the globe. For starters, the impeccable visual and performing arts you get to witness in the Strathmore Theatre here is unparalleled. No matter if you are a jazz fan or an upbeat pop enthusiast, the theatre caters to the needs of everyone across all genres. Movie buffs can find their solace in the Bethesda Row Cinema which even lets you choose where you sit!
Speaking of the job market, the city's booming economy owes a lot of credit to the major industries like finance, healthcare, software, and defense. Lockheed Martin and Coventry Health Care are a couple of major conglomerates that have their base right here in Bethesda. In addition to the prosperous job opportunities, the city also excels at providing quality education.
You will have a variety of choices from top-notch public and private schools to choose from for your kids. The prominent ones include Georgetown Preparatory School and Landon School. This exciting town in Montgomery County provides offers ample green space, such as Glen Echo Park for you to maybe finish your current favorite novel in peace. When it comes to shopping, the Bethesda Row is the city's belle of the ball with loads of local upscale stores. From fashion boutiques to home design stores, you can shop your heart out here!
Downsides: The only downside of living in Bethesda is the high cost of living. However, if you can afford the kind of lifestyle this city offers, you wouldn't want to leave this place ever.
Population: 63,200
Median Home Value: $1,014,000
Monthly Rent: $2,540
Median Household Income: $164,200
Unemployment Rate: 3.8%
Best Neighborhoods To Live In: Alta Vista, Wyngate, Westmoreland Hills, and Woodacres.
Also read: Moving To Maryland
Rockville, Maryland
If you are looking for a good neighborhood that won't burn a hole in your pocket, then Rockville is the place to be. The fact that the city has been constantly ranked amongst the best cities to live in the world only strengthens its case. The city's public transportation system makes sure your commute to work is as smooth and hassle-free as possible.
Though there is not much distance separating Rockville and Washington DC, there is an evident distinction when it comes to crime rates in the two cities. According to Neighborhoodscout data, Rockville is 41% safer than most cities in the nation, while Washington DC is 5% (100% being the safest). Apart from the relatively safe nature, families tend to move to Rockville because of its great schooling system too. As for when the kids have learned enough ABCs for the day in school, the city's extensive parks and athletic facilities will keep them engaged.
The city has mastered the formula for a perfect Work-life balance. Workwise, Rockville excels in healthcare and bioscience industries housing a few important names like MedImmune, National Institute of Health, and Mallinckrodt Pharmaceuticals. Speaking of the nightlife around here, the music-infused bars are Rockville's specialty and the food scene here just takes it to the next level!
Downsides: The fast-paced lifestyle in Rockville might not be the best option for people looking to retire and have a quiet remainder of their life.
Population: 68,250
Median Home Value: $594,000
Monthly Rent: $2,200
Median Household Income: $106,600
Unemployment Rate: 3.8%
Best Neighborhoods To Live In: Twinbrook, Lincoln Park, Rockville Town Square, and West End Park.
Arlington, Virginia
The decision to move to Arlington was one of regret said no one ever. This all-rounder of a city will sweep you off your feet with the hoard of amenities and the amazing lifestyle it has to offer. Starting off from the very beginning, the city holds numerous stories of the country's history and the military memorials here will let you in on that era.
Fast forward to the current times, your career in the government field or aerial services looks promising in Arlington as the largest employers here are the United Airlines, the U.S. Department of Justice, and U.S. Airways. The low crime rate in the city also makes it a viable option for anyone looking for a safe and secure neighborhood. The future of your little ones will also be pretty secure given the fact that Arlington has a top-notch schooling system in place. Some of the prominent Universities here include George Mason University and Marymount University.
Your furry four-legged friends are more than welcome here as the city is extremely dog-friendly with multiple dedicated dog parks. While your dogs woof around a bit, you can put on the helmet and bike around town thanks to the city's bike-friendliness. The calorie-burning session should be followed by a rewarding time and that's where the city's breweries come into the picture. Head to any bar in your vicinity and you can get your hands on some of the best beers the country has to offer by living here.
Downsides: The city falls on the expensive side of the spectrum but with the kind of amenities you will be at the receiving end of, every dollar put down will be worth it. The traffic here is something that the residents are not a fan of. It can add to the Monday blues' misery at times.
Population: 233,480
Median Home Value: $817,650
Monthly Rent: $2,345
Median Household Income: $121,000
Unemployment Rate: 3.5%
Best Neighborhoods To Live In: Clarendon-Courthouse, North Highland, Virginia Square, and Waycroft.
See also: Moving to Virginia
Alexandria, Virginia
Living in the country's capital can often get overwhelming. The small-city environment of Alexandria will provide you with just the change of pace you require. Just like its name, this city has an old enough history dating back to the 18th century. The untainted architectures from that time period serve as the narrator of the city's history.
When it comes to the economy, Alexandria certainly has been keeping up with the times as it ranks in the top income independent cities in Virginia. The top employers in this city include the U.S. Department of Defence, the U.S. Patent and Trademark Office, and the City of Virginia. Apart from that, the city has a large number of high-end boutiques for you to experiment with your fashion in. The antique shops around here are sure to provide you with unique artifacts that enhance the overall value of your living room.
Alexandria is also known for its lip-smacking culinary scene. Besides the top-notch fine-dining options available here, the city is constantly making efforts to provide environmentally sustainable foods to its residents. Community gardening is one way the city is working towards that. The Old Town Farmer's Market will give you a good glimpse of that. Once you have worked up an appetite, you can step out and have a good evening walk along the many walking trails surrounding here. This city also has something for nerds in the form of the famous Alexandria Library. The Torpedo Factory Art Center in the city will feed the hungry art enthusiast in you.
Downsides: Despite being a small city, Alexandria is quite densely populated which might be an issue if you are looking for a quiet neighborhood. The high housing rates don't help Alexandria's case either.
Population: 160,520
Median Home Value: $634,400
Monthly Rent: $1,960
Median Household Income: $101,000
Unemployment Rate: 3.5%
Best Neighborhoods To Live In: Old Town, Potomac Yard, Del Ray, and North-Ridge Rosemont.
See Also: Best Neighborhoods in Washington DC for Singles and Young Professionals
Frederick, Maryland
Over the years, this quaint city of Frederick has earned a reputation of being a small town with the amenities of a large city. It offers something for everyone and the fact that it is among the most diverse cities in Maryland only substantiates that claim. If you are looking for a community of talented artists to help you grow, you can never go wrong with Frederick. The city has about 85% more people working in the media sector than similar communities in America. Safe to say that the creative aspect has certainly helped mold the city's identity. The lower cost of living as compared to that in Washington DC only makes it easier to choose this town as your relocation destination.
Frederick is no stranger to popular attractions and the Historic District here is a solid proof of that. The annual "In the Street" festival in this part of the town offers you an amazing experience with live performances, local art organizations, sporting events, and so much more! Carrol Creek Linear Park here also serves as a refresher from the monotonous lifestyle. History buffs have absolutely no reason to fret as the city's Civil War Museum, Gettysburg, and Antietam National Battlefields will fill you in with all the interesting insights. Francis Scott Key, the writer of the country's national anthem, "Star-Spangled Banner" was also a resident of this larger than life community.
The best part about Frederick is its accessibility to all the other major cities. This is made all the more easier by the city's transportation system and closeness to the interstate highways. So, a mini trip or a long vacation is always a drive away from Frederick.
Downsides: Given all the amenities Frederick has to offer, it does have a few downsides to it too. The most common one being the city's traffic. You can find yourself stuck in the middle of the chaos on a bad day and the lack of parking space can sometimes add to the misery.
Population: 73,150
Median Home Value: $418,750
Monthly Rent: $1,685
Median Household Income: $76,300
Unemployment Rate: 3.8%
Best Neighborhoods To Live In: Urbana, Middletown, Spring Ridge, and Ballenger Creek.
See Also: Best Neighborhoods In Washington DC For Families
Conclusion
Remember that moving from the country's capital doesn't mean downgrading your lifestyle in any way. This vast nation has a number of great places and you just so happen to come across an article that aims at informing you about some of them. So, now that you have a few names to start your relocation hunt with, your move away from Washington DC should be streamlined.
Also Read: 7 Best Moving Companies in Washington DC
FAQs On 5 Best Places To Move From Washington DC
Where Should I Move To From Washington DC?
There are a bunch of excellent cities you can move to from Washington DC. To name a few, Arlington and Alexandria in Virginia, Rockville and Frederick in Maryland among others.
What Are The Cons Of Living In Washington DC?
The high cost of living in the nation's capital is no joke and can do some serious damage to your wallet. The high crime rate is also one of the reasons many residents are planning a move away from Washington DC.
Is Washington DC Unsafe?
Ranked among the most dangerous cities in the country, it is safe to say that you might want to watch your back in Washington DC. To give you a little context, Neighborhood Scout indicates that only 5% of DC is safer than most US cities.
See also: Top 10 Safest Cities in the U.S.