How to Sort and Pack Your Bedroom


VanLines Inc
Secure Storage
Easy Booking Process
Fully Trained Employees
GET A QUOTE

Colonial Van Lines
Storage Services
Long-Distance Moves
Corporate Relocations
GET A QUOTE

Moving APT
Available Nationwide
Award-Winning Movers
Extensive Vetting Process
GET A QUOTE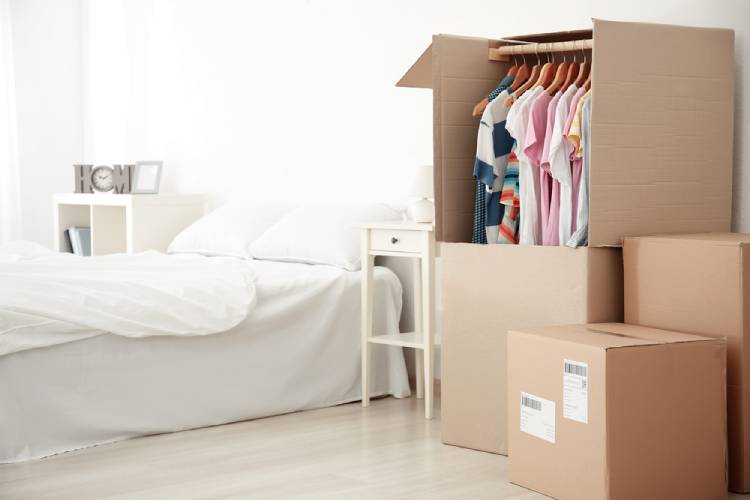 Moving to your new home and redecorating it might get you all excited and thrilled, but the thought of moving your belongings from your old home may just be a killjoy. One of the most important and precious places in your house would be your bedroom; that's probably where you spend most of your time. And let's not forget all your personal and precious items stored in your bedroom like your lamp, books, wardrobe, picture frames, etc. Decluttering your bedroom and moving all your things can be really tedious and a big challenge.
Don't know where to start and how to go about it? We have a detailed guide right here that can help you to sort and pack your bedroom. So let's just get started and try to make your moving a pleasing and stress-free experience.
Decluttering And Sorting Your Bedroom
It's important that you first declutter and sort things in your room before getting started with packing your things. That's why you'll need to have an idea of what exactly you want to take with you to your new home, and so, you'll have to start prioritizing your belongings. Here's how you can make your sorting process stress-free and easy:
Make An Inventory Of Your Bedroom
The first thing you need to do is make an inventory of your bedroom. You can either do it in your book or on your phone. An inventory will help you understand how many things you possess, their usage, and worth. So if you haven't made an inventory yet, it's time you get started right away. You'll have to include each and every item you possess on your inventory checklist like the item description, usage, date, time and cost of purchase, current market value, etc. One of the perks of having an inventory checklist is that it will help you when you need insurance for your items like jewelry, antiques, valuables, etc. from your moving company.
See also: How to Perform an Home Inventory when Moving
To give you an insight into what all things should be included in your bedroom inventory, here's an example you can refer to for making your inventory checklist:
| | | | | | |
| --- | --- | --- | --- | --- | --- |
| Item | Description | Date Of Purchase | Purchase Value | Current Market Value | Remarks |
| Furniture | Wooden table: two drawers, 48" long, purchased from Natural Woods Store | March 2015 | $500 | $250- $300 | To be moved |
| Curtains | 42×54", grey color, purchased from Amazon Total quantity: 4 | December 2018 | $20 each | $15-$20 | To be moved |
| Lights and lamps | LED Bulb- 2, purchased from Walmart Touch Control Lamp- 1, purchased from Amazon | Bulb- June 2016 Lamp- December 2021 | Bulb- $4.25 Lamp- $110 | Bulb- none Lamp- $80-$100 | Bulbs- To be donated Lamp- To be moved |
| Pictures | Medium size- 2 Large wall art- 1 Purchased from Mary Antiques Store | October 2015 | Medium size pictures- $18 Large wall art- $55 | Medium size pictures- $5-10 Large wall art- $40-$45 | Medium size pictures- To be moved Large wall art- To be moved |
| Mirror | 1, Wooden framed, 48", 5kgs, purchased from Pepperfry.com | May 2020 | $3,189 | $2,500-$3,000 | To be sold |
| Wardrobe | T-Shirts- 25 Formal shirts-15 Dresses- 8 Shoes- 7 pairs Socks- 5 pairs | N/A | $2,000 | $1,000-$1,500 | T-shirts to be donated Formal shirts, shoes, dresses, socks to be moved |
| Valuables | Jewelry (2 silver bracelets, 3 golden chains, 1 golden watch), legal documents (driving license, will, property papers, office folders) | Check the receipts | $5,000 | $4,500-$5,000 | To be moved |
You can use a spreadsheet or any other apps like Sortly, Memento Database, etc. for making an inventory. If you want to do it the old-fashioned way, just grab a pen and paper and get started with your inventory.
The above inventory list is just an example to show you how organized it should be as it gives you an idea of how many items can be taken along with you and which have to be discarded. Don't forget to have an extra copy of your inventory list as a backup in case you lose the original one or mistakenly delete it.
Make sure you click pictures of your items or record videos so that you have proof of your items being in a good condition before they leave your home. It will definitely help you get insurance from your moving company if at all your items get damaged during the move. You can also add your bills and receipts to your inventory checklist and make it more detailed and organized.
Discard Unused Or Unwanted Items
After you've made your bedroom inventory, you'll get an approximate idea of all of your possessions. Now there will be things you have not used for a very long time or which no longer can be used. Just go through your inventory and list down all such things that you wouldn't want to take along with you. One of the best ways to declutter wanted stuff is by donating your things. You can either check the orphanages, old age homes, or women centers in your area or get in touch with various organizations online, like Transparent Hands, YWCA, etc.
Some of your items like bulbs, old chairs, tables, etc. may still be in a good condition. You can organize a yard sale outside your house and sell various items which are in good working condition. That way you get rid of unwanted stuff and you can use the money for your moving expenses like gas, moving company charges, renting materials, etc.
Get Helping Hands
If you decide to take up the job of sorting your bedroom on your own, there are chances that you may find yourself entangled in the curtains. So many things can go wrong, your things may break, your room may become a mess, making it all the more difficult to declutter and pack your things for moving.
That's why it's good if you hire movers to help you carry out the job or seek help from friends and relatives in case yours is a DIY move. In both cases, you can reduce the burden on your shoulders and your moving can be fun with reliable people around you. Regardless of whether you're hiring movers to help you or seeking help from your friends, you have to inform them in advance to confirm their availability.
Packing Your Bedroom For A Move
Now that you have decluttered your room of unwanted items, it's time you start packing your things. Just make sure you have all your essential packing supplies right next to you. In case you get confused about the quantity, just go through your inventory list and then depending on your items, purchase your supplies. Here's everything you'll need to safely pack and move your entire bedroom for a move:
Moving boxes (small, medium, and large sizes)
Specialty boxes (for valuables, antiques, wardrobe, etc.)
Moving blankets (for moving furniture, chairs, wall art, etc.)
Packing paper
Bubble wrap
Packing tape
Garbage bags or ziplock bags
Moving equipment (dollies for moving furniture, scissors, screwdrivers for disassembling furniture)
Plastic or shrink wrap
Labeling materials (stickers, markers)
To help you get an idea of the number of packing supplies you'll be needing, here are some estimates of supplies to pack and move one bedroom:
Small boxes:10 to 15
Medium boxes: 5
Large boxes: 3 to 5
Wardrobe boxes: 2 to 3
Specialty boxes: 2 to 3
Packing tape: 2 rolls
Shrink or plastic wrap: Single roll of 15″ x 1500′ or 20″ x 1000′
Do keep in mind that these are just the rough estimates to pack a single bedroom. Your number of packing supplies will depend on the size of your bedroom and the number of items to be moved. That's why we recommend making a bedroom inventory as it will help you get an idea of how much packing material you'll be needing for your move. You can also ask your moving company and check if they offer packing services.
Packing Your Furniture
Your furniture is one of the most important and delicate things you'll have to take care of when you're moving. Moving the furniture will need extra care and special handling as any slight mistake may cause it to break or have scratches. That's why we suggest you first take care of packing all your valuable and delicate items like furniture and then pack the other smaller items.
Some of your most important furniture like your bed, table, chairs, etc. can be really expensive and since these are essential items, you may want to move them to your new home. Moving the furniture is not an easy task and so you may need the help of professional movers or some extra helping hands to pack and move it safely.
Start by disassembling the different parts of your furniture like drawers, nuts, screws, bolts, etc. and make sure you clean each and every part. After you've disassembled your furniture you need to pack each part separately. Whether it's your bed or study table, make sure you secure the furniture with the help of moving blankets. Make sure that the legs of your chair or bed are wrapped properly.
After wrapping the furniture in a moving blanket, use a stretch wrap or shrink wrap to cover it entirely as an added layer of protection and secure it with packing tape. We recommend seeking help from professional movers who have experience in handling delicate furniture for moving.
Also See: Ways for Moving a Queen Size Bed
Packing Your Wardrobe
When you open your closet and remove your clothes, you might come across so many garments you don't use anymore. So make sure you have decluttered the closet of every garment you aren't using by donating it to someone in need. You'll need large wardrobe boxes to accommodate all your clothing.
Make sure all your clothes are properly washed before you start packing them. If you don't have wardrobe boxes, you can use garbage bags or large moving boxes to accommodate all your clothes. If you're using large moving boxes, make sure you first fold your clothes and then keep them in the box.
For a DIY move, garbage bags can be your best option as they're cost-effective and you can keep the clothes along with the hangers. Just make sure you make a small hole in the bag at the top through which you have access to the neck of your hanger. Don't forget to secure your bags or boxes with packing tape and label them.
If you want to pack your shoes and other footwear, it's best if you use their original boxes. Otherwise small or medium-sized boxes will do, just make sure you make a soft cushioning at the bottom of the box using crumpled paper or bubble wrap. Then wrap your shoes in a plain packing paper or bubble wrap and place them in the box. Finally, seal the box with packing tape and don't forget to label it.
Packing Your Jewelry And Other Valuables
Your bedroom is your most comfortable and personal space in the house and that's probably where you safely keep your jewelry and other valuable items. First and foremost make sure that you've listed down every single piece of jewelry and valuable item you possess on your inventory. Since these items are precious, we recommend you pack them yourself instead of asking your movers to do the job. Rather than boxing them up with other items, you should pack these valuables separately in a ziplock bag or a handbag.
Make sure you carry your jewelry with you rather than keeping it with other items in the moving truck. Speaking of other valuable items like your legal documents, housing papers, driving licenses, property papers, office folders, etc., you should keep them separately in a large folder. You can purchase large folders for accommodating these important documents from Amazon or any other local stationery store. Make sure that just like your jewelry, this folder is kept in a different handbag that you always have on you.
Packing Lamps And Lampshades
Lamps and lampshades are also fragile and delicate items that need careful handling while packing and moving. Make sure that you first dismantle your lamp and then pack it. First and foremost, clean the lamp with a clean cloth and make sure that you have disconnected the lamp before packing it. The smaller parts of the lamp can be packed in a ziplock or garbage bag and sealed with packing tape.
You can wrap the lampshade with plain packing paper or bubble wrap. The other parts of the lamp like the harp, bulb, lamp stand, or base can be packed in a separate box. Grab a medium-sized box depending on the size of your shade and place some bubble wrap or crumpled paper at the bottom to create a soft base. Wrap the lampshade in bubble wrap and place it in the box. Fill in the empty gaps with crumpled paper or packing peanuts. Finally, seal the box with packing tape and label it with the title 'Extra Care'. That way your movers will handle it with care while loading it onto the moving truck.
Packing Your Bedding
Make sure you wash all your blankets, bedsheets, and pillowcases before you start packing them. The ones which you aren't using can be donated or can come to your aid as packing supplies, especially to create a soft cushioning for your items in your moving boxes. You can use medium or large-sized boxes or garbage bags to pack your bedding. If you run out of moving boxes, you can also use any waterproof bins that you already possess. Otherwise, garbage bags can be your best option as they are cost-effective and can accommodate a lot of items. Just make sure you don't forget to seal your boxes or bags with packing tape and label them.
Also See: Cost of Moving Bed
Packing Mirrors, Pictures, And Wall Art
The mirrors, picture frames, paintings, and wall art pieces in your bedroom may be some of your most precious and priceless possessions. That's why you'll need special mirrors or art pack boxes to accommodate such fragile items.
Firstly, use corrugated cardboard pieces or bubble wrap to secure the corners of your mirrors or frames. Next, use plain packing paper or bubble wrap to wrap all your mirrors and art pieces and secure them with packing tape. You can place some bubble wrap at the base and sides of your art moving box so that there's no room for the painting to move inside the box. Keep the painting or mirror in the box vertically and seal it with packing tape with the label 'Handle With Care.'
Packing Other Smaller Items
The other small items in your bedroom like your small accessories, books, hats, CDs, pots, trays, etc. can be accommodated in small moving boxes. You can wrap these small items with packing paper or bubble wrap and place them in your moving boxes. Don't forget to prepare your moving boxes by securing the base with crumpled paper and sealing the box using packing tape.
Things To Keep In Mind For Sorting and Packing A Bedroom
When you're using regular moving boxes instead of wardrobe boxes to accommodate your clothes, it's natural that the clothes may take a lot of space. In case you're running out of boxes, you can fold your clothes properly and then stack them on each other to have some additional space for accommodating more items. That way your packing remains organized and you get to accommodate an adequate amount of items in a single box.
If at all you have a lot of antiques, wall art pieces, and other valuable items that need to be moved, you need to remember that these items are fragile and so at a greater risk of getting damaged. That's why it's best if you notify your movers in advance to take special care of these items and make sure you mark these boxes as 'Handle With Care' or 'Fragile'.
Always make an inventory of your bedroom before you hire the movers or start your packing process. The main reason behind this is that your inventory will help you get an accurate moving quote from several moving companies. You can then compare their costs and choose the one which best suits your needs and budget. Another advantage of making an inventory is that getting insurance for your items, especially your valuables, gets easier as you already have a record of all your belongings to be moved.
If yours is a DIY move and you're on a tight moving budget, there are chances you might have to compromise on certain moving supplies. But that doesn't mean you also have to compromise on the safety of your items. For instance, if you run out of bubble wrap or packing paper, you can use your old bedsheets or towels to wrap and pack your items. Also, if you know anyone who has moved recently, you can check if they have any packing supplies which they can lend you for your move.
Conclusion
Your bedroom is one of the most important places you need to declutter when you're moving. Whether it's packing all your stuff in your room or bidding your room a final goodbye before your move, moving can get pretty overwhelming. But with proper planning and help, you can surely break the stereotype of moves being stressful and make it a peaceful and enjoyable experience for yourself. If you've read our detailed guide, you're all set to pack and move your bedroom, we wish you a very successful move!
FAQs
What Order Should I Pack My Room?
As a rule of thumb, you should pack those rooms which have belongings that you hardly use – like your garage or basement. After that, you can start with packing your living room. Keep the kitchen, bathroom, and bedroom for last as you'll need to use these rooms until the very last moment. The same goes for kids' rooms as packing these rooms early might stress them out, especially if your kids are young.
How Can I Pack My Room Fast?
Always start packing your things well in advance before your moving day. Remember to purchase your packing supplies beforehand and seek help from movers or friends to help you with packing. That way, you'll finish packing faster than you anticipated.
How Long Does It Take To Pack A Five Bedroom House?
The time to pack a five-bedroom house will depend on the size of your house and the number of items to be moved. It would take around 7 to 8 days to pack a five-bedroom house. But if you have movers or friends involved in packing and moving your five-bedroom house, it will definitely help save time.
See also: Cheap Long Distance Moving Companies Near You | How to Take Apart and Pack a Bed Frame for Moving