Home Buying Process – An Overview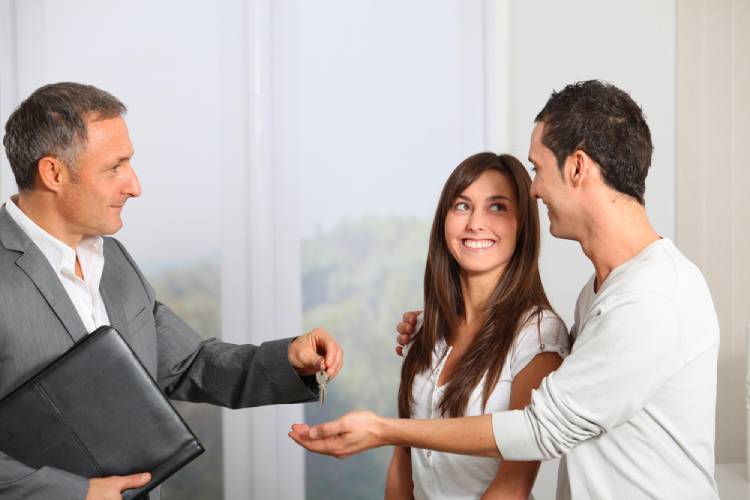 Living on rent and seeing all your rent money go towards no returns can be frustrating. If luck is on your side, you will find understanding landlords. But if you don't, then life on rent can be a pain and all you long for is a place to call home forever.
This is why many Americans start looking for a home as soon as they have enough savings. You'll be at peace seeing your mortgage payments going towards a larger return, known as equity in the real estate world. Looking at all the benefits designed for first-time home buyers, even the state wants you to own a home. But before you dial up a broker, here's an overview of things you must remember while buying a home.
Count That Cash
Many experts will tell you that you must research homes right from the start. But let us suggest otherwise – account for a budget, and only then start looking up homes. This will save you from future debts and allow you to set a bar on affordable housing. Carrying out this financial audit will tell you if you're prepared to take this step or hold on for a little while more. Buying a home is a complete risk if you don't have an emergency savings account. This account should have a minimum of four months of living expenses.
Buying a new house is an expensive affair. Apart from the down payment, expenses like registration costs, advance maintenance deposit, inspection fee, and the appraisal fee join the bandwagon of your home costs. This is why we stress on emergency funds which can act as a buffer during this process. Keeping a check on how much you're spending each month is a good way to budget yourself for your mortgage payments. It ensures you don't skip out on any expenses like utilities, education, car maintenance, and so on.
Start Your Research
Before you narrow down on houses, be clear about which type of house suits your needs, and which special features you want in it. You don't want to end up with a large spooky basement when all you need is a small storage space. It's things like this that should be noted while looking for properties; since you're making the biggest purchase of your life, be careful about all the details.
Survey the options you have, like a single-family home, a townhouse or a duplex. Shortlist houses depending on the size of your family and its needs. Address all possible details right from bigger ones like the neighborhood to small concerns like the layout of the bathroom. On days you aren't out surveying properties, you can go through blogs and property listings. Go through printed material like newspapers and magazines too, highlighting homes you liked in the property listings.

A good tip here would be to keep a weekly check on properties you narrowed on, to know how long each property stays on the market. Note down if there are changes in property rates. This allows you to understand the housing trends.
See also: Best States to Live in the US
Shortlist Properties You Can Afford
Like we said, cover that property listing column in highlighter ink and keep the shortlisted properties aside. If your research is more internet-oriented, bookmark the sites which frequently update properties on sale and keep visiting those sites. We recommend buying homes that cost no more than four times your annual household income. Following this will enable you to account for a 20% down payment and have a moderate amount of debt.
Consider the property taxes in the neighborhood you plan to move into and find out the homeowners insurance. Many buyers make the mistake of buying a fixer-upper property to save on the purchase price. But this isn't always a good idea, as they end up spending a fortune on repairs to turn that fixer-upper into a comfortable home. Contrarily, buyers on a tight budget can benefit from this move if they've budgeted properly.
Gather Your Documents
As you look up properties, start gathering documents, because at some point down the lane your lender is going to ask for it. Foresee this aspect of your home-buying journey and keep them ready. Trust us, this is going to need a lot of financial documentation and detailed financial information. The more documents you produce to prove your finances, the better for you.
Here are the things you need to produce:
Your tax returns from the last two years
Pay stubs or pay slips from the previous 2-3 months to prove your income amount
Bank statements, investments, and brokerage for the last 2 years
Proof of funds for the purpose of the down payment and closing costs
Your identity proof like a driver's license or passport
If you were living on rent before this, you'll also be asked to produce a letter of recommendation from your previous landlord. As your buying process escalates, your lender might ask for more documentation. Keeping them ready will make things faster for both parties; you surely don't want to mess up your current living space looking for papers at the last minute!
Choose The Right Loan
Be firm on the choice you make after reviewing your finances, and don't go for an expensive house just because the bank is ready to lend a loan. Treading carefully is the solution here, otherwise, you might end up 'house poor.' That's what happens when your monthly mortgage is so high that you have little money left for utilities, vacation, or entertainment.
Go through multiple options and understand how interest rates work for each loan. You must also consider the length of the mortgage loan; you don't want to keep repaying all your life, right? Make sure your choice of loan is well informed.
Prequalify And Get Pre-Approval For The Mortgage
Before you get a mortgage, get prequalified for it. In simple terms, your lender will go through your income, savings, and investments. This step can never be missed as the mortgage banker will chalk out the price range of homes you're looking at. On your part, compile all your financial information and entrust it to the lender. Soon, your lender will come up with an amount they can lend you.
Understand that there is a difference between prequalification and pre-approval. The information you provided is trusted in prequalification, but for pre-approval, your lender digs up your credit score and bank statements. This is why a pre-approval is seen as a more reliable exercise. The reason we stress for a pre-approval of your loan before placing an offer on a home is because sellers often bend towards buyers who come with pre-approved loans. The approval also adds a weightage to your offer.
Approach Real Estate Agents
Though the internet will stand by you all along, don't see home buying as a DIY process. Many people choose to look up real estate sites online or just visit open houses by themselves. But going the DIY route when buying your new home is a risk. Get help where it is demanded, especially for a task as important as this. Approaching a real estate agent will smoothen the bumpy ride that leads to your new home. They will act as a buffer against any pitfalls that come while buying houses. Negotiating with the seller, suggesting the right loan, and keeping a check on all paperwork will all be overseen by the real estate agent.
Moreover, they can give you inside tips on homes that aren't listed on public platforms. You sure will benefit from their knowledge of neighborhoods and their negotiating skills. We know you're probably wondering about the expense such agents come at, but you're covered most of the time. Because, news flash, real estate agents are often paid a commission from the seller's proceeds. So, getting a real estate agent isn't going to break the bank. Speak to several agents, ask friends, and research trusted sources for the right real estate agent.
Also See: Selling Agent vs Listing Agent
Tour The Shortlisted Homes
Before you hop into the car and start visiting different properties, make sure your cellphone is fully charged, since you'll be taking lots of photos! Also, take our word and carry a printed checklist of things you are looking for in your new home. Tick off things that meet your requirements in each property you visit. An exercise like this might seem futile at first but will help a great deal when you are in a dilemma over shortlisted houses.
When you are surveying homes, make sure you don't skip out on testing the plumbing, electricity, and ventilation. Check the water supply and flow, and turn switches on and off to check the electric supply. Finally, open the windows wide and check the ventilation. A home filled with light and ventilation will always bring positivity to your family's living space.
Your tour doesn't end here – once you're done with the house, drive around the neighborhood. Note how far the nearest department store, school, and restaurants are, and if there are places of interest nearby. It's also necessary to see the condition of other homes in the block, whether they are well maintained or in a depleting condition. Additionally, check if there's enough street parking space for your vehicles. Once this is done, drive to the next property on your list and repeat the same process.
One more thing you should remember while looking for homes is the closing time frame. It usually takes somewhere between 30 and 45 days to close a house on sale, so plan accordingly. In case you need to move in before the start of the school year or before your apartment lease expires, you need to start searching for homes in advance. A last-minute hustle is just going to land you in trouble.
Negotiate An Offer
Once you have your mind set on a house, go by your real estate agent's word and make an offer. You can even attach conditions to your offer, like a particular closing date or including certain furnishing or appliances in the sale. Once your agent pitches the offer to the seller's agent, expect a counteroffer. It can be a lengthy process since all negotiations happen over written counter-offers with response deadlines. This will go on until you reach a point of agreement, if not, then quit the deal. There are plenty of other options to explore, so disappointment is the last thing you should feel.
In case you strike gold and lock the deal, pay the good-faith deposit. This deposit can be 1-3% of the purchase price or a fixed amount of $2,000 or $3,000. In case your deal falls flat because of an issue on the seller's side, don't worry, since you'll get your deposit back. Post the offer, you reach a period of escrow, usually lasting 30 days. During this time, the seller takes the house off the market, but only under the contractual expectation of you buying it. This is also a time in which you thoroughly inspect the property and take the next steps towards buying it.
Ensure Property Inspection
Your new home might look slick and shiny, but don't believe it even if it looks like a car right out of the showroom. Get a professional to inspect your property for any quality and safety issues. There could be underlying concerns or damage to the property only a professional can identify. Your real estate agent arranges for this inspection within a few days of your offer, but you'll be the one paying for it. While it is on, feel free to accompany the inspector as he goes around the house.
Also, you cannot skip a termite and pest inspection. If your home inspector doesn't offer those services, you can get a separate exterminating company for the task. Soon after the home inspection, you and the seller will receive a report stating all damages that popped up during the inspection. If something does come up and counts as huge structural damage, you can withdraw your offer. But it's better to convince the seller into paying for the repairs or discounting the purchase price.
Also Read: Red Flags to See Before Looking for a New House
Get An Appraiser On Board
This part of the process involves a third-party appraiser who will evaluate the fair price of your home. Such an appraiser is arranged by the lender to ensure they are lending the right amount of money to you. This independent price estimate is then shared with all parties. You hardly have to worry about anything in this process, as getting a real estate appraisal expert is in the lender's court.
Seal The Deal
As you've seen, there's a lot of paperwork to go through before the house keys are in your hand. Thankfully, you have the real estate agent to guide you through it all. Part of this process also includes conducting a title search to make sure only the seller has a full claim on the property. In most instances, you don't have to worry about all that since the lender will look for a title company to do this for you. Once it's established that the seller is the rightful owner of the property you're purchasing, it's time to close the deal.
All you have to do is sign some paperwork to finish your home purchase. However, it's advisable to have an attorney by your side as you sign all documents during the closing. A few days after you complete all the loan documents and submit them to your lender, the loan will be funded. As soon as the seller receives his check, you receive rights to your new home! Now start your move, but not before you celebrate this huge milestone!
FAQs
How Long Does The Home Buying Process Take?
It takes approximately 4 months to buy a home, and an additional 30–45-day period to close the deal. This can vary depending on the amount of time you take to research, since some people want to be sure about their choice and visit many properties before choosing one. It can even take 4-5 months of research for finding the right home. Negotiating the offer also takes several weeks, and if there are countless counteroffers, it might even take a month. Several weeks after that you make the first mortgage payment. So, the overall home buying process can take up anywhere from 3 to 6 months.
How Can I Buy A Home With A Poor Credit Score?
It is true that banks are reluctant to lend loans to people with poor credit, because of the risk involved in it. But don't lose hope of buying a home because of a bad credit score. In case your credit score is below 580, you must save for a 20% down payment to show that you can manage a mortgage. If your credit score is above 580, then keep your worries aside as you qualify for a Federal Housing Administration (FHA) loan. In such a case, your down payment requirement is just 3.5%. You can even consider opting for a private loan, but it comes with its cons. With a private loan, expect huge interest rates and higher fees.
How Many Properties Should I Survey Before I Make A Purchase Offer?
There is no cap on how many houses you can see before finalizing one. It's the biggest purchase you will ever make, so leave no room for doubts. Compare homes, neighborhoods, prices, and the size of homes before you make your decision. You can visit 10 homes over a period of 7-10 weeks. You might even fall in love with the first property that you see, there's no specific number or rule to this. But don't shy away from exploring even as many as 25 properties before taking a call and making a purchase offer.
See also: 10 Best Cities for First Time Home Buyers | Home Buying Myths | Home-Buying Checklist For Parents