Empire Moving Group Review 2022 (with Pricing)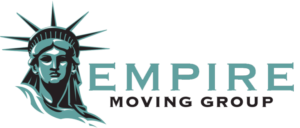 The thought of moving itself can be stressful, especially if it's your first move or if you're moving at the peak of the moving season. From researching moving companies, asking for price estimates, comparing deals to booking the move, moving is no easy task. And that's just the pre-move stage, what follows on the day of the move is another episode altogether. How sorted it would be if a professional would handle everything for you?
That's where companies like Empire Moving Group come into the picture. It is a licensed moving brokerage company that understands your requirements and hand selects movers for you. The company has contact with the best movers in the country and ensures that you always get the best services at a competitive price. Be it a local move, a long-distance move, a corporate move, or an auto transport move, Empire Moving Group promises a smooth and carefree moving experience. Read on for an overall Empire Moving Group review to know if this company is the best one for you.
Overview Of Empire Moving Group
Empire Moving Group will be your constant companion throughout your move. You don't have to worry about a single thing as the company assists in everything right from disassembling your belongings to re-assembling them and everything in between! Simply put, Empire Moving Group offers full-service moving services.
For every step of your move like planning, scheduling, packing, delivering, unloading, etc, Empire Moving Group allots you a mover or a combination of movers to make your move possible. You end up saving yourself from tons of stress since Empire Moving Group does all the research for you. Anyone who has moved before will know how important the pre-screening process is. With Empire Moving Group, this process is a cakewalk.
Empire Moving Group's services include household moves, commercial moves, vehicle moves, and so on. The company also gives you packing supplies like boxes, shipping tape, or moving blankets on every step of your move. So if you fall short of bubble wrap midway through your move, you can just turn to them! Additionally, the company's website has useful moving tips and blogs that will help with your move.
What Services Are Offered By Empire Moving Group?
Local Moving
If you need help with any kind of relocation within state lines, Empire Moving Group is right there. Often times moving companies reject local moves when the price estimates are too low for them. Empire Moving Group picks a trustworthy local mover for your move, however short the distance is.
Nationwide Moving
Moving across the country can be stressful since you need to look for reliable movers who are experienced in cross-country moves. You can leave this entire research on Empire Moving Group as they will weigh the options and come to you with the best estimates. They'll arrange licensed and insured trucks that will expertly carry your belongings across state lines.
Empire Moving Group provides you coast to coast moving services. If you have many items that cannot be carried in a single truck, Empire Moving Group smartly plans your move. You can be assured that the items you need on priority will come to you first followed by your other belongings.
At times, it's difficult to move all your belongings across the country. Whether it's a huge family van or an antique armoire, Empire Moving Group will have it taken care of. The company arranges manpower and equipment to make every kind of long-distance move possible.
Corporate Moving
Corporate moves need more planning and research as compared to residential moves. You need options for bigger trucks, labor to load heavy machines, and professionals that can handle any crisis. Empire Moving Group makes challenging corporate moves a success.
Office moves involve moving delicate furniture and sensitive equipment. Empire Moving Group arranges movers that specialize in handling such moves for you. The professionals picked by Empire Moving Group will come with moving blankets and ensure your office belongings don't endure a scratch. The company also arranges climate-controlled trucks for sensitive office machines.
Bigger corporate moves take place in breaks and need storage space until the move is complete, leave this on Empire Moving Group. You'll also be provided with movers that ensure your office vehicles are safely transported to their new location under complete security.
Storage Options
If you're downsizing and need space to store all your extra belongings, Empire Moving Group will handle that part for you. It arranges climate-controlled storage services so that you can leave your items there for long periods.
If you need storage services at different locations on your moving route, you can turn to Empire Moving Group. It offers nationwide storage services for all your storage needs. It also schedules when you need your goods to be picked from the storage facility and moved to the destination.
Packing And Unpacking
Packing your belongings into boxes, securing breakable items in bubble wrap, and padding furniture can be tiring. You can leave all these back-breaking tasks to the movers provided by Empire Moving Group. They'll oversee everything from packing goods in your old house to placing them in desired positions in your new home.
Auto Transport
Many neighborhood moving companies don't offer specialized vehicle moving services. You need a trained crew, special equipment, and different tools for moving your vehicle. Not only that, you need higher insurance and a licensed auto transport company. Leave all of that to Empire Moving Group.
Whether you want your vehicle moved just across the town or a long way across the country, Empire Moving Group will arrange it. The company even schedules your move on your behalf. If you want the vehicle to reach your destination superfast or want the delivery to be delayed, the company will plan it accordingly.
Vintage automobiles cannot be exposed to road hazards or driven over long distances. If you're worried about transporting your prized possessions, you can avail of this service. Empire Moving Group ensures that your vintage car is moved without even touching a wheel to the ground!
For large families or big companies that need to move a lot of vehicles at once, Empire Moving Group arranges transport trucks with a capacity of 10 cars. All your cars will reach their destination at one time without a worry, with the company's multi-vehicle shipping.
Shipping For Travelers and Snowbirds
For those who like moving to warmer destinations in winters, this is a special service. You don't always want to rent a new vehicle when you reach your new destination nor do you want to drive your car all the way there. Empire Moving Group takes care of it; you can just take the flight and find your car waiting for you when you land!
Empire Moving Group Cost And Pricing
Any costs or pricing estimates are not given on the website since Empire Moving Group handles different types of moves and believes that the price estimates in each case will be different. Do keep in mind that your overall moving costs would also depend on other factors such as the distance of your move, time of the year, and the type of assistance you need with your move. You can call up its sales office and enquire about the costs of the services you need. The company then gets back to you with affordable prices after negotiating with various carriers.
Insurance Plans Offered By Empire Moving Group
Insurance is unavoidable when you're moving your life's possessions to your new destination. Empire Moving Group doesn't provide you with any insurance plans directly but looks up carriers that come with insurance. It saves you the time of researching and planning the right insurance your rental truck or goods need. The company also arranges special insurance when you're opting for an automobile move.
How To Book Empire Moving Group?
If you're relocating locally or across the country, you need not worry about looking up movers since Empire Moving Group will coordinate your entire move. You can easily book a residential move, a commercial move, or a vehicle move through these options. The company's website is very useful and their sales representatives are always willing to help. You can follow these quick steps to book your move!
Go to Empire Moving Group's website and you'll find a form on their homepage. Fill in your current home's ZIP Code and the ZIP Code of the place you're moving to.
Choose the number of rooms your current home has from the drop-down. This helps the company to come up with a tentative price estimate.
Finally, enter your contact information and your moving date. If you're unsure of your move-in date, just put a tentative date in the month you plan to move. Then click on 'Submit Form' and someone from the company will get back to you in no time!
You'll find the same form on the website's contact us page.
You can also call up the contact number provided on their website or mail the company to get any queries cleared.
If you live in Florida, you can visit their office headquarters anytime between 9 am and 5 pm. Remember that they are closed on Sundays!
How To Contact Empire Moving Group
There are several ways to contact Empire Moving Group if you want to avail of their services for your next move.
You can visit their official website since all services are properly enlisted there, this is the link to their website: empiremovinggroup.com.
If you directly want to talk to someone from the company, just dial up the contact number: 407-993-6535 or 305-602-9386.
This is the company's official email address in case you want to enquire about moving estimates over mail: info@empiremovinggroup.com.
Here's the company's office address: 5550 Glades Rd, Boca Raton, Florida 33431
Reasons To Choose Empire Moving Group Service
Huge Network
Empire Moving Group has an established network of local and national movers to cater to all relocations in the US. The company picks the best one out of all the carriers in its contacts, as per your moving needs.
Affordable Prices
The company negotiates with various carriers on your behalf and comes back to you with affordable moving services. It bids with different moving companies and picks the best deal possible. This helps when you're planning a budget move.
Expert Coordination
The coordination support you get from Empire Moving Group makes your move smooth. If you have last-minute issues or additions to your cargo, the customer support team is always there to help.
Remote Moves
Moving companies sometimes reject remote or rural moves, especially if there's less profit in it for them. Empire Moving Group ensures you have a rental truck and labor to help carry out your move wherever you live. This way you aren't left stranded without a mover on your moving day.
Detailed Tips
The website of Empire Moving Group has several detailed packing and moving tips. The blogs section has articles that you can turn to for expert advice.
Things To Consider Before Choosing Empire Moving Group
Underestimated Prices
Empire Moving Group often gives you a low price estimate to secure the sale. Some reviews claim that the company continues the service only after getting an initial deposit from you. But when it's the moving day, the mover arranged by Empire Moving Group quotes a completely different and higher price.
No International Moving Service
While Empire Moving Group does offer local, regional, and nationwide moving services, there are no international moving packages.
Undefined Claims Process
In cases of damage or disputes, Empire Moving Group shifts the blame on the moving company they arranged for you. Often times the moving company throws the blame back on Empire Moving Group and you never get your compensation.
Only Moving Coordination
You must remember that Empire Moving Group is not a licensed mover or carrier but a licensed moving brokerage company. It is simply a moving coordinator that books third-party movers to carry out your move. The company does not own its own fleet of transport vehicles or its own storage units.
Our Take On Empire Moving Group Company
Empire Moving Group is all about eliminating the stress from your move. When you book services from this company, you can be assured that the company will hand-select the best movers for you. People often spend a lot of time and effort in the pre-screening process before they hire a mover; you can leave this entirely up to Empire Moving Group. However, you must remember that Empire Moving Group is simply a moving broker and you must not always believe the low prices it quotes just to seal the deal!
FAQs On Empire Moving Group Review
Which Are The Best Moving Companies In The US?
International Van Lines, Atlas Van Lines, Mayflower Transit, U-Pack, Allied Van Lines, etc are some of the most well-known moving companies in the US.
Is Empire Moving Group A Mover?
Empire Moving Group is a licensed moving broker and not a licensed carrier. That means the company doesn't have its own trucks or labor but arranges movers for you through its wide network.
How Can I Book Empire Moving Group?
You can fill out the form available on the website of Empire Moving Group to book your move. You can also call the office, mail the company, or visit the Florida office physically to book your move.
Do I Need Labor For My Move?
This depends on the size of your house and the weight of your belongings. If you have a lot of heavy furniture, it's better to hire labor to load the goods onto the truck. If it's a corporate move, it's always better to hire labor.
Related: Joyce Van Lines Review 2022 | Allied Van Lines Review | Mayflower Transit Review | MiniMoves Review 2022