5 Best Enclosed Car Shipping Companies in the U.S.
Unforeseen weather conditions and the debris on the roads are just some of the factors that could hamper the safety of your car when relocating from one location to another. And the extent of damage is definitely higher in an open transport carrier. Fortunately, there's another alternative in the form of enclosed transport services that can pull you out of your misery.
If your grandpa's antique car is too precious to get a scar, or your Ferrari needs that VIP treatment, enclosed car shipping is definitely your best bet. If you're looking for some experts in the industry, our list is exactly what you need. But before we get to the details of the best enclosed car shipping companies, let us quickly help you understand the difference between open and enclosed car shipping.
What's The Difference Between Open And Enclosed Car Shipping?
In simple terms, an open transport carrier is open on the sides, exposing your car to all the elements of the transit. Usually, it's trucks hauling multiple cars on two-level trailers. Amongst the other advantages, the biggest one offered by open transport is the fact that they are cost-effective and a budget-friendly option for people wanting to ship multiple cars together. The level of safety is the only concern with these open transport trailers as it not only makes your car vulnerable to the prevalent weather conditions, but also to thefts or break-ins. It is best that you do not pack any valuables inside your car when using open car shipping services.
On the other hand, enclosed car shipping ensures the extra level of safety you might be looking for when transporting your car. As is evident by the name, these carriers have roofs and sides and are designed in a way to protect your car from all kinds of weather. The only downfall to this service is that it is clearly going to be heavy on your pockets. But if you have a classic car or want to ensure maximum protection for your vehicle, then using enclosed car shipping services is definitely going to be the recommended way out there.
All in all, if budget is your concern, then open car shipping services shall help you out. And if maximum safety is your top priority, then enclosed car shipping could seal the deal for you. Most auto transport companies offer both these services, so you can easily make a choice depending on what suits you the best. Here's a list of some of the best enclosed car shipping companies out there.
5 Top-Rated Enclosed Car Shipping Companies
1. Easy Auto Ship

With over 25 years of experience having its back, Easy Auto Ship has marked its presence in the auto transport industry. Till date, it has transported around 123k vehicles all across the US. Along with open and enclosed transport options, Easy Auto Ship also caters to a variety of vehicles including boats, RVs, motorcycles, and even golf carts. Multi-car shipping, heavy equipment transport, and expedited auto transport services are some of the other specialties offered by Easy Auto Ship.
When compared to its competitors, you'll also notice that the prices offered by Easy Auto Ship are below the industry average. For instance, moving your 2012 Chevrolet Silverado in an enclosed transport across a distance of 200 miles would cost between $320–$680 with Easy Auto Ship. Their highly competitive prices with no hidden fees, backed by fast delivery solutions easily make them amongst the preferred auto transport companies out there.
Right from getting an online quote till the final delivery settlement, Easy Auto Ship aims to make the moving process as customer-friendly as possible. The reason why Easy Auto Ship tops our list of best enclosed car shipping companies is because they value every customer. A majority of the reviews left by their clients have stated the high quality customer service they have received from Easy Auto Ship. Moving can be a stressful event for many, but when you have a trusted company to guide you along the process, it just becomes a little easier.
Easy Auto Ship aims to take that stress off your shoulders by catering to all your shipping concerns. As an added bonus, they also offer free rental and car wash if your vehicle is not delivered within 14 days of pick-up or it is delivered dirty. Do reach out to Easy Auto Ship to know more about the variety of deals and services that they offer.
Easy Auto Ship Contact Details
Email ID – sales@easyautoship.net
Contact Number – 888-687-3243
Address – 860 Boardman-Canfield Rd, Youngstown, OH 44512
Operational Hours – Monday to Friday (8 am to 8 pm), Saturday (9 am to 6 pm), Sunday (9 am to 5 pm)
Website – diytransport.com
Easy Auto Ship Reviews
Google Reviews – 4.6/5
Transport Reviews – 4.5/5
BirdEye – 4.9/5
2. eShip

A family owned and operated company, eShip Transport has been in business since 2012. Over the years, eShip has built a strong reputation amongst its clients and has become a known name in the auto transport industry. Their reliability is also reflected in the fact that they are not just accredited by the Better Business Bureau, but also consistently hold an A+ rating with them. eShip also has a lot of positive reviews on different platforms from clients across the US.
One of the best features about eShip is its wide nationwide availability. Not just in all the 50 states of the US, but eShip also provides services in Canada as well as parts of Puerto Rico. Another interesting aspect about eShip is that it isn't like your typical auto transport company. What we mean to say is that eShip expands its services to move not just your vehicles, but also your household items and other equipment that you may need to move. They offer full-service moving options that include packing, unpacking, loading, unloading, debris removal, and custom crating solutions as well.
To give you some idea about the costs, moving your car in an enclosed transport across a distance of around 150 miles would cost between $350–$630 on average with eShip. Factors like mileage, vehicle type, and your location would also affect the final costs. So, it is best if you reach out to eShip who will be happy to provide a no-obligation free quote to help you make a choice. Apart from enclosed transport services, eShip also offers open transport and expedited services to cater to all your last-minute needs.
The customer service provided by eShip is also highly spoken of. They assign a personal consultant to every client who will be there to guide you all along the moving process. Another feature to look out for is eShip's Platinum Protection Plan. Included with every move at no additional cost, this plan offers a variety of benefits including a rental reimbursement of up to $300 if the delivery of your car is delayed beyond 48 hours of the decided time. Do keep in mind that unforeseen circumstances like weather or a breakdown are not accounted for in this plan. With so much to offer to its clients, it's not difficult to see how eShip has earned a spot for itself on our list of the best enclosed car shipping companies.
eShip Contact Details
Email ID – info@eshiptransport.com
Contact Number – 800-906-6909
Address – 7241 NW 43rd Ave, Coconut Creek, FL 33073
Operational Hours – Monday to Sunday (8 am to 11 pm)
Website – eshiptransport.com
eShip Reviews
Yelp – 3.5/5
Consumer Affairs – 4.8/5
3. Montway Auto Transport

One of the best names in the car shipping industry is Montway Auto Transport. Setting up a base in 2006, the company has earned an experience of over 14 years and is known to have transported over 747k+ vehicles around the US, as well as in some places abroad. Montway Auto Transport is widely available in all parts of the US, including the faraway states of Hawaii and Alaska. Over the years, they have also expanded their services to a variety of vehicles including cars, motorcycles, RVs, and ATVs.
Along with offering the common open transport services, Montway Auto Transport also specializes in providing enclosed transport services for your vehicles. They understand your concerns about your vehicle and are ready to go that extra mile to ensure its safe delivery. Their round-the-clock customer service has always been highly spoken of in the majority of the customer reviews left by their clients. Adding to this list of benefits is the special expedited car transport services provided by Montway. If you ever need your car transported at the last moment or are looking for the shortest possible delivery time, you can definitely reach out to Montway Auto Transport and it will find the best solution for you.
Getting a quote for your shipment is also an easy process with Montway. All you need to do is enter your relevant details on their website and get an instant quote either through online chat or over call, as per your convenience. Don't forget to check out the existing deals and discounts that Montway keeps offering from time to time. That could really make a cost-effective deal for your shipment.
To give you an estimate, moving your car in an enclosed transport across a distance of around 500 miles would cost somewhere between $340–$960 when moving with Montway Auto Transport. If you are a student or a military personnel and have some specific needs, Montway Auto Transport is ready to cater to them as well. To add to it, their guaranteed pick-ups for your vehicles ensure that your move goes through as planned without any last-minute hiccups. Isn't that all we need at the end of the day?
Montway Auto Transport Contact Details
Email ID – feedback@montway.com
Contact Number – 888-497-9792
Address – 425 N Martingale Rd, Suite 550, Schaumburg, IL 60173
Operational Hours – Monday to Friday (6 am to 10 pm), Saturday (8:30 am to 6 pm), Sunday (9 am to 9 pm)
Website – montway.com/auto-quote-3
Montway Auto Transport Reviews
Consumer Affairs – 4.9/5
Google Reviews – 3.5/5
4. Sherpa Auto Transport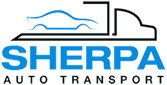 When you opt for enclosed transport services, you're already paying a good amount from your pocket. And the last thing you would want is to have additional charges or fees surprise you at the end, right? That's exactly what Sherpa Auto Transport wants to save you from. Offering guaranteed price locks, Sherpa Auto Transport will always keep you in the loop about the final costs and will make you pay only the prices that were agreed upon from the beginning. That's a good relief, right?
Adding to these perks is the great customer service offered by Sherpa Auto Transport. Having experienced the lows in the industry, they were determined to bring about a positive transformation in the auto shipping industry. They cater to all college students, military and corporate relocations, and have open and enclosed transport services for all. One of their other interesting features is the fact that they cater to the moving needs of snowbirds and seasonal travelers as well. So, the next time you're planning a holiday far away from home and would love to have your car around, do reach out to Sherpa Auto Transport who'll be happy to make those arrangements for you.
Talking about the costs, you might notice that the quotes you receive from Sherpa Auto Transport are a little on the higher end of the spectrum. But their price lock guarantee ensures that you are well informed about all the costs. Interestingly, you might also notice that enclosed transport rates with Sherpa are comparatively amongst the best in the car shipping industry. To give you some perspective, moving your 2011 Toyota Highlander in an enclosed transport across a distance of 200 miles will cost between $380–$750 when moving with Sherpa Auto Transport.
Though the services offered by Sherpa Auto Transport might seem limited in comparison to its competitors, their customer-centric and meticulous service seals the deal for most of their clients. Their small efforts like offering a free car wash amongst others is what attracts a lot of customers. Basically, you'll be paying $20 for a good car wash but can easily be reimbursed for it if you submit the receipt with the bill of lading within 30 days after you've received your car at the new location.
Sherpa Auto Transport Contact Details
Email ID – sales@sherpaautotransport.com
Contact Number – 877-850-1231
Address – 5605 Carnegie Boulevard Suite 250, Charlotte, NC 28209
Operational Hours – Monday to Thursday (8 am to 9 pm), Friday (8 am to 8 pm), Saturday (9 am to 7 pm), Sunday (10 am to 8 pm)
Website – sherpaautotransport.com
Sherpa Auto Transport Reviews
Google Reviews – 4.7/5
Yelp – 4/5
Consumer Affairs – 4.9/5
5. AutoBox Express LLC
While most auto transport companies offer both open and enclosed transport services, there is only a handful of them that specialize only in one of the two. AutoBox Express is one such company that specializes in providing enclosed transport services for all your vehicles. Licensed, bonded, and insured, they are based out of Chicago and aim to provide reliable and professional enclosed transport services for all types of vehicles in and around the US.
AutoBox Express offers two types of enclosed transport services. One is their multi-vehicle enclosed transport that can support three, four or six car trailers at one go. The other is their single-car transport which can be requested by clients who would prefer transporting their vehicle in an exclusive container. AutoBox Express understands that every move is unique and so are your requirements, and therefore offers custom-made trailers to suit all your vehicle needs.
Another important feature offered by AutoBox Express is its GPS tracking. All of AutoBox's transportation vehicles are equipped with the latest GPS tracking system that allows you to easily track your vehicle during transit. You can also avail the convenience of door-to-door pick-ups and delivery when moving your vehicle with AutoBox Express. They strive hard to provide white-glove services and ensure that your vehicle is handled with utmost care. Whether it's your Rolls Royce or a Lamborghini, AutoBox Express promises to treat your car as efficiently as possible.
AutoBox Express LLC Contact Details
Email ID – info@autoboxexpress.com
Contact Number – 630-418-7311
Address – 7700 Brush Hill Road, Suite#131, Willowbrook, IL 60527
Operational Hours – Monday to Sunday
Website – autoboxexpress.com
AutoBox Express LLC Reviews
Google Reviews – 4.6/5
See Also: Car Shipping Companies with GPS Tracking?
FAQs
How Much Does It Cost To Ship A Car Enclosed?
You can expect to pay between $400 to $1,200 to ship a car in an enclosed trailer. Now do keep in mind that these are just rough estimates to give you some idea about the prices. The final cost to ship your car enclosed would primarily be dependent on the make and model of your vehicle, the total distance you need to travel, and the time of the year you're relocating. All these factors plus the enclosed shipping option that you choose would be the key determinants of your final cost.
See also: Vehicle Transport Costs
What's The Cheapest Way To Ship My Car?
Using an open transport carrier is probably the cheapest way to ship your car across any distance. Ideally, if you're only moving locally or a short distance, then driving your car could also be a cheap alternative to get it shipped from one location to the other. But when you're looking at auto transport companies to get the job done, do get quotes from at least 3 to 4 different companies and look out for the discounts that they offer to get the best deal for your shipment.
How much does it cost to ship a car enclosed?
Shipping a car is an expensive process and not one to undertake lightly. However, there are two ways you may be able to ship your vehicle—open or enclosed transport. Open transports typically cost $1,080 for short distances, while the average price of enclosed transportation could set someone back about $2160 over longer distances.
Should I ship my car open or enclosed?
If you're shipping a standard or used car, open transport is the best option. However, if your vehicle has high value and needs maximum security during transit, enclosed transport may be more appropriate.
Can I put stuff in my car when I ship it?
Although some companies allow you to place items in your vehicle or trunk, they usually recommend that all personal belongings be removed. There is always a risk of theft and damage during transport, so many shipping companies discourage this practice for safety purposes.
How many cars can an enclosed trailer hold?
Most enclosed trailers can carry 3-7 vehicles. Some have only a single deck, while others have two decks that allow for more space to be used and the ability to transport more than one vehicle on top of another like an open-air car carrier. The size of each vehicle is also important in determining how many your truck/trailer will fit comfortably!
How much does it cost to ship a car 1000 miles?
A person will spend about $0.78 per mile on average when shipping their vehicle 1,000 miles or more across the country, which means that you'll be spending approximately $780 – $800 for shipping your car 1000 miles. If you are only moving your automobile for less than 200 miles away, then expect an average shipment fee of roughly $2.92/mile charged by major carriers.
Is it worth shipping a car?
Shipping is often not the best solution for people with low-value vehicles. Yet if you have a high-value car, it will always be worth shipping your car to an auto transport company to get them safely shipped without any dents or scratches on their way there. This also means that all customers can find either open and enclosed trailers when needed based on what they need themselves per budget constraints or level desired security.
How do I choose a car transport company?
When looking for a car transport company, ensure that the company is certified by the Department of Transportation. The company should also have experience in transporting cars. With an experienced company, you can be assured that your car will not get damaged during transport.
See also: Best Car Shipping Companies
Conclusion
Ensuring the safety of your vehicle during transit is definitely everyone's top priority out there. Fortunately, companies offering enclosed car shipping trailers provide that extra sense of security you need for your vehicles. While safety is definitely ensured, the only drawback to enclosed shipping trailers will be the high costs associated with them. We would suggest that you reach out to any of these enclosed shipping companies if you have an antique car or just want maximum protection for your vehicle.