Public Storage Review 2022 (with Pricing)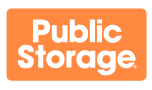 When you're planning to renovate your house or are determined to have an intense decluttering session, something that is sure to crop up is finding space for all your miscellaneous items. There are things that you might not be using frequently or those extra pieces of furniture that you don't need for the time being. At that point in time, your most useful asset would be a storage unit. And as soon as you start your research about self-storage units in the US, Public Storage will be a name you'll most probably come across.
With over 170 million square feet of rentable storage space, Public Storage is the largest self-storage company in the US. The company's wide availability and range of storage units have made it a reputable and popular name in the storage industry. In our Public Storage review, we'll be having a comprehensive look at the different services offered by the company, their fee structure, and the pros and cons of their services as well. Let's dive right into it and figure out if Public Storage ticks all the right boxes for you.
Overview Of Public Storage
Established around 1972, Public Storage is not just the largest but is also amongst the oldest self-storage companies in the US. Roughly, the company has over 2,600 locations spread across 40 states in the US and in parts of Europe. Denmark, France, Germany, Belgium, Sweden, and the UK, are some of the European countries where Public Storage facilities are available. Basically, finding a Public Storage facility close to you is not going to be a very tough job.
Availability isn't the only selling point for Public Storage. The company caters to different types of storage needs including those of college students and members of the military. Individuals and businesses alike can make use of the storage solutions provided by Public Storage. The process of renting out a storage unit at their facility is also very quick and easy. Just locate the facility that's convenient for you, inquire about their available storage unit sizes, and reserve your unit without any fuss.
Now that you have some idea about the company, let us have a detailed look at the different services offered by them.
What Services Does Public Storage Provide?
Self-Storage
Public Storage offers self-storage units ranging between dimensions of 5 ft. x 5 ft. and 10 ft. x 25 ft. At most locations, these storage units are accessible for customers between 6 am and 9 pm. Public Storage gives you the option of choosing either an outdoor, garage-like storage unit, or an indoor walk-in unit as per your storage needs. You can also authorize another person to access your storage unit in case you aren't able to access it by yourself. Just make sure to add their name as an authorized user in your account.
Vehicle Storage
For your vehicle storage needs as well, Public Storage offers limited indoor and plenty of outdoor storage spaces. You can easily store a number of vehicles like cars, motorcycles, boats, and RVs in their storage units. They have different unit sizes to fit small as well as large oversized vehicles. Out of all the other vehicles, Public Storage specializes in providing boat storage solutions. From canoes and jet skis to surfboards and trailer boats, they have versatile solutions for all kinds of watercraft.
Business Storage
Few of the Public Storage facilities that classify as "mini warehouses" are often termed as Boxsmart by the company. They offer cost-effective commercial storage solutions for all your business needs. You can use the unit to store your additional documents, equipment, office supplies, inventory, or company vehicles.
Climate-Controlled Storage
Items such as cameras, computers, electronics, gaming systems, musical instruments, and many more might get damaged because of extreme heat or cold. But when you store these items in temperature-controlled or climate-controlled units, they can be kept safe for a longer period of time. Public Storage offers these climate-controlled units to safeguard your belongings from heat, cold, and humidity as well. Your wooden furniture and metal items too, stay protected from mold, rusting, and corrosion.
Moving Supplies
If you're planning to move some stuff out of your storage unit and need a few packing supplies like boxes and tapes, you need not run around looking for them. At a majority of Public Storage facilities, you can directly purchase the packing and moving supplies that you need. In addition to that, the company also offers dollies and hand trucks at the facilities at no extra cost.
What Sizes Of Storage Units Does Public Storage Provide?
One thing that we love about Public Storage is that it has a wide variety of storage unit sizes to accommodate your different needs. They offer small storage lockers and self-storage units as well as large vehicle storage units. While most of their facilities will offer common units, a few of them might also have unique sizes for your special needs. Let's have a quick look at the dimensions, storage space, and ideal utility of each of these units.
Self-Storage Units
Storage Unit Dimensions
Floor Space
Storage Space
Utility
Small Storage Units
5 ft. x 5 ft. x 8 ft.
25 square feet
200 cubic feet
Can fit the items of a large closet or a small room. Also ideal for your garden tools, sports equipment, or seasonal décor.
5 ft. x 10 ft. x 8 ft.
50 square feet
400 cubic feet
Can store belongings of 1 mid-sized bedroom. Ideal for a dorm room or a studio apartment.
Medium Storage Units
5 ft. x 15 ft. x 8 ft.
75 square feet
600 cubic feet
Can hold about 2 rooms' worth of items like a queen-sized bed, a dresser, a TV, golf clubs, and a couple of medium to large sized boxes.
10 ft. x 10 ft. x 8 ft.
100 square feet
800 cubic feet
Items of 2-3 bedrooms can easily be stored. Your TV, dresser, nightstand, and all the other contents of a medium sized house can fit in this unit.
Large Storage Units
10 ft. x 15 ft. x 8 ft.
150 square feet
1,200 cubic feet
Can store belongings of up to 4 rooms. Items such as a piano, a couch, and several large-sized boxes can be stored.
10 ft. x 20 ft. x 8 ft.
200 square feet
1,600 cubic feet
Fits the contents of 4-5 rooms including items like a refrigerator, a washer, a dining room set, and several large boxes.
10 ft. x 25 ft. x 8 ft.
250 square feet
Approx. 2,000 cubic feet (Can vary with location)
Can store around 6 rooms worth of belongings. Ideal at times when you're having a major renovation at home or need space for your small business inventory.
Vehicle Storage Units
As mentioned above, Public Storage also offers different vehicle storage solutions. The company offers a 20-foot storage unit ideal for most standard cars, motorcycles, and ATVs; and a 35-foot storage unit for a majority of RVs and boats. For all large and oversized trucks or other vehicles, you can use their 50-foot storage unit. These units are available in enclosed spaces, outdoor but uncovered spaces, and outdoor but covered spaces. Some facilities may also offer other unique sized units, so do enquire about the available sizes at your facility before deciding on your storage unit.
Key Takeaway
The figures that we have shared at the beginning of this article are a testament to the wide availability and ample storage space provided by Public Storage. The company caters to all storage needs of individuals and commercial businesses alike. From your smallest of items to your large oversized boats and vehicles, you'll find solutions for everything that you need to store at Public Storage. It also has responsive customer service that takes care of all your storage-related queries.
How To Contact Public Storage?
Website
For any storage-related clarifications that you need, you can easily reach out to Public Storage by filling out a 'Contact Us' form that is available on their website. All you need to fill in are your name and contact details like phone number and email address, along with your query and they'll get back to you at the earliest.
On Call
If you're looking for an instant reply, you can also directly pick up the phone and reach out to Public Storage customer service on 833-814-3592. Existing customers can directly contact them on 800-567-0759 as well.
Email
If you fill their 'Contact Us' form you will be getting a reply via mail from them. Alternatively, you could also drop them a mail at info@publicstoragecanada.com.
In-Person Visit
Public Storage has a vast network of facilities spread across different states in the US. But if you're based in California and prefer going the old school way, you can also visit their headquarters at the following address:
P.O. Box 25050, Glendale, CA 91221, United States
Public Storage has also built an app for its existing customers. You can download it from the Google Play Store or Apple Store and then use it to conveniently manage your account, make payment, and handle your storage space.
Do note that their customer service office timings are usually from 5 am to 10 pm (PST) from Monday to Saturday, and from 5 am to 9 pm (PST) on Sunday. The access time at every Public Storage facility might vary with location. Make sure to confirm the same with your facility manager as well.
Public Storage Fee Structure
The quotes offered by Public Storage are more or less centered around the industry average. But at a few locations, you might be able to get hold of some eye-catching deals and discounts as well. On average, you could be paying anywhere between $25 to $400 a month as the rent for your storage unit. To help you understand better, a small-sized 5 ft. x 5 ft. unit would cost between $30 to $120 per month and a medium-sized 10 ft. x 10 ft. standard storage unit would cost approximately $210 per month. Along with your location, there are also a couple of other factors that influence the cost of your Public Storage unit.
These factors could be categorized as:
Type And Size Of Storage Unit: Whether you choose a standard storage unit, a vehicle storage unit, or a climate-controlled storage unit, the cost of your storage unit would vary with the type of storage that you choose. Prices would also vary with the unit size you choose. Naturally, the more amenities you need or the larger the unit you use, the higher would be your total costs. For instance, if you're opting for a climate-controlled storage unit, your final costs would increase around 25% – 30% in comparison to a standard unit. Similarly, large 10 ft. x 25 ft. storage units would be priced higher than small or medium-sized units.
Company Locations: Like we mentioned before, the price of a storage unit is also influenced based on its availability at a particular location. For instance, facilities located in densely populated city areas, having a limited number of storage units will definitely be priced higher than units located in rural or less populated areas. Try securing a storage unit in the rural areas if budget is your top concern. You'll easily be able to get hold of a large unit at some affordable prices.
Fees And Discounts: A one-time administrative fee of $24 will be added to your first month's bill with Public Storage. From then on, mandatory monthly insurance costs at around $15, and the applicable taxes will be charged in addition to your monthly storage rental. All the items that you store in your storage unit will have to be insured either under your homeowners' insurance or you can purchase insurance from its Orange Door Insurance. As for the discounts, Public Storage offers the first month storage rental for only $1 and also offers military discounts as well as other promotional offers that could lower your total costs. Make sure to reach out to their representative to know more about the available deals and discounts.
Public Storage also provides flexible payment options. Credit cards, cash, and cheques are all accepted modes of payment. You can also opt to make payments via mail or phone call (866-444-4747). Do keep in mind that a transaction fee of up to $20 may be charged for every payment made over the phone. Another alternative is to download their app and use their AutoPay feature. Your rental fees will automatically be deducted each month under this feature so you don't have to worry about making on-time payments.
Why Choose Public Storage For Your Storage Needs?
Cost-effective prices and a wide range of storage units provided by Public Storage are some of the main reasons why people from all over are availing of the services provided by the company. Let us have a look at a few of the other benefits of choosing the largest self-storage company in the US.
Starting from the reservation process to accessing your storage unit, everything is quick and organized at Public Storage. The company also offers free reservations which means that you can cancel your bookings without any obligation. Both short-term and long-term storage solutions are easily available at their facilities.
When you don't want to store a lot of things and feel like the smallest 5 ft. x 5 ft. unit could also be like a waste of resources; you can make use of the storage lockers provided by Public Storage. At some facilities lockers ranging from 3 ft. x 4 ft., 4 ft. x 5 ft., 5 ft. x 4 ft. might be available with low ceilings and in unique sizes. You can use these lockers to save all your compact items.
The company's wide outreach throughout the US ensures that you get a storage unit at a convenient facility without having to break your head over it.
Few of the discounts offered by Public Storage are truly attractive for its customers. We've mentioned the $1 fee as your first month's rental, but even for months thereafter, you could get up to a 30% discount on your monthly rental cost. The company also offers special discounts for the members of the military.
Things To Keep In Mind About Public Storage
It is only fair that we have a look at the complete picture. Now that we've seen the positives, let's also look at a few things that you might want to consider before renting out a storage unit from Public Storage:
Public Storage encourages its customers to purchase insurance from the Orange Door Insurance company. But a couple of customer reviews have expressed dissatisfaction over those insurance policies. However, it is important that you thoroughly read and understand all the terms and conditions of the policy before deciding to purchase it. You can clarify the same with a representative of the company or even look out for third-party insurance options if needed.
A lot of the facilities have mixed customer reviews. Though a few of them have spoken highly of the affordable prices and variety of options available, a handful of them have also reported incidents of theft and burglary. Even though the facilities might have adequate security features, it is best if you also secure your unit with a durable, good quality lock.
Accessibility of Public Storage units could be an issue for those who aren't able to access their units within the specified facility timings (usually between 6 am and 9 pm). However, you can give authority to a friend or a family member and get your work done in such circumstances. You can also reach out and work a solution with your facility manager in case of any special requirements.
Our Take On Public Storage
Public Storage is a popular name in the self-storage industry owing to its easy availability and varied storage unit sizes. You will most probably be able to find the desired size of storage unit you need for your belongings. The company offers some cost-effective prices as well to give you a complete experience. However, the only thing to keep in mind is that the level of service may vary with every Public Storage facility.
While most of them have a handful of positive customer reviews, a few of their facilities also hold some below-average reviews. We suggest that you inquire about all relevant details such as the access timings, available unit sizes, and prices offered at your preferred facility before finalizing your choice of storage units.
FAQs about Public Storage
How Do I Cancel My Reservation At Public Storage?
Public Storage offers you the convenience of free reservations. This means that there's no obligation and you can easily cancel your reservation at any point in time.
How Secure Is Public Storage?
Public Storage facilities are enclosed with a fence and have only a single entry point. They have video surveillance and electronic gates installed which are only accessible to customers having the relevant codes. A number of Public Storage facilities also have on-site managers to assist with your storage needs. Though these security features are present, a couple of their customer reviews have also stated instances of theft and burglary. Overall, Public Storage offers all the basic security features needed at a storage unit.
Is Public Storage legit?
Public storage is a popular company in the industry with consumer reviews of 4.3 stars from 1,116 people, and most customers are happy with their services.
Does Public Storage raise rates?
Public storage is committed to providing low prices to accommodate customers. They don't change rates as often as the big competitors, which means you get more for your money!
How does Public Storage's $1 first month work?
Public Storage offers a $1 first month if you sign up on the 1st of any given month. If not, they charge you an entire future month's payment and only give one free day for that next month's space rental.
Does Public Storage give refunds?
No. All reservations are non-refundable, and all deposits charged upfront would be credited back to your account if the reservation is canceled within 24 hours of purchase.
Can you negotiate Public Storage?
With some basic negotiation skills, you could save a few hundred dollars per year on self-storage and get the best deal. Get an idea of your needs before contacting any storage facilities to find out which ones have available units that meet those requirements. This way, there's no need for multiple visits or scheduling time with managers; it'll just take one call! If possible, visit more than one facility when comparing prices to see how different sizes compare and determine if location plays into the decision-making process.
What happens if I don't pay Public Storage?
Public storage is a company that has successfully managed to provide quality and affordable storage units for its customers. Unfortunately, if the debt isn't paid, they have no other option than auctioning off your possessions to make up the difference.
Can you cancel public storage at any time?
You can cancel public storage at any time. There's no obligation, and you're free to change your plans if necessary without incurring cancellation fees or penalties!
See also: Extra Space Storage Review | Best 24-Hour Storage Companies