Moving To South Dakota – 2022 Cost of Living & Relocation Guide


VanLines Inc
Secure Storage
Easy Booking Process
Fully Trained Employees
GET A QUOTE

Colonial Van Lines
Storage Services
Long-Distance Moves
Corporate Relocations
GET A QUOTE

Moving APT
Available Nationwide
Award-Winning Movers
Extensive Vetting Process
GET A QUOTE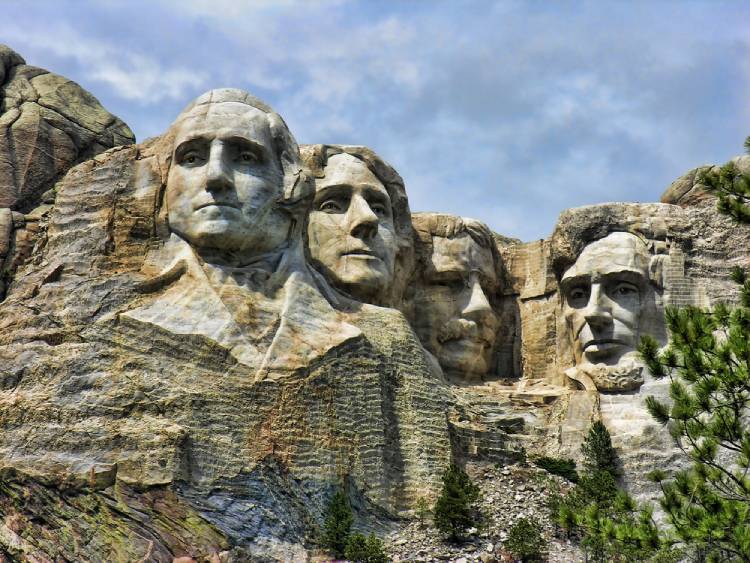 There are a few things that make a state ideal to fit your state of mind so that you can consider moving there. Good quality of life, beautiful neighborhoods, and a strong job market are a few such things. The Land Of Plenty has got it all and more and you will get to know all about it as you read through this article. The state of South Dakota has the slogan 'Great Faces. Great Places' and it certainly lives up to that.
Home is and should be synonymous with happiness and you will be enthralled to know that the state of South Dakota has been consistently ranked as one of the happiest states in the U.S.A. Here are some of the things you should keep in mind as you decide to build a life in this land of plenty, South Dakota:
Weather In South Dakota
You must be familiar with the saying 'the best of both worlds' but it is quite opposite when it comes to the weather in the Mount Rushmore State. You will encounter the extreme sides of both winter and summer in South Dakota. Here is an overview of what the four seasons will look like for you when you move to the state of South Dakota:
Winters
Winters in the state will not offer you sunshine but would certainly offer you lots of snow. The cold temperatures can fluctuate between mild to extreme. January is the coldest month where the temperature highs touch 32°F and the average lows dip below 10°F. Make sure to get a heater installed in your house and stock up on winter wear and heavy coats before you decide to move to South Dakota.
Summers
This is another extreme weather you will experience in South Dakota because during the summers, the sun can be pretty harsh here. The summers in South Dakota can range from extremely warm to moderately hot. The average high temperature in the state varies from 80°F to 90°F in the peak of July but the nights tend to cool down quickly to give you some relief wherein the temperature can range between 50°F to 60°F. Always stay hydrated, have liquids, and apply good SPF so that the summers will be kinder on your body.
Spring
The evergreen spring can rarely go wrong in even the most unpleasant states and it will be a delight when you experience springs in South Dakota. Keep in mind that the weather can be unpredictable in spring and can range from 20°F – 70° F. There will also be the possibility of unpredictable rain and snowfalls so always keep a coat and umbrella handy.
Fall
Fall is the most fun and colorful season and you will experience the prime of it in the Mount Rushmore State. You will experience all the fall hues before Halloween because the season in South Dakota will generally be at its peak during the festive season. Mild and pleasantly sunny days and cool nights will constitute your fall months in the region. Fall in the state comes around September and stays till November. September sees an average high of 73°F with a low of 45°F; October averages a high of 60°F and a low of 34°F; November sees an average high of 47°F with a low of 23°F.
Transportation In South Dakota
South Dakota has decent public transportation with no railways but a solid bus system. State-wide public transportation is handled by the Dakota Transit Association (DTA) and the South Dakota Department of Transportation (SDDOT). Here is how you can travel in and out of the state of South Dakota:
Roadways
Roadways are perhaps the most preferred and most convenient mode of transportation as public buses save you a lot of money and using them is also good for the environment. If you prefer buses, Greyhound is perhaps the best bus company because it has a strong network that covers the entire country. Greyhound buses can easily take you to major cities like Sioux Falls or Rapid City with just one or two connections. Rapid Transit System is also a reliable and safe mode of public transportation that has been providing intercity services in Rapid City for more than 30 years.
Airways
The Mount Rushmore State doesn't fly too high when it comes to transportation which can be seen in airways too. There are only 5 airports in the state and major airlines serve only cities like Aberdeen, Huron, Pierre, Rapid City, Sioux Falls, and Watertown. Allegiant Air, American Airlines, Delta Air Lines, Frontier Airlines, and United Airlines are some of the major airline carriers in the state and there are no international airports in the entire state.
Railways
Sadly, there is no train service in South Dakota, but the state has decent coverage by long-distance coaches as mentioned in the roadways.
Job Market In South Dakota
A promising and improving job market can certainly add appeal to any state and SD has gotten it right! South Dakota has one of the strongest economies and job markets which explains why people prefer to move here and why it is considered as one of the happiest states in the U.S.A. If we're talking facts, the level of employment here has increased by 8,700 jobs (1.9%) in the year 2022 while unemployment has decreased by 2,200 persons (14.5%). Job opportunities are endless in this land of variety with truck drivers, registered nurses, healthcare, accounting/finance, sales representatives, mechanics, specialty trades, and technology being some of the biggest and most in-demand jobs.
Real Estate In South Dakota
Buying A House
Buying a house is a dream and if you are planning to move here for the long term so it only makes sense to check out the real estate market and gain some clarity on how much you will need to invest in a house of your own. In the state of South Dakota, the average median home value is approximately $272,219 which is a lot cheaper than the national average. The cities of Harrison, Green Valley, and Brandon are some of the best places to buy a house.
See Also: 10 States With The Most Mortgage-Free Homeowners
Renting A House
Renting is convenient for so many reasons as it can give you the buffer period you need before finally handing over the down payment to buy your house. Luckily for you, renting is also affordable in South Dakota. Sioux Falls in South Dakota is one of the most preferred locations by renters and the average monthly rent in the state is currently $745 for a one-bedroom apartment. Rental costs can vary based upon the location, size, and season.
Also See: Best U.S. Cities to Rent in for 2022
Crime Rate
Safety is absolutely essential and we're glad to inform you that the state of South Dakota has less crime rate when compared to the national average. According to NeighbourhoodScout, the overall crime rate in the state is 24.75 incidents (per 1,000 residents) with 5.05 violent crimes like murders and other serious crimes and 19.70 property-related crimes (per 1,000 residents).
Cost Of Living In South Dakota
The cost of living can make or break any state but do not worry about it if you are moving to South Dakota as its benefits extend to the cost of living too. The state of South Dakota has one of the lowest living costs in the entire country. Utilities aren't that expensive so you pay approximately $120.60 for electricity, $44.20 on streaming services, $70.93 on the water bills, $46.33 for natural gas, and $59.99 on the internet. Your overall monthly utility bill cost will be around $342.05 which is quite budget-friendly. You will also save a lot on food, restaurants, and groceries while enjoying a pretty decent median monthly household income for a family; $75,168.
Education In South Dakota
We understand if a good educational structure is one of the things you are looking for while moving. Any state that has good schools and offers high-quality education has its priorities in the right place and has its citizens' progress in its mind. With regard to education, South Dakota is one of the best states you could shift to as it boasts of a highly educated and progressive population. The Brandon Valley School District and the Yankton School District 63-3 are the two most reputed school districts in the state.
Top-Rated South Dakota Schools
Dakota Valley High School
Hill City High School
Arlington High School
Hamlin High School
Stevens High School
Top-Rated South Dakota Colleges And Universities
University of South Dakota, Vermillion
Augustana University, Sioux Falls
South Dakota State University, Brookings
Mount Marty University, Yankton
South Dakota State University, Brookings
Top Neighborhoods To Move To In South Dakota
Sioux Falls
One of the most popular cities in the state, Sioux Falls is also the prettiest place to live in, in South Da. Surrounded by the most picturesque views, Sioux Falls will feel like living in a dream. However, it is going to be comparatively expensive for you because the city has the best-rated public schools and a high population. But the neighborhood will certainly be ideal for families who want to build a home with all convenience and facilities. Sioux Falls also has great outdoors where you can enjoy lots of adventure activities like rock climbing and skiing.
Median Home Value: $286,152
Monthly Median Rent: $745
Brookings
Beautiful neighborhoods, clean surroundings, and highly rated public schools make Brookings one of the best places to live in, in South Dakota. Brookings is a city in Brookings County, South Dakota. It is especially preferred by students because South Dakota State University is located in the city due to which Brookings has a wonderful bar and restaurant scene. Brookings is also ideal if you plan to invest in real estate as it can be a good starting point for you. It offers you a perfect balance of a simple town life blended with the comfort and convenience of a city and the crime rate is also one the lowest here so safety is not an issue too.
Median Home Value: $477,127
Monthly Median Rent: $599
Pierre
Known for its mining and trading industries, Pierre is the capital city of South Dakota and the seat of Hughes County. If you decide to move to Pierre, you are most likely to enjoy a great view of the Missouri River and you will have many fun options for the weekend like finishing, camping, and boating. The best part about Pierre is that housing and rents are extremely affordable in the city and it is also not very crowded. Just keep in mind that the public schools aren't the best here but they are rated above average.
Median Home Value: $256,880
Monthly Median Rent: $660
Tea
If you love tea, we are sure just the name of this adorable city will have you beaming. We promise you, this little city called Tea can certainly make you feel as happy as a good cup of tea. Tea will be suitable for you if you are a young professional or a new couple who wants to start their life amidst calm and peaceful surroundings. Tea isn't your typical suburban town, rather it has one of the smallest populations and a safe environment. We would not suggest you move to Tea if you're moving with family because the school system and diversity aren't the best here.
Median Home Value: $297,238
Monthly Median Rent: $740
Vermillion
Especially in high demand because of its affordable housing, jobs availability, and diverse population, Vermillion is a small town located in Clay County which can be ideal to build your dream life in. It is not too populated and is a popular choice for students due to which the city has vibrant nightlife and cute restaurants serving delicious food. The city's culture and activities center primarily around the University of South Dakota which is one of the most reputable universities in South Dakota. To put it simply, Vermillion offers you the old small-town charm amalgamated with city culture.
Median Home Value: $215,798
Monthly Median Rent: $506
FAQs About Moving To South Dakota
Where Is The Warmest Place To Live In South Dakota?
As stated, the Mount Rushmore State has a possibility of becoming too hot during the peak of summer making it difficult to go through your day but the city of Hot Spring has the hottest Summers. Hot Springs in South Dakota lives up to its name as it has hot springs year-round but due to its location in an area particularly prone to chinook winds, it is also the warmest city in South Dakota with an annual mean temperature of 48.6°F.
Where Does It Not Snow In South Dakota?
The snow here can be extreme and unbearable during the peak of the winter season and it makes sense if you want to move somewhere where it doesn't snow or at least, snows less. The southwestern part of South Dakota can be your pick because it has the least cruel winters owing to its geographical location.
Does South Dakota Have Tax?
Let's be honest, no one enjoys spending a significant amount of their salary on paying various kinds of taxes every year so it is essential to check which state has the highest and lowest tax rates before deciding to move. If you are considering moving to South Dakota, you should be elated because the state levies among the lowest sales tax in the country! The sales tax here is a moderate 4.5% and the average effective property tax rate is 1.22%. South Dakota also does not impose a personal income tax.
Also Read: The 10 Happiest Cities in the U.S. to Move to | Top Out of state Moving Companies in the US
See also: Best Moving Companies in South Dakota