Moving to Reno NV | 2022 Cost of Living & Relocation Guide


VanLines Inc
Secure Storage
Easy Booking Process
Fully Trained Employees
GET A QUOTE

Colonial Van Lines
Storage Services
Long-Distance Moves
Corporate Relocations
GET A QUOTE

Moving APT
Available Nationwide
Award-Winning Movers
Extensive Vetting Process
GET A QUOTE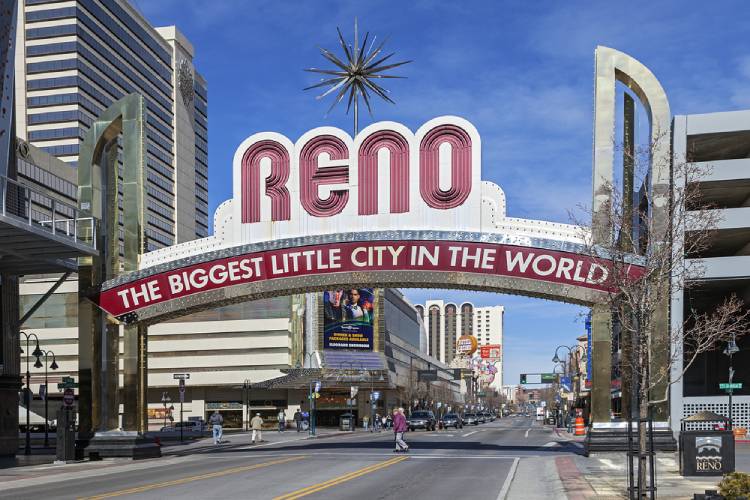 Situated in Washoe County in Nevada, Reno is nicknamed "The Biggest Little City In The World". It's quite astonishing how a city with such capital can be home to million-dollar companies and still be a gaming hub. This takes "work hard, play hard" to another level altogether.
This city was christened after Jesse L. Reno, an American hero who fought in the Civil War and died in action. But, you can't move to another city just because of its deep history or flamboyant lifestyle. Other factors such as cost of living, job market, etc have to be considered as well. Thinking about moving to this city to experience another side of Nevada? Keep reading our blog on moving to Reno, NV to know more.  
Weather in Reno NV
Winters (December to February): In Reno, this season is not as cold as compared to other cities in America. The average temperatures range from around 25°F to 50°F during the peak winter season. Therefore, you can carry warm jackets but not the types that are too heavy. Also, during these months, you'll get an average of four days of rain, so keep an umbrella in your car as standby.
Summers (June to August): Reno is blessed with warm summer temperatures as they are between 52°F to 85°F on average. They never go above 100°F, therefore making outdoor activities motivating. You can also pop by Lake Tahoe, which is a 63-mile drive from Reno, to beat the summer heat.
Spring (March to May): Reno does see a few days of rain during spring, so do check weather forecasts before heading out. Average daytime temperatures are in the comfortable range of 75°F, so you can enjoy a lot of the outdoors with a slight chill of the spring breeze.
Autumn (September to November): The sight of leaves changing color into shades of yellow and red hues is quite delightful. Here, temperatures are between 38°F to 73°F, which makes walks in the parks relaxing.
Transportation in Reno NV
Roadways
US Route 395, and Interstate 580 covers the north-south part of Nevada, which also passes through Reno. From the east, you have I-80, the route that most people take while traveling to Reno. You can drive around Reno to get to destinations quickly, but be careful of rush hour traffic. They can last for long times and highways can get clogged pretty easily. Even during peak tourist season, make plans by leaving a bit early just so you can avoid rush hour traffic.
To get around via public transportation, the RTC Rapid bus service is your best viable option. It covers all of downtown Reno, which makes it easier if you have to shop, gamble, or visit someone.
Also Read: Nevada DMV Change of Address
Airways
For air travel in Reno, you can use the Reno-Tahoe International Airport. Many domestic airlines have flights to and from this airport, meaning you can travel to any part of the country with ease. It's also one of Nevada's busiest airports, so expect to see a crowd when you arrive.
Railways
There is a railway service that stops at least once a day in Reno. The California Zephyr, Amtrak's train that runs between Emeryville and Chicago is the one we were referring to. The Reno Station is in the heart of downtown Reno and it's pretty walkable to all the nearby attractions.
Job Market in Reno NV
The job market in Reno is thriving and runs its wheels mainly in the trade and service sector. They have provided a plethora of job opportunities to many locals. Around 65% of the workforce are employed in those two sectors. Not just in the gaming industry, Reno's economy does offer diversified and broadened options in other sectors too. They have a strong foothold in the manufacturing, distribution, education, and finance industries. So, you won't have to look far if you have plans to change careers.
The unemployment rate in Reno (4.6%) is below the national average (6.0%). That means Reno will always have something for you to do since the job opportunities are immense.
Reno's economy continues to grow and many high-tech institutions have set up bases in this city to facilitate the process. According to Zippia, here are some of the big names associated with Reno's revenue and capital:
Amerco
Trane
Hamilton
Monarch Casino & Resort
JBC Entertainment
Tesla Gigafactory
Ormat Technologies
Argonaut Gold     
See also: The Best and Worst U.S. Cities for Job Seekers
Real Estate in Reno NV
Buying A House
If you're looking to buy a house in Reno, then it's better to plan financially at the earliest because the rates just keep going up. There has been a 26% increase in price rates over the past year. According to Zillow, the median home value at which houses are being sold stands at $549,527. Comparing this price to $374,900, which is the median home price in America, you'll see that it is 47% higher than the US average.
However, the property tax rate in Washoe County, which Reno comes under, has an effective rate of 0.62%. This is lower than the national average of 1.1%, hence becoming the only upside when it comes to buying property in this land.
Renting A House
Renting is going to be the next feasible option when buying is falling too expensive. In Reno, the median rent one pays monthly is close to $1,300. However, since this city is pretty spaced out, apartments have different rent prices based on their locality and size. For instance, a one-bedroom flat in Reno can go as low as $900 if you choose the Reno-Tahoe International Airport area. On the other hand, a flat with those same dimensions can go up to $2,000 if you choose a more luxurious area like Northgate. This also means you have different options to choose from based on your budget.
Crime Rate
According to NeighborhoodScout, the crime rate in Reno is much higher than the national average. It ranks 15 on the crime index, which means this city is just 15% safer compared to other cities in America. On the violent crime index, per 1,000 residents, Reno has a score of 5, which is above the national median of 4.
Similarly, on the same scale, property crimes (22.09) are much higher than the national median (19). Do keep in mind that these crime rates could also differ based on which part of the city you choose to reside in. So, it's better to avoid shady areas and invest in some security equipment after you move.
See also: Moving to Las Vegas
Cost Of Living in Reno NV
When it comes to living in "The Biggest Little City in the World", you might have to make small changes to your lifestyle as the cost of living is around 7% higher than the national average. Utilities like heat, electricity, and water aren't a problem as you'll pay around $150 per month, which is below the US average. But, you'll have to take care of transportation and housing as they are the main facilitators of the rising cost of living.
On the brighter side, Reno has no income tax, so that should help to reduce a bit of the cost of living. A person earns a minimum of $26,000 a year, which is 7% lower than the US average. This is another important factor to consider while planning to move to Reno. 
Education In Reno NV
Top-Rated Reno Schools
Incline High School
Reno High School
Nevada Connections Academy
Procter R Hug High School
Top-Rated Reno Colleges
The University of Nevada
Truckee Meadows Community College (TMCC)
The Nevada School of Law at Old College
Top Neighborhoods To Move To In Reno NV
Arrow Creek
You'll find Arrow Creek situated beside Arrowcreek Parkway, located in the south-central domain of Reno. This neighborhood's proximity to I-58 makes it easier for people to commute to other major parts of the city, while its location has a strategic strongpoint over good schools and well-maintained parks as well. Many championship golf courses adorn the outskirts of this rich neighborhood, so if you were searching for a place to try your swing, Arrow Creek got what you needed.
Median Home Value: $1,125,000
Monthly Median Rent: $1,707
Caughlin Ranch
If you're looking for something away from the hustle and bustle of the city, then Caughlin Ranch should be on your list. This peaceful suburban neighborhood, situated in the northwestern region of Reno calls many newcomers to its clean parks, pristine lakes, and small ponds. With such serenity and immense beauty, Caughlin's landscapes are surely a breath of fresh air.
Median Home Value: $430,000
Monthly Median Rent: $1,695
Donner Springs
Along the base of Rattlesnake Mountain lies a peaceful neighborhood named Donner Springs. Its flat terrain makes walking and biking much more of a breeze than a chore. This neighborhood is just 20 minutes away from downtown Reno, and that's why many young professionals and retirees have moved here. Adding to that, this place is also close to many adventure activities such as skiing, snowboarding, snowmobiling during winter, and boating on Lake Tahoe during summer.
Median Home Value: $450,000
Monthly Median Rent: $1,549
Midtown
Midtown Reno has been one of the best neighborhoods to retire in for various reasons. For starters, it's home to around 250 local businesses, therefore making it one of Reno's livelier parts to live in. Reaching these local shops is convenient since Midtown Reno is easily walkable. That's a real plus point if you like exploring on foot. Surrounding this neighborhood, you have quirky pubs, beautiful galleries, and vintage shops adorning its sidewalks. Along with that, the Nevada Museum Of Art is situated in this bustling neighborhood as well.
Median Home Value: $495,900
Monthly Median Rent: $1,140
Kings Row
If you're thinking of settling down to have a family, then you can add Kings Row to your list of potential places to move in. Its proximity to city life and education is why many young professionals have called this place home. The West University, one of Reno's well-known educational institutions is situated over here, and also downtown Reno is just around 3 miles from this place. This neighborhood reeks with opportunity and therefore has the potential for it to be where your next home is.
Median Home Value: $475,500
Monthly Median Rent: $1,375             
FAQs About Moving To Reno NV
What Salary Do You Need To Live In Reno?
According to Living Wage, you would require a salary of around $30,000 per year to live comfortably in Reno, assuming that you're single and have no family to look after. For a single-family home, you would require about $60,000 per year to afford rent, child care, utilities, and other expenses.
Is Reno NV Expensive To Live?
The cost of living in Reno is around 7% higher than the US average, so bear this point in mind while planning. While utilities are lower than the national average, other factors such as food, real estate, and transportation are all above the national average.
What Is Reno Nevada Best Known For?
Reno is one of Nevada's most famous tourist hubs due to its strong foothold in the gambling industry. Sure, there are ample casinos in this city to try your luck, but the bustling pubs, historic museums, and rafting opportunities make this city more than just a gambling hub.