Moving to Grand Rapids, MI | 2022 Cost of Living & Relocation Guide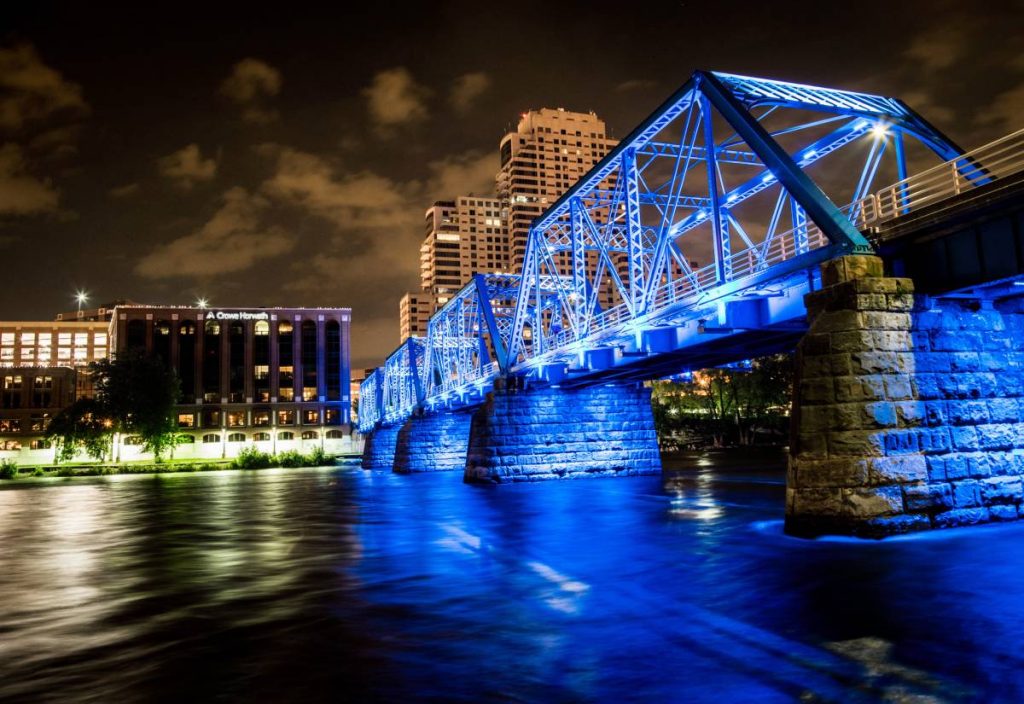 First things first, a true beer lover has at least once considered the thought of getting first-hand experience of what it is like to be in the Beer City of the USA. So, if you are one of them, we have already got you sipping the attractive qualities of the city of Grand Rapids, Michigan. Apart from this, if you are looking to revamp your career or just searching for your first big break, this city will take care of it all, being the hub of a number of successful industries that it is. So, if this has piqued your interest, we are sure the following in-depth article about what the city of Grand Rapids has to offer won't disappoint you either.
Weather in Grand Rapids
Summers
Grand Rapids experiences warm and partly cloudy climatic conditions for about 3.8 months. The average daily temperatures range from 59°F to 80°F which is pretty bearable on most occasions. The hottest month in this city is July with an average temperature that touches the 79.7°F (26.5°C) mark. So, if you are looking to spend time outside the house and indulge your kids in some warm-weather activities, June to early September would be the ideal time for it.
Winters
The sweater weather makes its presence felt in the city from late November till February. With an average low temperature of 8.7°F (-7.4°C), January positions itself as the coldest month of the year in this city. The first two months of the calendar year experience at least an inch of snow on the ground, it is safe to say, Grand Rapids does get snowy!
Spring
Grand Rapids is blessed with the delight of the spring season from mid-March till the end of May. The daily average temperatures during these months can range from 50°F to 71°F. Although, the weather in March is still a relatively cold month even touching the 27.9°F (-2.3°C) temperature mark at times.
Autumn
The pleasant season of Autumn books its stay in this city for about 3 months from September all the way through November. You will witness average daily temperatures ranging from 30°F to 42°F around this time of the year.
Transportation In Grand Rapids
Roadways
The Rapid
A public bus transport system that will take care of most of your intracity commute is the Rapid bus system. If you plan to take the bus a lot, you can depend on it to get around Grand Rapids and its suburbs. You can get a 31-day bus pass for $47 and you also have the option to avail of a 1-day pass for $3.50.
DASH
Also known as the Downtown Area Shuttle, this bus service covers about 23 stops in the city, and oh, did we mention it is absolutely free of cost? All you need to do is board the pink bright shuttle and treat your eyes to famous attractions like the Gerald R. Ford Museum, Van Andel Arena and Downtown Market among others. You can either use this service for commute or exploring the city.
Silver Line
The first Bus Rapid Transit (BRT) service in the entire state of Michigan finds its roots in Grand Rapids. The Silver Line has 34 stations starting from the Wyoming-Kentwood border all the way to the Central Station being the final stop.
It's safe to say that the city has a more that decent bus system that allows residents to consider going car-free for commuting.
Airways
The Gerald R. Ford International Airport is the prominent airport which you will find yourself availing the use of in Grand Rapids. It majorly provides commercial air services to the city. If you had a certain Kent County International Airport in mind, it is the same airport that had its name changed to the present one.
Railways
You can experience the scenic beauty of the city via railroad services provided by Amtrak. The Pere Marquette passenger train offers its services from Grand Rapids all the way to Chicago, Illinois.
Job Market In Grand Rapids
If we talk about the unemployment rate in Grand Rapids, it stands at 4.4% which is still low as compared to the national average of 6%. Although this city has seen fluctuations in this aspect over the past year, it has been making progress if we look at it from a bird's eye view.
The industries that play a significant role in the city's economy are manufacturing, trade, education, and health services. Spectrum Health and Mercy Health are a few of the largest employers in the city with a huge workforce under their belt.
Speaking of the education domain, Grand Rapids is largely benefited in terms of employment for teachers through public school systems and other higher education institutions.
Let us not forget the oldest and quite possibly the largest job-creating industry in the city, the manufacturing industry. It finds its roots in furniture manufacturing providing jobs for a very long time. So, if you are looking for employment in Grand Rapids, it is not going to be a hectic job.
Notable mention – Grand Rapids found its place in Reuters' Top 20 Cities for 7-Year Job Growth list in 2019.
To help you better find employment opportunities in the city, here are a few options you can choose from.
Some Of The Largest Employers Of The City Are:
Spectrum Health Hospitals
Steelcase
Van Andel Institute
Meijer
Mercy Health
Adac Plastics
MillerKnoll
Amway
Varnum
Gordon Food Service
See also: The Best and Worst U.S. Cities for Job Seekers
Real Estate In Grand Rapids
Buying A House
The average home value in the city of Grand Rapids is about $242,134. Even though with a 16.8% spike in house values over the past year, it is still a fairly affordable city to reside and raise a family. As compared to the state average, Grand Rapids is expensive but by a very slight margin, almost negligible!
Renting A House
An average apartment, the size of which is about 863 sq. ft. will cost you about $1,290 per month. The price may vary largely depending on the area, size, and cost of living. Although the average rent is still manageable, if you wish to further cut down costs on monthly house rent, you can consider moving to neighborhoods like Eastgate, Eastown, and Baxter. The average rent in these areas will amount to about $1,025.
Crime Rate
According to the data provided by NeighborhoodScout, the crime index value of Grand Rapids stands at 16 out of 100, the latter being the safest. Although the crime rate is still near average for communities of similar size, it is still a considerably higher rate.
The chances of you being on the receiving end of a violent crime are one in 37. There is also an above-average chance of you becoming a victim of property crime. So, this is one aspect of the city that you might want to factor in heavily. Moving to safer parts of the city like Richmont St., Eastmont, Grand Valley, etc. will obviously decrease your chances of getting mugged or harmed.
Also Read: Top 10 Safest Cities in the U.S.
Cost Of Living In Grand Rapids
If you are worried about the high expenses, you could incur just to enjoy a decent lifestyle in Grand Rapids, then allow us to let you in on a secret! You are going to be saving a fair amount of money should you choose to live in this city. The average cost of living in Grand Rapids is about 9% lower than the national average.
To further cement the fact about how much you will be saving on everyday expenses, here is an overall gist of the same.
Utilities
The utility prices in Grand Rapids are 11% lower than the national average. Double-digit figures in instances like these aren't half bad, are they? Your energy bill will charge you about $150 and an average phone bill will see you spending $160 per month.
Not lacking that far behind, the average groceries bill is 7% lower than the national average. To give you a little insight on the cost of everyday items, a loaf of bread will set you back $3.12 whereas a carton of eggs is going to cost you $1.69 on average. A gallon of milk, a little over $1.80.
With healthcare in Grand Rapids 9% lower than the national average, a visit to a doctor will end up in you paying about a hundred bucks on average.
See also: Utility Bills 101 | Utilities Tips, Fees and Average Costs
Education
Top Rated Universities
Calvin University
Hope College
Aquinas College
Cornerstone University
Michigan State University
Top Rated Schools
Northern High School
East Grand Rapids High School
City Middle/High School
West Michigan Aviation Academy
East Grand Rapids High School
Top Neighborhoods To Move To In Grand Rapids
Westside Connection
Located fairly close to the Downtown area, Westside Connection is one of the best places to move to. Statistically, this neighborhood is about 90% safer than other Grand Rapid neighborhoods which is the best part about choosing to live here. The other great thing about this neighborhood is that you can choose the kind of lifestyle you want to live out here, from a budget-friendly to a luxury-ranch lifestyle. The possibilities are endless.
Median Home Value: $246,120
Median Rent: $1,325
Eastown
This neighborhood appeals to young adults particularly more than it does to the other age groups. It has been a central business hub for quite a while now providing a great deal of employment opportunities for people around this part of the city. The famous Aquinas College is located right at the heart of the city which attracts large crowds of, you know it – young adults. You can rejoice your weekends with the multitude of food outlets and breweries this neighborhood has to offer.
Median Home Value: $295,601
Median Rent: $1,035
Creston
Known for its versatile housing options ranging from vintage style to extra-spacious modern bungalows and apartments, Creston truly emulates the diverse culture in all senses. Your young ones can also enjoy their school life to the fullest, given the fact that this neighborhood has good schooling programs.
Median Home Value: $202,102
Median Rent: $1,300
Heritage Hills
The historic neighborhood that holds the essence of the city for a long time somehow also provides a modern opportunity for young professionals to live and explore various career options. With local conveniences within walking distance, the area is located at quite an ideal position. This neighborhood is also well connected with some bus routes that see an influx of a large number of people on a daily basis. So, if you are looking for a neighborhood that has a majority of young professionals and a myriad of job opportunities, Heritage Hills is the place to be.
Median Home Value: $362,190
Median Rent: $1,574
Alger Heights
With a diverse culture that attracts residents of every age, Alger Heights is one of the best neighborhoods to be in. Home to the Indian Trails Golf Course, golf leagues are always an exciting get-together to look forward to. You can take your kids to have a weekend outing in MacKay-Jaycees Park. If you are looking to retire in a place that offers a rather calm and serene environment, Alger Heights might just be the ideal location for you.
Median Home Value: $210,180
Median Rent: $1,530
FAQs About Moving To Grand Rapids
Is Grand Rapids Michigan A Good Place To Live?
Well, a city that has time and again featured in several "Best places to live" lists, it is safe to say that Grand Rapids has made its presence known to people all over the country and is certainly a great place to spend a decent lifestyle. You also have access to a beautiful coastline with Lake Michigan being a drive away.
Why Should I Move To Grand Rapids Michigan?
With its affordability surpassing many of the larger cities in the state, Grand Rapids is a good relocation option if you are looking to turn a new leaf in your life's chapter. If you are a young professional or in your early adulthood years, this city is the perfect place for you. All the amenities of a big hustle-bustle city will be right at your disposal here.
What To Know Before Moving To Grand Rapids Michigan?
Although with the right gear, you will have no trouble with the weather conditions in Grand Rapids, the climate does get unpredictable at times. Keep a weather tracker app installed on your smartphone at all times to be a bit prepared in advance.
Also Read: Affordable Long Distance Movers