Moving from Boston to Nashville – Expert Tips and Advice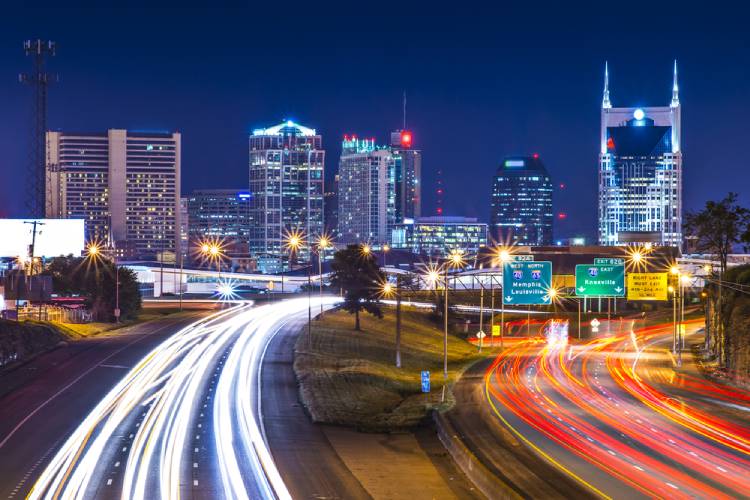 Moving across states is a huge ordeal to begin with. And when you decide to move from a coastal city like Boston to one much deep inside the heart of the country like Nashville, it becomes a little more overwhelming.
The biggest difference between the two cities might just be the way they treat you. While Boston is a metropolitan that prides itself on its amenities, Nashville is much more of a small town-meets-big-city kind of a place. This is thanks to the diverse culture, budding healthcare industry, beautiful music scene, and some of the most delicious barbecue in this part of the world. Here is everything you need to know before moving from Boston to Nashville!
Factors To Consider Before Moving From Boston To Nashville
Weather Conditions
Bostonites are familiar with the temperate climate of this city. It gets warm and humid in the summers and cold and stormy in the winters. It's more rainy than snowy near the coast, but that changes quickly as you head inland.
On the other hand, the climate in Nashville gets the same classification of being temperate, but is significantly different from that in Boston. Nashville is hot and humid in the summers, while the winters get cool and mildly snowy.
Coming to things falling from the sky, the city of Nashville sees rainfall between February and July. However, the bulk of it is seen between February and April when the area sees severe thunderstorms. Snowfall in this city is much calmer, where the city sees an average of 4.7 inches annually. Moreover, snow is mostly seen in January and February.
Here's the difference in temperature that you can expect during peak winters:
The winters in Boston start in December and keep on going until the middle of March. The temperatures during these months swing between 24°F and 37°F. On the other hand, Nashville sees relatively warmer winters between November and February, where the temperatures hover between 32°F and 48°F.
Here's the difference in temperature that you can expect during peak summers:
The summer season in both of these cities is relatively similar in terms of the temperatures. Boston sees the summer season between June and mid-September, when the temperatures fall between 66°F and 82°F. Nashville follows suit with the temperatures hovering between 71°F and 89°F. However, these temperatures grace the city between May and late September.
Few Things To Bear In Mind About Nashville's Weather:
Nashville is prone to severe thunderstorms during spring and fall. These thunderstorms might be accompanied by tornadoes, flash floods, harsh winds, and hail.
Cost Of Living
Buying A House
The housing prices in both the cities went up quite a bit in the last few years. To put it in perspective, the home prices in Boston went up 7.8%, while they went up around 25% in Nashville. Even then, the average home price in Boston is significantly higher than that in Nashville. A single-family home in Boston costs around $773,000, while the same would go for about $445,000 in Nashville.
Renting A House
When it comes to renting a house, Nashville is much more affordable than Boston and there is a very good reason for that. The biggest factor in the stark difference in rents in the two cities is the fact that Boston is on the verge of becoming the second-largest home to renters in the country. On the other hand, Nashville is still climbing the ladder in all aspects. While there is significant growth in the city, it does not hold a light to the prices in Boston, thankfully.
To put it in perspective, the average rent in Boston for an 800+ sq. ft. apartment is $3,634 for a month. In Nashville, an apartment of a similar size will go for about $1,694 per month.
Utilities
When you compare the prices of basic utilities like electricity, water, garbage disposal, and water, the city of Boston will hit your pockets for about $173 per month, while the city of Nashville will cost you around $191.
When it comes to the average cost of food, Boston sees a loaf of bread going for $3.52, a gallon of milk for $2.05, and a carton of eggs for about $1.91. Nashville is just a little more inexpensive than Boston when it comes to food. A loaf of bread in this city goes for $3.23, a gallon of milk goes for $1.88, and a carton of eggs goes for $1.75.
Job Market
Boston is a huge city with a varied job market. The biggest contributors in this aspect are industries like healthcare, finance and insurance, and higher education. All of these industries brought the GDP of Boston to $480,307 million in 2021.
On the other hand, the job market in Nashville is a growing one. Don't mistake it to be small or limited in any way, though. You have flourishing industries like education, healthcare, trade, manufacturing, and hospitality. These industries brought the GDP of Nashville to $136,058 million in 2021. This translates to an average yearly salary of $48,890 for the residents of Nashville, which sounds even better when you realize that the unemployment rate of this area is below the national average!
Transportation
When moving from Boston to Nashville, one of the biggest differences you will see is in the modes of transport available to the residents. In Boston, you have a pretty extensive public transportation system that consists of a subway system called 'The T', water taxis, buses, and commuter rail. Moreover, this city is compact enough for it to be walkable. So, if you are the kind to prefer a stroll every now and then, you can literally walk everywhere, or ride a bicycle.
After you move to Nashville, you will be greeted by a significantly low number of tracks going around the city, and longer distances between everything. The most extensive mode of transport in Nashville is the bus network. Other than that, you have the option of getting on the commuter rails. However, the stops are far and few, meaning you will mostly have to get on a bus after you get off of a train. The trains are also non-functional on the weekends. So, going around in a car might be your best option in Nashville. Thankfully, Nashville has much more parking spaces and much less traffic than Boston.
Nashville's Strong Points
They Call It 'Music City'
Nashville has a reputation as the home to country music. However, that is not the only avenue of the city's musical culture. Nashville is an amazing place for fans of gospel music as well as fans of symphony orchestras, making music a very internal part of this city's culture.
The Great Outdoors
If you are someone who likes being outdoors, you have places like Centennial Park and Shelby Park in your backyard. If you want to meander a little ways away, you have the great Smoky Mountains National Park as the city's backyard! The best part is, the climate in this area never gets too extreme in any season, giving you the opportunity to experience the beautiful outdoors in different colors throughout the year.
Festivals
Nashville is home to a lot of festivals that reflect the social nature of life in this city. You have the annual Nashville Film Festival, one of the US's largest running festivals in the south. Then, you have the Nashville Oktoberfest in the Germantown area. You also have the Tennessee State Fair that takes place in this city. It is safe to say that the residents of Nashville have no lack of festivals and festivities!
Top Neighborhoods To Move To In Nashville
The Gulch
Just south of Downtown Nashville, The Gulch is an urban neighborhood that is home to condos and high-rise apartments. However, the location and the fact that it's surrounded by restaurants, bars, boutique hotels, and music venues make it ideal for young professionals, especially the ones who want to experience city living at its finest.
Median Home Value: $600,000
Monthly Rent: $2,269
Germantown
This one is an up-and-coming neighborhood named after the German immigrants who settled down in the area in the mid-nineteenth century. Germantown is a very walkable neighborhood that boasts old Victorian as well as new architecture and is surrounded by high-end restaurants and boutiques. As one of the oldest neighborhoods in the city, it is perfect for single families to settle down.
Median Home Value: $467,712
Monthly Rent: $1,831
Sylvan Park
Sylvan Park is a neighborhood that allows you to become a part of the community that the locals have formed. It is a quiet and safe neighborhood that is about four miles away from Downtown Nashville. It is known for the farmer's market and the incredible coffee culture. If you love an active lifestyle, you're going to love Sylvan Park.
Median Home Value: $721,000
Monthly Rent: $1,691
Things To Take Care Of When You're Moving From Boston To Nashville
The cities of Boston and Nashville are about 1,000 miles away. So, it's going to be a long move; 2 days by road and 3 hours by a non-stop flight. If you are moving all of your stuff by road, pack some bags as you would for a road trip and book rooms well in advance.
We recommend that you hire professional movers, as they will know how to pack and more importantly, how to actually move all of your things.
While Nashville has a growing job market, it would be ideal if you secure some means of making a living before you move.
Boston To Nashville Moving Costs
Depending upon the moving company you hire and how much they charge, you might be charged anywhere between $2,100 to $7,150. Other factors that might make a difference in your final moving costs are the services you buy from the company, the kind of packing materials they use, and the timeline and mode of transport they use.
See also: Best Moving Companies in Boston
Summing Up
Moving from Boston to Nashville might feel like a big deal in the first few days. This is mostly because of the change in your lifestyle. Nashville is much calmer, quieter, and more affordable than Boston. However, you will miss out on a few things that the hardcore metropolitan has to offer, like a subway system!
The bottom line is, if you are looking for a home that lets you live life at a much more comfortable pace, there is no place better than Nashville to look for it. Happy moving!
FAQs About Moving From Boston To Nashville
Is Nashville Cheaper Than Boston?
According to Bestplaces, Nashville-Davidson is approximately 60.2% cheaper than the city of Boston, with the bulk of the difference being in the cost of housing. This includes buying as well as renting houses.
Is Nashville Worth Moving To?
Absolutely! Nashville has a ton of outdoor activities, a growing job market, relatively affordable housing, and a small-town vibe. However, this city is quickly rising on the list of America's favorite cities to move to. So, pick your spot as soon as possible!
What Is A Good Salary In Nashville?
In the city of Nashville, the average salary is $58,000 per year. However, if you want to earn what is considered a 'good' salary in the area, you have to make more than $71,913 every year.
Also Read: Moving from Boston to Philadelphia