Leaving Charlotte NC? 5 Best Places to Move from Charlotte


VanLines Inc
Secure Storage
Easy Booking Process
Fully Trained Employees
GET A QUOTE

Colonial Van Lines
Storage Services
Long-Distance Moves
Corporate Relocations
GET A QUOTE

Moving APT
Available Nationwide
Award-Winning Movers
Extensive Vetting Process
GET A QUOTE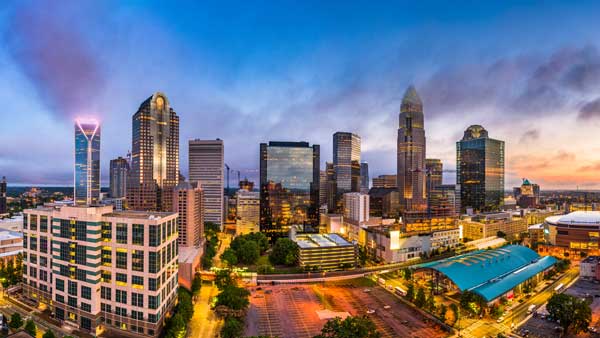 When talking about the best places to live in the U.S., Charlotte in the north will always come to mind. Being one of the largest cities in North Carolina and the biggest financial center here, it's home to several top-notch companies and has a great economy. And of course, the pleasant weather with all four seasons adds up to its glory. All of this has made it an overpopulated city which has recently become an issue for the residents here.
The 'Queen City' is one of the fastest-growing cities in the U.S. and has a prediction to have an increase of almost 47% in its population by 2030, as per the data shared by the World Population Review. So, it shouldn't come as a surprise to you that the city has traffic congestion issues, especially in the downtown area. The city also has a history of dangerous weather fluctuations like hurricanes and flooding, especially during the months of November and September. Are you considering leaving Charlotte NC? Here are the 5 best places to move from Charlotte.
5 Best Places To Move From Charlotte NC
Chapel
Raleigh
Winston-Salem
Greensboro
Wilmington
1. Chapel Hill
Chapel Hill is a college town in North Carolina that is full of great culture, historic buildings, and classic art museums. The city is located in the Orange, Durham, and Chatham counties of North Carolina. Everyone loves to live in a city that has all the modern amenities you'd want. In Chapel Hill, you'll get everything – be it exotic restaurants, coffee shops, walking trails, or music parks – there's so much here for your entertainment!
One of the many reasons why people are moving to Chapel Hill is because of its close proximity to the UNC Hospitals. And if that's not enough, the city also has the best educational infrastructure with high-ranked universities and colleges like the University of North Carolina, Duke University, and many more. Living here makes it very convenient for people to get around as the city is located in close proximity to other popular cities like Raleigh and Durham.
Downsides: Chapel Hill is known to have a majority of the population that consists of students and young professionals because of the many colleges and universities here. So, you'll have a difficult time finding a table at the many restaurants and bars here as they're always packed with young people. Another downside of this city is that its housing costs are slightly higher than most other cities in the country.
Population: 61,960
Median Home Value: $575,470
Monthly Median Rent: $1,744
Median Household Income: $125,312
Unemployment Rate: 3.2%
Best Neighborhoods To Live In Chapel Hill: The Oaks, Winmore, Meadowmont, Claremont, etc.
2. Raleigh
If you ask anyone in North Carolina about the best city to live in the state, there's a high possibility that Raleigh would come out as a top contender among other cities. Firstly, the city is filled with oak and pine trees and many green spaces that add to its beauty. And don't get surprised if you're greeted by people at the parks here. That's because Raleigh has the friendliest communities which is what makes it a perfect place for families and retirees.
If you're a person who wants to live in a city that has great nightlife, tons of cool restaurants and cafes, local breweries, and world-class museums to explore, Raleigh will capture your heart – not to forget the downtown area that is known for its food and shoppers paradise! One of the best things about living in this city is that you're just 30 minutes away from Durham and 40 minutes away from Chapel Hill. The city also has a good educational system with prestigious universities like the North Carolina State University, Wake Technical Community College, etc.
Downsides: Living in Raleigh will make you feel like you're staying in a forest city. This makes it prone to allergies, especially during April and August. So you need to beware of the pollen cycle here. Although Raleigh has a lot of modern amenities, it comes at a price. As per the data shared by BestPlaces, living in Charlotte would cost approximately 3.3% less than in Raleigh so your budget will have to see an increase before shifting.
Population: 467,665
Median Home Value: $423,838
Monthly Median Rent: $1,522
Median Household Income: $69,333
Unemployment Rate: 4.3%
Best Neighborhoods To Live In Raleigh: Cameron Village, Boylan Heights, Brier Creek, Glenwood South, and North Hills.
Also See: Top 5 Neighborhoods in Raleigh for Families
3. Winston-Salem
If you're moving out of Charlotte and are looking for an affordable place to live in, Winston-Salem is one of your best bets in North Carolina. The city has a suburban vibe to it where you'll get the most amazing Carolina barbeque. One thing is certain, you'll never get bored in this city. Some of the top attractions in Winston-Salem are Black Mountain Chocolate Factory, Old Salem Museum and Gardens, Foothills Brewing, etc. It's also a great place for families and retirees as there are numerous hiking trails and parks for recreational activities.
Let's not forget the many private and public schools, colleges, and universities in the city that are highly ranked. To name a few: Salem College, Wake Forest University, Winston-Salem University, etc. The city has many cheap housing options right from bungalows to apartments. And its close proximity to mountain views and beaches makes it a perfect place to live in.
Downsides: If you're moving to Winston-Salem, you should know that you'll need to use public transport or your own vehicle for commuting within the city. That's because your everyday stops like grocery stores and cafes aren't really within walking distance in this city. And know that you'll face an issue battling food cravings after midnight because the restaurants and cafes here are known to shut quite early at night.
Population: 249,545
Median Home Value: $214,130
Monthly Median Rent: $1,119
Median Household Income: $58,854
Unemployment Rate: 5.2%
Best Neighborhoods To Live In Winston-Salem: Old Vineyard, South Fork, West Salem, Williamsburg Square.
See Also: Best Neighborhoods In Charlotte NC For Families
4. Greensboro
If you're seeking Southern hospitality and a place with a thriving job market, you can consider moving to Greensboro. One thing that makes Greensboro stand out from the other cities in North Carolina is that it prioritizes the environment. No wonder Greensboro has participated in the LEED (Leadership in Energy and Environmental Design) Grant program for sustainability. The residents here also have easy access to important cities like Piedmont Triad, Raleigh, and Chapel Hill.
One of the biggest perks of living in Greensboro is that it is home to several top-notch companies. To name a few: VF Corporation, Guilford County Schools, The Moses H. Cone Memorial Hospital, etc. Commuting in the city is made easy for students as the city provides free transportation through its HEAT Program (Higher Education Area Transit). And if you're an outdoor person, you'll love this city as it has amazing weather with many amenities like parks and botanical gardens where you can refresh your mind after work.
Downsides: Greensboro is known to have an expensive housing market compared to most other cities in North Carolina. And when you're moving to a new city, one of your primary concerns will naturally be your safety. If you're moving to Greensboro, know that the city has a reputation of having a relatively high violent crime rate.
Population: 299,035
Median Home Value: $228,365
Monthly Median Rent: $1,147
Median Household Income: $49,748
Unemployment Rate: 5.6%
Best Neighborhoods To Live In Greensboro: Highland Park West, Lindley Park, Summerfield, Westerwood, and Starmount Forest.
5. Wilmington
Remember that interior deck of the S.H.I.E.L.D. Helicarrier in Avengers that Hulk smashed? Well, it was shot in Wilmington, North Carolina. For all those seeking the charm of the Old South and its rich history, moving to Wilmington from Charlotte will definitely be a bang for their buck. The buildings here will remind you of the colonial days, especially the downtown area of the city. And one of the rewards you'll receive for moving here would be the gorgeous views of the beautiful Cape Fear River.
When it comes to the nightlife here, there are several pubs and restaurants in the city where you can always find something to enjoy. If you're a beach person, the many beaches close to the city – a few being the Wrightsville Beach, the Kure Beach, Carolina Beach, etc. – will definitely tempt you to move here. Since this is a historical city, Wilmington has many colonial-style bungalows and condos that are located near the beach areas here.
Downsides: If you're considering moving to Wilmington, bear in mind that the housing market here is on the expensive side. Another thing you need to consider before moving to Wilmington is the crime rate here as the city has reported a high violent crime rate.
Population: 115,451
Median Home Value: $338,718
Monthly Median Rent: $1,492
Median Household Income: $47,580
Unemployment Rate: 4.3%
Best Neighborhoods To Live In Wilmington: Rivers Edge, Sentry Oaks, Water Street, Surf City, and Harbor Oaks.
See Also: 5 Best Neighborhoods in Charlotte, NC for Singles and Young Professionals
Summing Up
Regardless of your reason for moving out of Charlotte, there are many things you should consider before moving to a new city. First of all, you need to check whether your budget allows you to afford to live in that particular city or not. Other things to consider include the job market in the area and the transportation services available for you to commute within the city. These are the 5 best places to move to if you're leaving Charlotte. And when you decide what city you want to shift to, we're here to help you find the right movers.
Related: Best Moving Companies in Charlotte NC
FAQS On Best Places To Move From Charlotte
Where Should I Not Live In Charlotte?
If you're planning to move to Charlotte, know that the city has certain neighborhoods with high crime rates. So, make sure that you avoid living in neighborhoods like Pinecrest, Lincoln Heights, Lakewood, and Grier Heights.
Which Is The Best Place To Move To In NC?
Some of the best places to move to in North Carolina are Chapel Hill, Raleigh, Winston-Salem, Greensboro, and Wilmington.
What Are The Pros And Cons Of Living In Charlotte NC?
Here are some of the pros and cons of living in Charlotte NC:
Pros
Low cost of living
Great music scene
Plenty of job opportunities
Several hiking trails
Friendly communities
Cons
High crime rate
Risk of hurricanes and floods
Lack of diversity in its population
Traffic congestion