How To Move a Pool Table


VanLines Inc
Secure Storage
Easy Booking Process
Fully Trained Employees
GET A QUOTE

Colonial Van Lines
Storage Services
Long-Distance Moves
Corporate Relocations
GET A QUOTE

Moving APT
Available Nationwide
Award-Winning Movers
Extensive Vetting Process
GET A QUOTE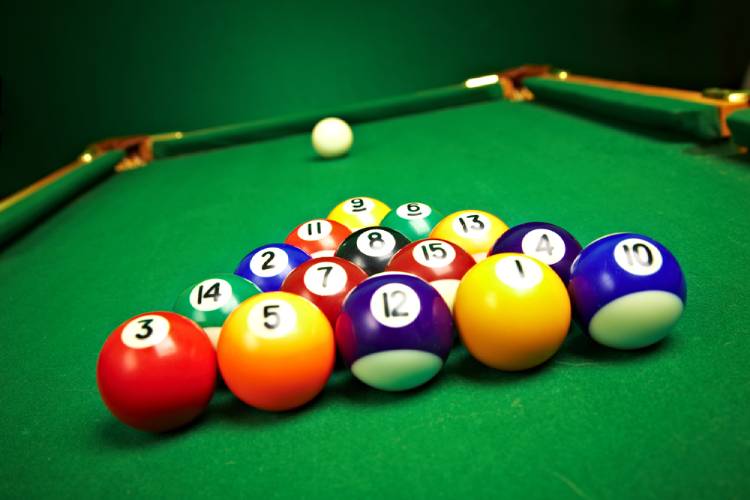 Pool tables are great fun when you have guests over. But moving it? Ehh..not so much. There's lifting, maneuvering and disassembling involved all which require a ton of patience. The project itself is pretty dangerous, so ideally it is good to have professionals on site.
But on the plus side, most pool tables are designed to be broken down to the last element. So if you do wish to do this independently, you'd need to put on your patient planner outfit to follow all the bite-sized steps to move your pool table.
We've divided our guide into things you've got to plan in advance before the execution phase. Read on to learn all about successfully moving your pool table.
The Planning
Work On The Navigation
Before you start to work on disassembling the pool table, we suggest understanding the route to follow while getting it out of your house. If you're hiring a mover, you've to keep them informed about basics like flight of stairs and if there are any narrow passages. Remember that a pool table is heavy, even once you disassemble the entire piece. For instance, a single slate is roughly 160 to 200 pounds. In total there would be three slates (450-480 pounds) so you've to prepare yourself to carry these down the stairs one at a time.
If you plan the navigation out, you can know the points at which you can take a break. You don't want to damage property or yourself so get rid of any obstacles. Clear the path and make sure there's enough space for you to make your way out efficiently.
The goal here is to not be in an obstacle race kind of situation for yourself. Have a clear path to follow and understand the complicated turns in advance.
Ask For Help
Have you ever seen a situation where a person single-handedly pushed a refrigerator up a flight of stairs? There's no prizes for the right answer because it's without doubt a NO (Unless you saw it in a fictional superhero film). Now, a refrigerator weighs somewhere between 180 to 360 pounds and this is similar to how heavy the slate from the pool table is going to be.
All we're trying to say is that you're definitely going to need more hands on this project. It's a massive job that needs more people (at least three) or professionals on board. It is also potentially dangerous if you drop the slate of the table on your feet. The potential for disaster is quite high, so ensure you have someone to help you with lifting.
Be Ready To Take Pictures For Memorization
Disassembling is one phase of this project but you have to remind yourself that you'd also need to reassemble everything at some point. If you have a manual, it's great. But in reality, pictures you take yourself would be a great alternative. Take sufficient time and pictures while disassembling so you could also go back to them when you need it.
Packing Materials Needed To Pack A Pool Table For A Move
Now your tool set may already have the supplies mentioned below but this is a quick rundown of things that you must have handy. Within the tool set you need the following:
Screwdriver – The entire rail line of the pool table is held together by screws, so the humble screwdriver will be of great help here. But we'd like to tell you that if you have an electric screwdriver machine, it would help you work much faster.
Scratch Awl – This will help you loosen the grip of the staple pins that hold the felt cloth to the table.
Utility Plier Or Wire Cutter – Would help big time when you need to pull the staple pin without damaging the felt.
Socket Wrench – So that you can turn all the nuts and bolts with ease.
Spackle – To fill the holes at the time of assembling.
Ziplock Bag – You're going to need a couple of bags to place the screws, bolts and nuts. As you break apart one portion, you would immediately need to place the bag and label it.
Sharpie – Keep a couple of sharpies or markers around to label the ziplock bags and write the configuration of the slate.
Moving Blanket – Moving blankets are essential to protect the slate. The pool table slate is as delicate as a mirror but more so like the weight of marble. It could attain scratches if not handled properly, so ensure you have a moving blanket. You could use an old blanket at home but double check if the material has a good grip or else avoid it.
Also Read: Moving Blankets: Reasons You Need Them
Plastic Wrap – Since tape doesn't really hold cloth well, you have to get plastic wrap soon after you get the moving blanket. Plastic wrap is ideally the best to keep the moving blanket stiff and in place.
Bubble Wrap – You're going to need bubble wrap to pack up all the pieces that have been disassembled. Once again like moving blankets, these work as padding material to safeguard all the various parts that make the pool table.
Packing Tape – Lastly, you're going to need packing tape to hold the bubble wrap together.
The Execution
Step-by-Step Guide To Pack A Pool Table For Moving
Step 01 – Unscrew The Side Pockets
The first step is to deal with all six of the side pockets. You can do this with a screwdriver if they are held together with screws. In some cases, it's just staples which makes things easier. To take out the staple pins, use a scratch awl to loosen the grip and then the wire cutter to pluck it out.
Once you've done this, keep the side pockets at one side for further packing.
Step 02 – Loosen The Rail Line
The rail line of the pool table is held together with screws. This isn't the most time consuming task and actually pretty straightforward. Keep taking out the screws underneath the rail line, till you've gone all around the table. Post that it would be easy to just lift the rail out.
The rail that is longer in length for most pool tables can be broken down further into two halves. If that is the case, you would have a total of six rail lines. If not, you're going to be dealing with four rail lines. Place them standing towards a wall for support with the help of the team.
Reminder – Collect the screws and place them into a ziplock. Immediately tag the bag as 'rail line' so you know it belongs here. This helps greatly when it's time to reassemble the pool table.
Step 03 – Deal Carefully With The Felt Cloth
The felt cloth of the pool table is attached to the wooden table with glue and staple pins. So at this stage you're simply dealing with a whole ton of staple pins and then pulling it out of glue.
Since you're going to be working as a team, we suggest asking your friend to start loosening the tightness of the staple pin with the scratch awl. And you could follow with using a wire cutter to pull the staple out one at a time.
Continue this process until you've reached the point of the table where you started. Keep placing the pins on top of the table. After that, gather them and safely dispose of them. Before you pull the cloth out, double check if you missed out on any staple pin.
You can pull out the felt cloth carefully from the edges. Fold it neatly just like a bedsheet if you like or you could just roll it and place it aside.
Step 04 – Disassemble The Slate
Now once you remove the felt cloth, the slate is going to look like the stone slab on which Aslan died in Narnia (if you're familiar with the film). Dealing with this is going to be the most challenging part of the task.
We highly recommend being more than careful from this stage. The slate is heavy and is around 450 pounds. Remember that you don't have to carry the whole slate as it is but you can break it into three sections that would be roughly 150 pounds per piece. This makes the task doable.
The three parts of the slate are tied together with larger screws that are covered with spackling paste. You have to find these spackling spots and take the wax-like substance out. You can use your screwdriver to pull out the paste. Once that's done, use a screwdriver machine to unscrew the screws. Each slate has four screws, so you would have a total of 12 screws by the end of it. Place them into a ziplock and label it as 'slate screws'.
After you've done that, the slates will loosen up but won't just fall off because it still has the support of a table underneath.
Step 05 – Lift The Slate And Place It On A Moving Blanket
Before you lift the slate, you have to do two things –
Mark the configuration of the slate, write (1- Right Side), (2-Left Side), (3-Center). You can also write anything else that will help you fix it back together. Take a picture if you feel like that works.
Place a moving blanket on the floor so that you have a place to keep the slate.
Your main goal while lifting each slate is to make sure that no one gets hurt. We can't stress on this enough, but it cannot fall at any point or it could just crack. Carefully pick one slate at a time and wrap it into a moving blanket. Also, use plastic wrap to secure the moving blanket.
Step 06 – Disassemble The Table
This is a comparatively simpler part of moving a pool table where you now just have to deal with a wooden table frame. Take out the screws from the upper frame of the table and then work your way to the screws that loosen the table legs.

Deal with the table legs on one side and then move to the next side. Turn the table on the side if it's easier for you to work on it that way. There's going to be several frames with screws in them, nuts and bolts to handle at this point. Have a ziplock next to you and keep the nuts and bolts attached after you take it out. This would save you some trouble while assembling it at your new place.
On a side note, we'd like to mention that you don't necessarily have to disassemble every single piece of the table. For instance, if you can pick up some pieces easily, then just secure it with bubble wrap and put them in the truck.
Step 07 – Wrap Individual Accessories And Disassembled Parts With Bubble Wrap
After you've disassembled the table, you can proceed to wrapping all the table parts in bubble wrap. Wrap the tables legs and the frame with sufficient bubble wrap so that it's protected from attaining scratches during transit. Use tape to keep the bubble wrap secure.
Here is a quick of things that need packing, you can use this as a checklist:
Cue
Cue rack
Table cover
Table care brush
Pool triangles and diamonds
Pool balls
Pool table pockets
Table frame and table legs
Step 08 – Reassemble But In Reverse
Once you successfully move the pool table, you can follow these same steps in the reverse order. Here is a quick rundown of the order that you can refer to:
Begin unwrapping accessories and table frames, panels and legs.
Reassemble the table by referring to pictures you clicked.
Place the slates, fix screws and fill empty spaces with spackling paste.
Put the felt back on the slate and secure the position with staples. Be careful about creating a crease, it should be a smooth surface.
Reassemble the rail lines in their original position.
Place all the accessories back into place such as side pockets and the table cover.
Things To Keep Mind While Moving A Pool Table
Take plenty of pictures of the configuration and table frame before you completely disassemble so you'll know how it goes back together.
On an average, it could take you roughly three hours to disassemble and load the truck. Do clear your schedule for this project.
Moving a pool table is dangerous. Keep communicating with friends who have agreed on helping you move it. Watch out for your feet and remember that the potential for a horrible injury is high if you drop the slate.
Always clear the top surface of the pool table, don't place anything on it while assembling. Ensure you have enough room and almost like a station to work through the steps calmly.
FAQs
How much does it cost to get professionals to move a pool table?
Moving a pool table can cost anywhere between $700 to $1,100. It all depends on how complex the project would be and the type of the pool table you own.
How heavy is the slate of the pool table?
The slate of a pool table is roughly 450 pounds. The slate has three sections, each section is roughly 150 pounds so it's easier to disassemble and then carry it.
Can you move a pool table without taking it apart?
It is advised to dismantle your pool table before moving it. Not only does this take up less space but also allows you to pack the parts individually for added protection. You can then simply just reassemble it whenever you're ready. In some circumstances and with help of course, you can move a pool table using furniture sliders without taking it apart.
How much does it cost to have a pool table moved?
Depending on the distance, complexity of the move, size, weight, and value of a pool table, moving a pool table can cost anywhere between $700 to $1,100. It also relies on the vehicle size as well as the equipment needed to move it.
How heavy is a slate pool table?
The weight of a slate pool table will vary based on size and make. A single slate of a pool table on the smaller side will weigh roughly between 160 lbs to 200 lbs. In total there would be three slates, bringing the weight up to 450 to 480 lbs. A table around 7ft to 8ft will weigh anywhere between 700 lbs to 850 lbs; maybe even more, depending on the model.
How much does a 8ft slate pool table weigh?
An 8-foot slate pool table will weigh around 850 lbs. These types of pool tables are considered the best due to their endurance as well as longevity and are commonly seen during tournaments and maybe in an epic den accompanied by a dartboard and some fancy whiskey!
How do you take apart a pool table for moving?
Dismantling a pool table varies based on type and size. The following is how to dismantle a slate pool table.
Detach the side pockets that are held together by screws or staples.
Detach the side rail lines of the pool table.
Next comes the cloth. Go around the table removing the staple pins that are holding the cloth in place. Once you've done this, carefully remove the cloth, fold it and keep it to the side.
Finally, dismantle the slate into its 3 parts, making it easier to transport, by carefully unscrewing the screws with a screwdriver or power tool. Then disassemble the table, if possible, by either laying it on its back or on its side.
Make sure to pack and appropriately label all the screws that you have collected.
Can you put a pool table on wheels?
You can attach sliders on pool tables to make them more mobile and easier to shift around when required.
Can I move a pool table myself?
If you're planning on moving a pool table by yourself, you better get ready to put your back into it. This piece of furniture can get quite heavy and there is always a higher instance of you dropping it on your feet or spraining a muscle if you choose to embark on this by yourself. Therefore it is highly recommended to have at least 3 other individuals to help you out in the process.
How long does it take to move a pool table?
Moving a pool table may require 3 to 4 hours or days, give or take, depending on the size of the table, how long it takes you to dismantle or pack it, and the location of its new destination.
How do I dispose of a pool table?
If you wish to dispose of an old and worn out pool table, there are a number of garbage removal services that can get the job done. On the other hand, you can also donate your old pool table to youth centers, community recreation centers, seniors' homes, church groups, and other charities. You can also donate to individuals within your neighborhood.
How heavy is a 6ft slate pool table?
Slate pool tables are the heavier ones out of the bunch; a small 6 ft slate pool table can weigh around 500 lbs and more, depending on the model and ornamentation.
Is a one piece slate pool table better than a three piece?
One-piece slate tables are built using a single piece of slate while a three-piece slate table is divided into three sections. When it comes to moving them, a one-piece slate table will be much heavier, less flexible, and thus very difficult to move. On the other hand, a three-piece slate table is easier to move as it can be dismantled.
How heavy is an average pool table?
The weight of a pool table varies based on its size, the style of the table (commercial or residential), and the materials used in constructing the rest of the table. A small 6 ft slate pool table can weigh around 500 lbs whereas a 12 ft tournament slate table can weigh up to 2500 lbs! On the other hand, your average small 6ft wood (Medium-density fiberboard) pool table weighs around 180 lbs whereas a 10 ft one can weigh all the way up to 600 lbs.
How heavy is a non slate pool table?
The average weight of a small 6 ft wood pool table is 180 pounds all the way up to 600 pounds for a 10 ft wood table. The plastic ones tend to be much lighter.
Can you move a slate pool table on its side?
In case you're short of space, it is totally possible to move a slate pool table on its side, as long as it has been dismantled and any free parts are properly reinforced before and during the moving process.
---
Conclusion
A pool table could easily be one of the heaviest items in your home. Moving it is a mega project that needs a well thought out plan and patience like we mentioned earlier. You now have a reliable plan to follow from us so that would make things easier. But if you don't have sufficient time or patience for the task, we highly recommend letting a professional step in.