Top Country Moving Review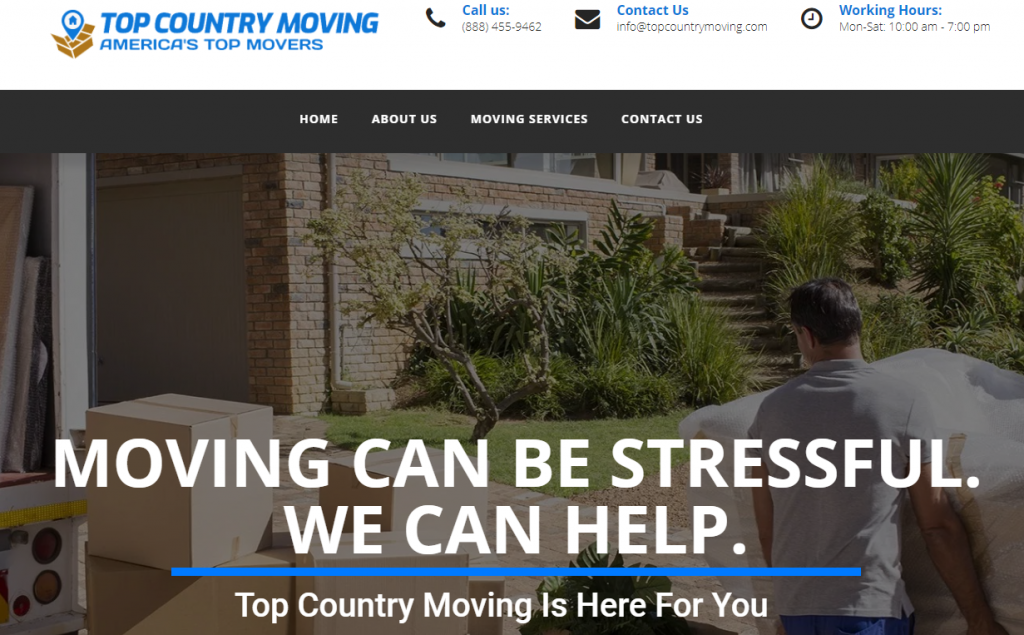 With over 500 successful moves, it can be said that effective communication with customers was a driving factor for bringing Top Country Moving, if we might say… 'top success'. There's no denying that it played a key role in giving Top Country Moving the strong industry reputation it has. Rightly so if you ask us!
Top Country Moving truly understands how stressful relocation and finding the right mover is. It is that understanding which motivates them to take the load off their customers' shoulders. But what are they all about and what services do they offer? Here's our detailed Top Country Moving Review for you to dig deeper!
Overview
Top Country Moving is based in the Sunshine State of Florida. But when it comes to their service coverage, you can count on Top Country Movers to serve you from any other state in the United States. Along with providing help with the actual move, you can also turn to them for professional help, insights and candid advice related to the big move.
As a moving service provider, they deal with all the logistics, the physical work and other fundamentals of a long distance, corporate or local move. But you're probably curious about how they've been doing so far in the moving market? And whether they deserve your attention? So, let's understand what Top Country Moving has to offer in terms of them being moving brokers.
Keep reading on to learn more about their profile as moving brokers and our detailed review on their service offerings.
What Services Do Top Country Moving Provide?
Top Country Moving caters to everyone for a move within the country. In fact, they have a fleet of 250 carriers to maintain their efficiency in operations. The company has specifically divided their services into 3 classifications which are:
1. Long Distance Moves
Moving homes across state lines is a daunting idea. So, having a mover to help take care of your heavy and fragile belongings across state lines is equivalent to a blessing. With Top Country Moving, you would also have ample room for flexibility and customization, which simplifies the move even further. Below is a list of other ways the company has adopted to make your long distance move a success.
How does Top Country Moving ease a long distance move?
By making it convenient as they handle the packing, loading and unloading of your belongings.
They also take immense care of transporting your bulkier and complicated items (like a cycle, piano or pool table).
You don't have to bother with the challenges of driving a big rental truck, but would have a professional driver take the wheel for you.
Top Country Moving also has an effortless process to get a free estimate on their website. This allows you to take control of your long distance moving finances and keep it within your budget.
By hiring a mover from Top Country Moving, you'll have the support of a high-quality mover to assist you with navigating large furniture in and out of your house.
You would also have someone to rely and speak to before, during and after your long distance move. Around the clock customer service surely is assuring when your belongings are moving halfway across the country.
With professional movers by your side, you can also seek assistance with them for tasks like disassembling furniture and packing your antique items in a professional manner.
See also: Cross Country Moving Tips
2. Corporate Moving
Employee Relocation
Top Country Moving also helps individuals who have to uproot their lives because of a new job offer. This works as a great asset for you in two ways.
A) You have a service to rely on that has enough experience to deal with all the moving hurdles.
B) You get enough time to take care of your own well-being, while juggling your office responsibilities and other administrative work that comes your way.
Office Relocation
You didn't think that's what Top Country Moving offers for corporate moves, right? Good, because helping your business move the entire office is also something they are quite well versed with. So when it comes to relocating your entire office assets, electronics and furniture, they do so in a systematic manner, all in coordination with one point of contact.
How does Top Country Moving ease Employee Relocation?
Their service is tailored to take off the burden of finances for individuals who are specifically tied with 9 to 5 responsibilities.
You get your mover's support for when you need some coordination between the demands of your workplace.
As a customer, you would receive clear communication and can rely on your mover to be the one point of contact when help is needed.
Top Country Moving ensures a smooth transition by providing upfront quotes after a healthy discussion with management.
Top Country Moving also aims for consistency with their services so that there is no delay with your corporate move. In the end, this saves your time which is precious.
You also save yourself from dealing with the administrative work with the HR when your movers can intervene to handle things efficiently.
You can ask your moving experts for handy tips and take their insights on negotiating on the relocation package, since they've probably dealt with similar cases in the past.
How does Top Country Moving ease Office Relocation?
Count on them to create a streamlined process in coordination with your organization's HR department or Operations personnel.
You can expect them to operate in a manner that the day-to-day operations of your workspace won't be affected.
Be it your office electronics, chairs, custom made desks and tables, they can handle moving it all in the safest way possible.
Once the date of moving the things is finalized, their entire crew will make sure they have a clear inventory and idea of how many things are to be relocated and how.
3. Local Moves
This is the perfect option for those looking to move to another metropolitan area within the same state, but don't want to deal with the hassle of fishing the right mover. Top Country Moving has an extensive network of businesses they coordinate with to meet the needs of their clients in different states. So, they basically do the thorough homework to ensure your local move is carried out without any bumps.
How does Top Country Moving ease your local move?
You can sit back as your movers take care of all the coordination and logistics, this helps reduce the stress of your local move.
You have a mover you can personally trust and communicate with about any specific needs, as Top Country Moving can customize things to work in your favour.
As movers, they answer all your questions, clear your doubts and support you till the move is complete.
You would also have the certainty that the company chosen works in a timely manner, helping you maintain your schedule post the move.
Top Country Movers would help micromanage and guide you with the various stages involved in your local move.
By classifying their services into three categories, you can easily approach them to help you deal with a certain type of move. This also shows that the company is well aware of the different types of customers and have designed a way of catering to their needs. The company highly stresses on providing movers with a 24 hour customer service, so that you have their support till your move ends.
See also: Moving Companies Near Me
How To Contact Top Country Moving?
Option 01
If you don't reside in the state of Florida, you can virtually contact them by calling on the following number – (888) 455-9462.
OR
You can write them an email at: info@topcountrymoving.com
Option 02
If you live in Florida and wish to get an in-person quote or simply visit their office, you can drive to their office address:
Top Moving Country address:
702 South Military Trail,
Deerfield Beach, Florida 33442
Do note that their office timings are 10:00am to 07:00pm from Monday to Saturday. If you wish to call or visit on a Sunday, be sure to ring them up between 11:00am to 04:00pm.
As a customer, if you're looking to take advantage of a free quote, you can easily visit their website and fill out a questionnaire. All you have to do is fill out your full name and email address. You also have to provide the zip code of the prospective areas you're considering to move to and from. Don't forget to mention whether or not you require a trailer to ship your car, since that plays a huge factor in determining the quote you receive.
Why Choose Top Country Moving For Your Move?
The main reason you could choose Top Country Moving is that you get professional help for a reasonable estimate. Along with professional assistance for your move, you also have a moving team that's available almost like a friend, to guide you into making the right choices. This helps you not only get familiar with the moving project, but also assures you that you're in the right hands.
Top Country Moving has also left a considerable mark in the moving industry even though they've been in the business for just 10 years. You don't have to take our word for it, but if you simply glance at their rating on notable review sites, it gives it all away.
Presently, these are the ratings that are linked to the company name:
4.3 rating on Google Reviews
4.4 rating on the website MyMovingReviews
4.3 rating on Thumbtack
The 4+ ratings out of 5 definitely goes to prove that they do have a reliable standing in the market and have earned and won over the trust of several hesitant clients.
You can also do your own background check on the company by looking up their USDOT number which is (3350809). Looking up a company's USDOT number is the best way to check the reliability of the company. If a mover is problematic or has its license revoked, they would choose to hide this information from the customer. However, this isn't the case with Top Country Moving, which only demonstrates that they have nothing to hide.
See also: USDOT Number – What is it and How to Check it
Fee Structure Of Top Country Moving
Two of the primary factors that have a direct impact on the estimate of your move would be the distance that needs to be covered and the weight of the belongings being transported.
An average interstate move with Top Country Moving could cost you anywhere from $2200-$4089. However, moving costs are never this straightforward and your quote could very well fall in the high average range or low, depending on several factors.
Few factors that cause a fluctuation in moving costs are:
The move will get more expensive if the volume of belongings is huge.
The farther you have to move, the more expensive the quote will be.
There are several other costs associated with moving that your mover will discuss prior to zeroing down on a quote.
Depending on the flight of stairs, number of bulky items like a piano or pool table, prices will go up. Be sure to mention this to get a proper estimate.
To give you a price point and form a perspective on how your quotes would look like with Top Country Moving, we've gathered a few examples.
| | | | |
| --- | --- | --- | --- |
| Moving from | Moving to | Number of Rooms | Full Service Costs |
| Colorado | Indiana | 2-Bedroom Home | $4,619 |
| New York | Florida | 4-Bedroom Home | $7,600 |
| Arkansas | Connecticut | 1-Bedroom Home | $2,250 |
| New Jersey | New York | Studio | $925 |
| Florida | Texas | 2-Bedroom Home | $4,679 |
Do note that a full service costs includes the following:
Packing your belongings
Packing fragile items, bulky items as requested when building the quote
Safely transiting items in a moving truck
Loading and unloading of belongings
Disassembling furniture
---
Our Take On Top Country Moving
Top Country Moving knows that moving can be a rocky road, but they focus on smoothing things out with their reasonable pricing, customer support and expertise with moving projects. They've handled 500+ moves and have a considerable amount of positive reviews. You can count on them to deliver and cater to your moving requirements. Overall, their services clearly point towards customers having a fruitful experience when choosing to move with Top Country Moving! So it's definitely a company you could choose for your move.