Moving To Omaha, Nebraska | 2022 Cost of Living and Relocation Tips


VanLines Inc
Secure Storage
Easy Booking Process
Fully Trained Employees
GET QUOTE

Colonial Van Lines
Storage Services
Long-Distance Moves
Corporate Relocations
GET QUOTE

Moving APT
Available Nationwide
Award-Winning Movers
Extensive Vetting Process
GET QUOTE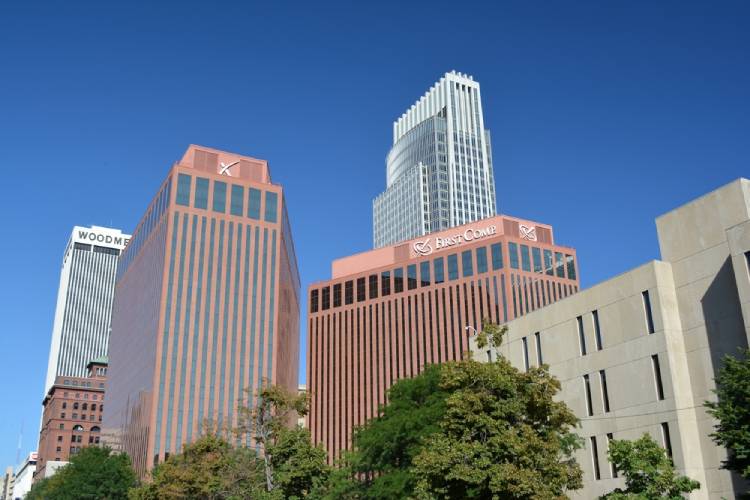 Is it a town? Is it a city? No, silly. It's Omaha! Separated by the Missouri River to its eastern neighbor Iowa, Omaha is actually the largest city in Nebraska, which also happens to be one of the fastest growing cities in the midwestern region. Contrary to the misconceptions that some people have (catch-up people, we're living in 2022), Omaha is a wonderful urban powerhouse, with a population of 478,192 to show for.
Sure, a fair amount of attention that Omaha gets is because Warren Buffet lives here. But it doesn't take away the fact that living in this city is like a ray of sunshine. What we mean is, the real estate here is really affordable. Top that off with this artsy city being packed with friendly people, it gets easy to see why anyone would want to move to this city. In case you were planning on moving to Omaha, Nebraska, read on to learn more about the city. Perhaps even reinforce some of your reasons to move here!
Transportation in Omaha
While cabs and Ubers are certainly an option, Omaha is one of those cities where getting around is a bit of a walk in the park. When you compare Omaha to some of the other urban cities, you'll notice that the traffic here is not half as bad. In fact, the reason most people have vehicles of their own is because of the proximity of places to each other. Especially in places like Harney Street, Jackson Street or the Downtown neighborhood. Generally, all it takes is a short 15 to 20 minutes of drive to get from Point A to Point B within the city.
Bikes
One of the relaxing and fun ways to get around Omaha is by coolly pedalling away. The city has numerous biking lanes designed for citizens to safely ride bicycles. What's amazing is the efforts put by the city to make biking in Omaha more convenient for everyone. There are many spots across the city where parking facilities are installed. Keystone Trail and the Big Papio trail are just a couple of the multiple biking trails which have been developed.
There are also many bike friendly parks across the city and passenger lanes which are conducive and safe to ride on. In fact, the city has been working towards developing the infrastructure for bikers to make the city safer and more convenient for those who love peddling the wheels away. Then there's also the Bob Kerrey Pedestrian Bridge which elegantly flaunts the riverside beauty of Omaha. Just another wonderful place to bike!
Metro Transit
The other option to get around Omaha is the Metro Transit, who serves the entire city. You can easily get buses to anywhere in the city. Doesn't matter if you're in Paxton Boulevard, Abbott Drive, Mercy Road or any other place, the Omaha Metro Transit has a good network and frequency. You can even get to nearby counties such as Bellevue and Papillion with the Omaha Metro Transit.
That's not all though. Omaha is also mindful of those who live their life on the fast lane – ones who prefer reaching their place of work as soon as possible. The city's solution to this is the ORBT, which is basically Omaha Rapid Bus Transit. It's a service where you can get a bus every 10 minutes during peak hours, while the bus has a dedicated path of its own. The Rapid Bus Transit will be operational between 4:30 am and 1 am during the weekdays.
Housing in Omaha NE
Remember how we spoke about how the city is not expensive to live in? Take renting in Omaha for instance. The average rent in the city is just $920 for approximately 924 square feet. To put things in perspective, $895 is what an average one-bedroom apartment in the city costs in rent. On the other hand, the national average holds its ground around $1463. Now that's approximately $543 less than the average rent of the country.
Even real estate is really affordable here in Omaha. So if you're looking to buy a new house for yourself, the city will certainly throw some good options your way. While $176,000 is believed to be the median value of homes, the country's average is $247,084. Also, buying a house in Omaha can be as cheap as $140,000. Although, like any other big city, the more premium properties can go up to the staggering prices of 1 million dollars too.
Cost of Living in Omaha
A lot of people, including us here at 9Kilo Moving, keep raving about how easy on the pocket it is to live in Omaha. In case you had any doubts, let us back up what we've been going on about. Something as simple as groceries is priced 6% below the country's average. To delve deeper into this, a carton of eggs will only cost around $1.71, with a gallon of milk being just about $1.83.
Want more? Well, how does a monthly electricity bill of $144 sound? That's really fantastic when you consider that the national average utility bill is actually 14% higher. When you combine this with the low real estate prices, alongside the transportation costs which is again approximately 8% less than the national average, you have every reason to get amped up about the cost of living in Omaha.
See also: Lowest Cost of Living States in the U.S.
Omaha Weather
Be it summer, spring, winter or fall, Omaha experiences it all. However, come Summer, you should brace yourself. The temperatures can at times go as high as above 90 degrees (F), and it can get annoyingly humid. If that wasn't enough, the Winters also have their way of taking things extreme on the opposite side of the spectrum, with the temperature dropping as low as 16 degrees (F) of frigidness. And yes, it does snow here while experiencing really cold winds.
Fortunately, if you aren't a huge fan of the cold weather, you should find some solace in the fact that the city witnesses approximately 212 bright sunny days annually. During the month of May, Omaha also experiences the most amount of rainfall in the months of May and June, but that can often vary to some degrees. On an average though, the downpour is about 31 inches or so. The rainfall can be witnessed anytime starting April up until September.
Job Market
According to data gathered for the month of July in 2020, Omaha's unemployment rate stands at 5.9%. While it might not seem very positive, it actually isn't bad when you consider that the US national unemployment rate averages 10.2% during the same time period. Those working in the Architecture, Finance and Healthcare industries can expect Omaha to have good employment opportunities for you. Especially for Healthcare practitioners.
Let's not forget, Omaha is also home to the headquarters of Union Pacific Railroad, and Berkshire Hathaway which is owned by Warren Buffet. Both these companies are giants in their respective industries, which should serve as a slight indicator of Omaha's economical stature. For those with an entrepreneurial mind and a relentless business acumen, you will find Omaha to be one of those cities which is quite supportive for businesses in general.
Interesting Neighborhoods
Downtown
From fancy Victorian era architecture to wonderful museums, Downtown is one of the most desirable neighborhoods in Omaha. Interestingly, this part of the city is so huge, it has little districts of its own. Apart from being a kind of cultural hub of the city, Downtown is fancied by many because of the neighborhood being nestled away alongside the Missouri River. Who wouldn't want to live in charming river-facing apartments?
Morton Meadows
Don't get confused, Twin Ridge is just another name this neighborhood goes by. If you love yourself some freshness of greenery, you will love Morton Meadows. Numerous charming yet affordable houses can be found in this part of the city. Moreover, you also have the Field Club of Omaha if you're a biking enthusiast. For those who love golfing, Morton Meadows is aptly situated near Elmwood Park.
Prairie Lane
Situated further away to the western side of Morton Meadows, Prairie Lane has been raising a few eyeballs and for all the right reasons. Want to fly out to some other city for a quick break? There's the Millard Airport barely 10 minutes away. Want to shop? Hey, there's also the Oak View Mall about 5 minutes away. Want to surround yourself with Millennials because that's just the age group you relate to? Prairie Lane is made up of 43% millennials. And that's simply because of how cheap houses in the area are!
Also See: Moving To Nebraska | 5 Best Neighborhoods in Omaha for Families | Top 7 Neighborhoods In Omaha For Singles And Young Professionals
FAQs about Moving to Omaha Nebraska
Is Omaha NE a safe place to live?
As the largest city in Nebraska, Omaha is considered to be a relatively safe place with its given population. However, Omaha too has its fair share of perilous neighborhoods which aren't very safe to live in. The overall crime rate in Omaha is around 41.90 per thousand residents. Out of this, 6.03% account for violent crimes and 35.87% account for property crimes. Both of these are higher than the national median, so Omaha isn't necessarily one of the safest places to live, but it's not too bad either.
What is a good salary in Nebraska?
The cost of living in Nebraska is around 9% lower than the national average. So, even an average salary between $50,000 to $78,000, would be considered good enough to live in Nebraska. The median household income in the Cornhusker State is around $61,439.
Where should I not live in Omaha NE?
While Omaha does offer a host of benefits, not all neighborhoods in the city are all safe and flowery. Amongst other areas, North Omaha has consistently been ranked as one of the worst neighborhoods to live in. Based on factors like high unemployment, high crime rates, low home value and low median income, some areas like Old Market, Southeast Omaha, Florence and Benson are places you would not want to live in Omaha, NE.
Is Omaha a ghetto?
Omaha is a city that is consistently redeveloping. So, for the most part, Omaha will not be considered a ghetto. However, some of its areas do not hold a good reputation and want to be avoided by many people. These are mainly centered around North Omaha and South Omaha.
What percentage of Omaha is black?
According to the US Census Bureau, out of the total population of 478,192 inhabitants, 12.3% are black or African American. Whites make up 77.5% of the Omaha population, while 3.8% are Asian and 13.9% are Hispanic or Latino.
Is Omaha walkable?
Walk Score ranks Omaha as the 23rd most walkable large city in the US. Some areas of Omaha that have the highest walk score include Old Market, Market West, Downtown Omaha and Leavenworth.
---
Conclusion
Sometimes, moving to a new city can be filled with equal proportions of excitement and nervousness. However, that doesn't really have to be the case with moving to Omaha, Nebraska. The city, while an urban setup, has a peaceful vibe to it, and isn't super chaotic and fast-paced like some other big cities in the US. Omaha has a fairly good balance of nature and big city infrastructure. Moreover, the economy, job market and cost of living act as added reassurance as to why moving to Omaha can be a great experience. Sure, the weather can be a tad bit extreme, but the friendly people of the city make up for it.