Moving to Montana | 2022 Cost of Living and Relocation Tips


VanLines Inc
Secure Storage
Easy Booking Process
Fully Trained Employees
GET QUOTE

Colonial Van Lines
Storage Services
Long-Distance Moves
Corporate Relocations
GET QUOTE

Moving APT
Vetting Process
Award-Winning
Available Nationwide
GET QUOTE
Our Take
Price
Rating
Minimum Shipment Size
Storage
Booking Deposit
Cancellation Policy
Quoting Options
Discounts

Best Overall Value


GET QUOTE

2+ bedrooms




Free 30 Days




10%

Free up to 72 Hrs

Phone / FaceTime / Text

Senior / Same day Booking

Best Industry Reputation


GET QUOTE

1+ bedrooms




30 Days




20%

Free up to 72 hrs

Phone / Facetime

Seniors Discount

Best Customer Service


GET QUOTE

1+ bedrooms







Free up to 72 hrs

Phone / Virtual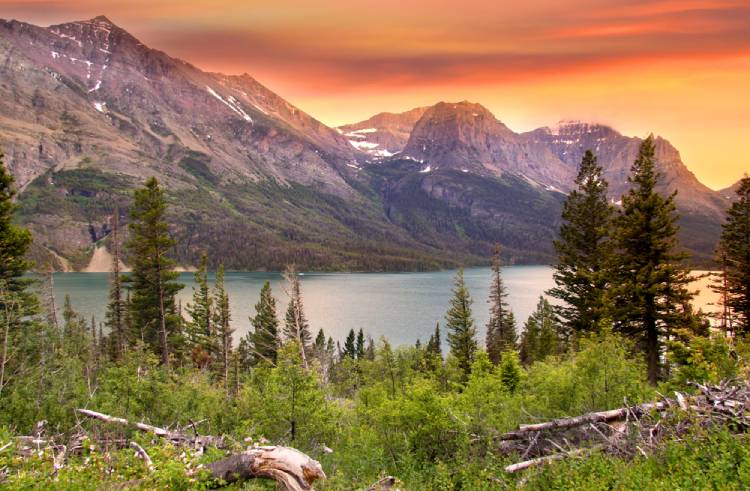 The state of Montana is located in the Northwestern corner of the United States, and chances are, you've heard of it to be the 'Big Sky Country'. Well, the state surely lives up to its unofficial nickname. The sky here can stretch out into the distance, as far as our eyes can see. It gives you the chance to capture a neat 360 degree panoramic view without any obstruction. This is probably among the top reasons why people fall in love with the state at first glance.
Apart from the sky, the common thread that lures people into moving to Montana is the jaw-dropping beauty of the mountains. The mountains are the theme of the lifestyle in the state of Montana, so much so that the word 'Montana' is often synonymous to 'Mountains'. To emphasize, we mean you can actually find tourist shirts in the state that say 'Montana is calling and I must go'.
Although many people are called to move to Montana, not everyone chooses it to be their home state. Montana is geographically the fourth largest state in the US, but population wise it is the eighth least populous state. Curious why? Well it is considered that Montana isn't everyone's cup of tea. The lifestyle and culture is very much unlike big cities. It lacks big chain food joints, crowds, tall buildings, skyscrapers, corporate hustle, and much more.
To understand if it truly ticks all your boxes, you would need to understand if you're ready to embrace the extreme weather conditions, countryside lifestyle and economy of the state. So here's an abridged version of all the aspects you should consider before moving to Montana.
Weather In Montana
If Montana is on your mind, you have to take into consideration the winter months of the state that begin around mid-Sept and last all the way upto the end of March. Winter is the dominant season of the state. And although the state looks magical with everything covered in a blanket of the snow, it's not always a rosy picture. During winters, it is very common for blizzards and snowstorms to bring towns to a standstill. On some days, the frail presence of sunlight could make driving and getting out in the snow much more complex. You would also need to budget in all the snow equipment, gear and investing in a more terrain appropriate reliable vehicle with all season tires to get through the winter months.
But on the other hand, Montana is a winter wonderland! If you love the magic of winters and wish to celebrate it like the locals, you have a plethora of winter activities to choose from such as – Skiing at Whitefish Mountain Resort, Snowmobiling, Dog sledding on lakes, snowshoeing in Glacier National Park and much more. Montana also has plenty of space for cross-country skiing which is why the state attracts a whole lot of tourists during the winter months.
When it's not winter, the state enjoys three distinct seasons – Summer, Spring and Autumn. The snowfall begins to subside by the month of April, but temperatures continue to remain cold, even with spring just around the corner. From the beginning of May upto the month October, the state experiences some of the most pleasant times, as the landscape registers a good deal of sunshine and warm weather.
Key Takeaway – Montana winters can remind you of the landscape in the movie Fargo. And if winters are something you detest, it can be difficult to adjust, since the state experiences 6 months of cold weather. Warm months begin around April and seem to step out of the way by the beginning of October. Montana loves its winters, but the locals also celebrate dozens of festivals during the warmer months.
Transportation In Montana
Roads
Geographically, the state is the fourth largest in the US. But not all areas of the state are equally populated, hence there's certain clusters of cities that have easy access to rails and local buses, while for the rest, things are pretty spread out. A road trip to Montana will prove that it does have lots of open spaces. In fact, for miles, you would probably not even come across a gas station as often as you see them in big cities. It is believed that you could stand on the middle of the road for hours before a truck or another vehicle passes by on the same road as you.
All the more reason for you to ensure that you have sufficient gas at all times on Montana roads. The roads in Montana are also highly populated with mountains, so this is just a heads up that winding roads would be something that newcomers have to eventually acquaint themselves with.
On the plus side, clogged roads aren't a common sight in Montana, even though the state does have an extensive network of roads, highways and 5 interstate highways. The state shares a huge chunk of its border with Canada, hence you do have the advantage of crossing international borders from the North portion of Montana. Overall, there are 13 road crossings that could get you to Canada.
See also: Montana DMV Change of Address
Airports in Montana
The state's largest and most extensive airports are:
Bozeman Yellowstone International Airport
Billings Logan International Airport
Missoula International Airport
Great Falls International Airport
Glacier Park International Airport
Helena Regional Airport
Bert Mooney Airport
Do note that most airports are away from the city and depending on the town you will be residing in, the airport could seem like a long ride away. Also, there are very few direct flights out of the state because of which you'll probably be taking a connecting flight to reach your destination.
Railways
The north side of the state in particular is served by Amtrak's 'Empire Builder' train. This is a long distance passenger train that operates thrice a week and runs along Oregon, Washington, Idaho, Montana, North Dakota, Minnesota, Wisconsin and Illinois. In the state of Montana, the train has stops in Libby, Whitefish, West Glacier, Essex, East Glacier Park, Browning, Cut Bank, Shelby, Havre, Malta, Glasgow, and Wolf Point.
Intra City Travel: Most of the large cities such as the university towns of Bozeman, Missoula, Butte, Helena would have state buses running frequently. Other than these big cities, most of the smaller towns don't have the best public transportation systems. If anything, it's more feasible to have your own private car to get around, since things are pretty spread out. Even if you have your own car, remember that the streetlights and cell service could be poor, and you must be mindful of the animals on the road. The people of Montana share the road with a number of animals such as the elk, bison, deer and cows, which is why it is absolutely necessary to pay attention to the road even if there's no traffic.
Job Market
The population of Montana is just beginning to cross the 1 million mark. As the population is increasing, the state economy is slowly starting to transition from resources based jobs like mining, farming, logging to tech based industries.
However, currently the state is still largely dependent on the tourism, mineral extraction, micro breweries and energy production sector, as the transition is steady but slow. A large number of Montanans work jobs in the service sector and the urban hubs. The cities of Billings, Missoula, Bozeman, Kalispell, Great Falls, Helena, and Butte are where the crowd flocks in huge numbers for jobs.
Do keep in mind that many of the job opportunities in Montana are seasonal. It's possible that it can get way tougher to find a job in winter since during extreme weather conditions, a good deal of services come to a standstill. Presently, few of the top employers that have their headquarters in the state are Talen Montana, Billings Clinic, Kalispell Regional Healthcare, Fringe Benefit Resources, St Vincent Healthcare and Washington Corporations. In recent years, the healthcare industry is growing to be one of the largest employing services in the state.
Key Takeaway – Healthcare, Agriculture, Forestry, Tourism, Energy Production, Manufacturing and Construction are few of the top performing industries in Montana.
Cost Of Living In Montana
According to Zillow, the median value of homes in the state is approximately $311,024. Which means the housing costs in Montana is almost on par with its neighboring states. Although, it isn't completely there yet. Even so, it is considered that the cost of living is still on the higher side of things, despite the standard of living being in contrast to metropolitan cities. This is probably the cost to pay for quiet peaceful surroundings of lakes and mountains. If you ask us, that is truly a luxury for city dwellers.
To put things in perspective:
Average median value of homes in Idaho – $315,911
Average median value of homes in Colorado – $423,364
This shows that Montana isn't far behind from its neighboring states. Do note that the state also has a huge concentration of the population flocking to its 7 big cities, causing a housing crunch for newcomers. In addition to that, the cost of living may come across as cheaper than most states in the US. Montana is known to have lower wages than the national average which is why the cost of living starts to look contradictory.
See also: Lowest Cost of Living States in America
Renting In Montana
The average median rent of houses in Montana is $1,295. According to reports by HomeSnacks, there's a 21% difference in the rent of Georgia, when compared with the national average. If we had to put a number on it, this means it is possible to get a standard 1 bedroom apartment for $641, while the average national rent for the 1 bedroom would be $930. Now that you have a rough number to compare the rent prices, we'd recommend comparing it with the town you'd like to live in to understand if you would considerably be saving way more by moving to Montana.
To give you even more of a context, let's do a comparative analysis with the tentative rent costs in the other mountainous states so you can see things from a price point:
1 bedroom home in Montana – $1,295
1 bedroom home in Colorado – $1,556
1 bedroom home in Idaho – $1,400
So, if living in the mountains is your version of a dream home, chances are, it is most affordable to rent a space in Montana, in comparison to states like Colorado and Idaho. We've taken the average median rent to highlight that annually things start to look more affordable in Montana. However, do note that the town you choose will make a huge difference to the housing budget. In Montana like any other state, there are certain areas like Manhattan, Bozeman, Whitefish, Three Forks, Red Lodge, Sidney and Colstrip where the cost of rent is way higher than the state's average median rent.
Education
Top-Rated Montana Colleges
1. Montana State University, Bozeman
2. Montana Technological University, Butte
3. Carroll College, Helena
4. Rocky Mountain College, Billings
5. University of Montana – Western, Dillon
6. Salish Kootenai College, Pablo
7. University of Montana, Missoula
8. Montana State University, Billings
9. Montana State University – Northern, Havre
10. University of Providence, Great Falls
Top-Rated Montana Schools
1. Hobson Public Schools, Hobson
2. Highwood K-12, Highwood
3. Big Sky School District, Gallatin Gateway
4. Plains High School District, Plains
5. Geraldine Public Schools, Geraldine
6. Sunburst Public Schools, Sunburst
7. Philipsburg Public Schools, Philipsburg
8. Missoula High School District, Missoula
9. Hamilton Public Schools, Hamilton
10. Lavina Public Schools, Lavina
Top Cities To Move To In Montana
1. Bozeman
The beauty of Bozeman is that the stunning nature trails of the state are just 15 mins away from residential areas and it's possible to reach a ski resort in roughly 30 minutes. Having hiking trails and ski resorts in close proximity is one of the main priorities for people moving into the state and this town caters to that specific need pretty well. Unlike smaller countryside towns, Bozeman is not a sleepy town. Rather, it is one that is vibrant with events, great universities, young professionals and some of the top rated schools in the state. With a mere population of 50,000, community life is given a lot of importance in this town.
Median price of homes sold: $462,794
Median rent: $927
2. Kalispell
Kalispell is the commercial center of Northwestern Montana and is also home to one of the largest employer of the state (i.e Kalispell Regional Medical Center). The town is just 40 minutes away from Glacier National Park, which is why it does get a lot of tourists. However, the town is extremely vast and you would still have the advantage of having your own space away from the crowd. In comparison to other towns, Kalispell is definitely on the higher end when it comes to housing costs. The town also has a wonderful majestic view of the mountains and chances are you wake up to some of the most beautiful sunsets from here.
Median price of homes sold: $356,396
Median rent: $1264
3. Billings
Billings is the largest and fastest growing city in the state, the city has a strong steady economy because of the booming oil industry and it being one of the largest trade areas of the United States. The city attracts a good deal of young professionals in search for a city lifestyle in Montana. Billings is one of the cities that remind residents of the city life but is still rural enough to enjoy the mountains and the natural beauty of the state.
Median price of homes sold: $270,202
Median rent: $808
4. Missoula
After Billings, Missoula is the second largest city of the state of Montana. This small little town has developed its own character over the years, because of the number of breweries, cafe shops, art galleries and the live music bars. Missoula is also known to be a college town, as it is home to the University of Montana. It is easy to bike or walk around the town considering how everything is pretty compact. The Clark Fork River and five mountain ranges surrounding the town provides an aesthetically pleasing scenery for residents and visitors.
Median price of homes sold: $367,298
Median rent: $930
5. Helena
Helena is the state capital and although it is a metropolitan area, it still manages to hold onto the community atmosphere where everyone knows everyone. The town also has plenty of historical districts and beautiful Victorian buildings. So it's understandable why Helena is arguably the prettiest looking small town in the state. Although the state of Montana doesn't have huge chain hotels or shopping centers, the town of Helena does have some of the best shopping centers and markets. The atmosphere in Helena is extremely family friendly and the town is filled with close-knit communities.
Median price of homes sold: $300,433
Median rent: $795
FAQs about Moving to Montana
Is Montana a good state to move to?
Montana is the eight least populous state. This makes it a refreshing change of scenery for those seeking a slow paced lifestyle and an escape into the lap of natural surroundings. The landscape here is dominated by massive mountains instead of skyscrapers. People are especially drawn to Montana because it is sparsely populated and lacks the 'urban sprawl'. This makes Montana an ideal location for those looking to live a lifestyle in contrast to metropolitan cities.
Is it expensive to live in Montana?
It can be expensive to live in Montana. Even though thousands have a preconceived notion that it is less expensive because it is less populous and lacks an extensive network of metropolitan amenities, it's not the case. Then again, average housing and utilities costs in Montana are almost on par with prices followed in the rest of the nation. Moreover, prices are constantly rising in a handful of popular cities (like Billings, Missoula, Bozeman). The farther you move away from them, the more inexpensive it gets. In big cities of Montana, 55k is an ideal annual salary for a single person.
Why are people moving to Montana?
The enthusiasm for moving to Montana is tied to its majestic mountains and the charm of living in the warmth of a small town. The word Montana itself is synonymous with mountains and delights those who love spending time outdoors. It is the antithesis of big cities that are congested with corporate buildings and chain stores. The little towns and developing cities make Montana a simple yet interesting place to move to.
What is the best city to live in Montana?
With a population of just under 49,000, the city of Bozeman ranks on the top and is presently the best city to live in Montana. It is a high-spirited small town that has a good variety of things to do outdoors, albeit it is not cheap. Other noteworthy cities of the state are Billings, Missoula, Helena, Kalispell, Great Falls and Butte.
What is the most common job in Montana?
Most Montana jobs are linked to the service industry. In addition to that, the healthcare industry is also growing in leaps and bounds. Jobs aren't easy to come by in Montana because it is largely a rural state, with the exception of few of modern cities. Most of the top employers target cities like Billings, Missoula, Bozeman, Kalispell to set up their companies.
How much is the average rent in Montana?
The average median rent in Montana is $1,295. But do keep in mind that in certain areas like Manhattan, Bozeman, Whitefish, Three Forks, Red Lodge, Sidney and Colstrip, the cost of rent is way higher than the state's average median rent.
What is a good salary in Montana?
A figure that falls anywhere from 45k to 55k is a good salary to earn in Montana. This price bracket is ideal for a single person without kids. Do note this figure varies from city to city. In major towns like Bozeman and Missoula, the higher average of 55k is more suitable.
How much money do you need to live comfortably in Montana?
To have a decent cost of living to wage ratio, you would need to earn roughly between 45k to 55k annually in Montana. This annual salary figure doesn't apply to couples with kids, but rather for a single adult. If you choose to live in an expensive hotspot and to an extent lavishly, figures beyond 65k is considered ideal.
What is the cheapest city to live in Montana?
Billings would be your best bet if you're looking for a relatively affordable place to live in Montana. Unlike other big cities of Montana, you don't have to worry about relocating here with a big budget. It also isn't a typical small town but has various offerings, so you would be getting value for the buck you shell out.
What should I know before moving to Montana?
Montana is a state that has a ton of scenery and off the grid towns. Most of its towns are sparsely populated so you're bound to run into familiar faces. It's easy to find small breweries and locally owned bussineses instead of chain stores here. The communities in Montana are friendly and tight-knit, which is in contrast to the atmosphere of big cities.
Medicine and service related fields are good areas to dive into for lucrative job opportunities. People in Montana also love the outdoors. Fishing, skiing, hiking, camping bicycling and even hunting are favourite pastimes. Lastly, as a transplant, you have to be prepared for the long winters that come with occasional snowstorms and blizzards.
Where do the rich live in Montana?
Whitefish, Manhattan and Bozeman are the towns where the rich flock to. These are some of the most top-notch neighborhoods that get the attention, mainly because of the location they occupy in the state. The average median value of homes in these top tier cities are between 460,200 to $508,702.
Is Montana cheaper than California?
The state of California is among the most expensive places to live in the nation. From taxes to gasoline prices to real estate, California and Montana stand far apart from each other. Overall, there's roughly 50-60% difference in costs. Here's the difference:
Real estate – $313,261 (Montana) $609,757 (California)
Gasoline – $2 to $3 per gallon (Montana) $3 to $4 per gallon (California)
Is Montana an open carry state?
The state permits one to open carry firearms. Open carry is legal, but isn't the case at a public assembly, school, publicly owned building or park, under the jurisdiction for public safety purposes.
Where is the warmest place to live in Montana?
The south central portion of the state is the warmest place to live in Montana. Billings and Bozeman are the two popular cities that lie in the South. It's an ideal choice for those seeking temperatures which for the most part of the year fall in the range of 60F (15.6°C). The warm climate and more than state average sunny days is probably why these two towns are also the most populated ones in Montana.
What city in Montana has the highest crime rate?
Going by stats the cities of Joliet, West Yellowstone and Cut Bank have the highest crime rate in the state. On the other hand the most safest cities are Stanford, Clyde Park and Elliston.
---
Our Take On Montana
The state of Montana is naturally blessed with some of the most unreal sceneries that you get to call home. The Glacier National Park, the huge alpine lakes, the picturesque winding mountain roads and the wildlife make up the state's profile. If you're seeking quiet pastures to call home, where the WiFi signal in the true sense gets weak, and there's hardly any honking since the next vehicle could be miles away, then Montana can be the place for you. Despite not being the popular kid on the block with fancy toys or gadgets, if you find yourself getting attracted to this state and think of moving to Montana, we totally get why.