Moving to Maine | 2022 Cost of Living and Relocation Tips


VanLines Inc
Secure Storage
Easy Booking Process
Fully Trained Employees
GET QUOTE

Colonial Van Lines
Storage Services
Long-Distance Moves
Corporate Relocations
GET QUOTE

Moving APT
Vetting Process
Award-Winning
Available Nationwide
GET QUOTE
Our Take
Price
Rating
Minimum Shipment Size
Storage
Booking Deposit
Cancellation Policy
Quoting Options
Discounts

Best Overall Value


GET QUOTE

2+ bedrooms




Free 30 Days




10%

Free up to 72 Hrs

Phone / FaceTime / Text

Senior / Same day Booking

Best Industry Reputation


GET QUOTE

1+ bedrooms




30 Days




20%

Free up to 72 hrs

Phone / Facetime

Seniors Discount

Best Customer Service


GET QUOTE

1+ bedrooms







Free up to 72 hrs

Phone / Virtual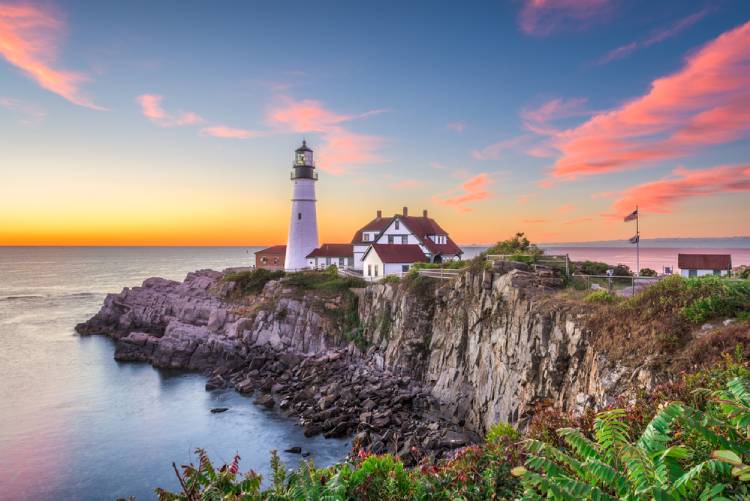 Settled in the easternmost corner of the United States and often referred to as a quiet and quaint state, Maine is truly a hidden gem that is full of surprises. It's true that Maine is smaller in size and on the isolated spectrum in comparison to other states. However, compact states have a great deal of their own perks to offer. Such as its small population of just 1.3 million people makes it a great place for those who look to escape the traffic, noise, pollution and other nightmares of crowded urban spaces.
Maine is also considered to be a playground for outdoor enthusiasts since there's infinite things to do within the state. Hiking, cycling, fishing, river rafting, skiing and camping are just some of the activities that keep residents busy. This is probably why Maine also happens to be one of the healthiest states to live in with an impressive record for quality air. Metrics prove that Maine presently ranks first in the nation for public safety and has registered the lowest crime rates which makes it an ideal place for families and retirees.
If it's some peace, zen and change in atmosphere that you're in search of, Maine might be a good candidate to consider. However, before you give the all access pass and green signal for it to be your home, let's look at the other factors you should probably weigh in before you pack your bags and plan on moving to Maine.
Weather In Maine
Now the weather is definitely going to impact what you'll do year round and as well as your budget, since you will need to buy weather appropriate gear to get through extreme weather conditions. So, let's cover the weather conditions of Maine.
Overall, the state of Maine doesn't receive extreme temperatures, the winter can be manageable but this entirely depends on how low the temperatures dropped in your former state. If you're going to be relocating from a sunnier state, it might take some time to get used to the winters, since the state receives abundant amounts of snowfall.
About the winters (since it is the dominant season) – Winters here last from Mid-November to early March. Your first winter in the Pine state of Maine might seem magical, but you also have to prepare to plow snow out from your driveway as the state on an average receives 60-110 inches of snowfall. Do note that the cold becomes challenging when the chilly winds from Canada freeze the state with temperatures dropping below zero for a couple of days in a row. At times you'd have roughly 4-5 hours of sunshine during peak winter months which is why it is necessary to combat the lack of sunlight with Vitamin D supplementation. Be sure to also make investments for winter gear so you can enjoy the state's wide variety of winter activities.
March to September are when the weather conditions are much more favorable with warm comfortable temperatures. Skies tend to be much more clearer with the daily average sunlight increasing to 7 hours a day. Do note that the weather is specifically refreshing from June to August, considering the fact that these are the peak summer months where temperatures rarely cross 27 degree celsius, making summertime the most pleasant time.
Key Takeaway – The state of Maine has some of the most comfortable summers while winters can be harsh because of the abundant snowfall. The Coastal, Southern and Northern areas of the state experience different temperatures. Most of the towns further away from the ocean receive harsher winters and snowfall compared to ones close to the coastline.
Transportation In Maine
Presently, Mainers to a large extent have to depend on private automobiles to make their way through the state. This is because not all areas of the cities and suburbs are strung together by transportation systems. However, the bus, train and plane service are scattered throughout the state. Which is why Mainers have to solely rely on cars to get around. And that's what makes the roadways the lifeline for Mainers.
Roadways
Maine is surrounded by the Atlantic Ocean to the southeast, Canadian provinces to the north, and New Hampshire to the west. To help connect residents to these neighboring areas Maine does have an extensive network of both state highways and interstate roadways in place.
Maine is also the only US state to share its borders with just one other state (i.e New Hampshire), thus the dominant interstate highway makes efforts to connect residents to this state.
Below is a short description of where the interstate highways lead you:
Interstate 95 – This is a highway that runs from the New Hampshire state line into Kittery (the southernmost town in Maine) upto the Canadian border in Houlton (town on the Canada-US border). Overall, this highway tends to be the most used roadway since it connects everyone from the southernmost point upto the north point in Maine.
Interstate 295 – This highway is the one that breaks off from its parent highway I-95 so that it can provide access to the Portland metropolitan area for Mainers. Unlike I-95 this roadway is toll free.
While these are 2 primary interstate highways, Maine also has a major North-South state highway that serves the entire eastern portion of the state. This route is known as the US Route 01 in Maine or the Coastal route for a lobster trail since it is an extremely scenic road that runs parallel to the Atlantic ocean.
See also: Maine DMV Change of Address
Airports
Maine does have a good deal of passenger airports scattered throughout the state, but among them, the Portland International Jetport in Portland and the Bangor International Airport in Bangor are the two largest passenger jet services in the state. Do note that there would be limited direct flights even though both these airports serve the residents daily to cities like New York, Atlanta, and Orlando.
Railways
Amtrak, which is the passenger railroad service that serves most of the cities in the United States, has 1 major train running through the state of Maine that goes by the name 'Amtrak Downeaster'.
This train runs all the way from Boston, Massachusetts to Brunswick, Maine, with 10 intermediate stops. The train operates five daily round trips between these 2 cities (Boston and Brunswick) and the entire train journey is roughly 3 hours 25 minutes. Brunswick, Freeport, Old Orchard Beach, Portland, Saco and Wells are the 6 stations where the train stops in the state of Maine.
Here is the entire route:
Boston (MA) – Woburn (MA) – Haverhill (MA) – Exeter (NH) – Durham (NH) – Dover (NH) – Wells (ME) – Saco (ME) – Old Orchard Beach (ME) – Portland (ME) – Freeport (ME) – Brunswick (ME)
This railway system works as a gateway for those who wish to explore more regions in the New England province.
Bus Service In Maine
Maine does have around 16 fixed route transit bus routes and it is pretty good service only if you happen to take the same route as the bus. However, most of the routes demand you to go out of your way to get there, which makes intra city travel take way longer than it should. The North-South connections in particular are much more feasible, as it does have a good deal of single bus routes. For instance, if you live in Portland, Westbrook, Falmouth, Gorham, you would easily find affordable means of transportation via bus. However, this can't be said for all the other areas, which is why there is really no non-car means of traveling within the city.
However, Concord Coach Lines does provide services to cover longer distances such as:
A roundtrip from New York city to Portland in Maine – $158
Same day round trip from Boston South Station to Portland – $36
Round trip from Logan airport to Portland – $50
In addition to Concord Coach Lines, Greyhound buses also serve residents who wish to travel outside the state.
When it comes to intra city travel, having a car makes things easier in Maine. We'd also like to mention that you would come across a ton of Moose crossing signs while you drive, since the state of Maine has the dense population of Moose So you need to be mindful about this while on the road.
Job Market In Maine
Since Maine has been a rural state for the longest time, most of the job opportunities were based on blue collar work. However, presently the state has grown to have its own urbanized areas and urban clusters like Portland, Lewingstone and Bangor, where residents and newcomers can find opportunities way beyond trade work.
The state is also working on developing different industries and some of the biggest industries that now have their headquarters in Maine are Fairchild Semiconductor in South Portland, IDEXX Laboratories, in Westbrook, Hannaford Bros. Co. in Scarborough, TD Bank in Portland, L.L.Bean in Freeport, and Cole Haan in Yarmouth.
In addition to these few of the leading sectors for Maine's economy also largely depend on the industries of agricultural outputs, manufacturing and government enterprises.
Among all the manufacturers, Maine is the leading producer of paper, lumber and wood products, bio-technology, electronics, textiles and food products. Naval shipbuilding, construction and commercial fishing are the other three key industries for the economy of the state. Overall, the state of Maine doesn't have the largest companies being maintained here like other states. However, this shouldn't be seen as a weakness, since the state constantly makes efforts to support small privately owned businesses that contribute to the local economies.
Renting
According to reports by HomeSnacks, the average median rent of houses in Maine is $1,750 which is roughly 6% more when compared with the national average. However, in comparison to the neighboring states of the New England province, the average rent for houses in Maine tends to be much cheaper.
To put things into perspective, below is a comparative analysis with the tentative rent costs for a 1 bedroom in the other states so you can see things at a price point:
1 bedroom home in Maine – $1,100
1 bedroom home in Vermont – $1,200
1 bedroom home in New Hampshire – $1,269
1 bedroom home in Massachusetts – $2,200
1 bedroom home in Florida – $1,399
Do note that we've taken into the account the costs in Florida for comparison, since a majority of people are on the lookout for retirement destinations apart from Florida, and Maine is becoming an increasingly popular retirement destination. It is also worth noting that in certain neighborhoods such as South Portland, Saco, Biddeford, Westbrook and Belfast, the cost of rent will be much higher. The reason for that is the fact that these are the urban areas with comparatively higher rent prices.
Cost Of Living In Maine
So one the first areas that you would need to consider for cost of living is the housing prices in the state. As per Zillow, $255,736 is the average median value that homes get in the state of Maine. When it comes to utilities, the funds that go into home heating costs tend to be higher since the state does receive a good deal of snowfall and chilly winters. You would also need to factor in plowing costs since you would need to either hire someone to do that for you or get the basic tools to maintain your home during the winter. Including sewer, water, garbage, internet, electricity, you can expect to pay an average of $250-$350 a month, but this is a price range for single family homes.
Another huge factor that would have an impact on the cost is living is that Maine residents have to spend way more than the national average to eat out at restaurants. The main reason behind that is that the food tax is 8% of the bill. If you compare that to the average American, Mainers are paying 34% more for prepared food.
Education
Top-Rated Maine Colleges
1. Bowdoin College, Brunswick
2. Colby College, Waterville
3. Bates College, Lewiston
4. Maine Maritime Academy, Castine
5. University of Maine, Orono
6. Husson University, Bangor
7. University of New England, Biddeford
8. University of Maine, Fort Kent
9. University of Maine, Farmington
10. University of Maine, Presque Isle
Top-Rated Maine Schools
1. Yarmouth Schools, Yarmouth
2. Falmouth Public Schools, Falmouth
3. Cape Elizabeth Public Schools, Cape Elizabeth
4. Scarborough Public Schools, Scarborough
5. Regional School Unit No. 26 (MSAD 26), Orono
6. Regional School Unit No. 51 (MSAD 51), Cumberland
7. Regional School Unit No. 21 (MSAD 21), Kennebunk
8. Brunswick Public School, Brunswick
9. Wells-Ogunquit Community School District, Wells
10. Bangor Public School, Bangor
Top Cities To Move To In Maine
1. Portland
The city of Portland is the most populated area in the state of Maine. The residents of this city enjoy aesthetically pleasing views of the harbour and oceanfront. The city is also extremely walkable with plenty of restaurants, bars and city parks. Do note that the houses in close proximity to downtown Portland are much more expensive than the rest since the amenities and services found in the Peninsula area adds value to the houses.
Median price of homes sold: $273,400
Median rent: $1,079
2. Bangor
The city of Bangor is considered to be the perfect fit for those looking at advancing their career or education. Presently, retail, healthcare and education are the top employers supporting Bangor's economy. The city also has family-friendly neighborhoods and ample playgrounds and parks for kids. It can be a perfect city for those looking for a small town vibe and one of the biggest perks of living in Bangor is that residents are in close proximity to the international airport.
Median price of homes sold: $150,700
Median rent: $799
3. Biddeford
Biddeford is considered to be a commercial center of its county located just 30 minutes away from Maine's biggest city i.e Portland. The city has a great number of historic buildings and is growing to be a happening hub for locally-owned businesses. Housing and groceries are much cheaper in this city and this is one of the main reasons people are attracted to living here. Apart from that Biddeford also has a strong sense of community and is situated in close proximity to the University of Maine and University of New England.
Median price of homes sold: $223,300
Median rent: $927
4. Bar Harbour
Bar Harbour is one of the biggest tourist attractions in Maine, so during the summer months, this town does tend to get crowded. However, on the plus side, this means more events and activities getting organised for both tourists and locals. Ellsworth and Town Hill are the two most populated neighbourhoods of this town. Bar Harbour has ranked several times as the best place to live in Maine, because of which the value of homes and cost of living here tends to be way higher than the other towns in Maine.
Median price of homes sold: $327,400
Median rent: $857
5. Cape Elizabeth
Cape Elizabeth has been ranked as the number one place to live in Maine. It has some of the best schools, parks, playgrounds and breathtaking views of the coast. It is popularly known to be a family-friendly beach town with an extremely residential atmosphere. However, do note that Cape Elizabeth home prices are among the most expensive in the state. Most of the residents here own huge properties and it is known to have its own affluent community.
Median price of homes sold: $408,800
Median rent: $1,191
FAQs about Moving to Maine
Is Maine a good state to move to?
High Quality Of Life: This is among the first things you look for when moving anywhere. Well, Maine scores high on that list. The cost of living here is lower than the surrounding states. The quality of life here is higher thanks to job security and the low rate of crime (which is among the lowest in the US).
Small-Town Vibes: Considering that Maine is among the least populous states in the US, you can get a lot more room when in Maine than compared to, say, a New York or a Los Angeles. The many big cities in Maine still exude small-town vibes, and with a population that's friendly, you're sure to feel comfortable when in the Pine Tree State.
The Cities And The Countryside: Sure, what you've heard of Maine may mostly be restricted to the serene countryside, but there are quite a few cities too. And the best part? They won't be too far off, wherever you are in the state. Portland offers a nice suburban-ish lifestyle, Bangor has great schools and the esteemed University of Maine, while Auburn has open public places that are great for families.
The Weather: Maine has four distinct seasons that aren't too extreme, but are breathtaking to say the least. If you're one who loves the changing colors of the seasons, then Maine is definitely the place for you.
The Coastline: Maine may not be well-known for its coastline, but some of the harbor towns are full of history. For the beach bums, Southern Maine is perfect, thanks to the beautiful white sand beaches and gentle surf.
Does Maine pay you to move there?
Maine doesn't pay you to move there, but if you've graduated from any university in the US from 2016, the amount of money that you've to pay to clear your student loan debt is deducted from your state income tax! To avail this credit, you need to be a resident of Maine for the tax year.
How much does Maine pay you to live there?
While Maine won't pay you to move there, if you've graduated from a university in the US, the student loans you owe will be deducted from your state income tax. For example, if you pay a student loan of $2,000 and the state income tax you owe is $2,500, all you've to pay as income tax is $500!
Is Maine a bad place to live?
With its quieter cities and vast, beautiful countryside, Maine is more suited to those who are looking for a more leisurely lifestyle. But if you're not one of those, you may not like living in Maine.
While the quality of life in Maine is indeed on the higher side, the Pine Tree State isn't particularly cheap. Maine is among the least affordable states in the US.
Particularly for the younger generation, this might be an absolute dealbreaker. The Internet speeds in Maine are quite slow. Coupled with relatively high Internet costs, it's not a great combination if you're working remotely.
But then again, no state is without its flaws, and if you look at the great schools, weather and a more peaceful life, Maine still remains a good place to live in.
How much money do you need to live comfortably in Maine?
According to LivingWage, a family of four with both parents working would have to make an annual income of $69,725 before taxes.
Pros and Cons of living in Maine
Pros
Connect With Nature: Maine is called the Pine Tree State for a reason – over 90% of Maine is covered with forests. This combined with a low population makes for wide open spaces for you to get in touch with nature.
Close-knit Community: Maine doesn't have a lot of commercial entertainment, but there are many communities and groups with different interests which you can be a part of. It may be owing to the fact that the average age in Maine is 44 (which is the highest in the US), but the people here are warm and hospitable.
High Wages: The minimum hourly wage in Maine is $12.15, which is second only to Massachusetts. So you know that whatever you do, you'll get among the highest wages in the US.
Low Rate Of Crime: Maine has among the lowest rates of crime in the US, so you can breathe in the country air a little easier! According to NeighborhoodScout, the crime rate in Maine is a mere 13.61 per 1,000 residents. This is much lower than the other US states.
Low Traffic: You'd have guessed it as it's so sparsely populated. When in Maine, you won't be stuck in traffic (at least not for too long!). Especially if you've moved from the bigger cities, traffic in Maine may look like a joke!
The Coastline: Maine boasts of a coastline which is over 3,478 miles. It's even longer than the one in California. The coastline of Maine is dotted with historic harbors and pretty beaches that are sure to make you fall for them.
Cons
High Cost Of Living: A high quality of life usually means a high cost of living. While Maine is more affordable than the neighboring states, it still is on the pricier side. Speaking of homes, you'll be spending an average of $269,753 to buy a home, according to Zillow. Those who'd like to rent would be paying an average of $1,750.
Oldest State In The US: We're not talking about how many years old the state itself is, but the average age of Maine residents, which is 44. If you're looking to move to a state that has a vibrant nightlife or something along those lines, Maine may not be for you. Even though Maine may look like a retirement state, the taxes here are not retirement friendly!
The Job Market: Maine has a healthy job market and a low unemployment rate (2.4%, compared with the US average of 3.7%), but most of the jobs require specialized skills. This has resulted in young families having to move out, but if you've got an entrepreneurial flair in you, moving to Maine may work out for you.
Cold Winters: For those accustomed to warmer weathers, the winters of Maine may be a bit too much to handle. So you'll have to make a call and pack more sweaters when you're moving here.
What is a good salary in Maine?
The average annual salary in Maine ranges between $45,462 and $67,963. A good salary for a single person would be over $30,000 per year, and for a family of four with both parents working, it'll be over $70,000.
Is Maine affordable to live?
Maine is among the least affordable places to live in the US, with over 91% of the income getting used up by expenses. The higher costs on childcare, healthcare and taxes may make it a little difficult to save up. The main reason behind it is the size of the state with a relatively small population.
Is living in Maine expensive?
Living in Maine may be cheaper than in the neighboring states, but it's still considerably expensive. You'll be spending a good chunk of your salary on groceries, childcare, healthcare and housing. While Maine has among the lowest state sales tax rates in the US, the progressive income tax rate can get as high as 7.15%.
---
Our Take On Maine
The state of Maine is recognized for its unique landscape of rocky coasts, dense forests and rolling hills. Interestingly, 90% of the state is still covered in forests and unless you live in the city-like regions of the state, you'd have plenty of greenery and space to yourself in the literal sense. If your heart desires the quiet and unhurried way of life, that's something that Maine can deliver without a shadow of a doubt. Overall, Maine is not only visually pleasing but it offers a lifestyle which is peaceful and healthy for your mind. Now that you have a perspective of the ground realities of moving to Maine, you can make an informed decision and figure it if relocating here makes sense to you.