Moving From Phoenix to Boise – Expert Tips and Advice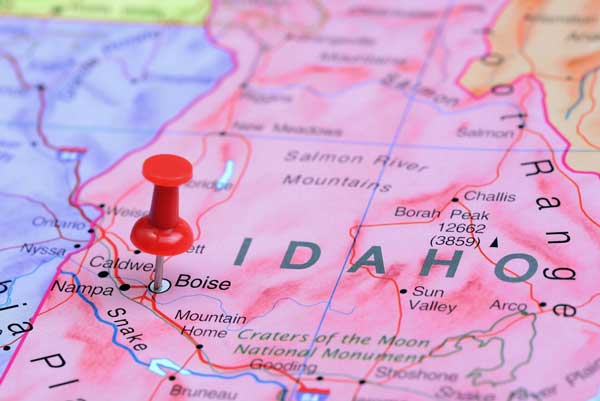 If you're looking to Boise, Idaho for a change of lifestyle, then you're probably right. You can escape Phoenix's blazing heat by replacing it with Boise's moderate climate. Well, it still gets hot in Boise, but at least you will be able to enjoy summer outdoor activities here without getting sunburnt.
The City of Trees has a lot to offer: The vibrant nightlife, the numerous job opportunities, the serene atmosphere are just some qualities to name a few.
What to know more about what makes Boise? Our article will take you through all the different aspects that make this city a desirable destination to move to.
Factors To Consider Before Moving From Phoenix to Boise
Weather Conditions
There's quite a difference in temperatures between Phoenix and Boise. Recorded as the fifth most populous city in the United States, Phoenix has seen its annual temperatures rise each year. With that, they have been contributors to the depletion of the ozone layer (ranking 7th among other cities) according to the American Lung Association.
Factors such as high vehicle emissions and heavy industrialization affect the quality of air, which makes residents prone to fungal lung infections and respiratory diseases. If dense population and lower quality of air troubles you or if you have any respiratory disorders, then leaving this city is the right decision.
However, winters are pleasant in the Valley of the Sun. The temperatures are mild and this climate usually calls for hiking and outdoor concerts. People do most of their shopping during this period as well.
On the other hand, summers in Boise are hot and dry, but not as compared to Phoenix. Tourists prefer this season to boat ride or swim the summer heat away. If it is within your means, invest in an air conditioner or water cooler. You'll feel more comfortable and will not feel the summer strain that much.
Winters can get a bit too cold in Boise and temperatures can go below freezing point. You'll receive frost from October through April. If you're thinking of moving during this period, we should let you know that January is the coldest month of the season. So get your jackets and mufflers ready to embrace the winter cold.
Here's the difference in temperatures that you can expect during peak wintertime:
Phoenix in January – Average day temperatures fall in the 45°F to 67°F zone.
Boise in January – Average day temperatures fall in the 25°F to 38°F zone.
Since Phoenix is situated on a lower elevation, it rarely sees any snow. However, Phoenix does get 9 inches of rain, on average, annually with August being the wettest month. On the other hand, Boise gets 18 inches of snow per year with December being the snowiest and wettest month of the season. Also, you'll get an average of 11.3 days of rain in Idaho, so dust off your umbrellas and raincoats if you're moving in December.
Here's the difference in temperatures that you can expect during peak summertime:
Phoenix in June – Average day temperatures fall in the 78°F to 104°F zone.
Boise in June – Average day temperatures fall in the 54°F to 81°F zone.
Few Things To Bear In Mind About Boise Weather:
Talking about year-round weather, temperatures in Phoenix fall in the range of 63°F to 86°F. On the contrary, the temperature range for Boise is 41°F to 63°F.
Phoenix has higher UV radiation than Boise. Nevertheless, carry some sunscreen while moving to Boise as it can get pretty hot during summers.
June and September are the most comfortable months in Boise. At this time, the climate is moderate and commuters enjoy a plethora of outdoor activities in the summer heat (Temperatures vary between 70°F to 80°F).
Cost Of Living
No matter how flamboyant a place may seem, it always boils down to how affordable the place is. Housing, utilities, and transportation are just some of the factors that come to mind when deciding on a place. You might have to make slight changes to your lifestyle as the cost of living in Boise is 7.2% more than it is living in Phoenix.
Sales taxes are on par with the national average, but income tax rates are 2.3% higher. However, residents in Phoenix enjoy income tax rates of 3.4%, which is 1.2% lower than the national average (the average income tax rate in the U.S. is 4.6%). Over here, you'll need to budget your expenses accordingly.
Housing Costs
The rising housing costs are responsible for this stark difference as the median home costs are 26% more than those in Phoenix. On top of that, the property tax rate per $1,000 of home value is $7.8 as compared to Phoenix's property tax rate of $6.1. Here's an approximate comparison of median home costs between the two cities:
Median home cost in Boise (according to Best Places): $496,900
Median home cost in Phoenix (according to Best Places): $346,100
Rent
Depending on the size and locality, rent rates vary. For an 881 sq ft apartment in Boise, the average rent is $1,481 which is just a dollar difference from the national average. If you cannot afford a house, you can at least rent an apartment. Apartment rates in Phoenix are much cheaper. The average rent for an 804 sq ft apartment is $1,330 per month.
Utilities
Food and groceries are 3.6% cheaper in Boise than in Phoenix. You can cook a meal for two with one dozen eggs, a pound of boneless chicken, 2 lbs of tomatoes, 1 qt of milk, and 2 lbs of apples all for $12.92. The same ingredients would cost you $15 in Phoenix.
If you're worried about paying for utilities in Boise, don't be, as utilities are 12% cheaper in Idaho than in Phoenix. It is a huge achievement to save money on utilities amid rising inflation.
You'll be pleased to know that transportation in Boise is 28.3% cheaper than in Phoenix. Saving so much on traveling will indeed broaden your annual budget. The grave difference in transportation costs may be due to the proximity of facilities between places in turn saving gasoline and time.
Speaking of healthcare, Boise has some of the best hospitals in the country. St. Luke's Regional Medical Center ranks among the top 100 hospitals in the country with the highest doctor-to-patient ratios, safety, and commitment. Similarly, the same can be said about Saint Alphonsus Regional Medical Center. To fund all these facilities, healthcare is 8.4% more expensive in Boise than in Phoenix.
Job Market
Boise is home to several private companies that have facilitated the growth of the economy. This city has seen a 3.6% job growth from its past years and has increased future employment opportunities. With some of the biggest names such as Albertsons, Inc, Fred Meyer, and Hewlett Packard, you're bound to find lucrative jobs in various branches of technology, medicine, services, and manufacturing.
With so much development at hand, the job growth in Boise is indeed much higher than in Phoenix.
Here are some of the prominent occupations on the rise in Boise:
Human Resources Specialist
Medical Assistant
Automotive Service Technicians
Financial Managers
Computer and Information Systems Manager
Phoenix earns most of its revenue from manufacturing and tourism. Due to the sudden influx of people, the economy has diversified into technology, financial, and service industries as well. Many Fortune 500 companies such as Bank of America, IBM, and Intel are based in this city.
However, unemployment rates are higher in Phoenix: Boise with 3.6% and Phoenix with 6.6%. If you analyze the median household incomes of both cities, you'll see not much of a difference in earnings. Here are the figures collected by Best Places:
Median Household Income in Boise: $54,547
Median Household Income in Phoenix: $52,080
A single adult earning $30,000 can easily afford the rates in Boise. Expenses increase as more mouths are involved. For a single earning parent having one child, one needs to earn $59,868 per year. If you share the rent with your spouse and have 2 kids, you'll need to earn approximately $82,478 per annum.
See also: Moving to Boise Idaho – Detailed Guide
Transportation
According to Livability, Boise is ranked as one of the best cities for millennials to settle in. Its low cost of living and emerging tech culture is credited to that. But what cripples Boise is its lack of public transportation.
There are 25 bus routes from the Boise metro area leading to Caldwell and Nampa, but these buses arrive after every 30 minutes and stop operating after 7 p.m. This becomes extremely inconvenient for those who are entirely dependent on public transport to commute to work or elsewhere. There are a couple of Amtrak trains going to Boise, but nothing that connects to nearby cities. The last time a passenger railway was in service was in 1928.
So if you want to travel around a city, you need to buy/rent a car or an e-scooter. These are the only efficient transportation you will get currently.
Boise's Strongest Points
The city has an emerging tech culture and the cost of living is lesser than in other cities.
Although summers can get hot, the overall temperature is moderate and pleasant, making outdoor activities fun.
Boise is nicknamed the 'City of Trees'. Its breathtaking scenery is complemented by the vast array of trees along the streets. Even in this age of development, Boise has lived up to its name.
Top Neighborhoods To Move To In Boise
1. Southeast Boise
Boise has an active nightlife. And Southeast Boise is not short of it. This neighborhood is where all the nightlife begins. If you love to party or need places to catch up with friends, then head on to Suds Tavern, The Refuge, or R Bar. The prices are great and the ambiance is wonderful. If you prefer doing something more discreet, the streets are lined with several gastropubs, eateries, and boutiques.
Median Home Value: $292,214
Median Rent: $1,085
2. Boise Heights
Football enthusiasts will recognize this neighborhood. It is home to the Boise State Broncos. Apart from that, you can enjoy Boise's glory from the train depot. The beautiful skyline here is a feast for the eyes. Where raising a family is concerned, you can be sure of the safety of this neighborhood. And if you're looking for education, Boise Heights has many elementary schools such as the Longfellow Elementary School and Roosevelt Elementary Schools. High schools like the North Junior High School and Boise Senior High School are present as well.
Median Home Value: $554,349
Median Rent: $945
3. Highlands
Highlands is a place for the outdoors. It has everything: quality schools, fun outdoor activities, and a golf course. Plus downtown is just a short commute away. People take pleasure from hiking through the Bogus Mountain, and those who just want to savor the serenity of the place prefer walking or cycling at Camel's Back Park. This place is away from the hustle and bustle of an urban area. As a result, many people have been moving into this neighborhood.
Median Home Value: $523,111
Median Rent: $976
4. East End
If you want to see what makes The City of Trees just that, take a hike at Table Rock. You'll appreciate the fresh air and scenery of the place. To add to that, the people are friendly, adding to the small-town vibe it emotes. A lovely place to raise a family in, with numerous job opportunities available. What more could you ask for?
Median Home Value: $444,685
Median Rent: $1,126
Things To Take Care Of When You're Moving From Phoenix To Boise
Moving is a task. Stack your important documents in order beforehand. You do not want to be scrambling for the required document when the time arises. To save yourself from such embarrassment and to give yourself peace, please store your documents chronologically in a file or best, keep a separate box to store them.
Traveling by road is a bit tedious as it is a 14-hour drive via the US-93 N. It's fine if you're up for it, but driving long journeys can easily tire even the most experienced drivers. Flying is a more feasible option as you will reach Boise in just 2 hours.
If you decide to travel by road, carry your personal belongings with you. You now have full security over your stuff without having to worry about giving it to a third party for transportation.
Never accept the first quote you get. Research and find at least 3 quotes from reliable movers. Read reviews that will help you to determine what is best for you.
There are some ways to downsize the costs of your move. Carry stuff that you need. Other things that are less important to you can be sold. That way you'll have the finance to buy better articles or furniture from your new city.
The Most Awaited Subject Of Moving Costs
Boise is 925 miles away from Phoenix. Before moving, have a thorough discussion with your mover about hidden costs. And always ask for a proper breakdown of the pricing on a sheet to avoid being scammed.
According to Budget Van Lines, the approximate cost of moving to a single-bedroom apartment in Boise ranges between $984 to $ 3,251. These costs are free from additional costs such as packing, cleaning, loading, and unloading. Costs will increase according to the location and size of the apartment.
To cut down costs, you can always ask your mover for discounts. They will surely have a budgeting system that will help in cutting some costs. Packaging and junk removal is a separate cost altogether. However, some moving companies include packing and cleaning services among a bunch of other services. Search for companies like these.
Such long-distance moves can have tight budget constraints. If that is the case, then you can pack and unload your furniture by yourself.
Conclusion
Overall, Boise has its downs. For instance, poor public transportation. Nevertheless, the city is hemmed with greenery, which is evident in its nickname. The climate is temperate, the people are friendly, and the economy is booming. If you're waiting to try your hand in the technology sphere, then Boise is what you are looking for.
There's always something to do in this city. You can bank on Boise's extravagant but calm nightlife to suit your party/social needs. The streets are decorated with eateries and pubs, along the sidewalk. Very useful for a quick bite.
However, you'll have to make small adjustments to your lifestyle as Boise is 7% costlier than Phoenix. Also, housing and healthcare are a tad expensive. But that will not be a problem since you'll be earning more. And with proper budgeting, you'll have more than enough to survive in this city.
See also: Best Moving Companies in Phoenix AZ
FAQs
How Much Does It Cost To Move From Phoenix To Boise?
The starting costs for a full move from Phoenix to Boise are in the range of $984 to $3,251. Depending on the complexity and location of the move, costs vary. The resulting amount might even round up to $4,000 if there is lots of storage to be moved.
Is Boise A Good City To Move To?
Many millennials have been moving to Boise for job opportunities and its lifestyle. It's much serene and greener than other cities, and you won't feel the hustle and bustle of daily life. The downside is the public transportation system. You need a car or an e-scooter to get around places quicker.
Is It More Expensive To Live In Phoenix Or Boise?
Living in Boise is 7% more expensive than living in Phoenix, all due to the rising costs of real estate. But with some budgeting, you can live comfortably in this city.