Leaving Seattle? 5 Best Places to Move from Seattle


VanLines Inc
Secure Storage
Easy Booking Process
Fully Trained Employees
GET QUOTE

Colonial Van Lines
Storage Services
Long-Distance Moves
Corporate Relocations
GET QUOTE

Moving APT
Available Nationwide
Award-Winning Movers
Extensive Vetting Process
GET QUOTE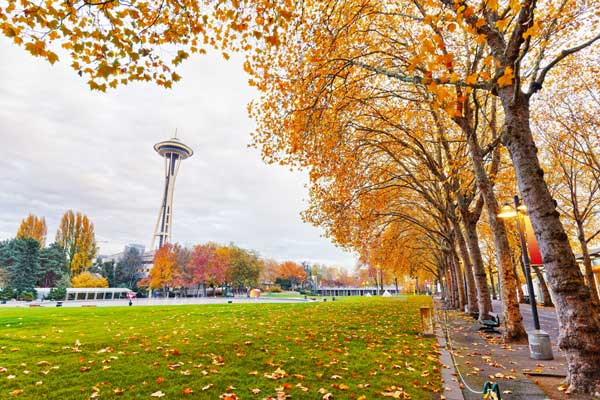 Seattle is one of the fastest-growing cities in Washington, with its booming industries and beautiful natural landscapes. Seattle's thriving tech sector has greatly enriched and expanded its job market. The city has the most diverse, accessible, and high-quality food options, as compared to any other city in the U.S. Whether you're craving Continental, Mexican, fast foods, desserts, seafood, or Vietnamese, Seattle has it all! Seattle is close to other major cities like Vancouver, British Columbia, Oregon, and Portland. It is known for its lush greenery with nearly 500 parks, beach fronts, and breathtaking views of the mountains. It isn't called 'The Emerald City' for nothing!
With its growing job market, Seattle has attracted several newcomers recently and this rapid growth in population has caused an imbalance in the housing market. While there are many apartments that are fully furnished and attractive, they can be quite expensive. The rising housing costs in Seattle are causing a growth in the homeless population of the city as well. In addition to expensive housing, the cost of living in the city is also high. Furthermore, the west coast's major north-south interstate highway, I-5, runs through Seattle. This highway connects the city to Portland and Vancouver, which adds to the traffic congestion of the city.
But where do you move from such a fast-paced city? Which towns would give you similar amenities as Seattle but with better pros? Look no further! We bring you the best places to move from Seattle. Go through our list and take your pick!
5 Best Places To Move From Seattle
Redmond
Bellevue
Mercer Island
Olympia
Pullman
1. Redmond
Redmond is home to Microsoft which has led to massive growth in the tech market here, in the past few decades. Being so close to Seattle, this is not surprising. Redmond has seen an increase in the job market in the past few years and the unemployment rate has steadily been going down. The city also has one of the best public school systems in the state, which attracts families to move here.
Furthermore, Redmond is a cycle-friendly city. With several bicycle paths and even competitive cycling events, many residents commute to work or cycle to neighboring towns instead of driving. Finally, Redmond is quite a safe city with crime rates two times less than in the rest of the state.
Downsides: As with most of the cities in Washington, Redmond, too, has an expensive housing market. The cost of living is the highest in the state. While Washington has no state income tax, the sales tax of Redmond is quite high. Barring the health facilities and utility costs, other living facilities in Redmond cost above the national average.
Population: 85,408
Median Home Value: $1,420,190
Monthly Median Rent: $2,288
Median Household Income: $158,114
Unemployment Rate: 5.1%
Best Neighborhoods To Live In: Sammamish Valley, Southeast Redmond, North Redmond, Overlake, and Sammamish Plateau.
2. Bellevue
Bellevue sits just east of Seattle across Lake Washington and is surrounded by beautiful parks and waterfronts. The city lives up to its name which means 'beautiful view' in French. Bellevue is great for families and outdoor enthusiasts due to its enormous park system, miles and miles of hiking trails, and local camping spots. It is close to major cities like Seattle, Kirkland, and Everett.
The city of Bellevue has one of the best schooling systems in Washington and also provides some of the best healthcare facilities in the state. The city has a fast-growing economy and a positive trajectory in terms of jobs. You'll also be glad to know that it has a diverse occupational market right from technical to non-technical jobs.
Downsides: With the ever-growing economy and job opportunities, Bellevue's cost of living has also increased. Like many cities in the state, Bellevue, too, has expensive real estate and housing costs. Many cities and suburbs near Seattle frequently face heavy traffic congestion due to the I-405 and I-90 – especially during the rush hours. Even if you decide to bypass the traffic by using the side streets, you might still encounter some traffic. Finally, Bellevue, like every other city in Washington, is often addled with cloudy gray skies and heavy rainfall.
Population: 151,464
Median Home Value: $1,510,146
Monthly Median Rent: $2,513
Median Household Income: $162,434
Unemployment Rate: 6.4%
Best Neighborhoods To Live In: Wilburton, West Bellevue, Northwest Bellevue, Northeast Bellevue, Bridle Trails, Woodridge, etc.
3. Mercer Island
Located in the middle of Lake Washington, between Seattle and Bellevue, Mercer Island is the perfect place to retreat from the hustle-bustle of city life. Mercer Island is a safe and quiet suburb in comparison to the two big cities. The Island's low crime rate has brought several families here. Moreover, it's a great place to live in, especially for professionals working in Seattle or Bellevue. The commute to the cities is quite short and one can enjoy the quiet of the suburbs too. Furthermore, Mercer Island has excellent schools and beautiful parks, making it a great place to raise a family. The island has numerous green spaces, hiking trails, wetlands, and bike trails for outdoor enthusiasts.
Downsides: The cost of living on Mercer Island is quite high since it's located between such fast-paced cities. The housing costs are also quite steep. But, the quality of living is as high as the prices. Mercer Island's community is mostly made up of upper and middle-class professionals with high-paid jobs which makes the suburb's community less diverse. Finally, while the commute to Seattle and Bellevue is short, the I-90 bridge is the only route connecting both these cities. Hence, traffic congestion is almost always a problem for commuters.
Population: 25,930
Median Home Value: $2,292,362
Monthly Median Rent: $1,873
Median Household Income: $224,619
Unemployment Rate: 5.1%
Best Neighborhoods To Live In: North Mercer, Parkridge, Mercerwood, and Lakeview Highlands.
4. Olympia
Olympia is Washington's capital and has quite a central location, with regard to the ocean, the mountains, and even the neighboring cities surrounding Olympia. The cost of living in Olympia is affordable as compared to other cities in Washington. The cost of necessities and other facilities, too, is average as compared to major cities like San Francisco and Denver.
Olympia has a great public transportation network. The metro line directly connects Olympia to Seattle, which is great for daily commuters. The city is also close to other major cities like Seattle, Tacoma, Longview, and Gig Harbor. Its job market is rather diverse, ranging from IT and engineering positions to healthcare and hospitality management.
Downsides: While the city has a diverse job market, the market itself is quite difficult. The majority of Olympia's residents work in government positions. But if you're looking for a different job role, you'd mostly have to commute or compete. While Olympia's crime rate is lower when compared to other major cities, it is slightly higher than Washington's state average. Finally, Olympia is a rain-loving city. As it is located in Washington's lowlands, the city does not see much snowfall. It rather rains through the winters as well.
Population: 54,004
Median Home Value: $521,240
Monthly Median Rent: $1,425
Median Household Income: $78,809
Unemployment Rate: 8.8%
Best Neighborhoods To Live In: South Capitol, Eastside, Cain Road, Northwest Olympia, East Bay Drive, and Lakemoor.
5. Pullman
Pullman is the largest city in Whitman County and is home to the Washington State University. The city's job market's growth is slow but steady. Pullman's unemployment rate is lower than the national average, which is a positive sign. The city's crime rates are also low, which makes it a safe place to live in. Since the well-known Washington State University is located here, it comes as no surprise that Pullman has a great educational system. Furthermore, unlike the other fast-paced cities, Pullman has lower traffic problems and a vast network of roads, owing to which the commute time is not too hectic.
Downsides: The cost of living in Pullman is quite high compared to that of the U.S. average. However, in comparison to the cost of living in Washington state, Pullman's cost is slightly lower. Pullman also faces the likelihood of witnessing severe storms occasionally due to its location. The city also receives precipitation in the form of snow, rain, sleet, and hail for nearly half the year. Other than these demerits, Pullman does lack diversity in terms of people and community, with a high percentage of the population consisting of American Whites.
Population: 36,195
Median Home Value: $438,549
Monthly Median Rent: $650
Median Household Income: $54,784
Unemployment Rate: 10.4%
Best Neighborhoods To Live In: Busby, Whitlow, Washington State University West, Union Center, and Pullman East.
See Also: Best Neighborhoods in Seattle for Singles and Young Professionals
Conclusion
Whether you move from one fast-paced city to another, or settle in a quiet suburban neighborhood, researching your options is the most important step of moving. Factors like education facilities, housing rent and value, cost of living, healthcare facilities, and economy are of utmost importance to be considered before you make your decision. So, make no haste and take your time! After all, it is a new chapter in your life!
Related: Best Moving Companies in Seattle
FAQs On Best Places To Move From Seattle
Where Are People Moving Out Of Seattle To?
According to the U.S. Census, people who move out of Seattle, King County go no further than Snohomish County and Pierce County of Washington. A lesser number of people make interstate moves, especially to Los Angeles and neighboring states.
Is Washington State A Good Place To Live?
Washington is most definitely a great state to live in. Being the national capital, Washington has the best work opportunities both for technical and non-technical jobs, majestic outdoor spaces, and the best educational facilities. The state also has no state income tax which is a great add-on!
What Is The Best Place To Raise A Family In Washington State?
Redmond city in King County is ranked as the best city to raise a family in Washington state. The city has diverse work opportunities, a well-reputed educational system, and a plethora of outdoor activities for family members to enjoy.
How Much Money Do You Need To Live Comfortably In Washington State?
According to Numbeo, as of 2022, the monthly cost of living in Washington for a family of four is $4,432. Washington state has a high cost of living as compared to the national average. But the average salary drawn by workers in the state is also higher than the national average. The state is frequently listed as having the highest minimum wages in the U.S.