Leaving San Diego? 5 Best Places to Move from San Diego


VanLines Inc
Secure Storage
Easy Booking Process
Fully Trained Employees
GET QUOTE

Colonial Van Lines
Storage Services
Long-Distance Moves
Corporate Relocations
GET QUOTE

Moving APT
Vetting Process
Award-Winning
Available Nationwide
GET QUOTE
Our Take
Price
Rating
Minimum Shipment Size
Storage
Booking Deposit
Cancellation Policy
Quoting Options
Discounts

Best Overall Value


GET QUOTE

2+ bedrooms




Free 30 Days




10%

Free up to 72 Hrs

Phone / FaceTime / Text

Senior / Same day Booking

Best Industry Reputation


GET QUOTE

1+ bedrooms




30 Days




20%

Free up to 72 hrs

Phone / Facetime

Seniors Discount

Best Customer Service


GET QUOTE

1+ bedrooms







Free up to 72 hrs

Phone / Virtual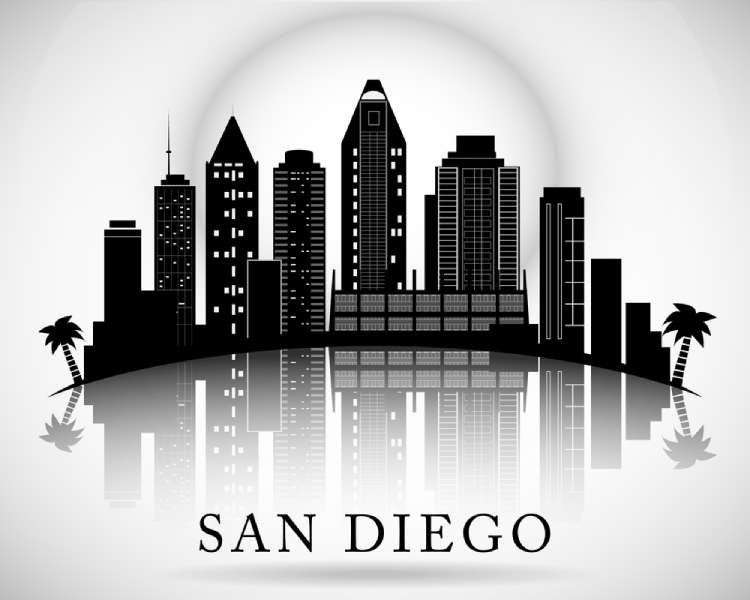 San Diego has got most boxes ticked; be it the spellbinding natural beauty, high quality of life, great educational opportunities, and the healthcare facilities. But like every other city in the world, America's Finest City also struggles with a few things. First and foremost, San Diego is among the ten most expensive cities in the country with a cost of living much higher than the national average. Housing prices are also almost three times higher than the country's average.
In addition to this, due to the location of the city and a dry climate, there's always a risk of natural calamities like earthquakes, droughts, and wildfires. This might be even a bigger reason for people to move out than the city's cost of living. The air quality drops by quite some margin on windy days with all the dust and pollution. Here's a list of cities that you can consider moving to if you're leaving San Diego for any reason.
5 Best Places To Move From San Diego
Los Angeles, California
San Francisco, California
Sacramento, California
Salt Lake City, Utah
Mesa, Arizona
Los Angeles, California
Being a sports fanatic, maybe you wished to travel to Paris in 2024 for the Summer Olympics but if you move to Los Angeles and wait just a little longer, the grand event is set to take place in this Californian city. Also known as The City of Angels, LA is located in the Los Angeles County in the southern part of the state with the San Gabriel Mountains on the east and the Pacific Ocean on the west. It's the second-most populous city in the US after NYC.
The people of Los Angeles experience a subtropical climate which means that the winters are mild and rainy while the summers are hot and sunny. You can step out of your homes at any time of the year as the weather remains pleasant. As far as the cost of living in concerned, you might have to spend a little more in LA as compared to San Diego as Los Angeles has a cost of living index of 173.3 and it's slightly higher than San Diego (160.1).
The job market in LA is always booming. Apart from the technology sector, one can easily find work in manufacturing, tourism, financial services, entertainment, media, etc. A few of the city's top employers are the University of California LA, Kaiser Permanente, Northrop Grumman, and the Los Angeles Unified School District. It's quite a view with the mountains sitting right next to the jaw-dropping ocean and if you're into hiking and biking, this is where most of your time will go. Los Angeles is home to some of the world's biggest movie studios and hence, it is a hub for entertainment and the American film industry.
Downsides: You have probably heard about the poor traffic condition in Los Angeles, especially during peak hours. Parking is a major problem in the city. The public transportation is not up to the mark. The city's crime rate is also higher than the national average. Finally, the cost of living and real estate prices are way too high.
Population: 3,985,516
Median Home Value: $965,684
Monthly Rent: $2,661
Median Household Income: $75,388
Unemployment Rate: 5.4%
Best Neighborhoods To Live In: Beverly Hills, Highland Park, Atwater Village, Culver City, Los Feliz, Venice, Silver Lake, West Hollywood, and Koreatown.
San Francisco, California
San Francisco is located on the western coast of the country with San Francisco Bay on the east and the Pacific Ocean on the west. We won't be surprised if the first images in your mind at the mention of San Francisco are the awe-inspiring Golden Gate Bridge and the beautiful cable cars of the city. The city's climate can be best described as the Mediterranean type, where summers are cool instead of warm. In a year, there are 259 days of sunshine, 25 inches of rain, and no snowfall. Being among the most expensive cities in the US, San Francisco has a score of 269.3 on the cost of living index with enormously high housing prices. But even after all of this, people from all age groups want to move to San Francisco as the city offers the highest quality of life in the country.
There are plenty of job opportunities in San Francisco. The biggest industries to look for work in are tourism, finance, healthcare, science and technology, and higher education. And the best employers in the city include Wells Fargo, Kaiser Permanente, Safeway, and Salesforce.
You'll be treated to breathtaking scenes from time to time with the foggy Bay Area, giant redwoods, stunning lakes, awesome beaches, lush green parks and gardens, and the splendid streets. You'll also get to indulge in a lot of outdoor activities like hiking and biking. In addition, the city's public transportation is quite efficient with its trains, streetcars, and bus services.
Downsides: San Francisco is one of the most expensive cities in the country with a high cost of living and extremely high taxes. Wildfires are always looming. Homelessness is a major problem in the city and the property crime rates are also way above the national average. Finding a parking spot in San Francisco will be a struggle if you move around in your own car.
Population: 884,108
Median Home Value: $1,608,937
Monthly Rent: $3,230
Median Household Income: $119,136
Unemployment Rate: 3%
Best Neighborhoods To Live In: Pacific Heights, Financial District, North Beach, Telegraph Hill, Dogpatch, Mission Bay, and Alamo Square.
Sacramento, California
Sacramento is not only the capital city of California but it's also called 'America's Farm-to-Fork Capital' as a result of the agriculture scene and the high number of farms in the city. It's in close proximity to Lake Tahoe, San Francisco, and Napa Valley. Although the city is often overshadowed by the more popular Californian cities of Los Angeles and San Francisco, it remains one of the most desirables cities in the entire country to settle down in. With mild, rainy winters and hot summers, Sacramento experiences a Mediterranean climate. The people enjoy around 270 days of sunshine in a year which is quite high along with 20 inches of rain.
Sacramento has a cost of living index of 118.2 which is a little higher than the national average (100) and much lower than the average in California and its other cities. The main reason behind this is the affordable housing in the city. There are people in large numbers moving in every year due to the fact that it's an educational hub and one of the most diverse cities in the US. Youngsters, in particular, are attracted to Sacramento because of the job market, high quality of life, amazing music scene, local craft brewers, scenic beauty, restaurants, and cafes.
The best-performing sectors where finding work will be easy are government, transportation, agriculture, healthcare, education, technology, hospitality, etc. Some of the largest employers in the city are the State of California, Intel, UC Davis Health, McClatchy, Sacramento Kinds, Sacramento County Department of Personnel Services, Sutter Health, and Sacramento City Unified School District.
Downsides: The crime rate (violent and property crime rates of 6.79 and 29.36 per 1,000 residents) is higher than the country's average. The population is growing as a result of which, the traffic is becoming a problem. It gets extremely hot during the summer season. The tax rates in Sacramento are high.
Population: 531,285
Median Home Value: $502,228
Monthly Rent: $1,792
Median Household Income: $65,847
Unemployment Rate: 4.7%
Best Neighborhoods To Live In: Fair Oaks, Granite Bay, North Oak Park, Downtown Sacramento, East Sacramento, Davis, Roseville, Folsom, and Elk Grove.
Also See: 5 Best Neighborhoods in Sacramento for Families
Salt Lake City, Utah
Salt Lake City is the capital as well as the most populous city of the state of Utah. Located 4,390 feet above sea level, the city was named after the Great Salt Lake and it sits on the southeastern end of the stunning lake. One of the most important events in the history of the city is when it was chosen to host the Winter Olympic Games in 2002. But Salt Lake City is highly popular among Americans for many more awesome things like higher education, work opportunities, a strong economy, public transportation, natural beauty (views of mountains), a variety of natural, historical, and religious attractions, nightlife, and mountain-based adventures (skiing and snowboarding).
The city attracts people from different age groups and walks of life, making it a truly desirable place to settle down with your loved ones. The climate of the city can be defined as continental with cold winters and hot summers. If you like experiencing different seasons, Salt Lake City will be a treat for you. The city gets 222 sunny days, 20 inches of rain, and 54 inches of snowfall in a year. During the months of December and January, the city experiences a phenomenon called winter inversion. It occurs generally after a snowstorm when layers of cold air are trapped underneath the layers of warmer air.
In the cost of living index, the city has a score of 118.9, which is significantly lower than San Diego. That's another reason why people are choosing to move to Salt Lake City. As far as the job market is concerned, the best industries are healthcare, technology, higher education, hospitality, government, and retail. The top employers in Salt Lake City are Adobe, University Hospital, University of Utah, Intermountain Healthcare, Delta Airlines, eBay, Goldman Sachs, JetBlue Airways Corporation, and Zions Bancorp.
Downsides: Be prepared for the snowfall. The city gets 54 inches of snow, almost double the national average (28 inches). The real estate prices are high. The summers and winters are severe. The winter inversions lead to smog which deteriorates the air quality. The crime rate in Salt Lake City is way above the national average for both violent and property crimes.
Population: 200,963
Median Home Value: $612,154
Monthly Rent: $1,562
Median Household Income: $63,156
Unemployment Rate: 2.1%
Best Neighborhoods To Live In: East Bench, Yalecrest, Liberty Wells, Sugar House, Capitol Hill, Wasatch Hollow, Greater Avenues, Temple Square, and Westminster.
See Also: Best Neighborhoods In San Diego For Families
Mesa, Arizona
Mesa is located in Arizona's Maricopa County near the two major cities of Phoenix (capital of Arizona) and Tempe. The third-largest city in the state, Mesa is known as one of the best places to retire in the US since it's a peaceful city without many options for nightlife. It's a Spanish word that means tabletop and the city was named Mesa due to its location on a plateau above a valley. If you're an adventurous person, the Sonoran Desert is waiting for you with the options of mountain biking, hiking, and kayaking. Not too far from the city are two beautiful rivers and three lakes and the youngsters get to enjoy numerous water activities like boating, tubing, and fishing. Additionally, all art lovers are going to have a gala time in Mesa with a number of galleries and studios in place.
The people of Mesa experience a desert climate where there is a rainfall of just 10 inches in a year, much less than the national average of 38 inches. The summers are dry while the winters are cool. There are around 300 days of sunshine every year. Mesa has a cost of living index of 104.2 which is just slightly higher than the country average (100). The quality of life is pretty amazing with kind and friendly people all around. The city offers brilliant education opportunities and is home to some amazing restaurants, coffee shops, breweries, bars, etc.
If you want to work in Mesa, the best sectors are healthcare, education, aerospace, technology, tourism, and hospitality. The biggest employers in the city are Google, Fuji, Boeing, Mitel, Guided Therapy Systems, Bridgestone, Marsh Aviation, Banner Health, and Mesa Unified School District. The city's crime isn't an issue as well as Mesa has violent and property crime rates of 3.89 and 19.31 per 1,000 residents, respectively. This is very close to the national average. Overall, Mesa is a great place to consider if you're looking for a place with a laid-back lifestyle.
Downsides: The summer months are sometimes unbearable with average high temperatures reaching 106°F. The cost of living is slightly higher than the national average. Traffic is usually an issue in Mesa.
Population: 548,213
Median Home Value: $420,000
Monthly Rent: $1,529
Median Household Income: $61,640
Unemployment Rate: 3.1%
Best Neighborhoods To Live In: Las Sendas, Lehi, North Center, Ridgeview, Dobson Ranch, Crimson Creek, Heritage Park, The Groves, and Red Mountain Ranch.
Summing Up
Just like every other city in the world, San Diego has got a great number of positives but there are also some negatives that can force people to look for another place to live. We hope these five cities mentioned above are worth considering moving to if you have made up your mind about leaving San Diego for any reason. All the best!
See also: Best Moving Companies in San Diego
FAQs On Best Places To Move From San Diego
Where Should I Move After San Diego?
Your next destination to live in after San Diego can be LA, Sacramento, Phoenix, Mesa, Arlington, Seattle, Bellevue, Dallas, Virginia Beach, Portland, Las Vegas, or Chicago.
Which Are The Most Affordable Cities To Live In California?
The most affordable cities to live in California are Bakersfield, Eureka, Fontana, Redlands, Vacaville, Oxnard, Clovis, and Chico.
Is San Diego Cheaper Than LA?
San Diego and Los Angeles have scores of 160.1 and 173.3 on the cost of living index. Although the difference is not huge, it's in favor of the former city. This means san Diego is cheaper than LA in some aspects of living.