Leaving Philadelphia? 5 Best Places to Move from Philadelphia


VanLines Inc
Secure Storage
Easy Booking Process
Fully Trained Employees
GET QUOTE

Colonial Van Lines
Storage Services
Long-Distance Moves
Corporate Relocations
GET QUOTE

Moving APT
Vetting Process
Award-Winning
Available Nationwide
GET QUOTE
Our Take
Price
Rating
Minimum Shipment Size
Storage
Booking Deposit
Cancellation Policy
Quoting Options
Discounts

Best Overall Value


GET QUOTE

2+ bedrooms




Free 30 Days




10%

Free up to 72 Hrs

Phone / FaceTime / Text

Senior / Same day Booking

Best Industry Reputation


GET QUOTE

1+ bedrooms




30 Days




20%

Free up to 72 hrs

Phone / Facetime

Seniors Discount

Best Customer Service


GET QUOTE

1+ bedrooms







Free up to 72 hrs

Phone / Virtual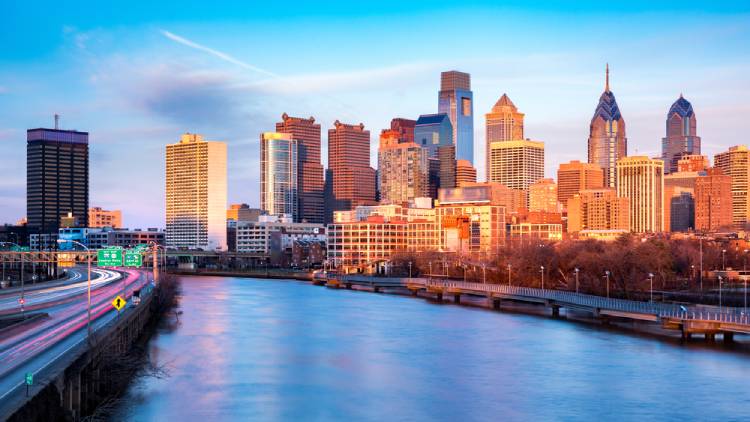 Philadelphia is a modern city with a deep-rooted history, eclectic neighborhoods, and a tight-knit community that embraces newcomers! Philadelphia is a prime location as it neighbors major cities like New York, New Jersey, Delaware, and Washington DC. Furthermore, the city also has a great public transportation system which is quite easy and efficient for commuters. Philadelphia also houses some well-known universities like Drexel University, Temple University, and the University of Pennsylvania.
While Philadelphia has a lot to offer to its residents, like every other city, it has its own shortcomings. It is a major metropolitan city that has become a center of an ever-growing population. This overcrowding problem brings along severe traffic congestion and parking shortage. A commute to and from work can be quite hectic, thanks to incessant traffic and the crowd. Apart from this, Philadelphia also has wage taxes (a tax on salaries, wages, commissions, and other compensations) apart from other federal taxes.
Philadelphia has its positives and negatives, just like any other city. So, where should you move after living in the 'City of Brotherly Love'? Well, we bring 5 best places to move from Philadelphia. Give this list a glance, and make your pick!
5 Best Places To Move From Philadelphia
Pittsburgh
Allentown
Lancaster
York
Scranton
1. Pittsburgh
Pittsburg is a moderately large city within Pennsylvania itself. It is a major metropolitan hub, and wouldn't cause a culture shock to newcomers, especially from Philadelphia. Irrespective of Pittsburgh being a major city, the homes here are quite affordable. The city has numerous high-rated public schools, colleges, and universities. Pittsburgh ranks high on national and statewide educational levels. Overall, the livability in Pittsburgh is pretty good considering education, crime, cost of living, and residents' overall happiness.
Downsides: Sunny days aren't very common in Pittsburg. While many people like the rain and snow, having to deal with it for much of the year is a different story altogether. Pittsburgh has a great number of gloomy days, when not raining or snowing. Furthermore, the economy of Pittsburgh is not the best currently. The median household income of the city is lower than the U.S. average and the unemployment rate is higher than the national average as well. Job growth in the city is quite slow too.
Population: 299,434
Median Home Value: $234,320
Monthly Median Rent: $1,170
Median Household Income: $72,981
Unemployment Rate: 8.6%
Best Neighborhoods To Live In: Downtown Pittsburgh, Shadyside, East Liberty, North Shore, Bloomfield, North Oakland, Southside Flats, and Allegheny Center.
2. Allentown
Allentown is the third-most populous city in Pennsylvania due to its affordability of houses. Moreover, Allentown is closer to Philadelphia, which is a major city in the state. The state of Pennsylvania as a whole has a lower median home value as compared to that of the U.S. average. But, Allentown has an even lower median home value, which makes the housing here quite affordable. Moreover, the crime rates of Allentown are lower than any other densely populated urban area, which is a significant pro.
Downsides: Allentown's job market falls short in comparison to its growing population. Landing a job here can be quite difficult and the job growth is very slow. The unemployment rate is almost double the average unemployment rate in the United States. This paints a picture of the city's economic condition. The city receives an average amount of snow and an above-average amount of rainfall annually, so if you're not a fan of the snow and the rain, then Allentown might just not be the place for you.
Population: 121,157
Median Home Value: $240,742
Monthly Median Rent: $1,529
Median Household Income: $56,842
Unemployment Rate: 14.0%
Best Neighborhoods To Live In: Breinigsville, Cetronia, Trexlertown, Upper Saucon Township, Dorneyville, Ancient Oaks, Forks Township, etc.
3. Lancaster
Lancaster is a beautiful county in the south of Pennsylvania. While chocolates and deep-rooted history make this town intriguing, there's much more to Lancaster! Lancaster offers a great blend of natural and commercial landscapes. From farmlands to suburbs to the cityscape, the county has it all. This important city is close to major cities like Washington DC, Baltimore, Philadelphia, and New York. Moreover, Lancaster has one of the best healthcare facilities in the U.S., scoring a 9.3 out of 10 on the Healthcare Quality!
Some of the more important spots worth visiting in the city include the Kitchen Kettle Village, the Lancaster Central Market, the Fulton Theatre, etc. The city experiences intense snowfall and you can expect to be shoveling through your winters. Lancaster has been dubbed an 'All America' city so you'll get a glimpse of all things American here.
Downsides: Lancaster faces harsh winters that seem to drag out from December to March. Lancaster also has additional taxes i.e. wage tax in addition to the other federal taxes. Furthermore, with two massive factories of Mars Chocolate and Kellogg's Cereal, the air in Lancaster can seem quite polluted!
Population: 550,989
Median Home Value: $308,699
Monthly Median Rent: $1,195
Median Household Income: $57,768
Unemployment Rate: 12.8%
Best Neighborhoods To Live In: Manheim Township, Landisville, Salunga, Millersville, Strasburg, Lancaster, and East Petersburg.
4. York
York County in Pennsylvania may not have a towering skyline, but this quaint city is wrapped and packed with history that makes it so very interesting. One of the best reasons to live in York is its affordable housing rates. The median home value, as well as the average rental fee, are both lower than the national average. Moreover, the transportation here is quite affordable and efficient. The average commute in York is only 20 minutes!
The city is home to York College Pennsylvania, Penn State York, and the HACC-York Campus. It is picturesque and offers a great mix of rural and urban Pennsylvania. If you're a nature buff, you'll be glad to know that you can always plan an outing to the Rocky Ridge County Park, the Nixon Park Nature Center, or the Heritage Rail Trail County Park.
Downsides: While York has great housing prices, the healthcare facilities here are quite expensive in comparison to other facilities. The educational frontier of York isn't as amazing as other counties in Pennsylvania. While York is a great place to live out your retirement, if you're still working, it might not be all that great. York has a high unemployment rate and negative job growth as well as low income for employees. Also, the winters in York can be a little too long – from December to March and sometimes even extending to April!
Population: 452,691
Median Home Value: $226,335
Monthly Median Rent: $795
Median Household Income: $46,050
Unemployment Rate: 17.5%
Best Neighborhoods To Live In: Grantley, Valley View, East York, Stonybrook, Springfield Township, Spry, and Loganville.
5. Scranton
Scranton is the sixth-largest city in Pennsylvania, with a low crime rate and a low cost of living. The cost of living in Scranton is lower than the national average. And its average housing costs are lower than in other major cities like Philadelphia and New York. Scranton also recorded a lower crime rate as compared to the national average, making it a safe city to live in. The city, furthermore, has a good quality of education and many public as well as private schools. The city is also close to major cities like Manhattan and New York.
Downsides: While Scranton's housing rates are quite affordable, the city's economy seems to be in bad shape. Scranton has a negative job growth rate and a higher unemployment rate as compared to the national average. Furthermore, the household income and salaries of Scranton are lower than that of the U.S. average. Educational facilities are expensive in Scranton. And finally, the city sees a lot of snow, with at least six months of significant snowfall throughout the year!
Population: 75,561
Median Home Value: $142,408
Monthly Median Rent: $965
Median Household Income: $55,768
Unemployment Rate: 8.5%
Best Neighborhoods To Live In: Dallas, Clarks Summit, Chinchilla, Clarks Green, Dunmore, and Conyngham.
Conclusion:
Whether you plan to move within the state or across states, the most important part of choosing a good place to move is research. Take your time and look into factors like home value, employment rate, job growth, education, crime rate, cost of living, and other facilities before making your decision.
Related: Best Moving Companies in Philadelphia
FAQs On Best Places To Move From Philadelphia
Is Philadelphia Declining?
Philadelphia's population recorded one of the largest one-year decline between July 2020 and July 2021. The number of residents moving out of the city exceeded those that moved in. The Drexel University Research team postulated that city residents were leaving the cosmopolitan life in exchange for greener and quieter spaces.
What Is The Best Area To Live In Pennsylvania?
The best areas to live in Pennsylvania include Pittsburgh, Philadelphia, Allentown, Erie, and Reading.
What Is The Best County To Live In Pennsylvania?
Out of the 67 counties in the state of Pennsylvania, Chester County ranks as the best county to live in. The county's poverty rate is lower by half the rate of the state as a whole. Chester is the only county, where over half of all adults have a Bachelor's degree. A high literacy rate naturally translates to better living facilities.
Is Pennsylvania A Good State To Move To?
Pennsylvania has ranked 2nd in quality of life, 7th in safety, 25th in health and education, 30th in affordability, and 42nd in terms of its economy, in the country, according to a report by WalletHub. The report compared all 50 states based on livability, income growth, education rate, and health facilities. Pennsylvania ranked number 10 with a score of 59.21/100.