How to Pack Shoes for Moving


VanLines Inc
Secure Storage
Easy Booking Process
Fully Trained Employees
GET QUOTE

Colonial Van Lines
Storage Services
Long-Distance Moves
Corporate Relocations
GET QUOTE

Moving APT
Vetting Process
Award-Winning
Available Nationwide
GET QUOTE
Our Take
Price
Rating
Minimum Shipment Size
Storage
Booking Deposit
Cancellation Policy
Quoting Options
Discounts

Best Overall Value


GET QUOTE

2+ bedrooms




Free 30 Days




10%

Free up to 72 Hrs

Phone / FaceTime / Text

Senior / Same day Booking

Best Industry Reputation


GET QUOTE

1+ bedrooms




30 Days




20%

Free up to 72 hrs

Phone / Facetime

Seniors Discount

Best Customer Service


GET QUOTE

1+ bedrooms







Free up to 72 hrs

Phone / Virtual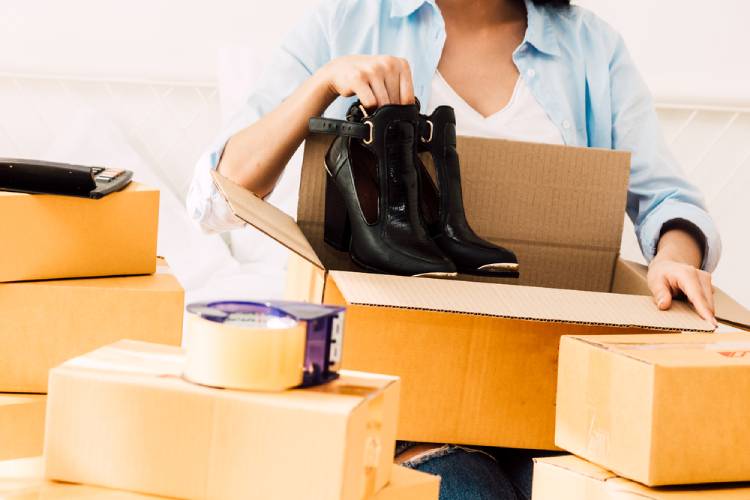 Dealing with your shoe collection is probably the least of your worries when you're moving homes. It's true that it may outwardly not look like a complex task, so in all likelihood we tend to overlook its packing. But in reality, it can be quite the contrary. If you don't want this task to take up a lot of your packing time, we've got just the strategy. So, let's get into the tips you can use to pack your shoes for moving efficiently.
Phase 01 – The Planning
Create An Inventory
Take a good look at your shoe closet and other corners of the house where you usually keep your shoes. Look underneath the bed, in storage cupboards and basements to bring them all out. Place some newspaper on the floor so that you can line all the pairs you own and see them clearly. Things are going to get messy, so use gloves if you need to if some pairs are unclean like your rainy boots.
The inventory stage is a must because we usually wear the same pair of shoes over and over, totally underestimating the number of pairs we actually own. If you live in a big household, ensure every family member contributes to this part of the task. Wedding shoes, old school ones and shoes that are half broken are the possible types of pairs you're going to find. Also, don't forget to remove the out of season winter or rainy pairs of shoes you wear occasionally.
These are the possible categories of shoes you could find –
Hiking shoes
Boots
Sport shoes
Sneakers
Formal shoes
Heel shoes
Stiletto heel shoes
Soccer shoes
Suede shoes
Leather shoes
Ballet flats
Flip flops
Roller Skates
Gum boots
Sandals
Loafers
We also suggest bundling similar types of shoes together. For instance, these are the categories you could create –
Business shoes but casual
Professional ones for office
Casual
The one you wear while traveling
The ones you wear only for dressier functions
Hiking and recreational related shoes
Daily running shoes
While you're sorting out the shoes you own, you would also need to create three separate piles which are –
Shoes You Can Donate – This category should have shoes that are still in good condition but you have no use for them. You may have bought some shoes for Halloween or a family event but you no longer really need them. Your kids' old shoes that they've outgrown would also fall in this category.
See also: 5 Charities for Donation Pick ups
Shoes Beyond Repair – Now let's face it, you're bound to find shoes you loved once upon a time but they got worn out to the point where no one can use it. These pairs should ideally be disposed of. It's very much possible to have 8, 10 or even 12 pairs of such shoes.
Shoes To Pack – These are all the pairs you really want to put on the rental truck. Ensure you have a figure on the number of shoes you want to pack as it would help you sort out the number of boxes you need.
The key here is to be aware of the amount of shoes you own and need to take along. Try keeping similar shoes together. Keep your comfiest sneakers aside to wear for moving day. If you have work shoes or pairs you need to wear on a daily basis, ensure that you're able to identify these ones out. This is essential so that you pack them right on top, this allows you to take them out first thing while unpacking.
Goals:
Have a figure on the pairs of shoes that need to be packed.
Make sure that you have separated the shoes you or your family members use daily. These shoes would be packed right on top of the box.
Either donate or dispose of unwanted shoes. Even the ones you thought you would one day repair when you had nothing better to do, but the day never came. Try your best to be rational and downsize as much as you can.
Where To Give Away Shoes?
You can always offer the shoes to your close friends, cousins who always had their eyes on them. If you have kids and they have outgrown the shoes, consider donating those pairs to an orphanage, hospitals or kid shelters.
Few charities you can also reach out to are –
Goodwill
The Salvation Army
Local thrift stores
American Veterans (AMVETS)
Vietnam Veterans Of America
Soles4Souls (based in Nashville)
Share Your Soles (Chicago based)
Dress For Success
One World Running
American Red Cross
Most big brands have recycling programs so you can also consider dropping unwanted shoes there. For example, Nike stores run a Reuse-A-Shoe Program where they take old athletic shoes and recycle them responsibly.
Clean The Shoes
Now let's admit that our white shoes are the only ones that actually get a good amount of attention and cleaned. The rest pretty much don't really get washed and the outcome is stinky shoes. Packing shoes that have a strong odor to them is without a doubt a bad idea. Regardless of how large your shoe collection is, it's necessary to get them cleaned before they are wrapped into a box.
Here are few of the materials that you'd need to clean your shoes –
A shoe brush
Washing soap
Microfiber cleaning cloth (you can get the same type you use to wipe your car)
When it comes to cleaning your shoes, you've to ensure that you're brushing the sole and the entire outer covering. Avoid using water if the material is leather, be more gentle and careful with suede.
Tips To Clean Shoes
Use a rag or microfiber cloth to first wipe the entire surface of the shoe. Try to get rid of all the dry dust and dirt that you can before incorporating water to the scene.
If you're dealing with sneakers or running shoes, soak the shoes in Oxi Clean or a detergent that would take out the stains. This especially applies for white shoes.
Soak shoes with tough stains in mild water for an hour or so that it is easier to take out nasty stains.
If you don't have a good brush, you can also use an old toothbrush to take out stains stuck between the lace or crevices you can't reach.
Take out the lace as it helps clean the shoe properly. You can throw laces into the machine but place into a mesh laundry bag so it doesn't get tangled up.
Cleaning suede shoes is going to take time and effort. One way to make things easier is to use the Mr. Clean Magic Eraser or a similar product. This would take out beastly dark stains on suede material shoes.
Always lightly scrub and use less pressure when dealing with suede.
Before you leave the shoes to air dry, take a damp cloth and pat it dry. It's ideally best to place the shoes under direct sunlight.
You could use something as simple as baby wipes to clean the bottom part of formal shoes.
Everytime you use detergent, ensure that it is diluted with enough water so that it's not harsh on your shoes.
After cleaning stains, taking off the dirt and drying your shoes, it would be time to stuff some paper into the shoe. This helps your shoes withhold their shape. If you like, you could also take things a step further and get a bunch of cleaning supplies to make things more convenient. You can easily pick up these cleaning products at Walmart, Target or you could order them off Amazon. Few things you could invest in while cleaning your shoes are –
Clorox wipes for the soles
Goof Off (Stain Remover)
Leather wipes, the ones you use for car seats
Get a good polishing product for the leather shoes.
Goal:
Give a clean shine to your shoes.
Air dry them so that any odor has left the shoes.
Get Packing Supplies
Post the cleaning stage, it's time to keep all the things you will need to pack the shoes. These are few of the supplies that you should ideally have ready –
Corrugated boxes
Marker
Tape
Packing paper
Shoe boxes (if you have any)
Goals
Successfully make a trip to a home improvement store to get the required supplies.
Select a staging area where you can pack the shoes.
Phase 02 – The Execution
Prepare The Box
Before you start putting the shoes inside the box, just make sure the bottom of the box is secured with the tape. Apply tape as though you are forming the alphabet 'H' on it. This method is ideally the best way to prevent the bottom from opening up.
You would then need to create a bed for the shoes by putting down some packing paper that's crumpled. Take a larger box so you can stack more shoes into it.
Begin Packing
The packing phase of the shoes is simple and it won't really be difficult once you get into the flow of the process. For the procedure, we suggest keeping a stack of packing paper on the floor or the area you're using for staging purposes. You can then follow these steps –
Step 01 – Start by placing a shoe from the pair on one edge of the packing paper.
Step 02 – Wrap this one shoe and use just half of the packing sheet.
Step 03 – Place the next shoe and use the other half of the sheet to pack it.
Step 05 – Secure the packing paper with tape.
Step 06 – Lift the box after you place a dozen a shoes into it to know if it's heavy.
Step 07 – Label the box after you're done packing it.
Keep repeating these steps until you've packed all the shoes you wish to take along to your new home.
Things To Keep In Mind While Packing Shoes For Moving
Start by packing the heavier shoes. These would lay at the bottom of the box.
Place the lighter ones (like flip flops or sandals on top).
Also remember to keep the shoes you need often right on top so that you can take them out at the time of unpacking.
If you own some fancy pairs that you use for costume parties or special occasions, pack them in their original shoe box so that they're intact.
You can stuff shoes with crumpled paper or socks to help your favourite pairs retain their original shape.
For heels that are sharp like stilettos, use bubble wrap so that it doesn't cut through the packing paper.
Always pack shoes on their sides in the sleeping position and not standing upright to utilize the space in the box efficiently.
Use bigger cardboard boxes so you can stack many pairs of shoes into the box.
Things To Avoid While Packing Shoes
Don't pack shoes that are unclean or you would have an additional task of cleaning them in your new home.
Avoid stuffing shoes in different boxes (especially with clean clothes). Dedicate a box solely for shoes.
Do not overstuff a box that is already full, it would ultimately just be more difficult to lift the box.
You cannot pack shoes that are not completely dry into the box or it could get wet and damaged.
Don't forget to label the box.
Don't close the box until you have searched every room, storage closet, garage for shoes that were tucked away ages ago. Tape the box after you're sure that there's no more shoes to be packed.
Before you shut the box with tape, make sure that you have essential shoes out. For instance, the school shoes and the formal pair of shoes you use for office.
Don't leave this task for the last minute so that you have the time to sort through the pairs you own.
---
FAQs
How to pack shoes without the shoe box?
If you don't have the shoe box, all you need is some packing paper and tape. Starting by wrapping one pair into the sheet till the middle portion of the paper. After that, place the next shoe and wrap it till the end of the paper. Use tape to secure the packing.
Where to donate shoes?
You can donate shoes to The Salvation Army, One World Running, Goodwill and local thrift stores. If you choose to donate, make sure the shoes aren't extremely damaged, only donate pairs that you feel have a second life.
Where to sell shoes for cash?
Poshmark, buyMYheels, eBay, Mercari are highly ranked marketplaces where you can sell your branded shoes for cash.  You can also try Facebook groups or have a quick sale on your Instagram page if you want it to reach close friends and colleagues.
What's the best way to pack shoes when moving?
Firstly, make sure that your shoes are cleaned properly and then wrap them with packing paper. Use crumpled packing paper as the base in your shoe box and then place the shoes. If there are any gaps, fill them with crumpled packing paper and then seal the box with packing tape. Don't forget to label the box after sealing it.
How do you pack shoes without a box?
If you don't have a box to pack your shoes, you'll need packing paper, newspaper and packing tape. Make sure that you clean your shoes and stuff some crumpled newspaper inside your shoes. Next, use a packing paper to wrap your shoes and then secure it with a packing tape. For extra protection, you can add an extra layer of packing paper to wrap your shoes.
Is it better to keep shoes in boxes or out?
It's always good to keep your shoes in boxes especially if you're not going to wear them for a really long time. You can use the original shoe boxes or storage boxes to keep your shoes safe from dust and sunlight.
How do you store shoes for storage?
If you're going to store your shoes for a long time, you should use silica gel packets and place them inside your shoes. To avoid any kind of moisture or heat damage, use a muslin or acid free paper and wrap your shoes. Lastly, keep your shoes in shoe boxes or storage containers.
What size box should I use to ship shoes?
The average size of USPS shoe boxes are 7-1/2 x 5-1/8 x 14-3.8 inches. You can use these boxes as they can accommodate women's and men's shoes ranging from sizes 5 to 13.
Do plastic shoe boxes ruin shoes?
Yes, you can use plastic shoe boxes to store your shoes provided both the shoes and boxes are cleaned properly and kept in a dark, humidity free storage. But if your shoes are really old, expensive or made of leather, plastic boxes aren't really a good option as they might ruin your shoes especially in humid weather conditions.
Is it bad to keep shoes in boxes?
Storing shoes in shoe boxes will protect your shoes and avoid any kind of damage because of moisture or dust. You can keep your shoes in shoe boxes, but make sure that you clean your shoes properly before storing them in the box.
Can you put shoes in vacuum bags?
Yes, you can keep your shoes in vacuum storage bags. Firstly, keep your shoes inside the vacuum zipper bag and don't forget to seal it with a sealing clip. You'll have to keep the pump on the air valve till the right air vacuum condition is met.
How do you pack shoes for long term storage?
If you want to store your shoes for a long time, then you first need to clean all your shoes before you pack them. To make sure the shape of your shoes is maintained, you can put some crumpled paper inside the shoes. Wrap your shoes with packing or acid free paper and seal them using a packing tape. Make sure you place them in a shoe box and don't forget to secure the lid. Lastly, you can store them inside a plastic tub.
How do you pack expensive shoes?
Your expensive shoes like boots, sneakers, heels, etc need to be packed carefully. Make sure you clean them and wrap them with a plain packing paper and secure them with packing tape. Always add a soft cushioning at the bottom of the box using crumpled paper. While placing the shoes in the box, make sure that you keep them against the wall in the corners and lay them flat. Don't forget to seal the box with packing tape and label it.
What is the cheapest way to ship shoes?
USPS is one of your best options to ship shoes as they have quick delivery services for small shippings like shoe boxes and that too at affordable rates.
Can I ship shoes in a poly mailer?
Yes, you can ship your shoes in a ply mailer. All you have to do is make sure that the shoes are wrapped in bubble wrap and placed in a 9.5 x 11″ bubble poly envelope.
---
Conclusion
Packing shoes doesn't really come under the tough tasks associated with the move. But if you neglect the manner in which it's cleaned and packed, your shoes might not last very long.
Getting rid of stubborn stains, bad odor by cleaning all the shoes you own can be time consuming, so avoid keeping this task for the last minute. Ideally begin cleaning the ones you need to pack well in advance so they have enough time to air dry them. Lastly, try to be as responsible as you can while discarding unwanted shoes.