The Ultimate College Dorm Room Checklist


VanLines Inc
Secure Storage
Easy Booking Process
Fully Trained Employees
GET QUOTE

Colonial Van Lines
Storage Services
Long-Distance Moves
Corporate Relocations
GET QUOTE

Moving APT
Vetting Process
Award-Winning
Available Nationwide
GET QUOTE
Our Take
Price
Rating
Minimum Shipment Size
Storage
Booking Deposit
Cancellation Policy
Quoting Options
Discounts

Best Overall Value


GET QUOTE

2+ bedrooms




Free 30 Days




10%

Free up to 72 Hrs

Phone / FaceTime / Text

Senior / Same day Booking

Best Industry Reputation


GET QUOTE

1+ bedrooms




30 Days




20%

Free up to 72 hrs

Phone / Facetime

Seniors Discount

Best Customer Service


GET QUOTE

1+ bedrooms







Free up to 72 hrs

Phone / Virtual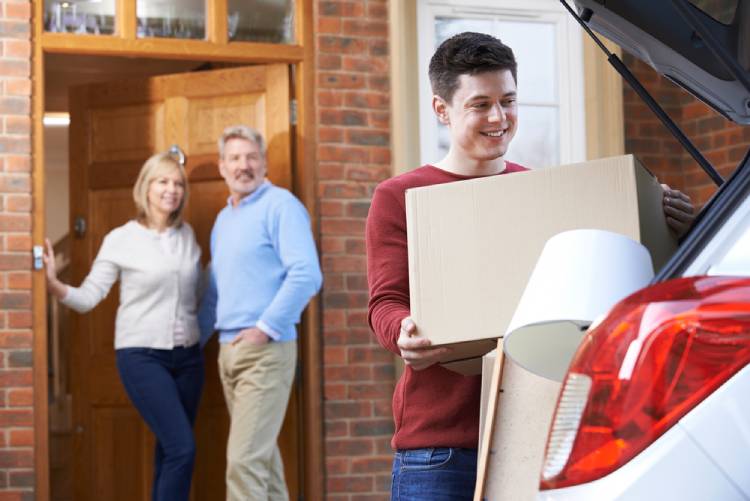 Packing for a college dorm room is tricky business! There's a fine line between overpacking and underpacking. Or, in the rare unfortunate circumstance, you find yourself with too much unnecessary stuff and too few essentials! One of the first things you should be doing to avoid this pickle is keeping a dorm room checklist ready. Saving you the trouble, we've comprehensively chalked up the only dorm room checklist you'll ever need.
Get the Basics in Place
Going shopping for stuff to fill up your room with sure is exciting, but there's one important thing to do before you make any purchases – finding out what's not allowed. All campuses have rules about what isn't allowed in a dorm room, and these go way beyond alcohol! While you should definitely find out the rules that pertain to your campus, we've listed down a few things that are generally not allowed and what you can use instead.
Air conditioners: The only real way to enjoy an air conditioner in your dorm room is if your room already comes with one. Instead, bring a fan. You can choose from a range of viable options that won't take up too much space. Trust us, it makes all the difference on a hot summer afternoon.
Candles: Sure, candles add an irreplaceable aesthetic to any room. But the fire hazard with this one is real, especially when you're getting forgetful because you're up to your neck with college work. Avoid the risk of a fire from a forgotten candle, and get some string lights instead.
Nail picture hangers: Most college dorms won't allow you to drill or damage a wall in any way. Instead, consider using adhesive hooks. They're quite firm and can hold up towels and photo frames. Just be careful when removing them, and you should do fine.
Toasters/microwaves: You may be tempted to carry a toaster to make sure you have fresh toast ready to go when you want it. But some dorms don't allow plug-in kitchen appliances due to the danger they can pose if they start fires. Carry a small frying pan to use in the communal kitchen, so you have one utensil that meets practically every need.
See also: The Ultimate College Packing List for Girls
Dorm Room Essentials
No matter where you are, a good night's rest in a comfortable space will leave you more refreshed than any energy drink will. These essentials will ensure you have an efficient setup in your college dorm room.
Desk lamp: Don't just rely on the main lights in the room; you never know when your roommate will need to catch up on sleep or when you need some good light to read. Getting a desk light or clip-on headboard lamp ensures you're not straining your eyes or being an inconvenience to your roommate.
Power strip: You may not be allowed to carry an extension cord, but a power strip should be fine. Nothing like having one of these on hand when you're in need of multiple plug points.
Dry erase board: Get a small dry erase board to place on your wall – this can help immensely with remembering tasks and noting down urgent things to do.
Mini trash can: The last thing you want is for trash to get accumulated in your room. Keep one of these so they don't take up much space and you have someplace to chuck wrappers and pencil shavings.
Bed risers: Every last inch matters in a dorm room of a college. Using bed risers is an efficient way to create more space under your bed.
Storage totes: If there's one thing to check, it's that your storage totes can fit in the space created by your bed risers. Ensure they have lids to keep out the dust.
Linens And Laundry
Mattress cover: Your mattress cover should fold over slightly under all sides of the bed to be as secure as possible.
Sheets and Blanket: Carry two sets of each. Also, find out the size you'll need as some twin beds are extra long.
Laundry basket: When picking out a laundry basket, always go for functionality. You'll be lugging bundles of clothes to the laundry room pretty often, and this may involve climbing up or down flights of stairs.
Clothes hangers: This is an easily overlooked essential. Stock up on hangers so you don't have to resort to hanging three shirts on one hanger.
Drying rack: If these take up too much space, fashion a clothesline with some rope and two Command hooks. Whether for airing out clothes or air-drying your jacket, this will come in handy.
Lint brush: Getting rid of lint before an important day is unspeakably annoying. Definitely keep one of these in your closet.
Handheld steamer: Most dorms will prohibit you from carrying a regular iron. Instead, just get a handheld steamer – it is better in terms of space and gets the job done.
Laundry detergent: You're definitely used to having this on hand at home, but it often skips the dorm room list. Invest in a good detergent and stain remover.
Mini sewing kit: There's nothing like a mini sewing kit to get you out of a wardrobe emergency. Replacing a loose button or adjusting a seam is no longer a mammoth problem to be hassled about.
First Aid Kit
From harmless scratches to more severe illnesses, preparedness goes a long way when you're in a dorm. We've put together a list of items to pack into a First Aid Kit that will come to the rescue whenever you need it. However, always follow up according to the severity of the situation, whether it's by visiting the campus health center or calling 911.
First-aid basics: Cotton swabs, antibacterial ointment, adhesive bandages, rolled gauze, scissors, adhesive tape, tweezers, thermometer.
Sprains and similar injuries: Ice pack, heat pack, elastic bandage for compression, pain relief spray (not essential).
Over-The-Counter meds: Antacids, anti-diarrhea pills, vitamins, pain relievers, paracetamol, cough drops, anti-allergen pills.
Study Essentials
Don't forget to keep the most important things all packed and ready to go in all the bustle!
Laptop: Ensure you have all your softwares installed and running and your antivirus upgraded before you leave. Check that your charger works well, and buy a new one if you have to. Consider getting a laptop lock to securely leave your laptop behind.
USB Flash drives: While it is good to have a USB or two on hand, it is also good to invest in a hard drive for a miscellaneous backup of all your work.
Stationery Supplies: Calculator, staplers, sticky notes, scissors, permanent markers, enough of pens, pencils, erasers, sharpeners, a good clear ruler, a geometric set (if you have the need), binders, index cards, rubber bands, and stackable desk trays to keep them organised.
Toiletries And Bathroom Essentials
From navigating your way around the firsts of a communal bathroom to nifty things to keep in your room, our list of essential toiletries has you covered.
Hand soap: This one's a basic but is often overlooked.
Shower flip-flops: Keeps your feet off the floor and gives you some grip on the slippery-when-wet tiles – need we say more?
Bathrobe: You'll definitely need a good bathrobe to wrap around you for those walks to the shower. A small tip? Go for comfort and sturdiness over appearance.
Preferred bath products: Opt for liquid soap if you can, for its convenience in carrying and storing it. Stock up on plenty of your preferred soaps and face washes if you're allergic to certain types.
Shower caddy: A shower caddy helps carry all those bath essentials so you're not struggling to keep them from falling while you head to the showers.
Towels: Carry at least 3 body towels, and 2 face cloths.
Toilet paper: Communal bathrooms are sure to have toilet paper. But there's nothing like having your own supplies to depend on. Plus, they can double up in the event of a spillage emergency in your room.
Nail clippers: Overlooking these is overlooking some very basic yet important self-hygiene.
Make sure you also carry along other necessities like a hair brush, your toothbrush and toothpaste, dental floss, a shaving kit and aftershave, sunscreen, and whatever else may apply.
Kitchen Items
You'll likely be making use of the communal kitchen, but it never hurts being prepared with a few things of your own.
Mini fridge: Definitely get yourself one of these if your campus allows it. Also buy a small ice tray to go with it.
A set of tableware: Carry along two plates and bowls, and cutlery for those midnight snack breaks. Ensure these are microwave friendly.
Dish soap and sponge: Always rinse out your used utensils to keep them as clean as possible
Can opener: A lifesaver for when you'd rather skip out on dinner and tuck yourself in with canned soup.
Food storage containers: You don't need an entire set of these, just enough to store what you want in the mini fridge.
Water bottle: Such a simple thing, but so easily forgotten! Ideally have a larger bottle for general storage and a smaller one to keep around. But don't let the water sit for too long, and rinse the bottles out regularly.
Miscellaneous Items
Umbrella: You could just forget about this if you're making your move in the dry summer months.
Bathing suit: Carry a bathing suit in case the occasion comes up.
All purpose cleaner: Your room is bound to get messy, which is why some good all purpose surface spray is a lifesaver.
Socks: Always have a few extra pairs of socks. That way you've got backup when they're in the laundry or one has mysteriously disappeared.
Sports clothing: This depends entirely on how much sports activity you'll have, but it never hurts to have a set of sports clothes in the closet.
Portable Speakers: Just so you don't have to rely on your laptop speakers when you want to play music out loud. And believe us, the time for loud music and good memories will come! No matter how big or small the move, moving day is always chaotic. Thankfully, 9kilo Moving can also help you get everything efficiently across in one piece. Read up about our services so you can have a stress-free move to your college dorm room.