Best Home Deep Cleaning Services of 2022


VanLines Inc
Secure Storage
Easy Booking Process
Fully Trained Employees
GET QUOTE

Colonial Van Lines
Storage Services
Long-Distance Moves
Corporate Relocations
GET QUOTE

Moving APT
Vetting Process
Award-Winning
Available Nationwide
GET QUOTE
Our Take
Price
Rating
Minimum Shipment Size
Storage
Booking Deposit
Cancellation Policy
Quoting Options
Discounts

Best Overall Value


GET QUOTE

2+ bedrooms




Free 30 Days




10%

Free up to 72 Hrs

Phone / FaceTime / Text

Senior / Same day Booking

Best Industry Reputation


GET QUOTE

1+ bedrooms




30 Days




20%

Free up to 72 hrs

Phone / Facetime

Seniors Discount

Best Customer Service


GET QUOTE

1+ bedrooms







Free up to 72 hrs

Phone / Virtual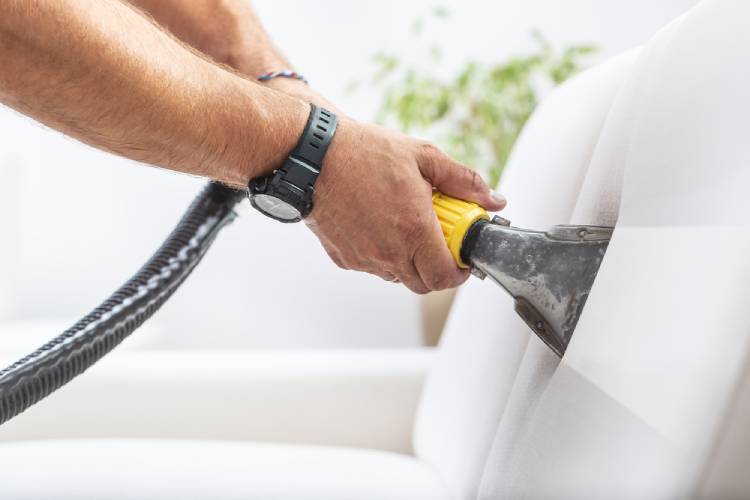 Cleaning your house is not something you'll be excited about. Whether it's mopping the floors, cleaning windows, or cleaning the kitchen platform, all of this work really takes up much more time than you can anticipate. Since cleaning can get really time-consuming, most people push this work to be done on weekends. But then the thought of wasting a weekend to do all the dirty work sounds like a killjoy, right? After all, weekends are supposed to be chilled and relaxed with sleeping the day off or binge-watching your favorite series.
In that case, why not contact a cleaning company and get the job done professionally? They will have all the essential cleaning equipment to clean your house. Now you're probably wondering what kind of cleaning services you'll need, and the biggest question, how much they're going to cost! Well, to help you figure that out, we've listed down some of the best home deep cleaning services of 2022. Let's take a look at them and see what kind of services they can offer you and most importantly, whether they're within your budget.
Quick Overview: 5 Best Deep Cleaning Services Of 2022
Company
Merry Maids
Molly Maid
MaidPro
Tidy
The Cleaning Authority
Pros
Free estimates
Custom Cleaning Program that suits your budget
24-hour warranty service
Budget-friendly Fully insured company
Trained and supervised pros
Fast over the phone estimate
Priority Clean Services
Covers major cities in the US
Instant online booking
Uses sustainable cleaning products
Detail-Clean Rotation System
Cons
Complaints of poor communication
Only in-home estimates available
Charge cancellation fees
Costs differ as per location
Complaints about rushing things
Contact Number
(888)490-4227
(800)654-9647
(877)624-3776
NA
(888)658-0659
Website
merrymaids.com
mollymaid.com
maidpro.com
tidy.com
thecleaningauthority.com
Now that was just an overview of the best home deep cleaning services out there. You obviously want to compare their costs and kinds of services offered and know whether you can really afford any. So let's take a look at each of them in detail so that you can make a wise decision and choose the right company.
1. Merry Maids
Your home is that one place when you're most comfortable and that's why you'd want it to be up to date and clean. With almost 40 years of experience in cleaning households, Merry Maids issues you guaranteed satisfaction with their comprehensive cleaning services. Whether you need help with housekeeping, routine cleaning, or seasonal services, it will take care of all of it with the help of its experienced and professional team members. Just so you know, Merry Maids has helped almost 11 million customers. With so much experience, you can surely entrust your house in its capable hands.
Reasons To Choose Merry Maids
Wide Range Of Cleaning Services
Merry Maids can be your best option as it offers you more than just cleaning services. So if at all your kitchen needs a brush-up, windows need to be washed, or your cabinets are a total mess, you can approach Merry Maids for all of these purposes. When your friends and relatives come home for holidays, you don't want to shoo them away with an unclean toilet or dirty floors right? The company acknowledges this and also offers holiday cleaning services wherein it's ready to mop your floors and clean the toilets so that your festive mood isn't ruined. Whether you're moving in or out of your house, if you need help to clean and prepare your old or new home/apartment, Merry Maids will do more than just vacuuming and dusting.
Here are some other services offered by Merry Maids:
Green Cleaning
Organizational Services
Detailed Cleaning
House Cleaning
Maid Service
Specialty Cleaning
Housekeeping
Enhanced Disinfection Services
Worry-Free Guaranteed Services
One of the things that makes Merry Maids stand out from its competitors is it assures a worry-free guaranteed service. There may be so many other household chores you have to take care of like looking after your kids, getting your groceries, paying your rent and bills on time, and the list can go on and on. You must be well aware that if you take the job of cleaning your house into your own hands, you'll probably end up using your entire day. So why not tick it off your list and let the professionals take care of it? You'll be glad to know that Merry Maids will restore their cleaning just in case you're not satisfied with their work. All you have to do is notify them within 24 hours.
2. Molly Maid
Molly Maid has been helping people with its cleaning services way back since 1984. Now that definitely shows that it has a lot of experience and so, you can surely consider this company for cleaning services like a household, apartment, move out, regular or occasional cleaning. One of the reasons which makes this company a reliable option is that it gives you a 24-hour warranty. Along with top-notch cleaning services, Molly Maid provides you with trained and experienced professionals to carry out the job.
Reasons To Choose Molly Maid
Custom Cleaning Services
Getting the cleaning done professionally will definitely come at a certain cost. And if you do it yourself, you have to make peace with the fact that you'll be devoting a lot of your time, so that'll be an added thing on your to-do list.
Don't want to pay a hefty amount and can't do all the cleaning by yourself? Well, that shouldn't be a problem as Molly Maid acknowledges its customers' needs and so it offers you custom cleaning services. It's entirely up to you, whether you want to use specific kinds of cleaning products or just disinfect your entire house, it will consider all your needs. The best part is that Molly Maid's scheduling and budget plans are flexible, so you can go ahead and approach it without worrying about spending a few extra bucks.
Affordable Pricing
One of the things that differentiates Molly Maids from the other cleaning companies is that it doesn't accept flat rates for its services. The company is known for understanding the needs of each individual customer and so it boasts about giving individualized attention to each of its customers. Because of this, you can surely expect cost-effective services from Molly Maid. Having said that, the kind of services you ask for as well as the size of your home will determine the overall cost.
3. MaidPro
MaidPro certainly ticks off all the boxes when it comes to deep cleaning services and experienced pros. So if you have had an experience with MaidPro and liked its service, you can get the same cleaner to help you clean your house the next time you need a cleaning service. Also, you get to choose between a weekly, bi-weekly, and monthly services and even request small cleaning teams of only 2 people. The company assures you a budget-friendly service without compromising on the quality of the cleaning with its professional-grade cleaning supplies.
Reasons To Choose MaidPro
Re-Cleaning Guarantee
If you're a neat freak, then you probably won't be at ease until everything goes your way. You may want to inspect every nook and corner of your house to see if it's spotless, and if not, you'd want to make it right. Well, if you relate to Monica from Friends and if you want your house to be 'Monica Clean', then you can surely rely on MaidPro. The best thing about hiring MaidPro is that it assures you a re-cleaning guarantee. So if at all you're not satisfied with its service, you can get it redone by sending the company a 24-hour notice.
Easy Scheduling And Cancellation
To make things easy for you, MaidPro has created a very simple cleaning schedule for you. The process is quite simple, you first have to choose a frequency option from its weekly, bi-weekly, monthly, or one-time service. After that, you can pick an arrival time of morning or afternoon, and finally, when the pros arrive, you'll need to give them access to your home. There can be a possibility when you might have some urgent work to be done and you're too busy. In such cases, you'll have to cancel your service for which the company may charge you certain fees. All you have to do is give MaidPro at least 2 days' notice.
4. TIDY
Whether you need help with your household, rental, or office cleaning, TIDY is here to help you with all of it with its best cleaners and crafted technology. The company boasts of its cleaners being verified along with a thorough background check. You don't even have to worry about the cleaning supplies they use as the company uses green, non-toxic, pet and baby-safe products. Also, TIDY's online services make scheduling, booking and cancellation very easy for you. Suppose you want to customize your cleaning, it's ready to do all the cleaning according to your terms. To schedule your appointment, you could either check their website or download their app at your convenience.
Reasons To Choose TIDY
Easy Online Management
What makes TIDY stand out from the other cleaning companies is its easy online management. Since your home is your personal and most loved place, you'd want the cleaning to be done perfectly, right? That's why, when it comes to their cleaning services, the company offers you easy online scheduling, booking and even cancellation. So by combining technology with cleaning services, it wants you to monitor everything related to your cleaning services. The process is quite simple, you just have to book your time slot online, customize your cleaning, track your cleaner on their app or website and let the certified cleaner do the job for you.
Digital To-Do Checklists
Do you need all the items in your house to be deep cleaned? All your pillows to be arranged in a certain manner? Any priority tasks that need to be done before everything else? Well, in case you need to give any specific instructions like these to your cleaning professional, you can use the digital to-do checklists by TIDY. Just so you know, over a million of TIDY's customers have created such checklists for their cleaning services. You can show how you want your laundry to be done, tell the cleaner how to get inside your house, and even get before and after photographs. The to-do checklists help you get a quality cleaning experience by getting everything done according to your needs.
5. The Cleaning Authority
If you're looking for an environment-friendly cleaning company, you can definitely count on The Cleaning Authority. All the cleaning products that it uses are sustainable and safe for Earth which shows its love for the environment. Whether you need help with housekeeping, move in/move out cleaning, residential or office cleaning, you can approach it and assure yourself of a high-quality service. Having an experience of more than 25 years in the cleaning industry, The Cleaning Authority is here to help you with cleaning so that you can sit back and make the most of your time.
Reasons To Choose The Cleaning Authority
Detail-Clean Rotation System
Whether it's deep cleaning your bedrooms, kitchen, living room or bathroom, The Cleaning Authority will take care of everything. What's unique about this company is its detail-clean rotation system. With the first two cleans, your house will get a detailed cleaning followed by a rotation system wherein your house is first divided into four zones after which deep cleaning is done by rotation. As you can see, the company sees to it that every part of your house gets cleaned with the right frequency.
Green Cleaning
There are several companies out there that boast about being environmentally friendly but give you very little information about how they really practice that. Speaking of The Cleaning Authority, it's completely transparent about its green products. Just so you know, all of its products are first examined and tested by the ECOLOGO Certification program. So you get cleaning services that are not just chemical-free but also of good quality materials and so all your expectations are met with high standards. Now that you know how professional The Cleaning Authority is, you can go ahead and get a free online estimate through its website.
What Are The Advantages Of Getting Deep Clean Services?
Save Time
One of the biggest advantages of getting deep cleaning services is that you can save up on a lot of time. You must be well aware of how physically exhausting cleaning can be, especially if you want to clean up your entire house. By hiring deep cleaning services, you can spend more time with your family and friends and save yourself from doing an extra second job at home.
Professional Services
There's a big difference between the way you clean your house and the way professionals do it. After sweeping your house, you'd probably be too tired to mop and clean every nook and corner of your house. But that's not the case with professionals, they see to it that every area of your house is spotless. Although deep cleaning services come with a cost, they're surely worth it for a reason.
Specialized Cleaning Equipment
Not everything in your house can be cleaned in the same manner. Your kitchen floor, bathroom tiles, and windows will require some professional cleaning equipment. So if you approach a deep cleaning service, they will get all their essential cleaning equipment and use it to dazzle your house and make it shine.
Also See: How to Clean a New House
Conclusion
To make your home a 'Home Sweet Home', you need to keep it clean and tidy. With all the other unending responsibilities and work that you have, it can get difficult sometimes. An unclean home is one of the main reasons for you to fall sick, that's why it's important that you don't overlook it. With the help of deep cleaning services, you can surely get your place to look clean and anew.
FAQs
How Much Does A Whole House Deep Clean Cost?
The average cleaning cost for home cleaning is around $60 to $90 on an hourly basis. The total cost of getting your entire house cleaned will depend on the kind of services you ask for and the company's way of determining the rate.
What Is Included In A Deep House Cleaning?
Deep cleaning of a house includes cleaning all the areas of the house like the kitchen and bathroom tiles, windows, doors, cleaning of all your household appliances (both exteriors and interiors), etc. You can contact your cleaning service company and check what all things they cover in a deep house cleaning.
Who Is Better Molly Maids Or Merry Maids?
When it comes to pricing, both companies are budget-friendly. In terms of experience, Merry Maids has an experience of almost 40 years in the cleaning industry whereas Molly Maid has 35 years of experience. As opposed to Merry Maids, Molly Maid does not give an online estimate. Quality-wise, both companies have had good feedback from their customers, so it's entirely up to you to decide which one best fits your needs and budget.
Also Read: Home Cleaning Services to Use When Moving