Moving to Louisville KY | 2022 Cost of Living and Relocation Tips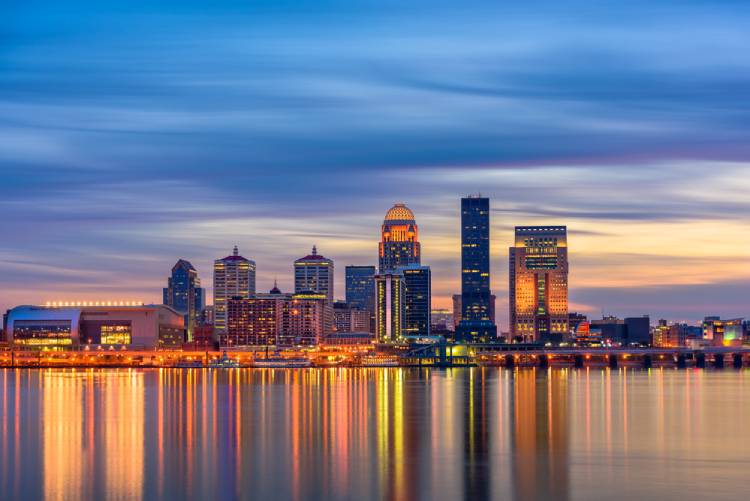 If you resonate with the culture of the South, you'd most likely love what Louisville has to offer. It's a unique city to live in with miles of greenery and a great place to form strong friendships.
Depending on whether you're in the house hunting stage or confused whether you should take that job offer in Louisville, it can be tough to know if the city is for you. So if you're confused, the information we've curated below will serve as a guide to learn more about moving to Louisville in Kentucky.
Weather In Louisville
The weather is one of the many pros of moving to Louisville. Summers are long and winters are mild. The humidity can get unbearable at certain points in the summer months and global warming does have its own way to make its presence felt in the city like everywhere else in the world.
We say this because of the fluctuating weather patterns, which cities across the globe are getting familiar with. For instance, in the winters it could be 20°F and things could switch to 70°F on the exact same day. Snow followed by sudden floods is also a common sight in Louisville.
Let's look at temperatures for different seasons so you get a better perspective of what awaits you.
About Louisville Summers – The city sits in the south of the nation and like other Southern states, the summers are sticky and muggy. It stays hot from May to September, so it's certainly a long summer. Average summer temperatures fall in the range of 73°F to 80°F. August is the hottest month so temperatures soar above 94°F. The humidity during these months is high and this is something you should give yourself time to get used to.
About Louisville Winters – Freezing rain and hardly any presence of snow is what a typical winter day in Louisville would look like. Temperatures cool down by the start of November and winter temperatures leave by the end of April. You can expect to see less than an inch of snow in January or February. The higher average temperature is 43°F while the lower average is 29°F.
About Louisville Fall – This is the most pleasant time of the year in Louisville. It's not too hot nor cold. Average temperatures you can expect are somewhere between 67°F to 75°F. Daniel Boone National Forest and Red River Gorge are great places to catch the fall foliage.
Few things To Bear In Mind
Significant rain and thunderstorms are a common occurrence in the city, and as it can be hard to predict, it's best to have a light rain jacket and umbrella.
The year round weather in the city falls in the 28°F to 88°F zone. All in all, the city gets a light dose of every season.
See also: Gloomiest Cities in America
Transportation
The city of Louisville is extremely walkable. As per the platform WalkScore, the city has a flattering score of 91 on 100 for walkability. For biking, Louisville earns a score of 74 on 100 so it's safe to say that you'd be able to walk or cycle to your destination with ease.
Bus Services in Louisville
In terms of public transportation, things are limited to bus services. The bus services are operated under the organization that goes by the name Transit Authority of River City (TARC). The bus runs through all the main points of the city and covers the following places:
Downtown Louisville
Jefferson County
Oldham County
Bullitt County
Clarksville
New Albany
Kentucky suburbs
Indiana suburbs
If you've picked a house to move into any of these suburbs, counties or neighborhoods then be assured that you'd be able to use the bus for commuting to and from. Also note that the downtown area is served by another bus service called LouLift. It's a zero-emission bus line and you could hop on it when you're exploring the downtown area. Louisville also has ride sharing facilities like Uber and Lyft. There are other local taxi companies too.
Overall, the bus service TARC is convenient depending on whether you live close to the bus line. But it's going to take you more trouble to wait for a bus during the winter months with icy roads, so without a car things could get difficult.
Bikes
Bicycle enthusiasts can opt for bike rentals but riding your bike when the weather is super unpredictable can be a task. These are a few things that make Louisville extremely car-centric. The city is also massive in size and when the bus covers only limited areas, you'd probably be better off with a car.
Job Market In Louisville, KY
Yum Brands Inc, Brown-Forman Corp, Humana Inc are some of the leading companies in the corporate world that call Louisville home. There's a whole variety of organizations across several domains headquartered in the city. To give you perspective, here's a gist of the largest companies that have a huge presence in the city:
GE Appliances (home appliance manufacturer)
Appriss Inc (tech and data science based company)
Churchill Downs Incorporated (horse racing company)
Texas Roadhouse (steakhouse chain restaurant)
PharMerica (healthcare business)
Ford Motor Company (automobile manufacturing plant)
UPS (multinational packing, delivering and supply company)
Steel Technologies (steel production)
Thorntons (convenience store)
This list showcases the fact that there's no shortage of well-established companies within the city limits.
We'd also like to mention that companies linked to production and manufacturing are one of the largest contributors to the city's economy. The shipping industry equally has a huge presence in the city because of the inland port and strategic location at which the city sits.
So you'd find that there's a ton of job opportunities linked to the field of manufacturing and trade. By this we don't mean that other industries have no presence, but it's just that this industry exists on a larger scale.
If you're searching for something affordable, be sure to check out prices in neighborhoods like Cloverleaf, Briargate, and Forest Ridge.
Cost Of Living In Louisville, KY
Even if you've convinced yourself that Louisville is the place for you to move, you'd have to look at different costs to know if you could live here comfortably. In general, Louisville does get tagged as an affordable city with a very low cost of living. But we're certain that this isn't enough information to understand exactly how affordable it can get.
That's why let's also look at the average cost of housing and utilities so you know whether it would be easy to convince your financial persona of the move. Knowing these costs will also help you have a rough idea of the salary you should ask for when you acquire a new job in the city.
See also: Most Affordable Cities in America
Housing Costs In Louisville
According to Zillow, the median value at which homes are sold in Louisville is $196,936, while the average for homes in the state of Kentucky is $162,358. This proves that Louisville is an expensive city to live within the state. But if we compare these costs with cities on the west coast, it's actually pretty inexpensive. To put a percentage on it, the housing costs here are 20% lower than the national average. So, you could probably purchase a larger home for half the price in Louisville in comparison to the cost you'd pay in a non-southern state.
Renting
The median average rent for apartments in Louisville falls in the bracket of $846 to $1,002. This is much lower than the national average and you shouldn't have a tough time finding a good space for less than $1,000 a month. We say this because as per statistics on RENTCafé, only 34% renters pay a price between $1,000 to $1,500 for rent.
But it goes without saying that things would start to look expensive if you pick a prime location with demand. For instance, if you pick an apartment in Algonquin, Cherokee Triangle, or Old Louisville, rent costs will be higher than the average.
Median Household Income In Louisville
Now you're probably curious about how much money you should make and how much the average resident earns in Louisville? On an average, a single adult Kentuckian makes $29,935 a year. And the median household income is at $53,436 a year. This is how much residents are approximately making and yes, it's below the national average. But since the cost of living is also low, the balance is maintained.
Cost Of Utilities In Louisville
The cost of utilities in Louisville is 6% lower than the national average. Gas is $2.70 a gallon and a gallon of milk would cost you roughly $1.73. These are just rough estimates to give you an idea of how much you can expect to spend in Louisville. On an average, a single person spends $863 a month of groceries and utility bills. And if you're a single person making 50K annually, you'd probably be able to live luxuriously in Louisville.
See Also: Best Neighborhoods In Louisville For Singles And Young Professionals
Top Schools And Universities In Louisville,KY
Top 5 Best Rated Universities
University of Louisville
Bellarmine University
Spalding University
Sullivan University
Galen College of Nursing
Top 5 Best Rated Schools
Greathouse Shryock Traditional
J. Graham Brown School
Audubon Traditional Elementary School
Laukhuf Elementary School
Norton Elementary School
Best Neighborhoods In And Around Louisville, KY
Germantown
Want to live just minutes away from Downtown Louisville? Then Germantown is the ideal place to reside. It's an active neighborhood and you'll find plenty of eateries and pubs within walking distance. The area also has a rich history so you'll see a dozen old houses. Most of the houses in Germantown follow the architectural style of shotgun homes where the rooms lie one after the other taking a rectangle shape. The essence of this neighborhood is being quiet and friendly, and real estate here is pretty inexpensive.
Median Value Of Homes – $144,622
Median Rent – $874
Butchertown
Butchertown is a quirky little place where all the trendy stuff happens. There's new stores opening up often and residents supporting local businesses. Once again, Butchertown isn't too far away from Downtown Louisville so you get to remain connected to the hub by residing here. It's a viable neighborhood to consider if you're on a tight budget. Butchertown is also super diverse so you have the sense of meeting people from different cultures when you live here.
Median Value Of Homes – $170,698
Median Rent – $1,073
Clifton
If you're looking for a neighborhood that's right at the very heart of everything the city offers, then Clifton takes the first place. It's right next to Frankfort Avenue, Cherokee Park, and the Big Four Bridge, some of the main points of interest in the city. The city's personality leans towards the young and enthusiastic. This means that the pace is higher and stores are open longer than the quieter suburbs.
Median Value Of Homes – $189,992
Median Rent – $876
Crestwood
Crestwood has the perfect balance of quiet and fast paced neighborhoods. If you want a little bit of both types of neighborhoods then Crestwood could be a match for you. We'd also suggest picking this suburb if you're okay with staying a 30-minute drive away from the city center. On the plus side, by living away from the actual downtown area, you get to escape all the constant traffic noise and congestion.
Median Value Of Homes – $277,400
Median Rent – $872
Highlands Douglass
Highlands is one of the many upscale neighborhoods in the city. It's a charming place to live and safer than most but it comes at a cost. Real estate here is higher than the city average so if you choose to live here, things would obviously be more expensive. But the perks are that you're going to be surrounded by friendly communities and lots of local businesses. The city is situated in Jefferson County, which is home to most of the best schools that Louisville has to offer.
Median Value Of Homes – $373,371
Median Rent – $1,039
FAQs
What should I know about before moving to Louisville, KY?
If you're moving to Louisville, you'll get to experience all four seasons, but you should know that the city is prone to thunderstorms and tornadoes. Secondly, you can assure yourself of great employment opportunities especially in the Downtown business district of Louisville. You'll also get to have the most mouthwatering food here as the city has more than 2,500 restaurants that you can explore. Apart from that, the city has many schools and colleges to choose from. There are several annual festivals, music and sporting events like basketball, horse riding, and football, so you don't have to worry about getting bored here.
Is Louisville Kentucky a good place to live?
If you're a fan of different cuisines then you'll get to taste the most amazing food in Louisville as it's ranked among the top cities in America for food towns. When it comes to sightseeing and parks, you get to see the most popular Cherokee Park in the city with plenty of outdoor activities. Of course, one cannot forget about the city's bourbon bars which are famous worldwide. The city is home to several large companies like GE Appliances, Brown-Forman Corp, etc., so you can definitely explore job opportunities here. Apart from that, the city has a low cost of living which makes it a good place to live in.
What is the best area to live in Louisville, Kentucky?
Germantown, Butchertown, Clifton, Highland Douglas, and Creston are some of the best areas to live in Louisville, Kentucky. These are the top five residential areas dotted with parks and a good number of school systems.
What is a good salary in Louisville KY?
A salary of 50k to 60k can be considered good enough to meet all the living expenses in Louisville since the city has a lower cost of living by almost 6% than the national average. Just so you know, the average salary of a single adult here is around $29,935 annually whereas the median household income is roughly $53,436 per year. Since the city's cost of living is affordable, a salary of 50k annually is good for you to live in Louisville.
What is the best area to live in Louisville KY?
If you want to live in a place that gives you the city vibe but also has an essence of a quiet and peaceful neighborhood, then Germantown and Highlands Douglas are the best areas to live in with lots of local business and plenty of eateries, pubs, and historic places to explore. But if you want to stay away from the chaos of the cityside, then Crestwood is the best area to live in as it is away from the Downtown area and so you'll be away from the noise of the city.
What is the racial makeup of Louisville KY?
According to the research conducted by NeighborhoodScout, 65.6% of residents are white whereas 23.35% of the residents are black or African-American. Apart from that 5.6% of the residents are Hispanics and 2.7 residents are Asian. Speaking of American Indians, Native Alaskans, Native Hawaiian, and Other Pacific Islanders, all of these are 0.1% of the population. There are other races that are about 2.6% of the population in Louisville.
Is Louisville Kentucky expensive to live in?
There are several factors that contribute to the overall cost of living. For instance, your median house cost in the city will be around $196,396 whereas your monthly rent will be between $846 to $1,002. Although the cost of buying a house seems high, you don't have to worry about utility prices as they are almost 6% cheaper than the national average. You'll be spending around $863 per month on your utilities as a single resident. So Louisville can be expensive in terms of buying a house but in terms of other utilities, it's quite cheaper. Living here shouldn't be a problem if you have an annual salary of around $50k.
How much money do you need to live comfortably in Kentucky?
Kentucky's overall cost of living in terms of housing and utilities is lower than the national average. Your median home value in Kentucky will be around $165,664 which is lower than the national median of $281,370 according to Zillow. So, a salary of 70k to 80k annually is more than enough for you to live comfortably in the city.
What are the bad areas of Louisville Ky?
Louisville is an amazing city when it comes to food, job opportunities and education, but there are certain areas in the city that you should be aware of. According to the data shared by Areavibes, Hallmark can be considered a bad area to live in as it has a violent crime rate of almost 2,959 crimes per 100k people. There are other bad areas you should avoid like Shawnee, Jacobs, Park Duvalle, and Limerick as they have a high crime rate in the city.
What is a livable wage in Kentucky?
Based on the research analysis of Zippia, the livable wage in Kentucky is around $43,308. This can however suffice your living expenses as a single resident in the state.
How much money do you need to live comfortably in Louisville Ky?
A salary of around 70k to 80k annually will be more than enough for you to cover all your living expenses right from food to housing costs and live comfortably in Louisville. Since the utility prices are almost 6% lower than the national average, you'll have a fair bit of savings after necessary expenses as well.
What are the pros and cons of living in Kentucky?
Although the sights and amenities of this Bluegrass state may seem welcoming, you need to consider several factors before moving there. Let's take a look at some of the pros and cons of living in Kentucky.
Pros of living in Kentucky
Kentucky has all four seasons (summer, winter, monsoon, spring)
Low cost of living
Lots of eateries, bars, pubs, and restaurants
Low property taxes
Several sports activities
Cons of living in Kentucky
Hot and humid summers
High crime rates in certain areas
Lack of beaches
Education is not that great
Only 10 days allotted for vehicle registration
What's the best place in Kentucky to live?
Fort Thomas that's located along the Ohio River can be considered one of the best places in Kentucky. First of all, it has an unemployment rate of only 2.9% according to RoadSnacks. Whether it's good education, employment opportunities, parks with recreational activities or the amazing nightlife, Fort Thomas definitely ticks all the boxes.
Who is the largest employer in Louisville KY?
It won't come to you as a surprise that Yum Brands Inc. is one of the largest employers in Kentucky. There are other companies like Humana and GE Appliances that employ people on a large scale in Louisville.
Who is the richest person in Louisville KY?
Tamara Hughes Gustavson is the richest person in Kentucky with a net worth of $5.7 billion. Her father, B. Wayne Hughes, has appeared on Forbes' list of the 400 wealthiest Americans.
Is it safe to live in downtown Louisville?
Yes, Downtown Louisville can be considered safe as the place is flooded with tourists and other residents to enjoy fine dining and entertainment in the city.
What percentage of Louisville is Hispanic?
The Hispanics in Louisville constitute about 5.6% of the total population of Louisville, KY.
What food is Louisville Kentucky known for?
Louisville is famous for the Hot Brown which is an open-faced turkey sandwich that has been featured on many popular television shows. Apart from that, there's the mouthwatering Louisville-style pizza which was invented back in the 1970s. The Green Chilli Wontons and Fried Chicken are other famous foods in the city.
Does it snow in Louisville KY?
Yes, Louisville experiences snowfall in the months of January and February. Just so you know, the temperature can get as low as 29°F.
---
Our Take On Louisville, KY
Louisville is Kentucky's largest city so if you plan to move here you'd have some of the best amenities that the state has to offer. It houses Kentucky's best universities, Fortune 500 companies, and great neighborhoods. Moving to Louisville is a catch and now that you're well-versed with what the city proposes, you'd be able to better understand if it's the right place for you.
See also: Best Moving Companies in Louisville | Best Neighborhoods in Louisville for Families