What is a Contemporary House?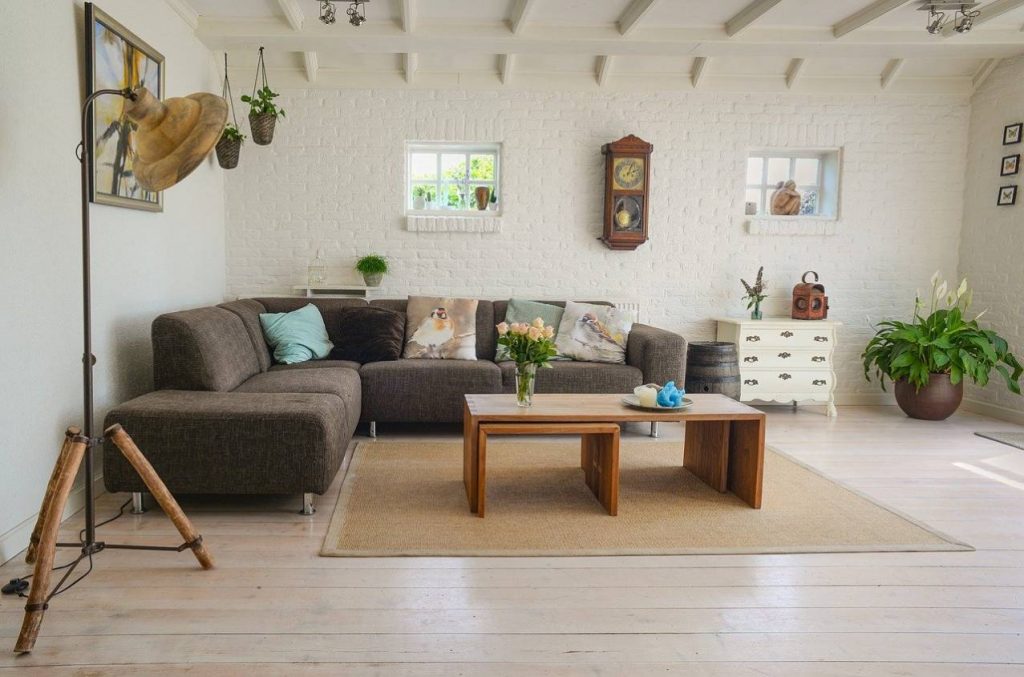 Contemporary house design is one of the most popular designs among the several interior design styles. It has been around for several decades. People love contemporary house interiors because they're known to be modern and stylish. Generally, contemporary house design is all about creating an uncluttered look and feel with minimal decoration and accessories.
A contemporary house follows the current style, which would be 21st-century architecture and design. You can often tell that a house is designed in the contemporary style if it has plain and uncluttered walls, straight lines and right angles, and large windows. It's best to make your contemporary home design as open as possible because it allows for an easy flow of movement and space to enjoy socializing with family or having fun with friends.
Contemporary home design is defined as modern, clean-lined, and open. It can be both traditional and ultra-modern, but the defining features are minimalism, natural light, and an open floor plan that makes it easy to transition between indoor and outdoor spaces. The exterior of modern homes often has flat or low-pitched roofs with little to no exterior embellishment.
Why Contemporary Homes are so Popular
Contemporary homes are so popular because they are unique and also modern. These homes stand out in a neighborhood because people love seeing something different or unique compared to their traditional-styled homes. A similar home-style is hard to find because they're different from other homes on the market.
Contemporary houses can be customized to your tastes, lifestyle, and desires. If you want uniqueness, consider yourself lucky because you've found it! You can truly make the house of your dreams with contemporary home design.
Contemporary homes are also open, which means they have little division between rooms. The openness allows your family and friends to be together often without feeling separated. This type of design is perfect if you plan on having guests over often or want to create a social atmosphere within the home.
Defining features of Contemporary house
Several fundamental elements define a contemporary house, such as:
Large Windows
Minimal Exterior Decoration,
Uncluttered Space
Flat roofline or roof with little to no exterior ornamentation, straight lines, and right angles.
Contemporary design is an open plan that allows people to flow from the interior to exterior spaces easily.
Modern Homes Vs. Contemporary Homes
People always get confused between modern homes and contemporary home design. These two designs have plenty of similarities; however, both have separate styles. Modern and contemporary homes both have minimalistic elements such as large windows, an open floor plan, and an uncluttered space. However, modern homes are known for their sleek lines but use ornamentation (ornate), whereas contemporary houses do not feature exterior embellishments such as flat roofs or limited exterior decoration.
A contemporary house is designed in the 21st century (contemporary style). This type of design incorporates modernism with traditional architecture. Contemporary homes can also feature modern features such as floor-to-ceiling glass walls and open plan space. The high degree of simplicity and uncluttered look defines contemporary home design. On the other hand, modern house design is about complete freedom of expression with unlimited color, texture, and materials.
Also Read: Minimalistic Home Design Ideas
How to Design Contemporary House
There are several ways to design a contemporary house; for example, you can use large windows to bring in natural sunlight into your home. The next step is to choose a building material for the home exterior. Either you can paint the exterior with bright colors or wallpaper it with modern patterns; both choices are trendy and will give your house a contemporary look. You can also design your interior by getting rid of all the clutters and so on. Here are some ideas for contemporary house designs based on current trends.
Bright and Light
Today's modern homes exalt and accent light, both natural and artificial. If you're designing your contemporary house, make sure to bring plenty of natural light inside the home. This not only makes the interior brighter but also reduces energy consumption. It is recommended to use large windows for this purpose. And if your home doesn't have enough natural light, then installing skylights or roof windows is another way to bring light into the home.
Secondly, it is also important to let light flood your interiors by painting the walls with bold colors such as white, cream, grey, etc. The use of bright and vibrant colors will give a contemporary look to your house. You can also use pastel or lighter colors for low-traffic areas such as bathrooms and bedrooms.
Thirdly, the presence of large windows and glass walls discusses your idea about the contemporary style of living. This not only enhances airflow but also keeps interiors ventilated from harsh sunlight. In addition, solar screens can be used to block the hot rays of the sun from entering your home.
Asymmetrical Shapes
This type of design is very modern and may appeal to those who follow avant-garde architecture. The asymmetrical design is about breaking the regularity and monotony that we find in contemporary or modern houses. This idea will give your home a very distinctive and one-of-a-kind look. You can also try this type of design if you want some individuality.
However, it's important to maintain symmetry when using asymmetrical designs. This will give your house a contemporary look that is much different from the traditional styles of homes. Firstly, you can replace doors with windows or vice versa if it suits your requirements. Secondly, replacing kitchen cabinets with open shelves is another way to use asymmetry in design.
Choose Color Wisely
The color black, white, and neutral tones are essential in a contemporary home. These colors are simply sleek and give your house a modern look. This color scheme will also complement the contemporary furniture pieces in your home. So if you're looking to design your new house, then using these three basic colors is recommended.
For the exterior, you can paint it with bright and vibrant colors such as purple, yellow, etc. This will make your home stand out and, at the same time, give your house a contemporary look. You can also use lighter or pastel colors if choosing bold ones is not too appealing to you.
If you want subtle looks for your home exterior, you need to choose neutral colors such as grey, cream, etc. You can also use lighter or darker shades of these colors for a very contemporary look.
Colorful Furniture and Decor
This idea is all about using bright-colored furniture and decor pieces in your house. This makes a very modern statement and gives your home an eclectic look. In order to provide a contemporary appearance, you can replace your old furniture with colorful pieces in different shapes and sizes.
The use of bright colors is also recommended for decorating the interior walls. Painting them in light or pastel tones won't do justice to a modern home design. So it's better to go with darker tones such as gray, black, deep brown, or any other bold color that matches the color scheme of your home.
One good thing about using these bright colors is that you can always replace them with neutral tones when moving to a new house. This is perfect if you're planning to experiment by changing the interior design of your home regularly with seasonal changes.
Updated flooring
Updating your flooring design is another way to give your home a contemporary look. This means you have to go for darker shades of wood rather than the usual light tones. You can pick oak flooring over maple or pine flooring if choosing woods. Some homeowners may not prefer dark-colored floors because they are challenging to maintain and clean.
Dark-colored flooring matches perfectly with neutral walls and colorful furniture pieces. However, if you can manage to clean and maintain your darker flooring, then such floors will complement the modern design of your home. If you do not want to go for wood flooring, then choose tiles or laminate instead. These two options are easier to clean and maintain.
Also See: Know the Worth of your House
Conclusion
A contemporary house is a very modern home that can be challenging to design. While there are no strict guidelines for designing this type of home, you must maintain symmetry and balance throughout the process. It's also essential that you introduce asymmetrical designs and bold colors to enhance the unique characteristics of a contemporary house. You should also maintain a color scheme and have neutral-colored flooring throughout your home for a perfect blend. It can be very challenging to distinguish between traditional homes and contemporary houses if properly designed.
Frequently Asked Questions
What does a Contemporary home mean?
A contemporary house means a modern home. The important thing to remember about contemporary houses is that there are no strict guidelines for designing them. These houses can be more of an experimental design which means you need to introduce asymmetrical designs and bold colors. Contemporary houses are more eco-friendly and are built with better materials.
What is a Contemporary housing style?
A Contemporary housing style is a house built with green technology and uses better construction materials. These houses are more spacious as they have open floor plans. The exterior of these houses may not be very different from traditional houses, but the interior is completely contemporary.
See Also: Benefits of Creating Floor Plan | Top Formal Living Room Ideas
What does Contemporary Architecture mean?
Contemporary architecture means modern architecture. The exterior of a contemporary house may look like a traditional house, but the interior is completely different. Asymmetrical designs and open floor plans often characterize this type of architecture.
What is the difference between modern and contemporary houses?
The difference between modern and contemporary houses is that modern houses are more luxurious compared to contemporary houses. Modern houses have big rooms and larger windows, while contemporary houses may feel tight. The design of a modern house is more symmetrical, whereas the design of a contemporary house is asymmetrical.
What does contemporary style look like?
Contemporary styles look like modern houses with open floor plans and asymmetrical designs. The exterior of a contemporary house may look like a traditional house, but the interior is completely different. If the interior of your home has many geometric shapes and bright colors, then it's contemporary.
Read Also: Best Places to buy Art Online | List of Interstate Moving Companies