Tips on How to Stage an Unfurnished Empty House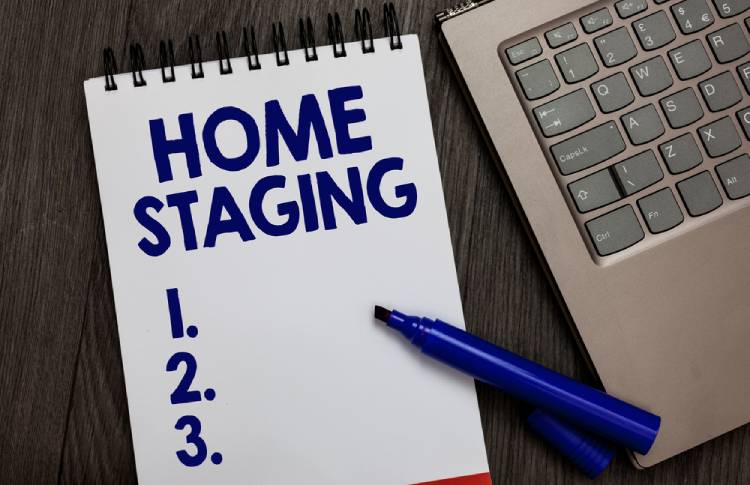 Staging a home refers to the act of cleaning, decorating, and arranging things in a house that is on sale. The aim is to make the vacant place look as functional as possible.
The term is coined from 'setting a stage.' You make a house look as functional as possible using the right props. Please think of the drama club at your school and how they used to stage plays.
There are many ways of staging a home, but the bottom line in all cases is to appeal to the buyer. By having furniture nicely arranged in the living room, utensils neatly set in the kitchen, and potted plants at the doorway, you make a potential client imagine how it would be to occupy this space.
The cost of staging a home will vary depending on your location and other factors. On average, it may cost between $590 and $2,210.
With so many other costs associated with selling a home, you must want to keep the staging price as low as possible. How can you ensure you remain on the lower end of the scale? Stage the home without adding costly furniture!
The cost of renting furniture ranges between $150 and $350 per room per month. Removing this from the staging budget will lower it.
Creative Ways to Stage a House with No Furniture
Staging an unfurnished house requires some creativity. It may be less costly, but it is more tasking. Here are a few ideas to get you started.
Using Rug to Showcase Furniture Layout
You may not have furniture, but potential clients will appreciate knowing where they can place theirs. The best way to show this area is by using area rugs. Place one where the furniture would be placed.
An empty room looks smaller than it actually is. By having area rugs that create zones in the room, its actual size can be easily visualized.
Placing area rugs when there is furniture to guide you is easier than placing them on an empty space. The latter is what you will be dealing with. You could try imagining furniture on the rug and using this as the basis of the measurements.
When placing area rugs, the rule of thumb is to leave 12 to 24 inches of the floor around the rug exposed when placing the carpet in a large area like the living room. The exposed floor should be 6 to 8 inches long in smaller spaces like hallways.
There are area rugs of different designs available; which one is ideal for staging? The one that matches your home's style!
Match the style of the home well so as to have a sense of coordination. For instance, a geometric pattern will perfectly fit into a contemporary home, whereas a plush rug will be perfect in a cold space. Avoid clashing designs like an ornate rug in a sleek home.
Also See: Ideas to Remodel your Home | What is Contemporary House?
Put a Fresh Coat of Subtle Color Paints
Chipped paint can turn off a potential buyer in an instant. Have a fresh layer of paint applied to make the walls look fresh and strong. If you had bold colors on your bedroom wall, cover that as well.
The colors you love may not be what your potential home buyer is into. Leave that for your new home! Only paint a staged home with subtle and neutral colors.
What color should you paint your walls in? This will vary from one room to the other, but dark colors should be avoided in general. White and off-whites need to be embraced because they are reflective and make a room appear bigger.
Paint each room appropriately. The ideal paint for each room is different. While bedrooms need warm colors that make the space feel peaceful, a white bathroom will feel clean and inviting.
Accessorize Your Home Using Tables and Lights
Small tables and lights can transform a room without blowing your budget. They are affordable and easy to set up.
By adding a small table and a couple of chairs, one can be able to highlight the uses of some parts of the home. Add nicely arranged pillows, tall potted plants, and other simple accessories to make a space look inviting. Do not stop at the tables and chairs.
The aim is to let the buyers picture themself in the space. Making it welcoming and nicely set up triggers thoughts and invokes imagination.
A lamp will illuminate a space making it look cozy and intimate. Place a warm lamp at a corner and see just how beautifully it highlights the room. A good choice is a light whose temperature is rated between 2000k and 3000k on the Kelvin scale.
Ensure that the light you get matches the style of the home.
Stage Your Bathroom to Look Luxurious
Staging a bathroom is as important as staging the living room. A keen home buyer will be looking at every room in detail and, more so, the bathroom. Everyone wants a safe haven when they think of the bathroom.
Stage your bathroom to look luxurious. Whether it is big or small, making it look amazing is easy. Please think of the bathrooms in five-star hotels and emulate them.
Start by getting fluffy towels. Choose neutral but brightly colored towels and hang them or neatly stack them.
Your bathroom should be sparkling clean. Nobody wants to imagine themselves sitting on a dirty toilet, ew! Have yours as clean as possible and place useful toiletries like soap neatly. Never hang toilet paper, which may encourage roaming home buyers to use the bathroom.
If you have a tub, recreating a moment is a good idea. Place an open book on a stool just next to the tub, place candles around it, and so on. Avoid scented candles as these may not go well with sensitive buyers.
Mirrors and Smoke Creates the Perfect Illusion
A mirror will brighten the room and make it more inviting. This is not to say that mirrors should be placed all over. They need to be strategically placed.
By reflecting light, a mirror will make a room look larger. Try having a mirror wall in small spaces with insufficient natural lighting. A mirror on the wall adjacent to a window is another great way to improve the lighting of a room.
Small to medium-sized mirrors over the fireplace, along the entryway, and living room can go a long way. Grouping small mirrors is a great way to cut costs while achieving an inviting effect.
Using mirrors in staging will create the illusion of a bigger space. Potential home buyers will love this aspect of your home.
Accessorize Your Kitchen
The kitchen is said to be the heart of the home. This means that it is the busiest part of the house, and over time the signs of frequent use start showing. From dysfunctional cabinet door locks to chipped paint, there are many issues you may face in your old kitchen.
The first step in staging your kitchen is repairing. Repair all parts, so they are in functional conditions. No one wants to buy a house with a clogged sink or cracked countertops.
Give the kitchen shelves a layer of nice paint. Go for warm colors like blues.
In staging the kitchen, less is more. Remove everything from the countertop and only place a few items. The potential buyers want to view the countertop and determine how big it is entirely.
What should you place on the kitchen countertop? Do not think of a mini-fridge. Actually, forget the appliances!
Place colorful accessories on the countertop without having the items all over the place. A good approach is to group the items in twos or threes. Potted flowers, a bowl of fake fruits, and cookbooks are great ideas for staging the kitchen.
Some non-food-related items to include in your kitchen are wall art and woven rugs. Decorative kitchen pieces like bowls and unique mugs are great additions to your kitchen staging.
Also See: Stocking your Kitchen for the First Time
Improved Landscaping Increases your Home's Value
The front area of your home is the first point of contact for a potential buyer. It will make or break the deal. A forsaken front door will dampen the mood of visitors coming in to check the house and lower their expectations.
No matter how beautiful the house interior is, it can be quickly overshadowed by an ugly exterior. It would be best if you concentrated on the home's curb appeal. Freshen the front door with a new coat of paint and organize the porch.
The lawn should be maintained in good trim. The shrubs and hedges should be kept in perfect shape. Flower gardens should also be tilled and maintained in a neat state.
A general state of tidiness should be maintained outside the home. Even the backyard matters. Other ways to prepare a home outdoors for resale include: repairing door numbers, installing new mailboxes, installing garden lights, and a few.
Also Read: Best Garden Shed Ideas
Focusing Staging Efforts
In a home, some rooms are more important than others: the living room, kitchen, and master bedroom. They are the focus of everyone looking for a home. They should be your focus too.
By focusing your efforts on the main rooms, you will be able to do a superb job. Put lots of action into making sure that these rooms look fantastic, and a home buyer will be convinced by the time they get to other rooms.
Focusing on the main areas does not mean forgetting the other rooms. A few touchups will go a long way. Throw pillows, tables and chairs are good ways to make the study and kids' bedrooms look great.
Borrow Furniture and Decors
What if you did not have to rent furniture or buy it for home staging? If you could get the furniture for free, you could set up the perfect home staging with furniture.
The easiest way to get cheap or free furniture is to borrow from friends and family. Ask them to give you the furniture pieces they no longer use. Do not worry about dealing with old and torn furniture. Just buy cover-ups and give the old furniture a new fresh look.
All you will have to do is spend a few dollars to move the furniture and say thank you. Pizza and beer are great ways to appreciate helpful friends. You could also borrow decorative pieces and wall art.
Also See: Importance of Home Staging
Conclusion
Staging an unfurnished house can be done, resulting in faster sales than selling a vacant house. You need to ensure that every part of the home is well–prepared.
The lawn needs to be neat, the kitchen needs to be tidy, and the living room must be welcoming. In staging, everything is essential, from the paint color to art on the wall and even the general feel of the home.
Remember that staging a home is all about helping potential buyers' see' themselves in the home. Do the things that would convince you to buy a home without making the preferences too personalized.
With the above minimal touches that do not cost much, you can achieve this. All the best!