Pros and Cons of Buying a House with Swimming Pool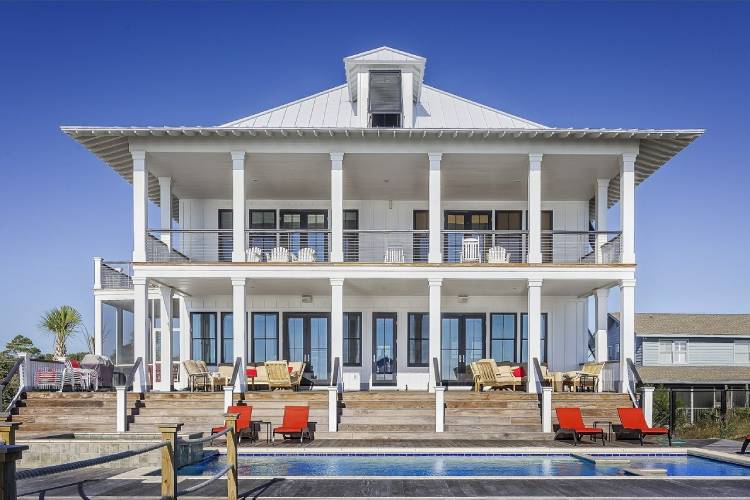 When it comes to buying a house, one of the most significant decisions you will make is whether or not to include a swimming pool. Swimming pools are a great addition to any home, but they also come with a number of pros and cons that you need to consider before making your decision.
According to Statista, there were over 28.4 million U.S. homes with a swimming pool in spring 2009. By spring 2017, that number had dropped to 18.9 million by year's end.
The financial situation is certainly a big factor in this decline. After all, the Great Recession was still going strong in 2009, undoubtedly causing many cash-strapped homeowners to stop financing swimming pools.
In this article, we will take a look at the pros and cons of buying a house with a swimming pool so that you can make an informed decision on whether or not this is the right choice for you.
Pros of Buying a House with a Swimming Pool
1. Tropical Getaway
Because pools cost anywhere from $5,000 to $100,000+ to install and maintain depending on the size, type, and location, most people decide to take the plunge only if they know for sure that they want to use it. Once you make that decision, there are many reasons to love having your own backyard oasis in which you can swim whenever you want.
See also: How Much Does a Swimming Pool Cost?
It's easy to forget what season it is when all of your friends are gathered by the pool on a hot summer night. If you want to cool off and relax during the dog days of summer, there is no better way than having your own pool stocked with icy drinks and everyone's favorite snacks.
Also See: Tips to Move in Summer
2. Added Curb Appeal
Buyers are more likely to make an offer on the house with a pool if they can see themselves lounging by the cool blue water on a sunny afternoon. This is because pools add significant value to a home and can make it stand out from those without one.
If you plan to sell your house in the future, a pool is a great way to increase your asking price and attract potential buyers who want an upgrade from their current abode.
See Also: Importance of Curb Appeal
3. Great Investment
The biggest pro for buying a house with a swimming pool is the resale value. No matter where you live, a home with an in-ground pool will always bring more money than one without. The only exception is if your neighborhood has had several break-ins or attempted break-ins at houses with pools recently.
Investing in a swimming pool will give your home a great return on your investment, ensuring you get the most for it when it is time to sell.
Houses with swimming pools are always more attractive to buyers, leading to higher offers. People with families will love the fact that having a pool increases the options for their children's play areas.
Also See: Home Resale Value: Factors to look for when buying a House
4. The Pool is a Great Way to Get exercise
A swimming pool is a great way to get some exercise. It can be hard to find time for physical activity, but having a pool right in your backyard means you never have an excuse not to take a quick dip.
Unlike most types of exercise, swimming is one of the least likely activities to cause injury. Since water is naturally buoyant, it supports your body weight and reduces stress on your muscles and joints. This makes it especially great for people recovering from an injury or arthritis.
The mental and physical health benefits of swimming are well documented, but there is one more benefit that you might not have considered. One recent study showed that children who had access to a swimming pool were more likely to be physically active than their peers without pools or home pools too small for exercise. This means children are also more likely to get the exercise they need if they live in a house with a swimming pool.
Swimming is excellent for your health in many ways. According to the U.S. Census Bureau, physical activity can help reduce the risk of chronic disease and obesity, two public health problems that are currently crippling America's workforce (and healthcare system).
Not only does swimming get your heart rate up, but it is also an aerobic activity that improves your breathing and the effectiveness of blood vessels.
5. Great for Parties and Get-Togethers
If you love to throw parties, getting a house with a pool will go a long way to ensure that everyone has fun. No matter what time of year it is, throwing an end-of-summer pool party can be great for business or friendly gatherings alike.
Even if you are not the kind of person to throw parties, having a swimming pool is still great for socializing. Everyone loves getting together with friends or family by the pool at least once in a while. If you are lucky enough to live next door to nice neighbors, it might even become an event that everyone gets excited about every weekend.
Cons of Buying a House with a Swimming Pool
1. Maintenance
One of the most common complaints about having a swimming pool is that it requires too much maintenance. Most people who buy a house with an in-ground pool assume they will use it more than they actually do. It definitely can be time-consuming and expensive to maintain an entire backyard oasis, especially if you are not using it as often as expected.
Another important thing to consider when buying a house with a swimming pool is that you will need to store the equipment somewhere when it is not being used. This can also take up room in your garage or attic.
2. Home Insurance Premiums
Even with a pool safety fence, your home insurance premiums are likely to go up slightly after buying a house with a pool. However, since pools add value and make it more attractive to buyers, the extra premiums should be negated by the increased resale price of your home.
Home Insurance premiums can go up by 10 to 15 percent when you buy a house with a pool, but the increase only applies to the section of your home insurance policy that covers personal liability.
Previously, most home insurance policies did not include any coverage for individuals who used residential swimming pools (or hot tubs), leaving owners liable for all costs associated with injuries or accidents on their property. Now, most companies provide liability coverage of up to $1.5 million for residential swimming pools. However, it is still a good idea to check with your insurance company before buying a house with a pool.
3. Financial Responsibility
The same home insurance policy that covers the costs resulting from injuries at your pool also protects you if someone decides to sue for property damage. If you are sued, the cost of hiring an attorney could easily outstrip your budget if not handled properly.
If you have to pay a large settlement because someone is injured in your pool, it might take several years to recover from the financial hit that's taken fully. It can also put a big dent in the amount of money you have available for your regular day-to-day expenses, which can cause problems if you are not prepared for such a significant change in income.
4. Increased Utility Bills
Unfortunately, people who live in houses with pools use more electricity and natural gas than those who do not. This is because the water has to be heated and filtered, the air constantly circulating throughout the house to keep all of the guests comfortable, and hot tubs use even more electricity than regular pools.
Even worse than increased bills is that most swimming pools are kept at a much higher temperature than what you would find in natural bodies of water, such as lakes or rivers. If you want to use the pool year-round, your energy bill will skyrocket, and so will your carbon footprint.
5. Neighbor Disputes Over Water Usage
Many homeowners associations and communities regulate how you can use your swimming pool and the water that comes out of it. Whether or not you can run a waterfall or birdbath is subject to local ordinances, as well as the hours when the pool is open to guests.
If things go wrong and you violate one of these rules, you might have to pay a fine or have your pool shut down, depending on how seriously the infraction is taken. If you are buying a house with a pool and do not want to deal with these kinds of problems, look for a home in a community that allows its residents more freedom when using their pools.
Questions to Ask Yourself Before Considering A House with Swimming Pool
Will You Use the Pool Often?
While buying a house with a pool might increase your resale value, it will cost more than most people think if you end up not enjoying it very much. If your kids are grown and gone, there is no reason to live next to a pool just because it looks pretty.
Can You Afford the Extra Utility Bills?
If you have a large family, a house with a well-maintained pool is a great way to keep everyone cool and entertained. However, you need to consider that pools require much more energy than other features of your home – even lawns – so if your budget is already stretched to the limit, this might not be a good idea.
Are You Willing to Risk Injury?
If you are considering buying a house with a pool located in an area where there is little or no fencing around it, you should consider what your life would be like if someone were seriously injured on your property. If you are sued, the amount of money you have to pay for a single incident could be far more than your entire life savings, especially if you end up having to pay for the victim's continued medical care.
Is There A Homeowners Association?
You might not feel like there is anything wrong with having a pool, especially if no one else in your community has one. However, it is possible that the HOA will require you to close off access to your pool or build a fence around it that costs much more than you could afford. Before you consider buying a house with a pool, find out what the rules are in your community, so there are no surprises later on.
Do You Have Small Children?
A backyard pool is a great way to make sure your children and their friends stay cool and entertained on hot summer days, but they mustn't be unsupervised at any time. Even if your kids can swim well enough for you to feel comfortable about leaving them by themselves, the pool should always be enclosed by a fence that is too high for even the most adventurous child to climb over.
Conclusion
As with most house features, you have to decide what is worth the price and what isn't. Swimming pools keep your home cooler in high temperatures and make it a more valuable commodity on the market, but they cost a lot of money both to maintain and use. If you are buying a house with a pool, remember that you might not be able to use it as much as you would like and that the energy bills will be higher than ever.
However, if you have good neighbors and no small children to worry about, a pool can keep everyone entertained on those hot summer days and may even increase your resale value when the time comes for you to move. The choice is ultimately up to you, so carefully weigh the pros and cons before making your final decision.
Also Read: Moving to a Bigger House | Tips to Sell Luxury Home | Why Buying a Home So Expensive | Tips to Buy a House without Real Estate Agent | Swimming Pool Removal Guide