Mortgage and Homebuying tips for Newlyweds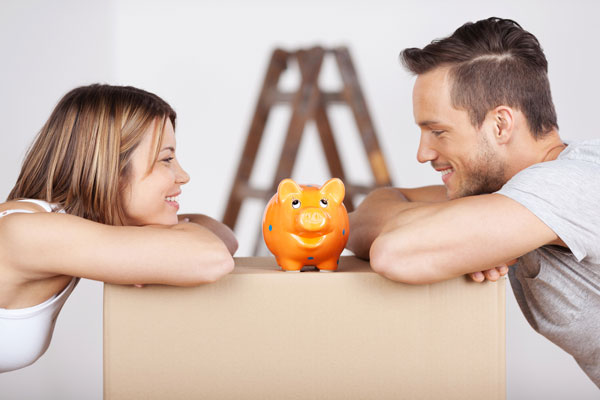 As a newlywed, you get a second chance to experience your firsts with a partner this time. One such beautiful experience is that of buying and spending your life in a new house of your own. There is no greater feeling than seeing your name on the door every time you come home from work. But to get to that point, you need a proper roadmap of how you are going to go about the entire process of getting yourself a new house. So, as a wedding gift, we would like to give you some golden pieces of information about buying a house which will help you in the long run.
Tips To Buying A House With Your Spouse
Advance Planning Of The Following
Before getting into the tedious process of house-hunting and the ways to finance the estate you're going to buy, you need to make sure you get the basics right. Following are a few things that you need to ponder upon heavily before taking the next step.
Location
Even though your entire wedding eve lasted two or three days at best, you probably still spent an ample amount of time deciding the perfect location for it. The obvious reason behind this is that you wanted it to be a spectacle and a good location only enhancing the quality. The same can be said for a home's location. A house must be surrounded by things that make it feel like home. The closeness to the local schools, commute distance to work, etc. is some of the factors that need to be kept in mind when we talk about the location of a new house. So, take your time to choose the best possible location for your home to start this amazing new chapter in your life.
See also: How to Find a Good Neighborhood
How Long Do You Plan To Stay There?
The duration of your stay plays a crucial role in your pursuit of buying a new house. If you don't see yourself spending your life for more than 4-5 years in the same house, you can change your house planning accordingly. However, if you are in it for the long haul and are not going to leave the place for a minimum of 30 years or so, your planning will become more comprehensive and extensive research-driven. So, with a fair idea of the duration of your stay, you can decide on the type of house without hassle.
Size Of The House
Newlyweds often find themselves in a fix as to the size of the house. To not keep running around in circles with this issue, ask yourself whether you see a little one coming along in your life after a certain number of years or an elderly moving in at some point in the future. This will decide how much house you will need and it is better that you take this into consideration before attaching yourself to any house you like.
Also Read: What's More Important: The Size Of The House Or Location
Do Your Research
Now that you have a rough skeleton of what kind of house you require, channel your inner Sherlock Holmes. Find every little piece of relevant information that can help you with your home buying process. As a newlywed, you might be tempted by the idea of starting this new life with your partner as soon as possible and end up buying the first house that seems even remotely liveable. This could have consequences in the long run.
You might uncover facts and living conditions about the place over time, which may not be suitable for you. So, do extensive research about the place, get down to its nitty-gritty to ensure your future in the house is one filled with pleasant memories and fewer worries. A few things that need to be on your checklist are a low crime rate, good educational opportunities (should you plan to raise a kid in near future), and employment options in the area. However, the research should not be limited to just these things and may vary according to what suits your desired lifestyle best.
Thanks to the internet, everything you need to research is available at your fingertips. But it is still advisable that you put on a pair of boots and do a physical check of the property and the locality. Have a conversation with the neighbors about the basic things which you might not find on the internet. An informed decision will help you in living a comfortable and stress-free life in a good neighborhood.
Also Read: Things Nobody Tells You About Moving House
Hire A Good Real Estate Agent
A real estate agent is like a ringbearer who will help you get the keys to your new house. Though it is not a compulsion to hire an estate agent to help you with your house hunting and the final decision, a lot goes into buying a new house than meets the eye. An agent who has been in this industry for quite a while will surely know a few negotiating tricks which could save you some serious cash. Apart from that, you're better off without the stress of the hefty paperwork that is involved in this process. So, availing of the services of a reputed real estate agent can really streamline the entire procedure for you and get you close to the dream of spending your lives together in a new house sooner.
That being said, you need to make sure that the agent you are hiring has positive reviews and has an ample amount of experience in this field. To be extra sure of the market trends, have a talk with multiple agents before zeroing in on one.
Related: How to Find the Best Real Estate Agent Near You
Tips To Preparing For Mortgage
Maintain A Good Credit Score
Purchasing a house outright in one payment is not something many can do. But this shouldn't be a reason for you to give up on your dream of owning a beautiful home to start your new life with your spouse. With droves of home loan facilities provided by various money-lending institutes, you can live the life you've always wanted. However, getting these kinds of loans isn't as easy as withdrawing cash from an ATM.
To even begin a conversation regarding a decent loan, you need to have a minimum credit score of 620 as per the current market rate. So, before delving any further into the details and specifics of the home-buying process, try improving your credit score to be able to secure a loan that you desire.
As a newlywed couple, chances are you might not have had a full-blown conversation with your spouse regarding finances and credit scores yet. If such is the case with you, it is time that you put your wedding vow of being completely honest with each other to the test. This will help you get a clear idea of what kind of house you can afford.
If you are looking to sign up as joint mortgagors, you and your spouse must both have a good credit score to qualify for it. If only one of you has a good credit score, then you can consider naming the mortgage loan after the spouse whose credit score is better. Isn't that how marriages are supposed to be? Understanding and adjustments! An even better option is to wait a while and invest time in improving both of your credit scores to have a better chance at a sizable loan and get the house of your dreams. To help you achieve that, below are a few methods you can implement to improve your scores.
How To Increase Your Credit Score?
Hire A Good Credit Repair Company
You can resort to the services of a credit repair company that can help you remove negative credit information from your credit reports in exchange for a fee. This is a federally approved legal method adopted by a majority of the states in the country. However, in states like Georgia, credit repair is considered a misdemeanor.
Also, your credit information is something that is confidential and not a public record that anyone can access. So, make sure you do a background check on the credit repair company before giving them access to your details.
Pay Off Outstanding Debts
The very basic yet effective way to improve your credit score is to pay off any outstanding debt you may have as soon as possible. This will be beneficial as the lenders will see it as a sign of your ability to repay his/her loan in a given time. These debts may include your student loans, loans, personal loans, etc.
Lower Your Debt-To-Income (DTI) Ratio
In order to speed up the process of increasing your credit score, you must lower the debt-to-income ratio. In lucid language, the percentage of your monthly income that you spend in paying off various debts you might have. So, the lower the percentage, the higher your chances of securing the loan. In order to do that, you can refrain from taking on any more debts until you've cleared your existing ones; pay more than you usually do towards debt repayments to get the percentage down. To secure a decent loan, this ratio should be below 43%.
How long will it take to improve my credit score?
The time length on your road to recovery of credit score depends on various factors. If your credit score is in the red zone because of credit utilization only, you can pay off whatever amount is pending and have your credit score soar high in a month's time. However, you might have to wait a while till you see some visible changes in the score if you have numerous collections and poor payment history.
Get A Pre-Approval Notice
After deciding on the kind of house you want and the amount you are dedicating towards a down payment for it, the next move is to get a pre-approval notice from a mortgage company. Now, what is a pre-approval notice and why is it necessary, you would ask. The mortgage company will scan your credit history and based on that information, it will issue a notice which could help increase your chances of securing the loan. It is necessary because this gives the lender a certain kind of surety that you mean business and shows your intent to go through the entire loan process. Do keep in mind that the pre-approved notice doesn't confirm that you have secured the loan.
Also Read: Things You Need to Be Pre-approved for a Mortgage
Take Your Time
The amount of time you take to properly factor in every aspect of buying a new house should be no less than the time you took to write your wedding vows. Just like your marriage, a new abode is a long-term commitment and you need to make sure your choice is perfect. Don't rush into the decision of buying a house as early as possible. Instead, analyze all the factors, save up enough capital so that you have fewer mortgage costs to worry about.
Final Thoughts
Now that you have gained a fair amount of knowledge on how to go about the planning and actually buying a new house, things should be looking up. Go on then, build the life you've always wanted with your partner in a house that will bear all the pleasant memories of all your achievements, no matter how small or big!
FAQs About Mortgage And Homebuying Tips For Newlyweds
Is It Easier For A Married Couple To Get A Mortgage?
It isn't really an issue whether you are applying for a mortgage as an individual or as a couple. The only major criterion is your credit score. The higher the score, the easier it gets to secure the said loan.
Should A Married Couple Buy A House Together?
It depends on the credit score of each individual. So, if you and your spouse both have a good enough credit score, buying a house together will divide the mortgage into two and will make life much easier for both of you.
What Does It Mean To Be On The Deed But Not The Mortgage?
This implies that even though you are the owner of the house, the liability of the mortgage loan and following payments do not lie on you.