Home Resale Value: Factors to Look for When Buying a House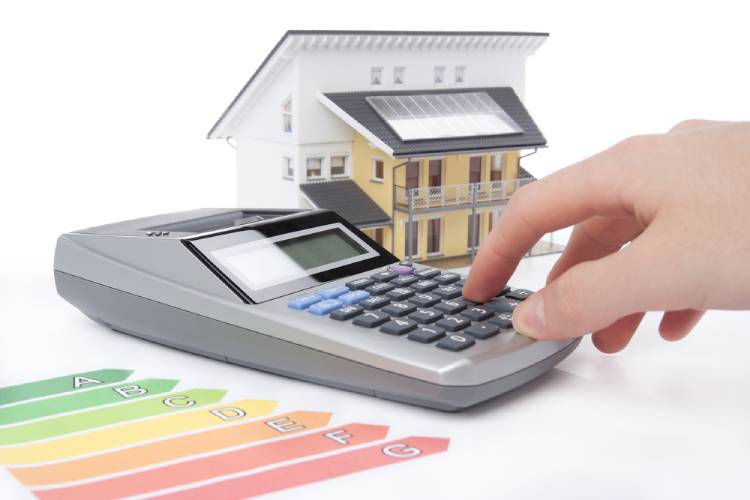 It is pretty common for a person to fall in love with the details personally as they shop for a new house. They do not think of selling the home when shopping for one. But a person needs to understand that purchasing a new home is nothing but an investment.
You would not want to waste your money on anything that does not provide a better return, including your house. The wise ones always think of it as protecting their investment. They make sure to take important factors under serious consideration. But what do these factors include?
Here we will identify and evaluate those factors that one needs to consider during the purchase of a house or any other property for that matter.
We will discuss the important factors relating to legal, environmental, social, transportation and amenities, the resale value of the property, and the relative amount of space.
So, you are probably on the right page!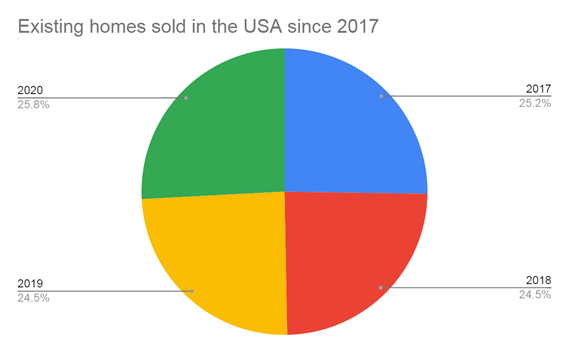 | | |
| --- | --- |
| Existing homes sold in the USA since 2017 | In million units |
| 2017 | 5.51 |
| 2018 | 5.34 |
| 2019 | 5.34 |
| 2020 | 5.64 |
Legal factors
The term "legal factors" relates to the property's first and actual owner, where multiple legal formalities are to be considered.
These important legal factors include registration papers, holding tax, stamp duty taxes, and so on. An individual must consider these legal factors while purchasing a house or other residential property.
Property documents checklist includes the legal status of the property (either disputed or undisputed), the validity of the seller or real estate brokers, tax payment status, land usage permissions, and more.
Also, pricing decisions under the relevant legal authorities can be considered another vital legal factor before the agreement between the two parties for the purchase.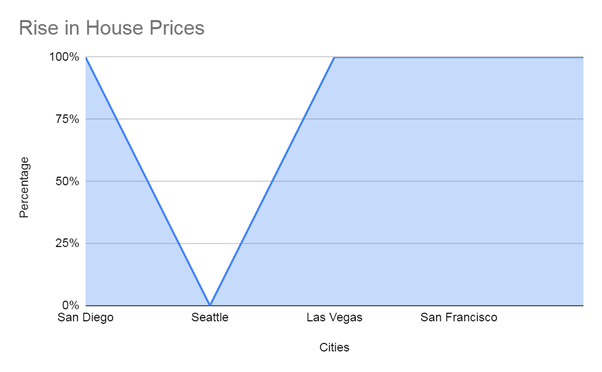 The resale value in the USA in 2022 is expected to be around 6.44 million units.
Rise in House Prices (Citi-Wise)
Cities
Percentage
San Diego
27.79%
Seattle
25.5 %
Las Vegas
22.45%
San Francisco
21.98%
Los Angeles
19.12%
Registration tax will generally cost between 2% and 3% of the original price of the property, including real estate broker charges (around 2%).
The effectiveness of the settlement date for the property purchase is another important decision between the two parties (seller and the buyer). When all the legal factors are appropriately dealt with, they would increase the resale value and help you to get better returns. When you consider these factors during the purchase, it would be fruitful to resell the property in the future.
Environmental factors and good views add value
When talking about Environment, the first thing that comes to mind is greenery. A surrounding that balances our ECOsystem and offers fresh air to breathe.
There may be times you would come across a dream house, but what do you do in a very unhealthy area? In such cases, it is highly recommended to think twice as the environmental factors would directly impact the resale value.
Make sure to look at soil quality where the building is constructed, water quality, purity, and other resources we need daily.
It will be a better idea if you choose to opt for Perc and Soil testing, where you can get all your queries regarding the environmental factors of the house.
Apart from this, make sure to focus on paying preferential location charges for garden or swimming pool views. The chances of these being a burden on your bank account could be high, but somehow it will enhance the resale value.
Also See: Swimming Pool Removal Guide
Social factors
The type of neighborhood you choose plays a vital role in purchasing a house and the time of reselling it in the future.
For example, an individual willing to live with a family will not purchase a house if he sees the presence of social abnormalities (hooliganism or unlawful activities). This is because they know that such activities directly impact a property's resale value and children.
Rather than that, a person will purchase a house where the social factors seem to be sustainable and consistent for livelihood.
The reference groups, family, and social status are important social factors that can affect the purchase decisions for any property.
Most of the individuals will look for the social status within the location alongside keeping the identifiable educational levels in mind before purchasing the property.
About 65% of the USA families own their primary residence for the financial year 2018-2019, where the size and scale of the real estate sectors can be identified as the relevant opportunity for many investors.
Not to mention, the identifiable levels of cultural characteristics among the society and neighborhood members can directly affect the purchase decisions. Please Read our article on How to find a goof Neighborhood to help you more on this.
Transport and Amenities
Transport and amenity-based factors play a crucial role more than one can imagine.
When purchasing a home, most people will look for emergency services such as ambulances, fire services, pharmacies, hospitals, banks, and others. This is because they think such a location to be of high-level significance.
On the other hand, some people will look for nearby restaurants, shopping, and/or family attractions, where amenity-based factors are highly important. The proximity to the shopping malls and local markets is significant in today's need to buy fresh fruits and vegetables daily.
Proximity to railways, roadways, and other means of transport must be taken under consideration during the purchase.
The bottom line approach plays a significant role in providing a well-defined set of criteria where the objective-based characteristics, including attractive amenities, safe roadway systems, and others, stand to be highly advantageous.
The safety of location can also determine the resale value of the house. However, one needs to adjust the price range of the transport and the amenity-based factors from the real estate agents.
Economic Indicators
The economy of the house directly impacts an individual's ability to sell a home in the future. When the economic conditions are not up to mark, you might end up struggling to resale the house in the market.
Any area that shows wage growth to be slow automatically proves that people living there would not afford a home.
Income source is the most important thing to fulfill all your dreams. Schools, Colleges, Hospitals, nearby temples, Commercial buildings, Offices, Banks, etc.; overall, the income source can be detected to build economic conditions well.
So make sure to keep up with the home price current status of the area.
Amount of Space
The amount of space a house has plays a crucial role when you are about to purchase one.
The total area measurement generally refers to the floor plan, carpet area, covered area, garden, parking space, and the detailed floor planning of the entire property. Also, the optimum amount of floor space must be an addition to the entire house.
The carpet area is generally calculated as the sum of the inner wall area and the concerned floor area.
Median sold price of the existing home according to year
| | |
| --- | --- |
| Year | Amount |
| 2015 | 2,20,000 |
| 2016 | 2,40,000 |
| 2017 | 2,45,000 |
| 2018 | 2,60,000 |
For instance, a family of four to six members will generally look for a house of 1500-2000 square feet (square feet is generally measured as the amount of space for an apartment or a house).
According to the latest reports of the US Census Bureau, the amount of space and the average size of small homes within the USA grew to 65%, which ranged from 1660 square feet to 2687 square feet respectively from 1973 to 2005.
However, It doesn't matter if you don't have children or aging parents, make sure to pick a house with a family-friendly floor plan to sell it in the future at a higher value easily.
Age and Condition
Last but not least, the house's age and condition also impact its resale value directly.
Homes that are newly built tend to have a higher value than those which have aged and not been maintained properly. People already know that everything attached to the property would be newer, like plumbing, electricity, etc.
They are less likely to break down, which can save the buyers. At the same time, the aged properties would need renovation and involve multiple risks that can be a burden on the financial plan.
Make sure to pick a house in proper condition so that you do not have to struggle to repair it or sell it to someone else at no profit.
Also See: Tips for first time home buyers
Covid and its impact
There have been rising prices in the home value as there has been an increase in demand in the US housing market after the corona pandemic. Many house sales have been financed through mortgages surpassing previous years' records. Overall, this pandemic has been a boon to the homeownership plans of Americans. Many millennials have started preferring buying homes due to pandemics.
Many buyers prefer to buy an affordable house that involves less down payment. The down payment required in various states plays a vital role as the higher down payment will lead to less buyer's attraction. As of June 2021, Rhode Island has the highest median down payment in the USA, whereas Vermont is the lowest.
The Number of New House Sales in the US by Financing Type
Even with the pandemic, the real estate of the USA has been booming, constantly breaking all previous records. With low mortgage rates, many houses have been purchased through financing through conventional mortgages.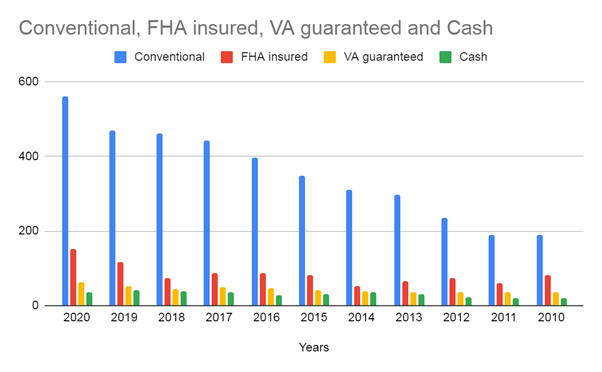 Happy shopping! So, the next time you are searching for selling your house or investing in a new one. Make sure you check everything beforehand. You may also read our blog on Buying and Selling a House at same time.
Also Read: What Does it Mean to Buy a Home "As Is"?
Frequently Asked Questions
How many times should you look into a house before purchasing?
Most of the time, people purchase a house after they have looked into it just for a single time. There is nothing wrong with deciding to purchase at the first meeting.
But TBH, one should look into a house four to six times. It is recommended to attend meetings at least two to three times inside with the realtor. While on the other hand, one should attend two to three times independently.
How long should you view a particular house?
Usually, one should take approximately 20 to 30 minutes while viewing a house for the first time. While in the second viewing, one must take around 60 minutes or more.
However, this varies from one house to another depending on the overall area size and other factors.
Also, it is recommended to check out the local area to understand the nearby facilities and make sure you feel safe in the society.
How would you know that you are ready to buy a house?
There may be times when you feel that you are not ready to buy a house. But how would you know that you are ready? Probably look into the signs that appear in front of you.
This includes having no debt of any kind, a steady job, a good credit score, sufficient down payment, good income, and savings.
If you think that you are meeting these criteria, then know that you are ready to purchase.
Is it a good idea to click pictures of a house?
It is a good idea to click pictures of a house while viewing to have more time to think about it later on.
This would help make a wise decision by looking at the pictures and preventing you from mixing up between the houses you have viewed.
However, it is not recommended to click the pictures without the consent of the homeowner.
Should one take the matter of buying a house seriously?
Yes, of course. One should take the matter very seriously while buying a house because it will be a significant commitment and investment.
If you make any mistake while buying a house, then the chances of bearing a loss are high. Also, you would get no better return if you decide to resell it in the future.
Also Read: Best National Moving Companies in the USA | Factors Influencing Value of a Home | Buying a house with a Swimming Pool | Buying or Building a house