Home-Buying Checklist For Parents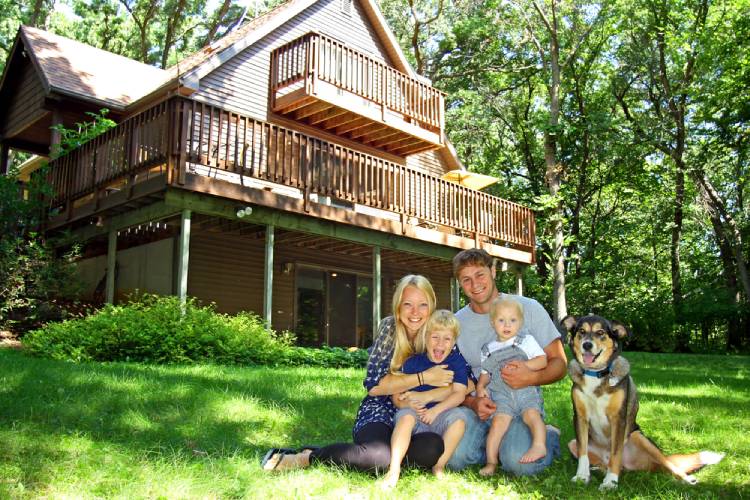 Buying a house will definitely be one of the biggest expenses you ever make in your life. This would have its set of challenges, but when you have a kid (or a couple of kids), there are a lot of other factors that come into play. You don't need to have to pull your hair out in frustration thinking about what to do; a checklist can help you plan everything. So here's a home-buying checklist for parents that you can refer to!
Choosing A Location
This is by far the most important thing in your house-hunting journey. The location of the house governs a great majority of your child's life. School, convenience stores, parks, playgrounds – all these are important factors that should be considered while deciding on a new home.
You can use online resources to find out which schools are accessible from the location of the house you are considering. Ask friends with kids what they think of the locality – are there enough parks? Is there a playground nearby? How far is it to the mall? What's the daily commute like in this area? All these factors should be taken into consideration before finalizing a place.
Also See: Importance of Location in Real Estate? | Top 10 US Cities with Best Parks
Research The Neighborhood
Once you have zeroed in on specific houses, it's time to do your research on the local neighborhood. Check out online resources like Google Earth and Street View – this will give you an idea of what kind of people live in the area, what are the good restaurants around, etc.
You can also ask realtors for more details about the neighborhood and whether or not they feel it is a safe place to live in. This might require going on a field trip as well – touring the area, checking out schools and markets, etc.
This will definitely help you narrow down your search to specific houses that are good for you. Also, take into account the kind of neighbors you'll have in your area. Will they be rude and unapproachable or will you get along with them well? These factors should also play a role in deciding where to buy a house.
Traffic And Crowds
If you're buying a house with kids, then this is something you must take into account. Traffic can be a real hazard to children traveling by themselves or in school buses. Moreover, when your kids grow older they'll want their privacy, so crowded areas with people everywhere might not bode well for them.
Think about how much time you'll need to spend traveling to and from the house every day. If you have a job or studies to attend to, then you might need a place closer to where you'll be most of the time. This will help you narrow down your search and find out which areas are best for buying a house according to your requirements.
See Also: Should You Move for a Shorter Work Commute? | Why do you Need to Buy Home Near a School?
The Local Public Schools
Even if you don't have kids yet, but plan on having them in the future, this is definitely something to consider while shopping for a home. Check online on the local public school system in your area and find out if it's good enough for you. It would also be wise of you to ask some parents with kids attending such schools, what they think about it. Is there an ample supply of teachers? Are there any notable security issues? What's the average academic performance of students from this school system? These are some of the questions that you can enquire when considering buying a house in a specific locality.
Home Safety And Privacy
There should never be any compromise on your child's safety and privacy; if you end up compromising here, then there's no point in even buying a house! Check for the safety and security of the house you plan to buy. Does it have a fence? Is it well-lit at night? Does it have additional exterior locks like grills around windows, peepholes on doors, etc.?
Also, think about how private your new home will be. If houses on that particular lane are located close by, consider the fact that your neighbor might be able to see into your house as well. Not just that, take note of how many tall buildings there are around your new home and if they'll view into your backyard as well. This is security from a different perspective – not just from the point of view of criminals but also from the perspective of your child's privacy.
The Condition Of The Home
When you are house-hunting, it is imperative to take note of whether the home is in a livable condition or not. You can't just buy a house and then spend years together making renovation plans – that's an added expense that needs to be considered while budgeting.
Be sure to check for signs of pest infestation, water leaks, or gas leakage; all these are serious problems that need attention. Make sure the house is structurally sound as well. Cracked walls and loose flooring are easy red flags. All these factors should be taken into consideration before buying a home.
After you have found out about all these factors, you can start narrowing down your hunt to specific homes that meet all your criteria. Buying a house is expensive and you don't want to end up doing it twice in ten years. So make sure you are absolutely sure when making the final decision.
Child-Friendly House
A home should be something that is welcoming and fun for kids – from the color of the walls to what they can do in it, everything should be child-friendly. New parents might not think about this when looking for a new house but knowing how child-proof or baby-proof the house is could also influence your decision. You can also consider checking out some other homes as well that are on your radar. You might end up finding something more suitable for your budget or situation.
Is There A Backyard?
A backyard is important for kids of all ages. Even if they are too young to play there, they'll love to sit outside and look at the stars or the trees. Make sure that the house in consideration has a yard that is big enough for you to enjoy other activities as well other than just gardening or barbecuing. This will ensure everyone has fun when spending time together in the yard. If you have pets, make sure there are enough fences or other means to keep them contained as well.
Read Also: DIY Backyard Ideas | Creative Gazebo Ideas for Your Backyard
Look For A Flat And Larger Lot
Depending on how much you plan to grow in your garden or what you want to do inside the house, it might be wise to check out the lot size. If your family plans to have a swimming pool at some point in time, then go for larger lots that are more likely to have sloping ground rather than flat ones. A house on sloping land has the disadvantage of not being easily accessible for young kids or the elderly, so be sure to take that into consideration.
A house on a larger lot gives children more room to play and increases privacy. They can play outside without bothering people in other houses and vice versa. On the downside, however, houses on large lots usually have lesser privacy within the house because there are no tall buildings directly behind them, giving all neighbors a clear view of everything inside the house.
Look For Open Concept And Practical Layout
Is your home well laid out? Will you be spending time with your family in it or will you be shuttling everyone off to their separate rooms every day? Consider how you want to live in your new house. Do you need a separate home office, a guest room, or an extra bedroom? Try finding houses with practical layouts as well as open concept living spaces so everyone can hang out together.
If you have teenagers, a separate guest room is a great place for them to invite friends over and enjoy some privacy with their own bathroom, without inconveniencing anyone else in the house.
Is The Area Safe?
Everyone wants to live in safe neighborhoods. After all, who would risk the safety of their entire family for a new home? If you're looking at houses in remote areas with bad access, poor lighting, or limited police presence, think twice before making the final decision. A good idea would be to look at the crime statistics by NeighborhoodScout or Safewise to see if the area is really suitable for you.
Is There Good Public Transportation?
If you have a car, this factor probably won't concern you much. But if your job requires you to commute every day or your children are still in school, then it makes sense to check out how easily accessible public transportation is in the neighborhood. It's quite a pain when you can't get to work on time because of unreliable public transportation and it's even worse if your kids miss school because they couldn't make it there in time either.
Additional Features To Look For When Buying A House With Kids
Luckily, most homebuilders these days go beyond the bare minimum when it comes to designing their homes. If you have kids, then there are a lot of added features that should be considered add-ons for your house plan:
Spacious Bathrooms For Bathing And Grooming
Having at least two bathrooms is a must in any home with growing kids. You never know when someone needs to get out the door in a hurry and having at least two bathrooms (ideally with bathtubs too) can make everyone's life easier.
Lighting That Suits The Way You Live
What kind of lighting setup do you prefer? Do you like bright lights or are you more comfortable living in a dimmer, warmer setting? If you have children, consider their preferences as well. A younger child might not like a brighter living environment while teenagers would prefer something with more natural light.
Personalized And Private Spots For Everyone
Everyone likes their own personal space once in a while and this is especially true for kids who want to escape the chaos of their daily lives. Look for houses with individual rooms or even nooks where everyone can go to relax alone or with just one other family member. If you have the space, consider adding a quiet reading room, a music room, or even a small outdoor patio – preferably with access to an indoor bathroom too!
Does The House Have Enough Storage?
Having enough storage is extremely important for a family with kids because having more shoes, clothes, and toys means needing more room to store them all. Keep in mind that most young children grow very quickly, so make sure you have plenty of closets and cabinets where they can hang up their coats and backpacks without cluttering up the house or causing anyone else any problems.
Closets and cabinets should also be placed where they can be easily accessed by everyone in the house. You don't want your kids to constantly ask for help when it's time to get ready because you hung their clothes too high or too far away from the actual closet!
Conclusion
If you're thinking about buying a home with your children, then it's important to do some serious house hunting in order to find the perfect place for everyone. Look beyond quaint features and focus on practicality when making a decision. A good rule of thumb is to always think about what would be most convenient or comfortable for your family in real life. That way, you'll be able to get the most out of your house and enjoy living there for many years to come!
FAQs On Home-Buying Checklist For Parents
Can My Parents Take Out A Loan For My House Deposit In The US?
If your parents have gifted you the money, then yes! If they've loaned the money to you and you're paying them interest, then no. As long as you're not obliged to return the money to them, your lender would usually have no issues with it. You may read our article on How to Buy a House with your Parents or Adult Child for more info on this.
How Much Money Can My Parents Give Me To Buy A House?
As per the IRS gift tax exclusion, both your parents can gift you $15,000/year each without paying any taxes.
Is It Smart To Buy A House With Your Parents?
With soaring prices and competitive real estate markets in most areas, it could act to your advantage if you choose to buy a house with your parents. Not only will you be able to afford a bigger home with more amenities but it might also increase your credit or income on mortgage qualifying.
Can I Use My Parents' House As Equity?
If you're going for a parent-assist home loan or mortgage, then you can use your parents' house as equity. Such loans are only offered by a specialist lender and have some requirements in place for you and your parents to qualify.