Condominium vs. Townhouse: What's the Difference?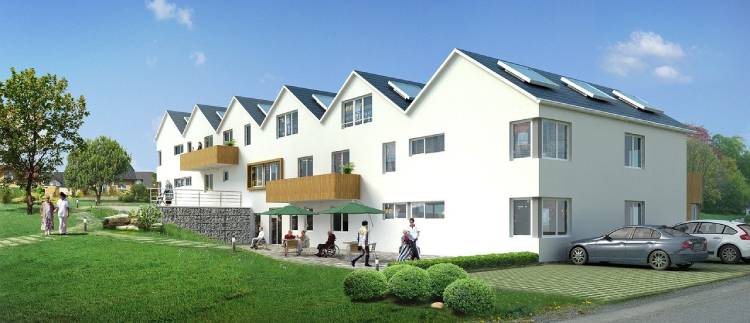 When it comes to buying a home, many people are unsure of the difference between a condo and a townhouse. Both options offer certain benefits, but they each have unique features that set them apart.
In general, a condo is a structure that contains individual units sold or rented separately. Condominiums' main advantage is the ability to gain access to shared amenities such as a pool, gym, and community activities. Townhouses provide some of these same benefits without the added sharing aspect. They have their yards and often contain garages for parking, which aren't common in condos.
To help you decide what is right for you, here is a breakdown of the key differences between condos and townhouses.
Condominiums
Condominiums are available in urban areas.
Each condo is its property within a larger building. These are individually owned and referred to as "strata-titled" properties. It means that each owner owns a share of shared spaces, including the exterior, parking lots, elevators, pools/clubhouses, and elevators.
Townhouses
Townhouses are available in suburban areas and neighborhoods but rarely in urban areas. Each townhouse is part of a larger building having shared exterior spaces such as the exteriors, parking lots, entrances, and other shared amenities. Townhouses are often attached with no clear separation between them, making them seem like a series of condos built together.
Benefits of Owning Condos
1. Low Maintenance
Maintenance is less of a concern for those who own a condo. They don't have to worry about things like mowing the lawn or shoveling snow. Most of the time, you just pay your monthly fees to use the amenities, including pools, gyms, and other community areas.
2. Low Risk
Condos are smaller than townhouses and carry less debt and property tax. It means that the risk of foreclosure is significantly reduced should you experience financial difficulties, especially within a cooperative structure.
3. The Community Feels
The best feature of condos is that they have shared amenities and a sense of community. It's always nice to be involved in your surroundings and having neighbors that you can speak with is invaluable. Condos often have shared spaces like pools, gyms, and gardens that bring residents together to socialize and enjoy each other's company.
4. Security
Many condominium complexes have security features like gated entrances and cameras for added security. It makes the community safe for children and other vulnerable community members.
5. Affordable Prices
Compared to single-family homes, condos are typically more affordable. They are smaller homes, leading to lower property taxes, utility bills, and general upkeep. This makes them more affordable for those who can't afford bigger properties or home expenses.
6. Flexibility
Condo owners can rent out their units when they're not using them, which can help offset costs and provide some extra income and a way to meet new people from other parts of the city. The condo board may also allow for this as a condition of buying a condo.
Benefits of Owning Townhouses
1. Privacy
Each townhouse is private and self-contained, so you don't have to worry about disturbing neighbors with noise or taking care of the lawn and landscaping. Every owner has access to their own home without sharing any common areas.
2. Flexibility
Townhouses come with garages and their yards. This means you can park cars, store things and enjoy your space as you please. You also have the freedom to decorate and furnish your home how you like without having to jump through any hoops.
3. Space
Townhouses typically have more space than a condo because they don't have shared amenities. You can build bigger rooms with more space and include extras like storage sheds, decks, and garages.
4. Amenities
Townhouses often come with private garages to store things or keep a car off the street for added security. They also have more yard space to expand their homes without worrying about disturbing neighbors.
5. Growing Family
With more space comes the opportunity to grow. Townhouses give owners room to keep expanding as they have children or other loved ones that need extra support and care. You can also put any additional amenities like storage sheds or garages to use.
6. Low risk
This is perhaps the single most significant benefit to townhouse ownership. Building equity in a home can be difficult and risky because the house is one-size-fits-all. You may end up with a layout that doesn't suit your family's needs, and it will be challenging to make changes without paying high fees. Townhouses, however, can be easily modified based on personal preference because they are part of a larger building rather than an individual structure. 
Also See: Townhouse : Pros and Cons
How To Decide Which One Is Right For You
It can get confusing when you don't know what to choose, a condo or a townhouse? To help you make the right decision, here are some things to keep in mind when weighing your options.
Condominiums are often marketed as ideal for young people who are single or don't have families yet. However, they can be an excellent fit for anyone looking for an affordable apartment alternative. Townhouses are commonly sought after by older adults ready to settle down. They offer the privacy of single-family homes but with lower maintenance and responsibility.
So, what's right for you? It all depends on your current situation, goals, and lifestyle preferences. Do some research before committing to a housing plan. It'll help you make the right decision and enjoy your space to its fullest!
The Cost Of Each Type Of Property
Owning a condo or a townhouse works out cheaper than buying a house. However, the prices vary for condos and townhouses.
The purchase prices are lower for a condo if you want to buy, but the HOA fees are high because condos are joint spaces. According to The National Association of Realtors, a typical condo can cost $289,000. However, for a townhouse, the costs come up to $111,000 to $222,000. Most people would pay $166,500 for a 1600 sq. ft townhouse.
Legal Status
In most parts of the USA and Canada, condos are generally governed by a set of laws laid out by the federal and local governments. On the other hand, townhouses are not governed in such a way, and they can be treated as freehold properties.
In terms of property taxes, there isn't a massive difference between the two. In both cases, you'll have to pay up property tax to your state or province according to what is specified in your deed or sales contract.
Location, location, location!
Condos are often found in areas near downtowns, and townhouses are usually situated on the outskirts of towns. This is because condos are usually built in the heart of a city, and townhouses are commonly constructed in the suburbs.
Of course, there are exceptions to this. Some condos can be found outside of town centers, and some townhouses may be located in the middle of a city.
Structure
Condos generally have full access to shared amenities such as pools, tennis courts, gyms, etc. On the other hand, you'll need to pay extra for these features if they come with the townhouse.
Condos are usually built by an individual or a group of individuals. So, the design and architecture will vary depending on the architects and developers who build them. However, townhouses are developed and managed by real estate companies. They usually utilize standard floor plans and designs to faster construct more of their units.
Value Appreciation
Condos' appreciation rates are slower, and developers prefer them the most. Unless you are trying to sell a condo, you might as well make more money in selling a townhouse. In general, townhouses are a better investment in the long run.
However, condos have the upper hand in reselling because they can be easily divided into several units and realized as separate properties. That's why investors would prefer buying a condo to make money from future resales than just renting them out.
Home Insurance Rates
Owners of townhouses have to cover for both interiors and exteriors of the house. Condos generally have lower insurance costs than townhouses because the owner ensures the condo's interiors. Whereas, for townhouses, the expenditure is higher.
As a homeowner, you should consider your living arrangements and how they will affect your budget. There's no right or wrong answer that suits everyone. Just build a thorough understanding of the main differences between these housing options before deciding on the next move.
Resale Value
If you plan to live in the property for a long time and resell it at a higher price, then condos would be your best bet. This is because townhouses have a longer resale period than condominiums. When a townhouse is resold after a decade, the seller would need to pay more to buy another house in the same neighborhood. So, this increases the overall cost of living.
On the other hand, someone who plans to remain in their condo forever and resell it later on, should consider whether or not their HOA fees and property taxes will change. If the HOA fee is set for a specific period, you should consider increasing it before reselling it.
Bottom Line
When it comes to the important factors of condo vs. townhouse, location is key. If you're looking for an easy-access downtown property, a condo is your best bet. If you want something outside of town with more space, a townhouse is a way to go. Another thing to consider when making your decision is the design and architecture of each type of housing. Condos are known for their varied designs, while townhouses usually have standard floor plans. As far as resale value goes, condos win out over townhouses; however, owners of condos should be aware that their HOA fees and property taxes may change in the future.
FAQ's
What are the differences between condo fees and HOA's?
A condo fee is an amount that each homeowner pays to maintain common areas of the complex. In contrast, HOA includes all of the expenses within a condominium community, consisting of repairs to common areas, insurance, utilities, etc.
Do townhouses have basements?
Most townhouses do not have basements. However, some do. If a townhouse has no basement, it is usually built on one or two floors. These homes will often consist of a first and second floor, with the third floor being a basement level.
When is the best time to buy a condo?
There's no specific answer to that question as it depends on many factors, including location and your personal preference. It is generally easier and faster to resell your condo than a townhouse, so if you're planning on being in the same house for a long time, a condo is your best bet.
What is the difference between a condo and a co-op?
Condos are owned by individuals, whereas co-ops are owned and managed by residents. Both owners still have access to shared amenities and conveniences such as roof decks and gyms. Co-ops do not usually come with private parking spaces or elevators, if they even have elevators at all.
What are the differences between a townhouse and an apartment?
Both townhouses and apartments share many similarities: they come with appliances, air conditioning, and heating and may or may not be furnished depending on the unit. The main difference is that one is separated from other homes while the other isn't. Townhouses come with their property, including a private outdoor area. In this case, even though both are considered homes, they are not as independent as one would assume.
See Also : Moving to Apartment
What is the average square footage for condos and townhouses?
The size of a condo or townhouse varies according to its style and built-in area. Though both types of housing have a common minimum requirement of 400 square feet, condos can have a size ranging from 900 to 4000 square feet and townhouses from 800 to 3000 square feet.