Virginia DMV Change of Address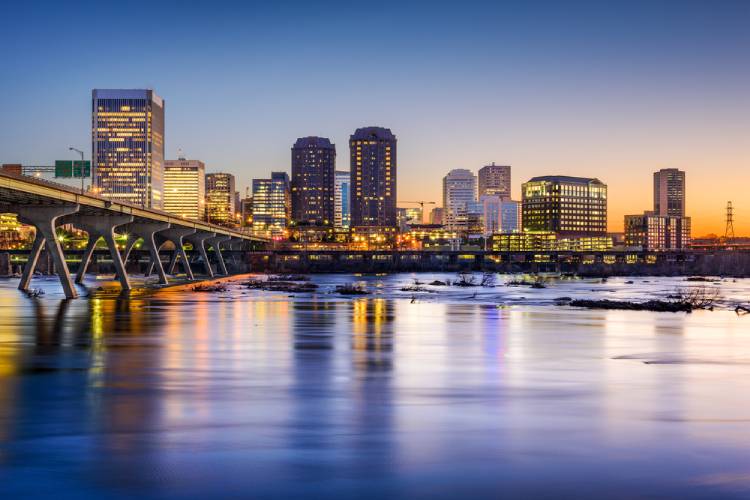 Moving houses is always a lot more work than expected, which is something most people realize only when they're neck deep in it. You will have a ton of paperwork to take care of, like documents regarding your old and new homes, subscriptions, and of course, address changes. Changing your address with the Department of Motor Vehicles (DMV) is one of the most important tasks at hand, as there is only a brief window of time from your move to change the address. Most states give you 30 days to get your address changed, while some others only give you ten!
If you're moving within, from, or to the state of Virginia, you're at the right blog. We've curated every last detail you'd need about getting your Virginia DMV change of address done, alongside everything regarding vehicle registration. Read through our comprehensive guide for a headstart to your new life.
Who Should You Get In Touch With For A DMV Change Of Address In Virginia?
Virginia doesn't have its own branch of the DMV, unlike Pennsylvania's PennDOT. You just need to get in contact with any VA DMV office, ideally the one closest to your location for your own convenience. The time period given to you to notify the DMV of your new address is within 30 days of your move. Note that this time period starts from the very first day of your move, and can slip by quickly as you get caught up in unpacking and other hassles. Look into getting the Virginia DMV change of address as soon as possible.
Why Undergo A Virginia DMV Change Of Address?
You need to update your new address at the DMV to have a license bearing your new address and for the DMV to register an accurate address against your name. Not updating the address renders your license invalid, and can result in a fine or other nasty legal consequences.
Getting A Virginia Driving License When Moving From Another State
New Virginia residents have a slightly different policy to be followed regarding a Virginia DMV change of address. For one, just an address change on your regular license won't do; you'll need to get a new driver's license for Virginia. In addition, you have a time limit of 60 days to do this. This cannot be done online or over the phone – you'll have to visit your nearest DMV office. It's a good idea to look this up on the DMV website and note down the address and number before your move. This way, you can get onto the task as soon as you move.
Before you apply for a VA driving license, you must have successfully completed a DMV approved driver's education course, or held a VA learner's permit for 60 days or longer. You may or may not be required to show proof for the same.
The documents you'll need to submit are:
1 document proving identification (Out-of-state driver's license, U.S. passport etc.)
1 document proving legal presence in the U.S. (U.S. passport, permanent resident card, U.S. citizenship certificate etc.)
2 documents proving Virginia residency (recent utility bill, mortgage statement etc.)
Social Security Number if you have one.
In order to obtain a new license, you will have to:
Pass a vision exam.
Show your valid driver's license.
Take a knowledge exam or the road skills test if required. These are mostly waived and not a compulsion unless a special situation requires otherwise.
Submit a completed Driver's License and Identification Card Application (Form DL 1P).
Submit all the required documents for proof as listed above.
A license costs $4 per year, and your license will be valid for 8 years. Thus, you will have to pay a $32 fee ($4 per year for 8 years). In rare circumstances, you may be issued a license for 5 years at $4 per year.
Do note: You only have 30 days to obtain a Virginia license if you are a holder of a commercial driver's license (CDL).
See also: Moving to Virginia – Relocation Tips
Registering Your Vehicle In Virginia
In all the hassle for your driving license, don't forget about your vehicle! You'll need to register your out-of-state vehicle with the DMV in order to be able to drive it around. Unlike the duration to obtain your license, you only have 30 days to do this. Prior to registering your vehicle in Virginia, you will need to secure an in-state insurance policy (a Virginia insurance policy) and verify your VIN (Vehicle Identification Number).
Documents you'll need to submit to register your vehicle to Virginia are:
Proof of vehicle ownership
Proof of identity
Proof of residency
Inspection certificate
Proof of in-state insurance
You will have to pay a fee to register your vehicles: it is $40.75 for standard vehicles and $45.75 for heavier vehicles like pickup trucks. Every vehicle will have to undergo a safety inspection, as well as emission tests for certain counties. When at the DMV, make sure you register and title your car as well, for which you will have to pay a $15 title fee. Both these processes generally get done at once, saving you an additional trip to the DMV.
Getting A Virginia Driving License When Moving Within Virginia
If you're moving home but are still within Virginia, you don't need a new driver's license. However, you'll still need a change of address on your license, and you have 30 days to get this done. There are four ways by which you can sort out your Virginia DMV change of address in this case:
Online: The DMV has an online system that helps with address changes. All you have to do is fill up a form. You'll need details like your social security number and your current Virginia driver's license number.
Over the phone: Simply dial (804) 497-7100 to reach the DMV.
In person: You can visit your nearest DMV office to fill out a physical form. Try to make an appointment beforehand to skip the queues.
Via mail: Download and print out an Address Change Request (Form ISD 01), fill it up and mail it to VA DVM at Virginia Department of Motor Vehicles, P.O. Box 27412, Richmond, VA 23269.
You will have to order a duplicate if you want an updated driver's license or ID card with your new address printed on it. You will have to pay a nominal fee for this, but updating your Virginia address with the DMV is free.
Updating Your Vehicle Registration
Updating your vehicle registration is something you'll need to do alongside applying for an Virginia DMV address change, even if your move is within the state. This ensures it is registered against the right address. You will have to provide the Virginia DMV with details such as:
Your full name.
Customer number (found on your VA driver's license).
Vehicle's title certificate number.
Last 4 digits of your vehicle identification number (VIN).
Your move may be intra-state, but inter-county i.e. you've moved into a different county of Virginia. If this is the case, you'll need to change your license plate decals. Surrender your old license plate decal to the office of the Commissioner of Revenue in your previous county. Make sure you do this before you move, as having to go back will cost you half or one full day's worth of time. Once the VA DMV updates your new residential address, you need to contact your local Commissioner of Revenue to be provided with a replacement decal.
Things To Keep In Mind When Moving Out Of Virginia
You don't have to bother much if you're moving out of Virginia without a registered car. However, vehicle owners who will be taking their vehicles with them need to inform the VA DMV. Not doing so means you can still be charged property taxes in Virginia. Simply contact the Commissioner of Revenue, or the Director of Finance of your locality. You will need your VIN number and title number. You will also get new license plates in your new state, so return your Virginia license plates via mail. Mail them to the Virginia Department of Motor Vehicles, P.O. Box 27412, Richmond, VA 23269.
---
Conclusion
A move is always daunting, mainly because there's so much to take care of. Make sure you have other details like proper packing material in place. Draft out a moving timeline to be as organised as possible, and make sure getting your Virginia DMV change of address is slotted for the first few days after you move. Lastly, it's things like being prepared with this information and having the right kinds of movers that makes moving manageable. Whether from out of Virginia, within the state or from Virginia, we can help you get the best movers for your move. Just contact us to know more.