Tennessee DMV Change of Address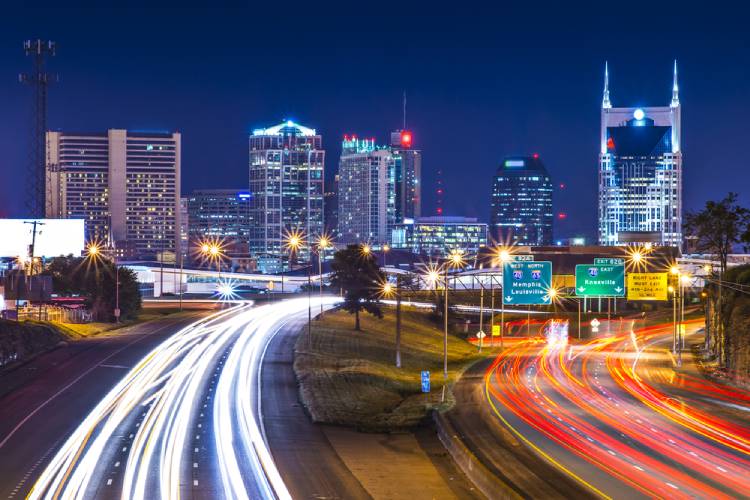 Tennessee and Missouri are the only two US states to share their borders with 8 other states. This inspires residents to take up more road trips to neighboring regions like Georgia, Virginia, Alabama and more. In addition to that, Tennessee also has its own music highway. If you're considering moving here, there's a high chance you'll be cranking up some classics on roads where you'll discover all about blues and country music.
However, before you count on the company of your four-wheeler for adventurous road trips, errands, and commuting to work, you would need to make a mandatory trip to the DMV. In this blog, we'll take you over the procedures so you're not spending more time than required when you visit the DMV.
Read on to learn more about Tennessee DMV change of address and how to go about it.
Who Should You Get In Touch With For A DMV Change Of Address In Tennessee?
The Tennessee Department of Safety & Homeland Security (TDOSHS) is the core organization that registers reports of change of address for new residents of Tennessee. Among the various departments under TDOSHS, the 'Driver Services Division' is responsible for changing the address of out-of-state licenses. Unfortunately, there is no online portal in place where you could report your address change from home. You would need to personally visit any of the 'Driver Service Centers' spread out throughout the state. To find the location of a Driver Service Center closest to you, we recommend filtering out the offices by city or county on the TDOSHS website.
Like most states in the US, you would have 30 days to update your address at any 'full-service' driver service center about your change of address. Not all driver service centers would be able to help you with this particular request, so ensure you visit a full-service center. Remember to set aside some time from unpacking and other tasks, so that you can legally cruise with your vehicle on the roads of Tennessee.
Why To Update Your Tennessee DMV Change Of Address?
Your driver's license is a universally accepted form of identification. If you have the wrong address on your license, it defeats the purpose of identifying that it belongs to you. Even simple things like picking up a parcel might get difficult, as you won't be able to use your driver's license as a valid form of identification. It is also necessary that all formal correspondence from the Driver Services Centers in Tennessee reaches you straight away, instead of travelling to your old address. In addition to that, it is also illegal to carry an invalid driver's license. If anything, you run the risk of getting a fine for not notifying the driver service division at TDOSHS.
Getting A Tennessee Driving License When Moving From Another State
New residents are required to notify any full-service 'driver service center' closest to their residential home within 30 days of moving into the state of Tennessee. Overall, there are 3 phases to the process:
Phase 01 – This involves presenting a set of documents and having them verified by a staff member at a full-service 'driver service center'.
Remember that when it comes to verifying your documents, it is absolutely necessary to visit the center in person, mainly because you're presenting all of your original documents. We also suggest finding the center closest to your home and confirming with the center if they would be able to help you with address change. Also, keep in mind that you cannot carry an e-copy or photocopy, but ensure you have a hard copy of all the documents required.
The various documentation and information needed for applying a new driver's license are:
A proof of US citizenship
2 proofs of Tennessee residency
Present your social security card or W-2 form
Completed application for a Tennessee Driver License (available at a full-service driver service center)
Note – You don't have to be worried about not having the same name reflect on all the documents you're presenting to the service center. But ensure that you've carried some additional documents to support the reason for simple things like an addition of a suffix or a middle name. You may need to carry marriage certificates, divorce decrees or any court sanctioned files, in cases where you have to justify the reason for having different names on two documents.
Phase 02 – Surrender your out-of-state license (since it's no longer valid).
Phase 03 – Fulfill the testing requirements.
All new residents are required to take a vision screening test post the verification process. But if your former state license has been expired for more than six months, you must take the Tennessee knowledge exam, road skills test, and vision screening.
Processing fees – The non-commercial license would cost $26 (valid for 8 years) and the application fee for the form is for $2. Do note that the costs of the license varies, depending on the license class you select and number of duplicates you requested.
See also: Moving to Tennessee – Relocation Guide
Registering Your Vehicle To Tennessee
Once you have established residency in Tennessee, you would also be required to send out an application for title and registration of your vehicle. This must be completed within 30 days of establishing residency in Tennessee at full-service driver service center.
To get your vehicle registered, you would need to carry along the following documents:
Documents that serve as proof of identification
Proof of residency in Tennessee
An emission certificate
Your former state registration
Your current vehicle title or the name and address of the lienholder
Processing fees – The fees for registering a personal non-commercial vehicle is $21.50. However, these fees are subject to change depending on the county you're residing in and the build of your vehicle. The fees for the mandatory emission test would be $9.
Getting A Tennessee Driving License When Moving Within Tennessee
If you're moving homes within the state itself, you are still required to inform the 'Tennessee Department of Safety & Homeland Security' about your new address. You would have only 10 days in hand to complete the process. The law doesn't require you to change the address on your license, but it is necessary that the TDOSHS has registered this change in their files.
You can notify the TDOSHS in 3 ways:
1. Change your driver's license address through e-services
This is the help yourself online approach where you can easily follow the prompts on the e-services portal. Once you've filled out the form available online, your request will be submitted to the TDOSHS.
2. By Mail
If you wish to send out the form via mail, you would first need to pick up a change of address form at any driver service center. Since there are no forms available online, you can then fill out the form and drop it in the mail.
Who To Mail The Form And Where?
Mail the form to:
TN DEPT OF SAFETY AND HOMELAND SECURITY
ATTN: RECORDS
1150 Foster Avenue
Nashville, TN 37243
3. In person at a nearby DMV office
Lastly, you can also fill out the same form for address change physically at a driver service center too. This is a great option if you don't like dealing with the hassle of administrative processes online. When you visit the office, you would need to carry documents that serve as proof of your new residential address.
Note – There is no application fee to pay if you just wish to report to the TDOSHS that you've changed your address. However, if you want to order a new license altogether, a $15 charge would be applied.
Things To Keep In Mind When Moving Out Of Tennessee
If you're moving out of the state, you would need to research the rules and regulations about applying for a new license in your future state home. You can choose to return your old license plates via mail to a driver services center once you purchase new ones. You don't necessarily have to stay in touch with any service providers in Tennessee, other than requesting them to deactivate your old plates, once you receive your new registration.
---
Conclusion
Things can be pretty hectic when you move into a new state. You may have to deal with starting a new job, enrolling kids into a new school, unpacking and more. It may seem like a challenge to chalk out time to complete the processes at a driver service center. But in the end, remember that even a single productive visit ends up saving you from running into longer processes, when the address on your vehicle registration papers and driver's license don't match. It'all about planning and being efficient to make the tedious tasks easier on you.