Rhode Island DMV Change of Address


VanLines Inc
Secure Storage
Easy Booking Process
Fully Trained Employees
GET QUOTE

Colonial Van Lines
Storage Services
Long-Distance Moves
Corporate Relocations
GET QUOTE

Moving APT
Available Nationwide
Award-Winning Movers
Extensive Vetting Process
GET QUOTE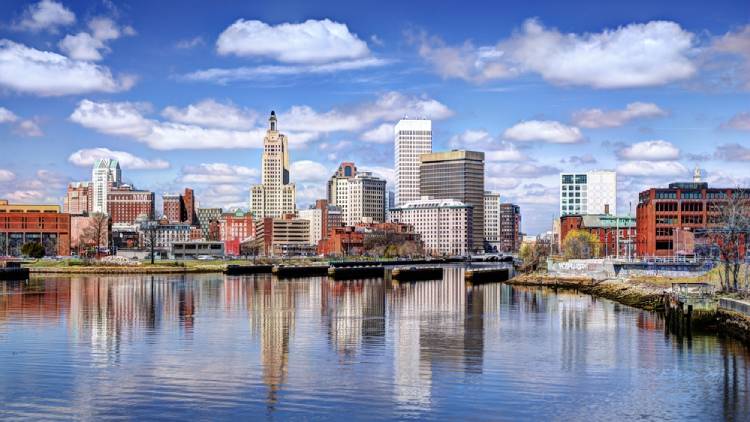 Rhode Island is the smallest state in the nation and its incredibly compact size makes driving here a breeze. If you hop into a car, you can easily cover the state in the north-south direction in less than an hour! While it's just 35 minutes if you drive from the extreme east to west. This makes it easy to work your way through coastal towns, historic sites, the countryside and more with great ease. Overall, you get to enjoy the fact that everything can truly be within arm's reach.
However, before you take the wheel, you would need to complete a few obligations so that you're legally allowed to drive in the state. Getting your vehicle inspected and registered, ordering Rhode Island plates, transferring the title, and your driver's license are few of the tasks that you would need to complete post your move.
Read on to learn more about Rhode Island DMV change of address and how to go about it.
Who Should You Get In Touch With For A DMV Change Of Address in RI?
You would need to contact the 'State of Rhode Island – Division of Motor Vehicles' in order to get the address changed on your driver's license. The DMV has a good number of branches spread out throughout the state. But we'd like to mention that each branch caters to different requests. The department has divisions for road test sites, emissions garages and AAA offices. The services at an AAA office in particular are limited and specific. Therefore, we'd recommend visiting a DMV branch office at Cranston, Middleton, Wakefield, Warren, Westerly and Woonsocket for out-of-state transfers.
Keep in mind that you would need to notify the department within 30 days of establishing residency in the state of Rhode Island. If you fail to convert your license, you would face a hefty fine. So that's precisely the reason why we recommend setting some time aside from your daily schedule to visit a DMV located in close proximity to you. Goes without saying, time is of the essence here, so chop chop!
Why To Update Your RI DMV Change Of Address?
Every state in the country requires all new residents to update the address on their driver's license. This is mainly because each DMV maintains a database of residents so that they can easily locate you. Once you record your address with the DMV, any mail correspondence, fines or registration notices will reach your new residential address. On the other hand, your license is also a form of personal identification. If you have the wrong address on it, you are liable for a penalty charge. To safeguard yourself from such penalties and charges, it is absolutely necessary to notify the DMV after you move.
Getting A Rhode Island Driving License When Moving From Another State
To convert your out-of-state license to the state of Rhode Island, you would need to visit a DMV office in close proximity to your home. Unfortunately, there is no online process that records your request, hence you would have to physically visit the DMV branch. However, to save time, we suggest filling out the application for a license (Also, known as Form LI -1) from the comfort of your home. Do note that you can opt for a Real ID instead of the standard one while applying for the license. The upgraded Real ID can be used as a form of identity while boarding flights from October 2021.
Apart from filling the application at home, we've compiled a list of everything you need to carry along with you, before you visit the DMV. This would save you from making a second trip for documents.
The various documentation and information needed for applying a new driver's license are:
Proof of identity by presenting 1 of the following –
A valid and unexpired U.S Passport
A certified copy of your birth certificate
A certificate of naturalization
Or a certificate of citizenship
Proof of Rhode Island residency by presenting 2 of the following –
A lease agreement
Utility bill (could be your gas, water, electricity, cable or sewer bill) with your name and address reflected on it
A property tax bill
Or an insurance policy
Proof of social security number by presenting one of the following –
Your official social security card
W-2 form
A pay stub issued within the last 5 years and must contain your name and SSN
Carry your out-of-state license to surrender it at the time of the applying for a new one
Submit the completed and signed application for license, identification card and permit (Also known as Form LI -1)
For a successful verification process, we would suggest you to avoid carrying photocopies or e-copies of any of the documents listed above. You would possibly also need to carry additional documents to support areas where your name has been changed. Marriage certificates, divorce decree, adoption papers, or any court sanctioned orders are examples of supporting documents to explain the reason for an additional suffix, last name or middle name.
Processing fees – The fee for a non-commercial license is $39.50. You can pay the fee via cash, money orders, bank checks, and credit card. The branch accepts MasterCard, Discover, Visa and American Express. Keep in mind that the fees could vary depending on whether you requested for a Real ID and the length of validity you are going for.
See also: Moving to RI
Registering Your Vehicle To Rhode Island
Within 30 days of moving to Rhode Island, you would need to transfer your registration and obtain a new title for your vehicle. In addition to that, you are even expected to acquire insurance in the state of Rhode Island itself. Before you register your car, you would need to fill out the application for registration and title certificate (Also known as TR-1).
Here is a list of other documents you need to carry and information you need to get your vehicle registered:
Carry the original title to prove ownership or power of attorney if the vehicle is leased.
Present valid Rhode Island insurance policy.
Provide proof of residency by presenting a utility bill, lease agreement or an insurance policy for your home.
You also need to complete the tax exemption certificate (this certificate is available for download on the website).
Also, fill out the sales tax exemption affidavit form (the form is available for download online).
Carry your new Rhode Island's driver license.
And ensure you get a vehicle identification number (VIN) check from a local police department.
Lastly, remember that post the registration, you would need to have your vehicle inspected within 5 days.
Processing fees – When it comes to registering your vehicle, cost would vary depending on the vehicle weight and type of service you requested. There are separate costs to factor in such as inspection fees, license plates and transfer of title fees. You can get a rough estimate from this fee chart.
Getting A Rhode Island Driving License When Moving Within Rhode Island
If you're going to be moving homes within the state of Rhode Island itself, you would have 10 days to notify the DMV about your new residential address. There are 3 ways by which you can update your address:
Notify the DMV about your address change online
If you prefer the online approach to things, you can visit the portal online to update your new residential address to the DMV. Do keep your state ID, permit or license number handy. You can then follow the prompts on the form and the DMV will automatically receive your request.
By Mail
If you prefer notifying the DMV via mail, you would first need to download the change of address form. Once you've printed out the application and filled it out, you can drop it in the mail.
Who To Mail The Form And Where?
STATE OF RHODE ISLAND DIVISION OF MOTOR VEHICLES
600 New London Avenue,
Cranston, RI 02920-3024
In person
Lastly, if you don't like the hassle of online administrative processes, you can visit a DMV branch in person. You would have to physically fill out the address change form and submit it at the office itself.
Processing fees – There is no fee to notify the branch about your new residential address. However, if you wish to receive new documentation or a license, fees would be applied depending on the request you make.
Things To Keep In Mind When Moving Out Of Rhode Island
The state of Rhode Island requires you to cancel your license plates before leaving the state. You can choose to cancel the plates online and then dispose them off at an AAA branch office. If you wish to mail the cancelled plates, you can send them to the same mailing address mentioned above. Other than returning the plates, you don't have to notify the DMV about your move. However, you would need to begin research about the procedures to be followed at the DMV of your prospective state. We have similar guides for other states and you can refer to those for more information.
---
Conclusion
It's true that once you move houses, there can be a load of paperwork flooding your way. But with a little bit of planning, it can be easy to tackle administrative tasks like your DMV visit with ease. Overall, being prepared in advance could help you cherish the freedom of driving around legally in the tiny little state of Rhode Island.