New York DMV Change of Address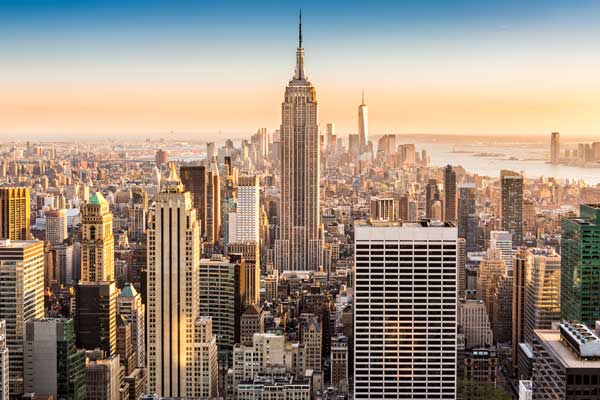 Being called a New Yorker is a dream for millions. It's not just the thrill of living in a 24-hour city but the morale of the people of New York that draw more people towards it. The state is also recognised for possessing a transportation system which is one of the best in the nation. If you randomly happen to ask people on the streets about getting around in the state, they are most likely going to recommend you take public transportation.
The state not only has a great subway system, but is also an incredibly walkable city. It's true that to an extent, you can possibly get around without your car. However, this entirely depends on the area you live in. For some, driving is the preferred method and at times the only option. If you fall in this category and want to learn more about the administrative process to get your car into the state, we've got you covered.
Read on to learn more about New York DMV change of address and how to go about it.
Who Should You Get In Touch With For A DMV Change Of Address In New York?
To change your address on your driver's license, you would have to get in touch with the New York Department of Motor Vehicles. For your convenience, all the forms that you have to submit in person are available online. Although, you would need to still visit the DMV in person to deliver them, you can save some time by printing and filling the forms out from the comfort of your home.
Do note that you have to ensure that you're completing the process and exchanging your out-of-state driver's license within 30 days of moving to New York. We will go over the process of what you would need to do at the DMV in detail below. If you forget or delay the task of informing the DMV within 30 days, you could face penalties and charges. Hence, we'd recommend that you chalk out some time to complete this task post your move.
Why To Update Your New York DMV Change Of Address?
Honestly speaking, this is a method of notifying the DMV that you have obtained your license from the state and can now legally operate your vehicle in New York. Once the DMV is alerted, they would also be able to direct any parking ticket or fine to your current residential address. If you don't update your address, anything that has to reach you would ultimately travel to your old address. This could just confuse the people who now live in your old house. A driver's license is also a universally accepted form of personal identification. By not updating the address on it, you run the risk of carrying a license with an invalid address.
Getting A New York Driving License When Moving From Another State
You have to visit a DMV office nearest to you to request for a New York driver's license. Before you arrange for the documents you must carry with you, we'd recommend making an in-person appointment online. Especially if you're visiting DMV offices in New York (Manhattan), Westchester, Nassau, Suffolk, Rockland, or Onondaga Counties. The in-person appointment could save you time, but it ultimately depends on how well prepared you are with the documents. Keep in mind that the documents you carry have to meet a 6-point proof of name requirement. The checklist on the website online will prompt you to understand if you meet the requirement. However, below is a gist of the categories of documentation you need to carry.
For the verification process for a 'Standard' New York license or permit, you must provide the office with the following documents:
Proof of your social security status – You can carry your social security card itself or write the nine-digit number on the MV-44 application.
Proof of date of birth – You can submit your Birth Certificate issued by a state or local government in the United States, your United States passport or a Certificate of Naturalization or Citizenship (N-550, N-560, N-561, and N-570).
Proof that you are a New York resident – A property Deed, residential lease (if issued within 1 year), Utility Bill (e.g. phone or electricity) (again if issued within 1 year), New York State Certificate of Title or a Pay Stub could verify that you are a New York resident.
Your valid out-of-state license can be valid if expired for less than 24 months.
The filled out application for Permit, Driver License, or Non-Driver ID Card. Also, known as (MV-44) and is available online
Do note that your documents must be original and unexpired. The DMV also wouldn't accept an e-bill or a photocopy. So make sure you have a hard copy of your documents and that you've passed the 6-point requirement online. Depending on the documents you select on the checklist online, your points would increase. This is to ensure that individuals are carrying as many proof documents to the DMV.
Also, remember that it's okay if your names don't match on every document. Just make sure you have an additional document to prove the name change. For instance, you can carry your marriage certificate, divorce decree or any other court-issued document to explain the reason behind a middle name or new last name.
See also: Moving to NYC – Relocation Tips
What happens at the DMV?
Once you've shown your documents for verification, submitted the application form and surrendered your license, you have to pass a vision test at the DMV itself. Or you can bring a completed Eye Test Report (MV-619). You will then get a temporary non-photo license document. Within 2 weeks your new license would then arrive in the mail.
Processing Fees – The fee for a standard driver's license is $65 and your New York license will be valid for 5 years.
Important Note – The driver's license fee is $75 for residents from Bronx, Kings (Brooklyn), New York (Manhattan), Queens, Richmond (Staten Island), Dutchess, Nassau, Orange, Putnam, Rockland, Suffolk, and Westchester counties. This is because residents from these counties have to bear the Metropolitan Commuter Transportation District (MCTD) $10 fee.
Registering Your Vehicle To New York
Once you establish residency in New York and get your vehicle along with you into the state, it is necessary to register your vehicle within 30 days of moving.
To register your vehicle, you have to carry the following documents to the DMV office nearest to your home:
1. The completed vehicle registration/Title application, also known as form MV-82.
2. Bring the original vehicle title or any document proving ownership of the vehicle.
3. Proof of New York state automobile liability insurance.
4. Proof of identification along with a New York residential address on it.
5. Proof that sales tax was paid.
Fill out the step-by-step checklist guideline online to ensure you're carrying sufficient documents for proof of identification. Before you submit your documents, make sure you have kept a copy of the same for your records. All vehicles that get registered at the DMV also have to get the safety of the vehicle inspected at the DMV licensed inspection station.
Once your registration request has been processed you would receive the following within 1-2 weeks:
Your registration documents
Vehicle plates
And a 10 day inspection extension sticker
Your Title certificate (Note – This document would reach you within 90 days)
Processing fees – The fees would vary depending on the vehicle type and weight. Fees usually include the sales tax that's determined by the locality and sale price. Other factors that affect the fees are the vehicle plates (approx $25) and Title certificate fee (approx $50).
Getting A New York Driving License When Moving Within New York
If you change your place of residence within the state of New York, you must update your address on your driver's license within 10 days. The good news is that there are 3 easy ways to complete this process.
1. Change your driver's license address online
This is to help yourself with an online approach, where you can easily fill out the form available on the official website to change the address from the comfort of your home. You would need to create a 'MyDMV account' and follow the steps to submit your request.
2. By Mail
If you wish to send out the form via mail, you would first need to download and print the Change of Address form (MV-232). You can then fill out the form and drop it in the mail.
Who To Mail The Form And Where?
Mail the form to:
NYS DMV License Production Bureau
PO Box 2895
Albany, NY 12220-0895
3. In person at a nearby DMV office
Lastly, you can also fill out the same form you filled online physically at an office too. This is a great option if you don't like dealing with administrative processes online. When you visit the office, you would need to carry documents as proof for your new residential address.
Processing Fees: There is no application fee to pay if you just wish to report to the DMV that you've changed your address. It is suggested that you can write your new address carefully on the back of your driver license, non-driver ID card, or learner permit, and on the front of the registration document. Keep in mind that you cannot write your new address on a title certificate. However, if you wish to order a new documentation a $17 charge would be applied.
Things To Keep In Mind When Moving Out Of New York
While moving out of the state of New York, you can choose to surrender your New York State vehicle plates to the New York DMV. To do this, you must complete filling out the Plate Surrender Application (Also known as PD-7). You can either mail this to the DMV or visit the nearest one in your county to submit the plates. Do note that there isn't any fee to submit your license plates. Once you move into the new state, you can research the procedures in place by the respective state DMV, since regulations change from state to state.
See also: Best Moving Companies in New York City | Largest Cities in the New York
---
Conclusion
The DMV of New York has a good number of forms and processes available online. We highly recommend making use of the tools like the 'checklist' option to ensure you're carrying the right documents with you. Also, by printing and completing the forms that are already available online, you can save yourself the trouble of spending more time at the DMV. With a little bit of prep work at home, you can successfully handle everything that comes your way at the New York DMV office.