8 Most Eco-friendly Cities in the US
Like migratory birds, humans too keep moving cities. They have their reasons: education, jobs, healthcare, and the list goes on. Not long ago, urban planners realized the harm this causes to the cities. When the population of cities shoots up, so do their carbon emissions and waste. But before we get all preachy about the harm it does to our environment, let's understand the difference between eco-friendliness and sustainability.
Sustainability is more of an umbrella term and considers more than a city's pollution metrics. Whereas eco-friendliness just looks at a city's carbon emissions, energy use, and pollution. Going to shop for eco-friendly products in a car nullifies the effect. If you have recently realized the effects of your urban lifestyle, you may want to move to an eco-friendly city. Maybe we can help, here's a list of the most eco-friendly cities in the US that can help you decide better.
List of most-eco-friendly cities in America:
1. San Francisco, California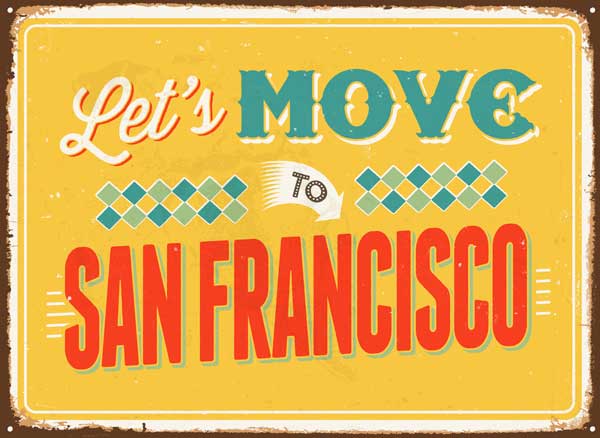 Proper disposal of waste, eco-friendly buildings, and air quality make San Francisco a brilliant example of eco-friendliness. This isn't limited to residential or commercial buildings alone; more than 1,000 hotels in San Francisco are eco-friendly. The people of San Francisco send zero waste to the landfill, now don't give us raised eyebrows. It is indeed possible to have zero waste when you recycle and compost your waste. They have a law in place that ensures residents separate their recyclable materials, compostable materials, and landfilled trash.
Enough about the waste, let's talk of carbon emissions. San Francisco has reduced its greenhouse gas emissions by 36%. Their economy walks hand-in-hand with their climate goals. Residents too actively support the cause. On some city roads, you will see more bikes than cars. If you don't own a bike, there are public transport options like trolley buses that take you to work.
Urban farming is encouraged in the city. You will see rooftop gardens almost anywhere you go. Wondering why people are so much into converting their spaces into small farms? A 2014 law gives people tax breaks if they farm on their empty plots. Smooth move, right? In addition to that, there are 220 city parks, playgrounds, and open spaces in San Francisco.
Living in San Francisco
People of this city are liberal and mindful about their environmental impact. Communities come together for social issues. You will find yourself falling in line with the city's habits. Every time you use recycled water, or the 100% clean electricity that is supplied to your home, you'll feel closer to a better environment.
2. Portland, Oregon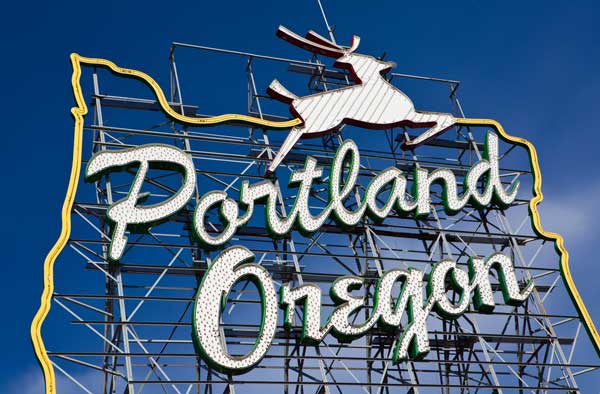 Call it a hippie's paradise or an environmentalist's dream come true, Portland never fails to impress. You can say that people are almost obsessed with using bikes here, and it rightfully stands as the Number 1 bike-friendly city in the US. More than 5,000 Portlanders hop on bikes every day to commute to work. When people are not traveling by bike, they are carpooling or using public transport. The culture in Portland supports thrift stores, small businesses, and vegetarian food trucks. That's just about the people being eco-friendly. The city administration shares the same views as well.
Half of Portland's power comes from renewable sources and has 35 buildings certified by the US Green Building Council. The city's dependence on fossil fuels is decreasing day by day. Residents actively shop at farmers' markets, go hiking along the endless trails and keep an eye on their waste. You'll be amazed that apart from the government and people, real estate developers too showcase this cause in their projects.
Portland's natural beauty and its green spaces make a significant contribution to the environment. Unlike other cities, Portland actually has space for wilderness, which is possible because of the magnanimous 5,000-acre Forest Park.
Living in Portland
As you settle in life in Portland, you'll start seeing the difference it makes to your outlook. You'll soon quit that car, start buying greens from the farmer's market and find yourself choosing hiking in the forests over clubbing. The lifestyle in Portland not only helps you make eco-friendly choices but also helps save the money you spend on energy.
3. Honolulu, Hawaii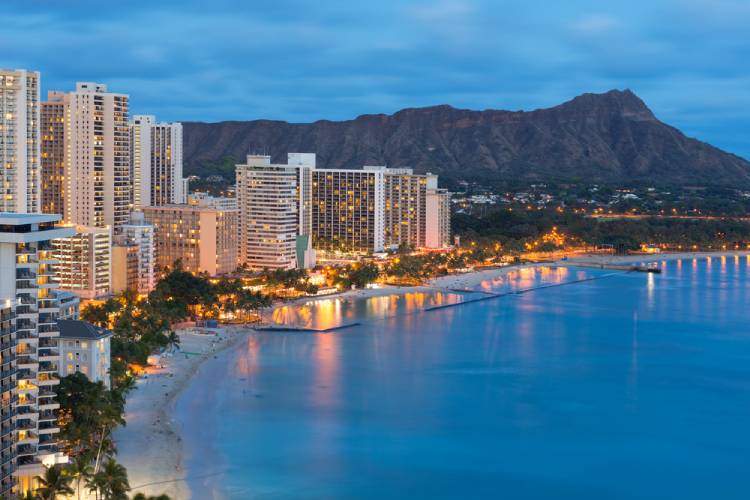 Conservation is on every citizen's mind in Honolulu. Rather than crediting Honolulu's eco-friendliness to its widespread green spaces, let's credit it to the city's eco-conscious activities. There are recycling centers where people are supposed to bring their waste. Since there is no garbage pick-up service in Honolulu, people are pushed to divide their waste into recyclable and green waste.
A drive around Honolulu and you'll see active use of solar panels. This is given to the high cost of electricity. Such advocacy for solar energy has earned Honolulu 3rd place in the country in terms of solar PV capacity. Apart from residents, tourists are expected to follow eco-friendly practices while on their holiday. You'll see enthusiasm for eco-tours, eco-hotels, and green businesses wherever you go.
People of Honolulu make the most out of the resources they have. Some locals grow their own food, you'll see fruits and vegetables growing even in small patches of land. The topography and vegetation around Honolulu ensure it gets a lot of rain. Residents know well how to make use of it since there is active harvesting of rainwater throughout Honolulu.
Living in Honolulu
Even though it's a city, you'll mostly be self-sufficient in Honolulu. There is a culture to share the fruits and vegetables from your garden with your friends and neighbors. If that sounds boring to you, the Honolulu night market will stir your interest. It is a mix of food trucks, locally handmade clothing, and traditional dance performances. Because of such warm community bonding coupled with active eco-friendly choices, you'll see yourself leading a healthy lifestyle.
4. San Diego, California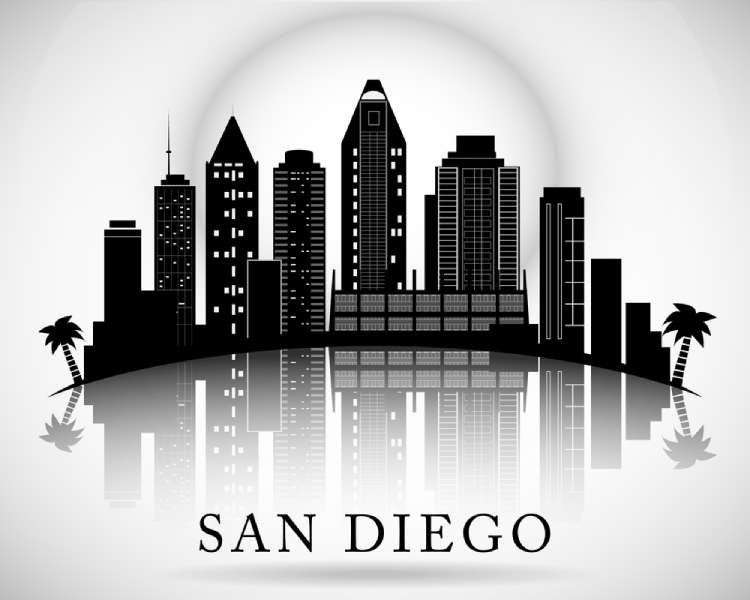 One of the greenest cities of California, San Diego has endless farmlands and pastures. Promotion of coastal eco-culture ensures active eco-tourism. That's one part of San Diego, looking at the urban part of it, the government has encouraged public transportation through frequent trolley, coaster, and bus services. The famous Balboa Park is a hub of eco-centric activities. It is the first historic landmark to be awarded the LEED (Leadership in Energy and Environmental Design) sustainability honor.
Following its footsteps, San Diego's International Airport has started projects towards sustainability. Very soon, the airport will earn Silver LEED status. LEED provides a framework for cost-effective green buildings and is a green building rating system in the world.
Often capitalism pays no heed to climate change, but companies in San Diego invest in researching green technologies. Major industries in the city have invested in solar turbines, EDF renewables, and more such sustainable technologies.
Living In San Diego
Moving to San Diego with children is going to make a greener impact on their minds. Centers like the Birch Aquarium and National History Museum make sure that the younger generation leans towards eco-friendliness right from the start. You can enjoy yourself without any guilt as all recreational activities adopt eco-friendly practices.
5. Austin, Texas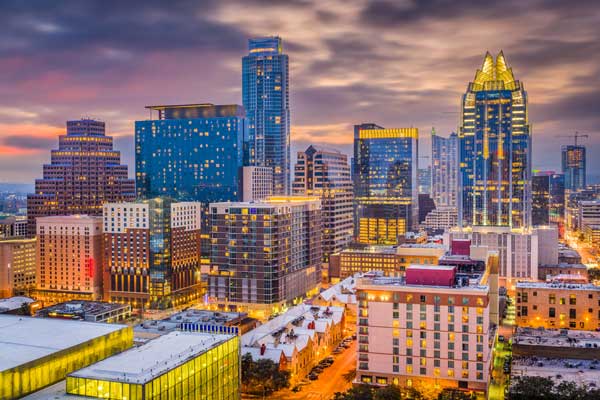 Bike lanes and farmer markets are not the only things that make Austin an eco-friendly city. The citizens of this city are quite woke about environmental justice. Efforts in the direction of eco-friendly behavior are often made by NGOs and local governments. Developers and architects constantly work towards sustainable technologies in new buildings.
Austin is one of the most desirable cities for young families and millennials. The presence of millennials has caused a revolution in the city, spreading environmental consciousness to all its citizens. Many new renters and homeowners moving to Austin are demanding climate-friendly housing.
The public buildings in Austin are backed by renewable energy. Such renewable energy sources are spreading citywide, with 35% of Austin already using renewable technology. From investing in research to develop eco-friendly processes to storing energy in hydroelectric reservoirs, the government is on track with its eco-centric goals. Even the ambulances in the city have solar panels on the roofs, so the EMT's medical equipment is solar-powered.
Living In Austin
Everything you do in this city is going to feel like a step towards a better climate. When you throw out waste in Austin, it comes back to you in the form of biogas as the food waste and household waste are diverted to anaerobic digesters which generate biogas. Chances are the new apartment you moved to is built with LEED green building standards. Moving to Austin means you'll unconsciously contribute to a greener cause.
6. New York City, New York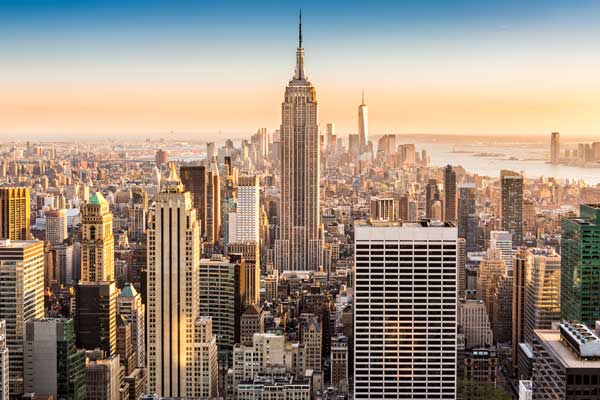 Always at the forefront of large environmental initiatives, New York City has reduced its greenhouse gas emissions over the years. There are several interesting initiatives that the city has sent rolling. Like the NYC Carbon Challenge, which has reached universities, hotels, and government offices. The challenge advocates a zero-waste program, which aims at fighting climate change by sending zero waste to landfills.
NYC has seen a boom in green jobs in sectors of water conservation, environmental remediation, sustainability, and energy auditors. The GreeNYC program aims to educate and raise awareness on sustainability. The government believes that actions at the grassroots level will fulfill the environmental goals. There are laws in place to enforce energy efficiency throughout the city.
All this awareness has made New Yorkers aware of their actions at home, at work, and even while on the go. Eco-friendly activities keep New Yorkers excited about their weekends. If you don't want to take a Central Park Pedicab tour, you can just rent a CitiBike and explore the lanes of Manhattan or Brooklyn.
Living in New York City
If you are wondering where to move to in New York City, use the energy and water performance map. It tells you where each building stands in comparison to other buildings in energy and water management. This map will help you gauge whether the place you are planning to rent or buy has an impact on climate change. No, NYC won't suffocate you with its eco-friendly practices. Rather, it's the opposite, there are tons of open spaces to breathe in the city's botanical gardens and rooftop farms.
7. New Orleans, Louisiana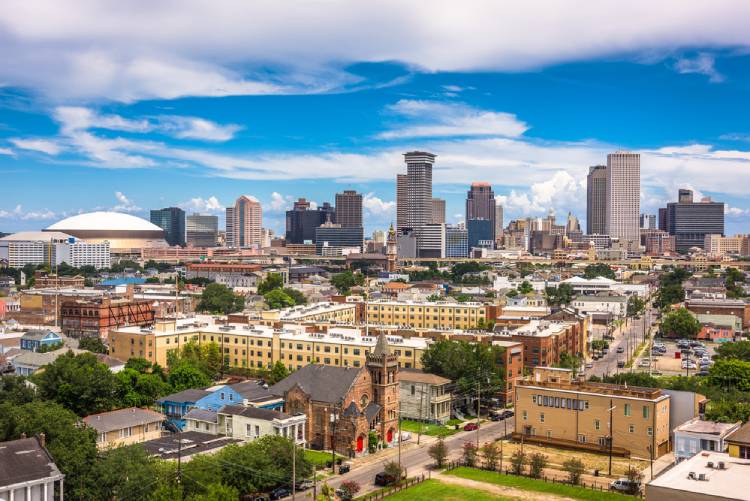 Apart from taxis and buses, you'll see one more transport option in New Orleans. That's streetcars, a great mode of transportation because of the zero greenhouse gas emissions. People often choose walking, bicycling, or pedicabs for commuting to work. A collective effort on part of the administration and citizens has brought down carbon emissions. Real estate developers have even started adopting building designs that adapt to the changing environmental factors.
If you want to learn the right way to make use of natural resources, look towards New Orleans. They have made use of solar power to generate electricity, everything from the streetlights to the heat pumps makes use of solar energy. River turbines are used to generate energy across the city. In addition to effective household waste management, construction materials from the demolished buildings are salvaged for reuse. It's just amazing how nothing really goes to waste in New Orleans.
A green building revolution started in New Orleans after Hurricane Katrina. Constant efforts are on to build back destroyed commercial buildings, homes, and schools in more green and sustainable ways. Architects are using nontoxic substances and ethical materials to construct new buildings.
Living in New Orleans
It's the right time to move to New Orleans, as the city is being rebuilt in greener ways. You can be sure the property you move into will be energy efficient, if not, you can choose from many companies which install such power. You'll be commuting to work in hybrid buses that use greener energy. Opt for eco-friendly activities over the weekends, like fishing or a gondola ride in the 1,300 acres City Park.
Also Read: Move to Louisiana
8. Seattle, Washington State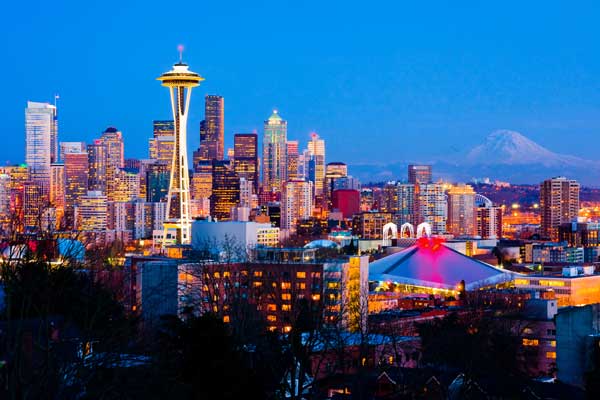 One major aspect of an eco-friendly city is its parks. Green landscapes suck up the carbon emissions from the urban lands. These parks absorb all the stormwater that hits the city, hence are literally the saviors of cities. With the presence of 500 parks, there is no doubt that Seattle is an eco-friendly city.
Activities like bike programs, camps, water conservation measures, sustainable landscaping initiatives encourage citizens towards eco-friendly living. It's the most bikeable and walkable city in the US. You will find people opting to walk rather than taking their car out of the garage. The citizens of Seattle are quite inclined towards using greener alternatives when they commute. Government is at par too, as it has encouraged the construction of green buildings. An example of this is the Bullitt Center, the greenest commercial building in the world.
Seattle's moderate weather ensures less energy consumption for heating and cooling. Most homes in the city don't even have an air conditioner. The abundance of water resources is well utilized through hydroelectricity opportunities. This is the reason why 90% of Seattle's power comes from clean, hydroelectric energy. Residents of this city are fans of recycling, which explains the brilliant waste management.
Living in Seattle
After moving to Seattle, you will be met with wetlands and hiking trails. Spending time in nature teaches children a lot about eco-friendliness. This is why Seattle is the right place to move with a family. Multiple awareness programs like gardening, composting, and greening are going to teach you new ways towards eco-friendly living. It's true that the community you live in affects your lifestyle. We are sure that moving to a neighborhood in Seattle will have you opting for greener alternatives.
There are countless other eco-friendly cities in the US. The funny thing is that every year different publications list different cities in their top eco-friendly cities rankings. We suggest that rather than looking for ratings on which city is the most eco-friendly, choose your convenience and decide accordingly. When you choose an eco-friendly city to move to, you automatically make a conscious choice to fight climate change. Every day you wake up in your new home, you'll know that right from the electricity in your bedroom to the transportation you take to work, is clean and green.
Also See: Moving From Phoenix To Seattle – Expert Tips & Advice
---
FAQs
Is Living In An Eco-friendly City Expensive?
Yes and no. On one hand, eco-friendly transport is going to be expensive but on the other, shopping from farmer's markets is cheaper than supermarkets. When you choose eco-friendly living, you are conscious about buying things from the department store, which saves money. Move into a solar-powered building and your energy costs are going to be low. So it is difficult to state if living in an eco-friendly city is cheaper or expensive, but it sure is worth every buck.
See also: Most Expensive Cities in America
Which Features Make A City More Eco-friendly?
Access to public resources, proper disposal of waste, technologies for reducing CO2 emissions, access to local food, wide-open green spaces, and the use of natural resources to generate energy are all features of an eco-friendly city. Apart from this, the main highlight of an eco-friendly city is its citizens, those citizens who don't rely on their government but adopt eco-friendliness in their daily lives.
See also: Cheap Movers Nearby