10 Most Bike-friendly Cities in the U.S.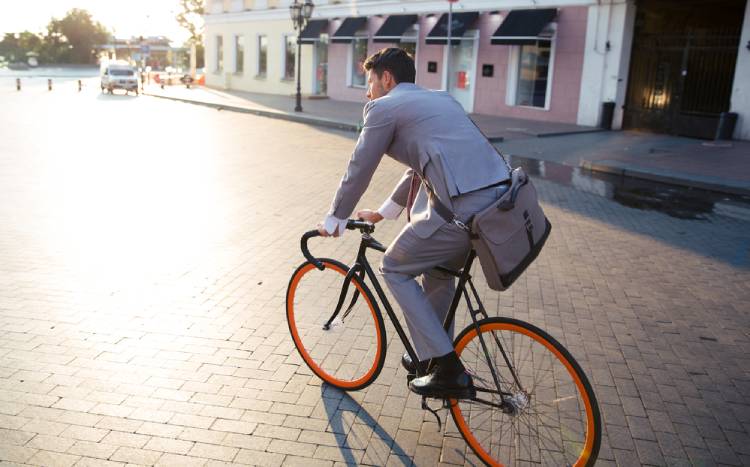 When we think of a paradise for cyclists, cities such as Copenhagen and Amsterdam immediately come to mind. Bicycling is an intricate part of the culture in these cities and there's sufficient amenities to support cycle enthusiasts.
In the US, it can be hard to find cities where cycles drastically outnumber the number of cars seen. Most cities let cars be the dominant vehicle on the road. However, there's a selected few cities that think otherwise and are leading the way for others to follow. So let's look at these top bike-friendly cities in the US that are aspiring towards having versions of what The Netherlands offer cyclists of the world.
Best Bike-friendly Cities in America
What Makes These Cities Bike-Friendly?
Well maintained and protected bicycle lanes.
Assurance of your safety.
Sufficient bike racks.
Easy access to bike share programs.
Attributes like being able to take the bike on trains, waterways and buses.
The political community's positive perspective towards developing infrastructure for cyclists.
1. Portland, Oregon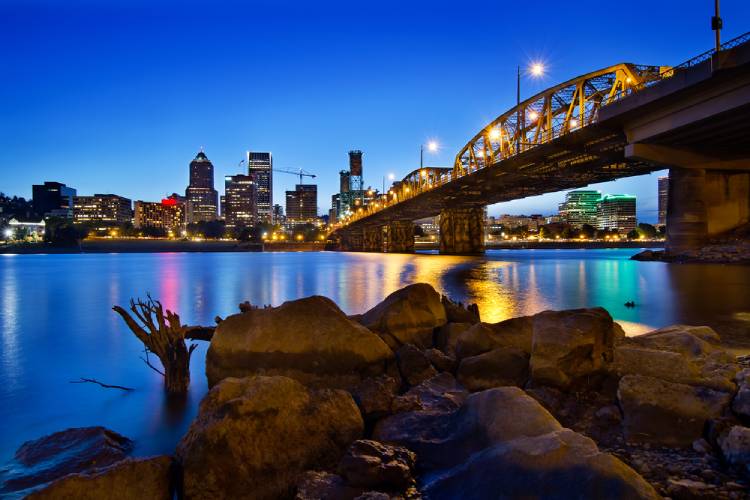 Bike Score – 82/100
The city of Portland has the most extensive network of bike lanes and this is the reason why it takes the premium spot on our list of most bicycle friendly cities in the US. You can practically find bike racks and safe lanes to ride in every nook and crevice of the city. Typically, Portland as a city is quite environmentally conscious so this comes as no surprise that a large number of residents happily ditch their cars for bicycles for their commute.
A quarter of the workforce stands by the belief that walking and cycling are the best way to go. The Portland Bureau of Transportation states that 6.3% of commuters choose the bike over other modes. This is roughly 10 times the national average. The well maintained and innovative projects dedicated to building infrastructure for cyclists makes it easy to navigate your way safely on two wheels in the city.
Portlanders are all about making big efforts to take sustainability into consideration. This is why it frequently gets the tag of being a Green City.
Best Bike Trails in Portland
Kelly Point Park
Eastbank Esplanade
Skyline Boulevard to Sauvie Island
Tryon Creek
Rocky Butte
Best Bike Share Company In Portland
Fun Fact: The city of Portland ranks first in the US for having the highest number of people riding bikes for commuting. This is based on the 2020 City Bike Rankings by PeopleForBikes.
2. Minneapolis, Minnesota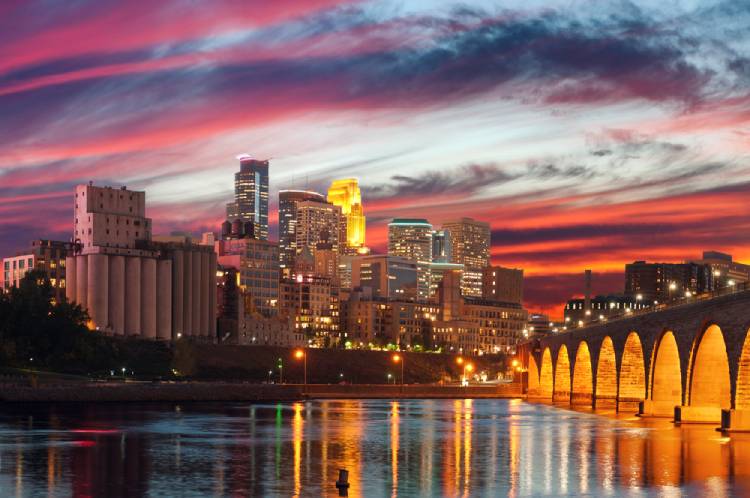 Bike Score – 84/100
With a bike score of 84 on 100, the city of Minneapolis is touted to be among the most bike friendly cities in the US. If you decide to live in the City of Lakes, the thought of getting a bike would most likely cross your mind, since 3.90% of the population choose to commute via their bike even though there's also a good system of buses, light rail and commuter rail.
Overall, the city has 98 miles of designated bike lanes and 101 miles of trails for those who like to cycle for leisure. 16 miles of on street bike paths are protected and maintained as well.
Just a heads up that it can get tricky to commute with your bike in the winter, so you'd have to prepare to invest in the right gear so that you can overcome the hurdles that a harsh winter brings. Other than bicycling, people are drawn to the city for its solid job market.
Best Bike Trails in Minneapolis
The Midtown Greenway
Grand Rounds National Scenic Byway
Paul Bunyan State Trail
Best Bike Share Company In Minneapolis
Fun Fact: The city of Minneapolis is the first American city that made it to the global list of bicycle friendly cities. The city is also in competition with Portland within the US.
3. Seattle, Washington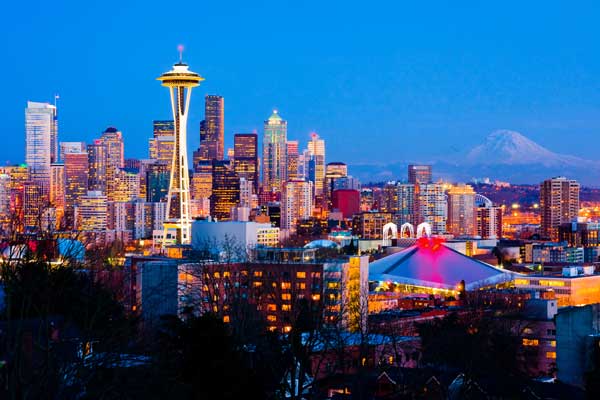 Bike Score – 70/100
The Emerald City of Seattle is a modern and bustling metropolis situated in the state of Washington. It is popularly known for its rainy weather and tech scene, these are the obvious points that make up the profile of the city. But some would even recognize it for the biking culture and how it has grown to become a way of life for many commuters.
Today, the dedicated bicycle paths in Seattle get a good amount of two wheel traffic even when there's a downpour. Locals are accustomed to riding their bikes in the rain with jackets and all the required gear, but if you're new to the town, we'd say take your time with it. As the region is hilly, you might find yourself walking along with your bike from time to time.
Best Bike Trails in Seattle
Ballard Locks to Golden Gardens on the Burke-Gilman Trail
Gas Works Park to Magnuson Park
Washington Park Arboretum Loop
520 Trail
Westlake Cycle Track
Best Bike Share Company In Seattle
Fun Fact: The city of Seattle bagged the first place in the 2018 rankings of Best Bike Cities In America which is conducted by Bicycling Magazine (a cycling brand).
4. Boston, Massachusetts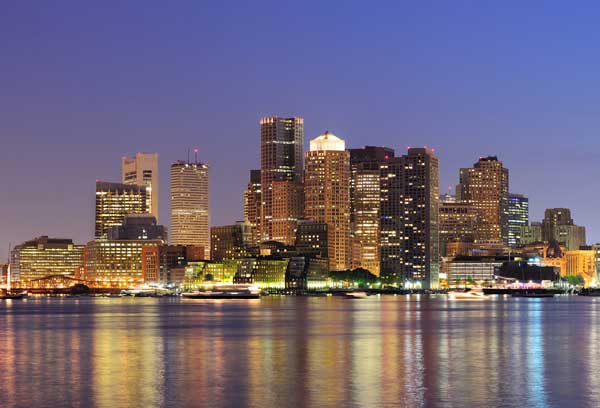 Bike Score – 83/100
Historic buildings and world class universities dominate the essence of Boston. Overall, most of us know that Boston is pretty much up in the ranks in terms of providing carless opportunities to commute for residents.
The 'T' (Massachusetts Bay Transportation Authority) is the most popular way to work your way within the city without sitting in traffic. And since you can get your bike on the MBTA during non-peak hours, you're practically plugged to all the city highlights.
This is one of the many driving factors that have led to an increase in the number of people biking in Boston. The city also constantly drafts new plans to increase ridership. The conventional bike lanes have been upgraded into 4 types of categories (Traffic calmed local streets, buffered, separated, contraflow) to increase safety and comfort of a bicycle rider in the city.
Best Bike Trails in Massachusetts
Deer Island
Arnold Arboretum
Southwest Corridor Park
Best Bike Share Company In Boston
Bluebikes (formerly known as Hubway)
Fun Fact: Not just Boston, but the entire state of Massachusetts has received recognition by the League of American Bicyclists and got ranked the fourth most bicycle-friendly state in the nation.
Also read: Moving To Massachusetts 2021 Cost of Living and Relocation Tips
5. Washington, DC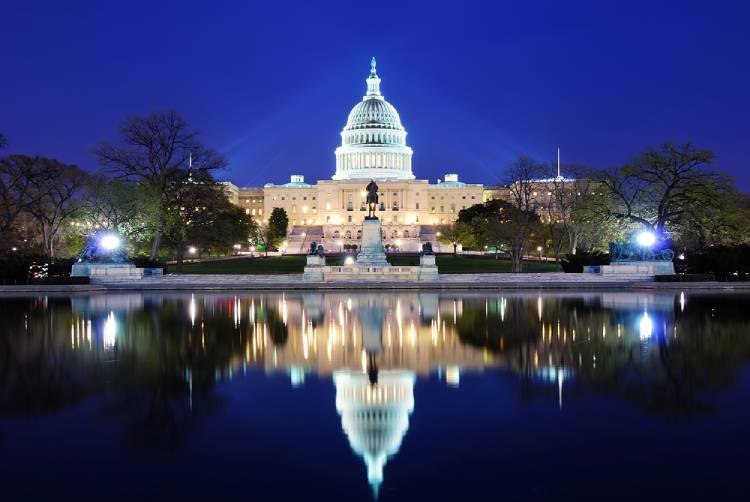 Bike Score – 69/100
Cycling is a dynamic part of the commuting in Washington, DC. This city makes it to the list specifically for having a large percentage (5%) of commuters who prefer taking the bike to get to work. This only proves that the loyalty towards bikes is pretty strong among commuters.
The cost of living in Washington is on the higher scale, so residents can save a good amount of money by bicycling. You can take your cycle with you on both the metrorail as well as the bus. Both modes are equipped with bicycle racks. The city possesses a total of 2900 bike racks and 6100 bikes provided by Capital Bikeshare.
Best Bike Trails in Washington
Chesapeake and Ohio Canal
MacArthur Boulevard Bike Path
Best Bike Share Company In Washington
Fun Fact: The League of American Bicyclists named Washington DC the nation's number one Bicycle Friendly State. Interestingly, this has been a win for Washington several times in a row.
6. San Francisco, California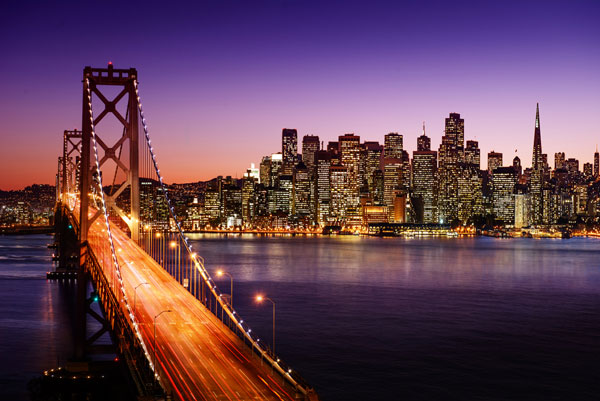 Bike Score – 72/100
The city of San Francisco is seeing a spike in the number of people turning to their cycles for commuting in the city. This is probably a domino effect of the various projects initiated by the San Francisco Municipal Transportation Agency (SFMTA) to make the roads safer for cyclists.
So far, $112.6 million has been raised for some of the latest projects to develop more cycle paths. This is great news for all of you who love to enthusiastically get around on your bikes. It's comforting for residents to know that there is a whole range of proposals for improving the conditions of bikeways of San Francisco under the title 'Pedaling Forward.'
Best Bike Trails in San Francisco
The Golden Gate Bridge
Twin Peaks
Mission District Murals
Market St Eastbound Totem
Best Bike Share Company In San Francisco
Fun Fact: The city of San Francisco has the sixth highest number of protected bike lanes in the US and continues to make efforts to build more.
7. Chicago, Illinois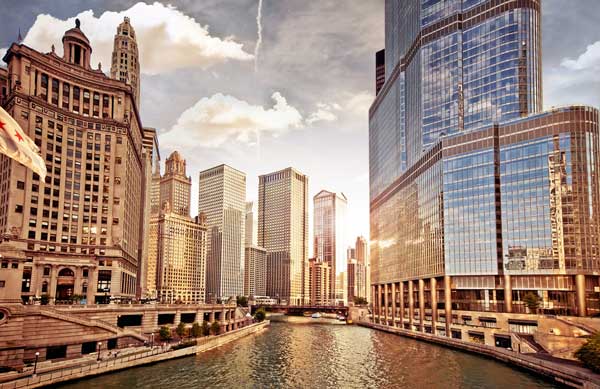 Bike Score – 73/100
The city of Chicago has a staggering total of 250 miles of trails, paths and lanes solely for bicycles. 67 out of these are much more developed than the rest and more well maintained with clear markings to indicate it is a bike lane. This is exactly why we couldn't leave it out of the list.
The city also boasts of 13,000 bike racks. Some are conveniently located near rail stations which encourages residents to opt for public transportation over a private car. Trains and buses also have sufficient provisions for you to take your bike along with you for the journey. However, do note that the bicycle facilities are limited on the South and West side of the city in comparison to the North.
Best Bike Trails in Chicago
Lakefront trail
North Branch Trail
Des Plaines River Trail
Best Bike Share Company In Chicago
Fun Fact: The Chicago Streets For Cycling Plan 2020 aims to bring bike facilities to 645 miles of the city to ensure that there's bicycle access within half-mile of most of Chicago.
8. New York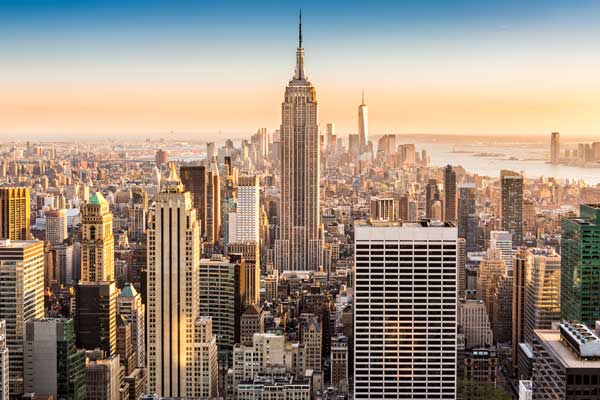 Bike Score – 70/100
The city of New York makes it to the bottom of bike friendly cities in the US since not all areas are equally ideal for cyclists. However, there are selective hubs in Brooklyn and Manhattan that have infrastructure that's more comfortable for cyclists.
So even though New York gets the certification for being bicycle-friendly, there is a long way to go in terms of safety of cyclists. But the pros are that biking is an affordable and fun way to afford a New York lifestyle and escape the horrendous traffic jams. You can also take your bike on the subway if you've got to travel far and the winter isn't cooperating.
Best Bike Trails in New York
Mohawk-Hudson Bike-Hike Trail
Walkway Over the Hudson
Great Lakes Seaway Trail
Glens Falls Feeder Canal Trail
Bike Share Company In New York
Fun Fact: The city has a high concentration of protected bike lanes that's constantly increasing. The New York City Department of Transportation (DOT) has even built roughly 28.6 lane miles of additional bike lanes across all five boroughs.
9. Denver, Colorado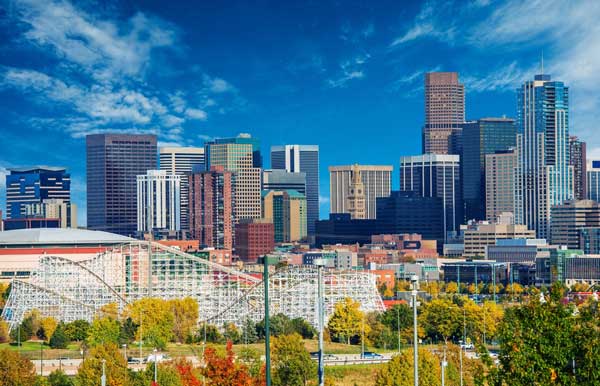 Bike Score – 73/100
Just like the rest of the cities on this list, Denver has most of what it takes to be among the most bike-friendly cities in the US. The city has a modest number of roughly 200 miles of protected bike lanes.
The reason it's probably a hotbed for cyclists is the fact that it is surrounded by gorgeous mountains such as Pikes Peak, Mount Evans, Mount Bierstadt and Torreys Peak. So, you'd have some great scenery to accompany you year round.
Best Bike Trails in Denver
The Platte River Trail
The Washington Park Loop
Cherry Creek Bike Path
Bike Share Company In Denver
Fun Fact: Denver rose from the eighteenth to eight rank on the People for Bikes third annual grading for the best cities for bicycling in the US. This certainly shows that Denver is stepping up.
10. Tucson, Arizona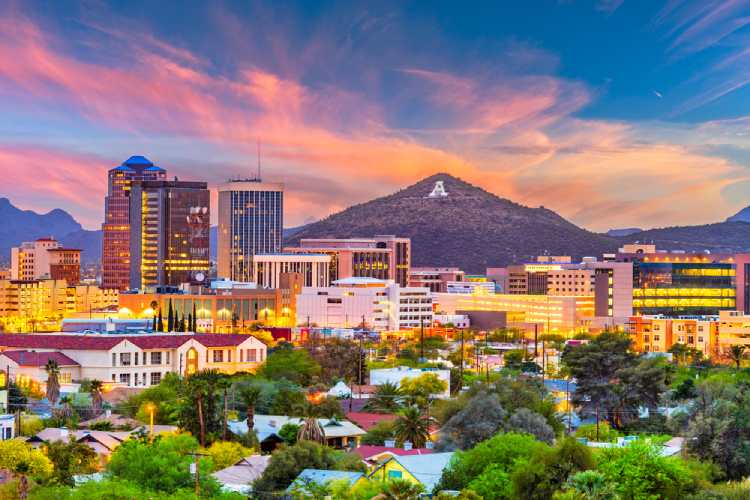 Bike Score – 67/100
Whether you're looking to dedicatedly commute to work with your cycle or you just wish to get back to exploring on two wheels, Tucson keeps it bicycle friendly. The city has a combination of car-less roads, protected bicycle lanes and miles of interesting trails such as the Loop. This is basically a 131 mile zone which is free of cars and stretches to cover a good portion of the Tucson metropolitan area.
The Loop is dedicated to pedestrians and cyclists, connecting them to places of interest. This only goes to prove that Tucson likes to keep things very convenient for fellow cyclists.
There is no shortage of bike facilities such as parking areas and infrastructure to support cycling communities. The year round temperate weather conditions also makes it easier to indulge in cycling activities. The residents of Tucson also regularly celebrate their love for cycling with a bunch of annual events such as El Tour de Tucson and Cyclovia to name a few.
Best Bike Trails In Tucson
The Loop
Sabino Canyon
Mt Lemmon
Fourth Avenue/Fontana
Best Bike Share Company In Tucson
Fun Fact: PeopleForBikes ranked Tucson at the number 13 out of 550 US cities that were ranked highly for providing dedicated infrastructure for cyclists.
FAQs
Which state is the most bicycle friendly?
Washington takes the first place for being the most bicycle friendly state in the US followed by Minnesota.
Which city has the largest number of cyclists?
The city of Portland in Oregon has the largest number of cyclists in the US. This only goes to prove that the city plays its part to keep things bicycle friendly for residents.
---
Conclusion
Biking is a great way to escape gridlocked traffic and helps you keep your carbon footprint in check. Buying and managing a bike is also far less of a financial strain when you move into a new city. We'd suggest giving these top 10 cities first preference if you'd like to move to a bike-friendly city.