Maine DMV Change of Address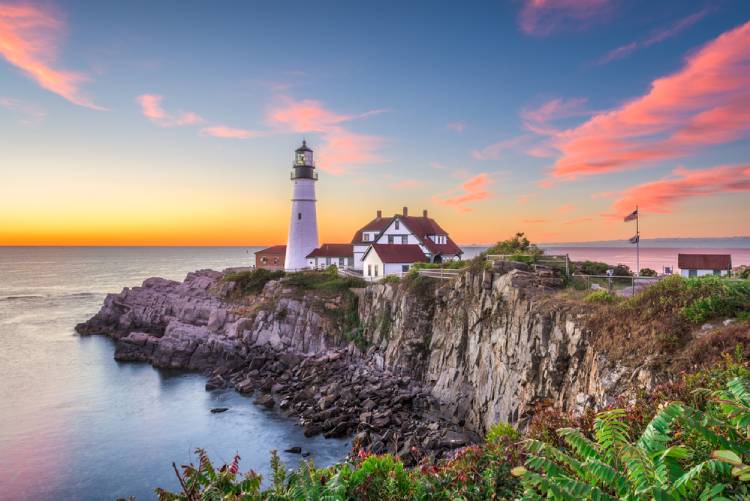 When you hear of Maine, you can't help but recollect the fact that the landscape here happens to be the central setting of the fictional works of the legendary American author Stephen King. However, it's more likely that the deciding factor for a move here is the panorama of the stunning coastline, sea breeze and the impressive beauty of the city of Portland. There are many more reasons to choose to relocate here. If you're considering bringing your car along when you move, there are certain formalities that must be addressed. In this blog, we will help you get familiar with all of it.
Read on to learn more about Maine DMV change of address and how to go about it.
Who Should You Get In Touch With For A DMV Change Of Address In Maine?
For a change of address, you must get in touch with the Maine Bureau of Motor Vehicles which is based in Augusta, Maine's capital. The Bureau also has 13 branch offices located throughout the state and you can reach out to any of these branches too.
If you're moving to Maine, you would need to tackle all the paperwork involved within just 30 days of moving into the state. You would need to change the address on your driver's license as well as your vehicle's registration once you've settled in the city along with your car.
Do note that 30 days is the timeframe within which both these tasks must be completed or you run the risk of paying a fine for driving your vehicle with an invalid registration and driver's license.
Why To Update Your Maine DMV Change Of Address?
You must submit a change of address to the DMV to ensure that your license reflects your current residential status. Or when someone reviews your driver's license it won't make sense that your old address still shows up on it when you've already moved away from that place of residence. Consider it as just one of those administrative things that must be dealt with in a timely manner while moving houses.
Getting A Maine Driving License When Moving From Another State
To renew your current license once you move into Maine, you have to pay a visit to one of the 13 motor vehicle branch offices situated throughout the state. The online website is committed to providing residents with all the information required. However, for the actual verification process, you physically need to visit the BMV office. Especially when you hold a driver's license from another state, there's no other option. The BMV branches for Maine are located in Augusta, Bangor, Calais, Caribou, Ellsworth, Kennebunk, Lewiston, Portland, Rockland, Rumford, Topsham, Springvale and Scarborough. We'd recommend visiting the branch that's most convenient for you.
Be sure to ring up the branch before going because there is limited walk-in availability. The next thing would be to ensure you have all these documents in a binder with you so you're saving yourself the trouble of making trips to the office again and again.
The various documentation and information needed for applying a new driver's license are:
For the verification process you must provide the office the following documents:
Legal presence proof – You must present a document that proves you're a resident of the United States by either submitting a Birth Certificate, Passport Copy, Certificate of U.S Citizenship or any other legible original document that claims the same.
Residency proof – You can prove Maine residency by showing a mortgage or lease agreement with your name on it, insurance policy, utility bill, W-2 form or tax bill.
Share the number on your social security card.
Your current out-of-state Driver's license must be turned in to the office. Do note, along with the original, carry a photocopy of the front and back of your out-of-state license.
Ensure that your name on all these documents match and are in sync. In case you've recently changed your surname after marriage, make sure to carry your marriage certificate as additional proof to link the names together. Also, you have to carry the original copy and not an attested or scanned copy of these documents when you visit the ME DMV office.
Processing Fees – Now there's two kinds of fees for when you need to convert that out-of-state license into a commercial driving license to use when you're in Maine.
A $30 fee for the new license
A $35 application fee for renewing your driver's license
We'd like to mention that there are different layers to the fees and the cost could vary depending on the class of the license. The fees we've mentioned is the standard one for a new license.
Do note that once your documents have been verified, the Non-commercial Class C application is filled and the fees settled, you would need to complete vision screening. Now, you can either do this for free at the agency itself or you can get your screening at your own expense with a private eye doctor you prefer. The results of the vision screening will prove how clearly and how far you can see. You may not be required to take a written or road test depending on vision screening results.
See also: Moving to Maine [Relocation Guide]
Registering Your Vehicle To Maine
Whether it's registering your vehicle or converting your driving license, you have to physically drive your car and visit the respective offices to complete the process. Since, there is no online portal, you would need to take time off to obtain vehicle registration by visiting 2 offices –
Contact a local municipal office in Maine to pay excise tax. Excise tax is an annual type of property tax on a vehicle, remember to keep this receipt handy. The tax amount would depend on the value and age of your vehicle.
Post that you would also need to visit any of the 13 BMV branch offices.
Note that most of the Maine municipalities can complete the vehicle registration process and if that's the case you won't require to visit a BMV office at all. We'd recommend calling up the municipal office you're visiting to confirm if they can assist with vehicle registration.
Here is a list of all the documents you need to carry and information you need to get your vehicle registered.
Out-of-state vehicle registration certificate. The data on it must be updated accurately.
Out-of-state title
Insurance proof which could be an ID card or the policy that has the exact dates from when it will be effective must be reflected on it
White & yellow copy of registration application and excise tax receipt which you paid at the municipality office.
Your vehicle's current mileage
Processing Fees – Once again there's two kinds of fees that you would need to bear when you register your vehicle to Maine.
A $33 title application form fee
A $35 registration fee.
Note – The registration fee would differ depending on the plate type required. For instance, if you want a 'low speed vehicle plate', the registration fee would be $25. Another thing that you must keep in mind once you've registered a vehicle in Maine is ensuring it's inspected every year. Your vehicle would also be inspected at the station in Maine once it's registered.
Getting A Maine Driving License When Moving Within Maine
If you're moving within Maine itself, you would have just 10 days in hand to change the address on your vehicle's registration. However, the system in place makes it pretty easy to complete the registration in a day too. Once again, even for this process, the state of Maine doesn't have an online portal in place. Our guess would be that they maintain a traditional administrative process because they're just old school. You can inform the Maine BMV about your change of address by going to the nearest branch along with the following documents:
A Birth Certificate as proof of identity
Social Security Card
Your current new residence address within Maine
These 3 documents work as enough evidence for reporting your change of residence to the DMV. If you would like to change your address by phone, you can do so by ringing up on: 207-624-9000.
Another way to convey this request is by mail. For this you'll need to collect, fill and post the 'change of address form' only available at any local Maine BMV office.
Who To Mail The Form And Where?
Mail the form to:
Maine Bureau of Motor Vehicles, 29 State House Station, Augusta, ME 04333-0029.
The good news is that there is no fee to renew your license and most licenses are mailed within two weeks.
Things To Keep In Mind When Moving Out Of Maine
If you're moving out of Maine, you aren't required to inform the current state DMV that you're moving out. Save on your energy for the paperwork that only comes in once you've successfully moved to the new state. However, be sure to keep your old license handy as you'll need to turn it in Maine before you apply for a new license at the BMV of the new state. The one thing you'll need to give back when you leave the state is the license plates that must be submitted to the ME DMV. So, remember to sign and have a notarized 'Plate Cancellation Request' sent to your BMV Branch after your move.
---
Conclusion
Overall we'd say that the state of Maine surely likes taking an offline approach for registering and verification processes of your license and vehicle. Although it might not be the most convenient way for everyone, it does have a silver lining of its own. Perhaps this is the best way to get to know the fellow Mainers better!
See also: How to Change Your Voting Address in Each State