Leaving Raleigh NC? 5 Best Places to Move from Raleigh


VanLines Inc
Secure Storage
Easy Booking Process
Fully Trained Employees
GET QUOTE

Colonial Van Lines
Storage Services
Long-Distance Moves
Corporate Relocations
GET QUOTE

Moving APT
Available Nationwide
Award-Winning Movers
Extensive Vetting Process
GET QUOTE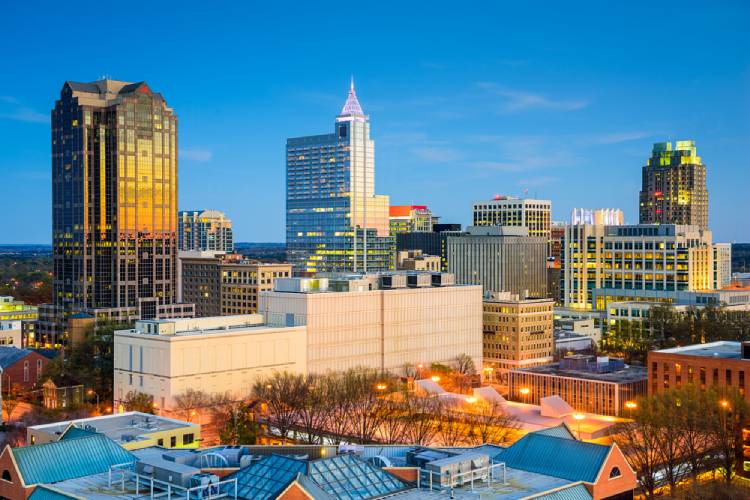 Raleigh NC has been on nearly every 'top places to move to' list and we can't deny the fact that this city is charming. It has a small-town vibe, its communities are warm and welcoming, and it's a fervent appreciator of the arts. However, no city is perfect and Raleigh does have a couple of flaws. Its transportation system is not up to the mark, its summers are unbearable, and its pollen season during the spring season is a threat to those who catch allergies immediately. And it is for those main reasons that people have been moving from Raleigh.
Are you thinking of leaving Raleigh NC as well? Here are the 5 best places to move from Raleigh. Our selections are based on the cost of living, education, economy, recreational opportunities, and overall vibe.
5 Best Places To Move From Raleigh
Durham, NC
Charlotte, NC
Asheville, NC
Jacksonville, FL
Arlington, VA
Durham, NC
If you want to experience what big city living is like in North California, then you can choose any of Durham's neighborhoods as your home. It is economically diverse, culturally rich, and has a plethora of living spaces suited for anyone wanting to start a family, or for a student moving alone.
The city was christened 'Durham' after Bartlett S. Durham, an American businessman who donated land to construct a rail depot here in 1849. That rail depot helped in expanding the tobacco business Durham was once known for. Currently, this city is one of the country's hotspots for research. You surely might have heard of Research Triangle Park, one of America's prominent spaces for research, of which Durham is part.
Durham's employment opportunities are immense. And if you're looking for a city that'll help you stand on your feet, then Durham is the place for you. Apart from research, healthcare is a big part of Durham with over 300 medical facilities strategically placed within the city's neighborhoods. If you're into the tech sphere, Google has opened an engineering hub in Durham's Innovation District and Apple has also planned to open a billion-dollar campus in Research Triangle Park. In short, we can say that Durham will enable you to take your career to the next level since its economy is ever-expanding and diverse.
Education is another aspect of Durham. You have Duke University and the University of North Carolina, two of America's most prestigious and highly ranked educational institutions, situated in this city. Need to pursue a degree or search for opportunities to teach young minds? Either way, Durham will fulfill those needs. On the other hand, this city's cost of living is much lower than the US average as well; you won't have to worry much about losing your salary to rent and utilities since they're generally cheaper than most cities. And that's why many choose Durham over other areas in North Carolina as their home.
Downsides: No city is perfect and Durham sure does have a couple of flaws. For starters, the pollen season, which starts in March and peaks in April, is a real menace especially if you're prone to allergies. The entire Triangle area gets covered by a thicket of yellow dust so be prepared when that happens. This city's crime rates are a bit higher than other North Carolina cities, but many neighborhoods of the Triangle area boast of low crime levels. So that's something to consider if you're planning to buy or rent an apartment in Durham.
Population: 292,301
Median Home Value: $398,339
Monthly Rent: $1,541
Median Household Income: $58,905
Unemployment Rate: 2.9%
Best Neighborhoods To Live In: Downtown Durham, Southpoint, Research Triangle Park
Charlotte, NC
This city got its name from Charlotte of Mecklenburg-Strelitz, queen of the British empire and wife of British King George III. As you guessed, residents colloquially called Charlotte the Queen City and that nickname has been stuck to this place till this very day.
People have been calling Charlotte their home for many reasons. For starters, the public transportation system in this city is one of the country's most well-laid out and comprehensive networks. True, you can use your personal vehicle to get around places efficiently, but in Charlotte, living without one won't cause any hassle. You can use buses, streetcars, and the LYNX Light Rail, all services under the Charlotte Area Transit System, to get places in or around the city and avoid those pesky traffic jams.
If you're looking for jobs, the financial sphere is most prominent in Queen City. It is said that in the 1980s, the big fish in Charlotte bought smaller local banks along the South. They also collaborated and had alliances with other large banks in the country and that's how they built their financial empire. Currently, Charlotte is home to one of America's biggest banks, the Bank Of America, as well as several Fortune 500 companies such as Brighthouse Financial, CommScope Holding, and Duke Energy.
Also, people move to Charlotte to party and play hard thanks to its diverse festivals, sports events, and recreational activities. You have the Charlotte Music Festival which hosts several concerts, workshops, and performances of special dances. If you want to be introduced to a bit of culture, the Latin American Festival exhibits a wide variety of handmade ornaments, dancing sessions, and the best part: Latin American food.
Charlotte takes sports extremely seriously, as you'll notice a plethora of stadiums housing various sporting events situated in different parts of Uptown. The Bank of America, the Spectrum Center, and the BB&T Ballpark are some famous ones you should look out for.
Downsides: Charlotte does have a couple of cons. The traffic can really get congested during rush hour. Thankfully, you have the public transportation system to dodge the congested traffic. But if you choose to travel during peak rush hour with your vehicle, don't be surprised if you take a little longer to reach work. Due to its geographical location, Charlotte is prone to hurricanes and flooding as well. Take precautions when forecasts of any harsh weather are mentioned if you choose to live in this city.
Population: 925,290
Median Home Value: $377,990
Monthly Rent: $1,409
Median Household Income: $62,817
Unemployment Rate: 3.80%
Best Neighborhoods To Live In: Uptown, SouthPark, Ballantyne
Asheville, NC
Each city in North Carolina has a unique character and Asheville communicates a vibe of its own. Known as the Paris of the South, Asheville's neighborhoods and streets are filled with unique pieces of architecture, vibrant communities, and deep history. Adding to that, this quaint city is nestled in the serene range of the Blue Ridge Mountains. So, whether you're going to the supermarket or driving down to work, looking at the mountain range will keep you calm and it's for this peaceful vibe that many have been moving to Asheville.
If you're searching for job opportunities in this city, the healthcare and the educational sectors are the most thriving industries. Their most prominent employers are the Mission Health System and Buncombe County School District, so if you're looking for good stable jobs, you can start by looking into these two avenues first. Asheville has a booming hospitality and tourism industry as well, so if you want to set up a restaurant and do business, try giving Asheville a chance.
The River Arts District is the creative hub of Asheville which is filled with numerous studios and works of art. You'll find a lot of musicians and artists hanging out in that area, so if you're looking for an outlet to kick the Monday blues, a stroll in the River Arts District will do you good.
Where raising a family is concerned, Asheville provides all the necessary qualities to ease your child's living. With places such as Adventure Center of Asheville, Asheville Museum of Science, and Emerald Village, we can say that your child will have fun experiencing the outdoors and interacting with nature. Schools and universities in Asheville are among the highest-ranked in the state as well. Therefore, you can be certain that Asheville will holistically provide for your child's educational needs.
Downsides: If you're looking to buy a house in Asheville, you should know that real estate is expensive! And also, the job market is not very diverse. Unless you're working remotely or bagged a well-paying job in the healthcare or educational sector, job opportunities are a bit limited in this city. Buses don't function on Sundays and on Saturdays, the frequency is reduced. Therefore, you will need a car to get around this city efficiently.
Population: 93,590
Median Home Value: $412,975
Monthly Rent: $1,472
Median Household Income: $49,930
Unemployment Rate: 3.10%
Best Neighborhoods To Live In: The River Arts District, Lakeview Park, Kenilworth
Jacksonville, FL
If you're looking for a place outside of North Carolina having immense sunshine, beachy weather along, and a plethora of job and recreational options, then consider putting Jacksonville, Florida on your list. The city is always bustling due to its prominent art scene and music festivals. Check out the Jacksonville Jazz Festival that happens every Memorial Day or the Jacksonville Art Walk that occurs on the first Wednesday of every month with January as the exception.
Also known as the River City by the Sea, beaches in Jacksonville are just a short ride from where you're staying. The city serves three main beach areas, which are Neptune Beach, Jacksonville Beach, and Atlantic Beach. You can surf the waves and enjoy a lazy afternoon on the sand or you can check out the vibrant nightlife these beaches offer after you've had enough Vitamin Sea.
Where jobs are concerned, Jacksonville has a tight influence over the financial, hospitality, and logistic spheres. So in a way, you can say that this city's economy is pretty diverse. Plus, many Fortune 500 and Fortune 1,000 companies have set up bases in Jacksonville's diverse and booming neighborhoods, and they have been regular contributors to the economy of the state.
If you want to save money on travel, Jacksonville's public transportation system is pretty economical. You can buy a STAR pass, which offers monthly or weekly subscriptions, and get around Jacksonville without paying too much.
Downsides: If you choose to live in Jacksonville, FL, get prepared to face pests. And there's nothing you can do to avoid them since Jacksonville's climate is pretty hot and humid. This makes all sorts of insects, roaches, and spiders comfortable to just pop into your lovely homes and take a break from the heat. Although most of Jacksonville is safe, some neighborhoods such as Mixon Town, and Moncrief Park have crime rates higher than the US average. So, research well before selecting a neighborhood in Jacksonville.
Population: 938,717
Median Home Value: $54,701
Monthly Rent: $1,271
Median Household Income: $54,701
Unemployment Rate: 3.10%
Best Neighborhoods To Live In: San Marco, Avondale, Julington Creek
See Also: Popular Neighborhoods In Jacksonville For Families
Arlington, VA
Arlington, VA consistently has been on every 'Top 100 Neighborhoods To Live In' list and we can't deny the fact that this Virginian city deserves a special mention in our list too. What makes this city so desirable is its proximity to Washington DC, panoramic views of the Potomac River, and low crime rates. People also move to this city since it has a diverse economy with immense job opportunities provided in the technical, financial, scientific, and educational sectors.
If you're looking for education, the Arlington County Public School District has numerous public and private school options. Northwest Arlington has Marymount University so you don't have to search too far for higher education.
If you want to learn more about America's rich history, Arlington has numerous monuments, which you can visit if you feel a bit patriotic. Stroll along the Airforce Memorial, the 9/11 Memorial, or the Arlington Cemetery to know more about this historic country. If you are a pet enthusiast and have a group of dogs who need exercise, you can take them to any of Arlington's dog parks. Some notable ones are Shirlington Dog Park, Fort Ethan Allen Dog Park, James Hunter Dog Park, and Utah Dog Park. Arlington's dog-friendly vibe scores a few brownie points higher than other Virginia cities.
Downsides: Arlington's cost of living is pretty high, even higher than its surrounding city Washington DC. This is due to its rising real estate and rent prices so you will need to have a well-paying job before shifting to Arlington. Also, traffic can be a bit of a problem since the city has seen an influx of people moving in due to its strong economy. So, that's something you'll have to deal with as well if you choose to live in Arlington.
Population: 233,464
Median Home Value: $817,610
Monthly Rent: $2,135
Median Household Income: $120,071
Unemployment Rate: 3.5%
Best Neighborhoods To Live In: Court House, North Highland, Virginia Square
Summing Up
Now you know some of the best places to move from Raleigh NC. Whether you're moving interstate or intercity, moving, in general, is a tedious task. Ensure that you have all your important documents stored in order and stored in a safe place so that there is no last-minute searching. And also, hire a professional moving company if it's within your means. They do all the hard work and you won't have to lift a finger.
See also: Best Moving Companies in Raleigh
FAQs Based on 5 Best Places to Move from Raleigh
What Are Some Good Places To Move From Raleigh?
Some of the best places one can move to from Raleigh are Durham, Charlotte, Asheville, Jacksonville, and Arlington.
Is Arlington, VA A Good Place To Live?
Arlington is a great place to live in for numerous reasons. For starters, it has a booming economy with the technical, financial, scientific, and educational sectors providing immense job opportunities. And its areas have a plethora of dog parks that anyone can use to take their furry friend along for a long or short walk.
Is Jacksonville FL A Good Place To Live?
Jackson has a lot of good points and that's why many choose to live here. Its economy is diverse and it offers numerous opportunities in the financial, hospitality, and logistic sectors. The public transit system is economical and you're just a short drive or walk away from the beach. Living in Jacksonville will make you feel like you're on a never-ending vacation.