6 Largest Cities in New Jersey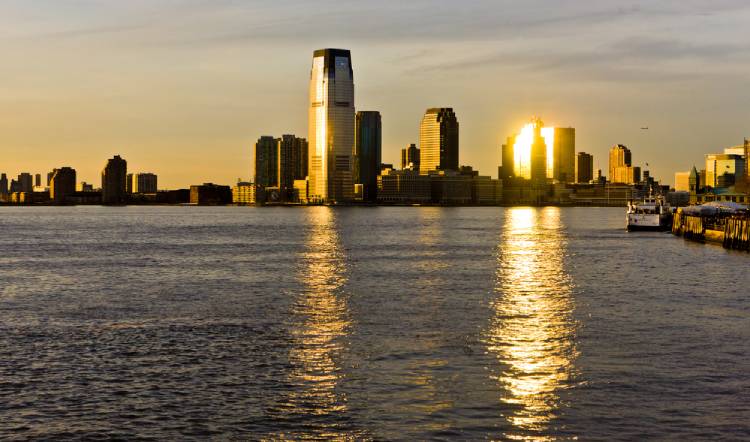 People often see New Jersey as a state that lies in the shadows of bigger cities like Philadelphia and New York City. The spotlight tends to focus on the fact that New Jersey isn't as rich in amenities and culture as its exceptionally well-off neighboring states.
But upon separating the image of New Jersey in comparison to its star neighbors, you'd find that this eastern state has plenty to offer. Both the north and south parts of the state have distinct profiles and a dozen interesting cities. Let's look at the names of some of the largest cities in the state along with the pros and cons of living there, so you have a more non-stereotypical image of New Jersey.
Largest Cities In New Jersey
1. Newark
City Overview
Newark is undoubtedly the largest and among the most desirable places to live in New Jersey. Oftentimes people choose to live in Newark because of its close proximity to New York. In some aspects Newark does mirror the fast-paced energy of New York City. The city has an extensive bus system, light rail cars and commuter rails that allows residents to travel with ease without a car (something that even New York boasts about). The international airport is also within city limits.
In terms of distance, it takes roughly an hour to reach New York City from Newark and this attracts a good number of people to this city. You'll also notice that there is a strong number of young professionals occupying the city owing to the amount of health and financial companies assembled here. Public Service Enterprise Group (PSEG) and Prudential Financial are among the largest employers in the city and are the companies that have also made it on the Fortune 500 list.
Another notable feature of this city is that it has a large number of healthcare related facilities and institutions. There's even a ton of notable universities dotted throughout the city. Berkeley College campus, New Jersey Institute of Technology (NJIT), and the Newark Campus of Rutgers Biomedical and Health Sciences are few of the top educational institutions.
Upsides
There's beautiful riverfront areas and the iconic Branch Brook Park in the city. Residents also get to live in close proximity to New York and Philadelphia.
Downsides
Newark is a medium-sized city but a densely populated one, because of which the urban areas can seem crowded. New Jersey is known for being the most densely populated state, so this is a downside that most cities in this state deal with.
Quick Facts
Population – 282,529
Median Value Of Home – $245,200
Median Rent – $1,085
2. Jersey City
City Overview
Jersey City almost possesses the spirit of the young. It's a thriving city situated in the northeastern portion of the state and has beautiful riverfront views. Residents who live here can capture views of the Statue of Liberty and practically jump into New York City in less than 12 minutes. If you'd really like to be the next door neighbors to New York, then Jersey City is the ideal place to reside in.
This city is also known for its immense diversity. It's easy to meet people from all walks of life when you live here. The pace and energy of the people might make it seem pretty similar to NYC as it's also a melting pot of different cultures. What makes it different is that it's much smaller and compact compared to New York so this makes it a significantly new experience.
Another thing to note is that the commute could be much easier in Jersey City and even more affordable. If you ever feel like you want to take advantage of the financial state and strong job market in New York, you can easily reach out to grab those opportunities too. So overall, you get the best of both worlds here.
Upsides
The city is great for commuting. You can practically think of living here without a car. Residents who live here choose to get an electric scooter, ride the PATH (the transit line) or take a bus to get to their destination. The fact that everything is easily accessible without a car is a big plus for many. The city is also home to ample of lovely parks, stores, and lively areas.
Downsides
It can seem like there's more lively things happening next door in New York because of which Jersey City at times can seem less appealing. The city is also smaller in size, so there's certain urban pockets that's sprawling with traffic and crowds.
Quick Facts
Population – 258,523
Median Value Of Home – $373,700
Median Rent – $1,401
3. Elizabeth
City Overview
Elizabeth is the fourth-largest city in New Jersey and has a small population in comparison to cities like Newark and Jersey City. The area is super diverse so you do get to try different types of ethnic cuisines and attend multicultural community programs. This town is also home to Kean University, which makes it a desirable city for students and young adults.
Something to keep in mind is that Elizabeth is a small city, so the amenities here are far off from what you'd find in Newark. It's not common to see huge skyscrapers or tall buildings here, but you'd find smaller local businesses.
The neighborhoods and social life is on the quieter side. You could also come across certain areas that are run-down, so we highly recommend being careful about the area you pick. We suggest checking out Elmora Hills as it's one neighborhood in particular boasts of some of the best infrastructure and stores in this city.
Upsides
It's away from the crowd and hustle. You get to meet people from all nationalities, the city isn't predominantly focused on one culture but is home to many.
Downsides
The city gets a bad rap for the high crime rate; not all areas are equally safe. There are several pockets that are crime-ridden and not the best to reside in. So like we said earlier, it's necessary to research the neighborhood carefully in order to steer clear of not-so-safe vicinities.
Quick Facts
Population – 130,450
Median Value Of Home – $282,700
Median Rent – $1,163
4. Edison Township
City Overview
Edison is a small city situated in the north-central part of the state and is often referred to as 'Little India'. This is mainly because there's a huge concentration of Indian communities residing here and there's several stores that cater towards Indian taste buds. There's a whole street dedicated to Indian restaurants, shopping areas and even religious places.
As of 2021, Edison also has an Indian-descent candidate by the name of Mahesh Bhagia, who is standing to be the mayor of the town. This proves that Edison is extremely welcoming to all cultures and if you choose to live here, you'd find that the communities here are vibrant and far from dull. There's always something happening in Edison which makes it a small but fun city to live in. Edison is also heavy on local activities and eateries.
In terms of jobs, you might need to head beyond the city outskirts for better opportunities. This is mainly because Edison is recognized to be a bedroom community. It's common for residents here to work in New York but find tranquility in Edison to set up their homes.
Upsides
Residents here can easily plug into bigger cities like New York City, Philadelphia, Boston, and even Washington, D.C. It's considered to be a great place to raise a family since it houses strong educational systems, playgrounds and recreational spots.
Downsides
Edison isn't as rich in terms of jobs like other neighboring major cities. The corporate presence isn't extremely strong but is progressive.
Quick Facts
Population – 99,758
Median Value Of Home – $390,700
Median Rent – $1,528
5. Woodbridge
City Overview
Woodbridge is the sixth-largest city in the state of New Jersey. It can be defined as a city that's filled with all the modern comforts. There's a handful of diners and shopping areas but it can be slightly dull in comparison to the other big cities. By this we mean that you could still be left feeling that you're occupying a small town that is full of close-knit communities ready to form strong bonds.
If you're someone that's comfortable with a city where the noise levels are dramatically low and the nightlife isn't too rich, then Woodbrdige could be a nice place to consider. The communities here are friendly and the lifestyle is appealing to those who take it easy and slow. It isn't extremely populated so you have more open spaces. If you seek the quaint and calm lifestyle then this Woodbridge won't disappoint.
Upsides
Woodbridge is relatively safer than the rest on this list. It's also conveniently located next to the two busiest highways in the state which is the Garden State Parkway and New Jersey Turnpike. This makes commuting easy and helps residents connect to other larger cities in New Jersey.
Downsides
Woodbridge isn't the trendiest town in New Jersey so it could get boring to an extent. You might at some point run out of things to do and would need to drive to bigger cities for entertainment.
Quick Facts
Population – 100,145
Median Value Of Home – $278,100
Median Rent – $1,676
6. Hoboken
City Overview
Hoboken is a city that has a big character. Even though it's a small-sized city, the spirit and energy of the communities here is what keeps it so lively. It perfectly matches the persona of an extrovert person. What we mean is that you get to mingle and interact with people from different cultures and backgrounds.
The cost of living in this cosmopolitan city is on the higher side but the standard of living to an extent justifies the high housing prices here. While walking through the city, you can easily find a whole bunch of Italian restaurants and eateries serving different types of cuisine.
Overall, we'd say that Hoboken could feel like a small-sized borough of NYC but what makes it different here is that it's less crowded. There's also plenty of open green spaces like Sinatra Park where you can capture beautiful views of the Manhattan skyline. The walkability of the town is also great.
Upsides
The gorgeous waterfront is a beautiful spot in the city where residents can hang out and meet others from the community. You can also easily reach Manhattan in 10 minutes by taking the light rail service, ferry, or the bus.
Downsides
The most common downside for living in Hoboken is that it can be pricey. It's not as much as Manhattan prices, but since there's been an influx of people moving here, housing prices are touching an average of $800,000.
Quick Facts
Population – 51,763
Median Value Of Home – $720,700
Median Rent – $2,315
See Also: Most Affordable Places to Live in New Jersey
Who Is New Jersey Ideal For?
Something that we can learn from the cities of New Jersey is that all of the cities are extremely welcoming to all cultures. All of the state's largest cities are an amalgamation of people from all over the world. So if you're looking for diversity then New Jersey has got to be a candidate for it.
Final Thoughts
Most of the largest cities in New Jersey lie in the northern and north-central regions of the state. Among all, Newark is the most populous city and the one that most new residents consider moving into.
Also, keep in mind that the housing prices are higher in cities that lie in close proximity to New York. The further you move away from the northern hub, the lower costs will get. Something that everyone who moves to New Jersey and can't escape is the high property taxes, which are the highest in the nation. But then again, there's no place like this where you have beaches, great cuisines, and diverse cities.
Living in New Jersey has its perks and if you're ready to pack your bags to move to one of these big cities, we can help you find the best moving services so you can move with ease.
FAQs
Which are the most populated cities in New Jersey?
Newark, Jersey City, Elizabeth, and Edison. Newark is the most populated with roughly 282,529 residents occupying the city. On the other hand, Tavistock is the least populated city.
What are the safest neighborhoods in New Jersey?
River Vale Township, Harrington Park, and Belle Mead are of the safest neighborhoods in New Jersey. Cities that lie in the north and north-central portions of the state have lower crime rates than those cities in the south. Salem, Bridgeton, and Milville are some of the most dangerous cities.
Which is the coldest month in the state of New Jersey?
January is the coldest month in the state of New Jersey when temperatures drop to roughly 23°F (-5°C) to 39°F (3.9°C) in the northern regions. The coastal parts still remain warm where temperatures are nearing 42°F (5.6°C). In terms of snow, you can expect 4 to 8 inches of snow. The density of snow is much higher in the northern portions of the state.
What are the main cities in New Jersey?
Newark is one of the main and largest cities in New Jersey with a population of almost 282,529 as per the 2021 census. The other main cities are Jersey City, Elizabeth, and Edison.
What is the nicest town in New Jersey?
Ridgewood can be considered the nicest town in New Jersey where you'll find beautiful Victorian-style houses and lots of fun family-friendly activities to explore in the downtown area. The town has some of the best schools, playgrounds and parks, and so is the best place to start a family. Do keep in mind that all of this comes at an expensive housing cost.
What is the smallest town in NJ?
Tavistock, which resides in Camden County in New Jersey, is the smallest town. Based on the recent data, this town has only 5 residents.
What is the population of NJ 2021?
New Jersey's population in 2021 is almost 8,874,520 people according to the findings of the World Population Review.
Is Vineland the largest city in NJ?
No, Newark is the largest city in New Jersey with a population of 282,529 people as per the 2021 census. Vineland, on the other hand, has a population of around 58,605 people in 2021 as per the data shared by World Population Review.
What is the best city to live in New Jersey?
Park Ridge is one of the best cities in New Jersey as it has some of the best educational institutions in the state along with plenty of employment opportunities. Just so you know, the city has an unemployment rate of only 2.9% and it is regarded as one of the safest cities in the state because of the low crime rates. The best thing about Park Ridge is that it's just a half an hour ride away from the largest city of Newark.
Which city is close to New Jersey?
New York City is the closest biggest city to Jersey City, which is just 4 miles away.
What is the most populated county in NJ?
Bergen County is the most populated county in New Jersey with a population of around 930,974 people in 2021.
What's the safest city in New Jersey?
River Vale is one of the safest cities in New Jersey as the crime rates are very low. Apart from that Sparta, Chatham, Kinnelon, and New Providence are the safe cities in New Jersey.
What's the worst part of New Jersey?
Newark can arguably be the worst part of New Jersey, despite being the state's biggest city. This is attributed to the higher-than-average unemployment and crime rates, and lower-than-average individual and median household incomes.
What is the cheapest city to live in New Jersey?
Clifton is the cheapest city to live in when it comes to the overall cost of living and easy commuting in the city. Other than that Oakland, Phillipsburg, Somerdale, and Stratford are the other cheap cities in the state.
See also: Best Moving Companies in NJ | Moving to New Jersey – Relocation Guide