6 Largest Cities in Massachusetts
Massachusetts is the one state in the New England region of the nation that garners the most attention from the rest. Be it for its seafood, beaches or just the world of culture it offers. If you simply inquire about the state, you'll receive nothing but comments praising the geographical features and world-renowned educational institutions. We know that the drawback for few are the winters, but that's something that New Englanders are quick to embrace when they look at all the other doors it opens.
If you're on the same page as us about how interesting it can be to live in Massachusetts, we're sure you're on the lookout for the largest cities. Now that's where we have the answers. Read on to learn more about the largest cities to live in Massachusetts.
1. Boston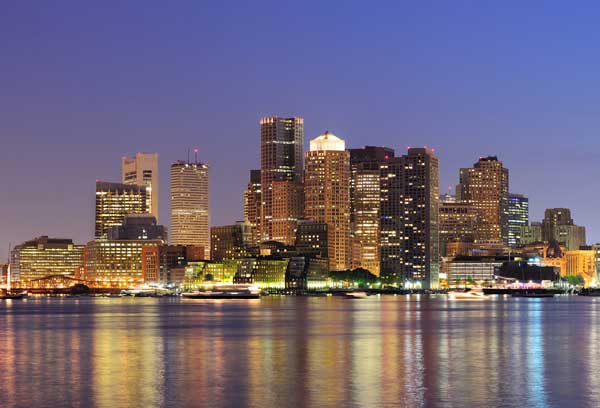 City Overview
Boston is the biggest city in the state of Massachusetts. It's the 'star' city that mimics the kind of lifestyle only seen in fast-paced cities. Most people instantly recognize the name of this city because it is home to prestigious school systems and universities.
Boston is also filled with a large number of financial and commercial high-rise buildings. There's endless number of activities in the city and the name of Boston has time and again been called out positively for the high quality of life it offers.
You'd find that the population is transient in nature. By this we mean that you'd find the city filled with students and young professionals for a certain period of time and then a whole new bunch of new residents filling the city. This could make it slightly difficult to make long-lasting connections but then again gives you the opportunity to expand your network.
The job scene is also a pretty exceptional one. Among other industries, tech, media, and healthcare and few of the dominating fields to take advantage of.
Another aspect to note is that the median household income in Boston stands at $71,115, which is drastically higher than the national average which is just $62,843. So you're sure to draw in a bigger paycheck. In terms of commute, Boston ranks much better than most other cities in the US the same size as Boston. The city is both pedestrian and bike-friendly, so yes, you can conveniently ditch cars and still make it painlessly to your destination.
Upsides
Living in Boston is a big deal to many. The city is teeming with both national and international companies related to the field of tech, media and more. In addition, the city is home to world-renowned educational institutes. It also has a reputation for being one of the most progressive cities in the US.
Downsides
The pace of living in Boston can be overwhelming for a few. It's also one of the most expensive cities to live in the nation.
Quick Facts
Population – 684,379
Median Value Of Home – $532,700
Median Rent – $1,620
2. Cambridge
City Overview
The city of Cambridge is a pricey option in comparison to the other cities on this list. In terms of rent and housing costs, you'll automatically find that the prices fall in the higher end of the average. But on the plus side, the city is rich with opportunities.
Cambridge is equipped with the best in terms of infrastructure, transportation, and jobs. It can sure feel like you're living in the future if you pick this city. There's also no shortage of parks and well-kept open spaces. Some of the local pastimes in this historic city involve visiting grand museums, huge libraries, and old book stores.
To no one's surprise, the city also isn't short of things to do for recreation. Commuting is easily accessible and if you don't have a car you can always take out your bike. After all, Cambridge has a bike score of 96 on 100! Most of the neighborhoods are also highly walkable, so you'd find yourself heading out on foot most of the time.
Upsides
You get to live in one of the most desired cities in the nation. Cambridge has a lot to offer in terms of culture and is a city with a rich character.
Downsides
It can be expensive to reside in Cambridge because of which the city is undergoing a rapid amount of gentrification. There's new businesses and richer folk moving to the city but there's a great deal of evident disparity because of the same.
Quick Facts
Population – 116,632
Median Value Of Home – $768,300
Median Rent – $2,221
3. Springfield
City Overview
Now the city of Springfield is one of the more affordable parts of Massachusetts to reside in. Residents surely love the price tag on homes and the picturesque vibe of the city. As an urban area, it surprisingly isn't home to chain restaurants like you'd easily find in a city like Cambridge or Boston. However, non-chain restaurants and local businesses usually have more of a presence in Springfield. If you like calmer neighborhoods then Springfield could be it.
Like we said, it can all be a little too easy to fall in love with the prices in Springfield but to an extent, it lacks the diversity and variety of stores and restaurants. You may often find yourself driving to bigger cities for entertainment or food options. For some, this is a pro rather than a con.
In terms of healthcare, you'll realize that there's some great facilities within driving distance. The city is also known for being family-friendly as there's quick access to several picnic spots and a good number of amusement parks. High concentration of above-average school systems also contributes to it being a good place to raise a family. If you find yourself desiring to go to Boston from here, your best bet is the bus; there's also a train, but the frequency isn't too great.
Upsides
No other city in Massachusetts can be compared to the affordability of Springfield in exchange for the high standard of living it offers.
Downsides
It could be significantly colder in Springfield in comparison to a city like Boston due to its geographical location. So you're bound to have more snow here than the eastern part of the state. This could be a potential drawback if you're not a fan of bitter winters. Also, the city is less social and more quaint in terms of entertainment.
Quick Facts
Population – 154,139
Median Value Of Home – $156,200
Median Rent – $877
4. New Bedford
City Overview
New Bedford lies in the southernmost portion of the state of Massachusetts. It sits far away from the most desired part of the state in the east, which is Boston. The most rewarding aspect of living in New Bedford is that the pace and lifestyle is much slower. This makes it much easier to form bonds and there's an immense sense of community as well. There's a certain charm about living in New Bedford but in its entirety, it tends to get bottled down to a small-sized coastal town.
Just a perception is formed mainly because the city amenities here are average and not as well-kept as the more progressive parts of Massachusetts that lie close to Boston. But there's most certainly a bunch of pros to living in New Bedford such as easy access to farm to table foods and plenty of green spaces with scenery.
However, it's true that if you're someone that gravitates towards big cities, you may think otherwise. If you're considering New Bedford, we suggest checking out Clifford, Rockdale, Westview Park, and Mount Pleasant as these are some of the best and safest neighborhoods in the city. Overall, it's a good city to live in if you don't prefer living in a crowded city.
Upsides
New Bedford gets plus points for being affordable. The atmosphere is friendly and there's a great number of serene landscapes to explore.
Downsides
It is a major South Coast city but has a rather negative image since not all areas are safe. There are pockets of New Bedford ridden with crime, so you must be careful about choosing the right area.
Quick Facts
Population – 95,347
Median Value Of Home – $226,900
Median Rent – $847
See Also: 10 Most Affordable Places to Live in Massachusetts
5. Lowell
City Overview
The city of Lowell is recognized for how safe it is and for its youthful population. It's home to the University of Massachusetts because of which it does have the vibe of a college town. By this we mean that you'd come across several coffee shops and places with live music.
Also, this goes without saying but expect to see plenty of students. The student population in Lowell can surely bring a lively spirit to the town. On most occasions the communities here also organize small events to boost the social pace. Lowell is also a 30-minute drive away from the Boston metropolitan area, so this allows you to plug into the city for larger opportunities.
Overall, you'd find that Lowell has a huge population but the lifestyle here is such that everyone knows everyone. The people of Lowell play a huge role in making up the character of this city. Forming strong connections with neighbors and the community is given far more importance here, and this is certainly a trait found in smaller cities.
Upsides
Lowell is one of the relatively safer cities of Massachusetts and the city is in possession of a pretty diverse community. There's plenty of authentic and ethnic eateries around. Lastly, as per Massachusetts standards, the cost of living here is extremely low.
Downsides
Infrastructure in the city is not up to mark and could use some improvement. Most of the amenities were built years ago so it's lacking newer developments.
Quick Facts
Population – 111,306
Median Value Of Home – $269,800
Median Rent – $1,158
6. Worcester
City Overview
The city of Worcester is the second-largest city in the whole of New England and a city with great momentum. Should you choose to live here, you'll see yourself part of the growth. There's constantly new stores and businesses opening up. UMass Memorial Healthcare, University of Massachusetts Medical School, and the Hanover Insurance Group are few of the largest employers. There's enough trendy things and the diversity brings a sense of liveliness to the city.
Since the city is pretty spread out, there are also bad sections that should be avoided. Do note that Westborough and Shrewsbury are the two most sought after neighborhoods to live in Worcester County.
In its essence it's a city that's residential, rarely too crowded, and is filled with tons of green spaces. Gheluvelt and Spetchley Park are two of the most serene parks of the city.
Upsides
Endless choices for schools which makes it a good city to consider if you have kids or wish to raise a family. Worcester is also conveniently located from cities like Providence in Rhode Island and Hartford in Connecticut.
Downsides
The city isn't terribly safe, there's pockets that are run down such as Chandler Hill, Great Brook Valley, Vernon Hill, and Rice Square.
Quick Facts
Population – 185,143
Median Value Of Home – $227,100
Median Rent – $1,095
Who Is Massachusetts Ideal For?
Massachusetts is the most desirable place to live among the other states in the New England region of the US. If you're personally drawn to a culture-packed zone, then Massachusetts could be a great place to consider.
You may miss the sun often in this state but then again the winters turn the place into a winter wonderland. If you're not a fan of bitter colds, you may find it slightly difficult to adjust to the winters.
All in all, it depends on your individual taste and circumstances. But a few things to remember is that it can be expensive to live here and the cost of living is high. But then again, salaries are also way above the national average so it allows you to earn more as well.
---
Final Thoughts
Most of the cities in Massachusetts have a high concentration of remarkable school systems and renowned institutions for higher education. Both education and healthcare are the two booming industries making great strides and increasing the reputation of the state.
You should also be aware that western Massachusetts is predominantly emptier than the east of the state. The cities in the west are quieter while the ones in the east boast of a fast-paced lifestyle.
So, we recommend picking a side that matches the pace of living you enjoy. Also, note that the cities surrounding the Boston area are also going to be more expensive than the rest. If you'd like more information about living in the state of Massachusetts, we've covered it all in details in the article – Moving To Massachusetts | 2021 Cost of Living and Relocation Tips.

FAQs
What are the top 3 largest cities in Massachusetts?
Boston, Cambridge, and Springfield are the largest cities in Massachusetts.
What are the best cities to live in Massachusetts?
Boston, Northampton, Brookline, and Newton are some of the most desirable cities to live in Massachusetts.
What are the most expensive cities to reside in Massachusetts?
Wellesley, Weston, and Dover are some of the most expensive cities to call home in Massachusetts. All these 3 cities lie in close proximity to each other.
What is the nicest town in Massachusetts?
Waltham is one of the nicest towns in Massachusetts with several parks, museums, theaters along with an active entertaining nightlife. Lexington, Leverett, and Cambridge are some of the other best towns in Massachusetts.
What is the smallest town in MA?
Gosnold is one of the smallest towns in Massachusetts. It is located in Dukes County and has a population of just about 49.
What city has the lowest population in Massachusetts?
With a population of around 49 people, Gosnold in Dukes County is the city with the lowest population in Massachusetts.
What is the most dangerous city in Massachusetts?
Springfield is one of the most dangerous cities in Massachusetts. It has a violent crime rate of 9.14 and a property crime rate of 26.50 per 1,000 residents. Both are higher than the national average of 4 and 21 respectively.
What's the worst place to live in Massachusetts?
Brockton is the worst place to live in Massachusetts because of its bad economy and high crime rate. Just so you know, it has an unemployment rate of almost 8.35%.
What is the safest city in Massachusetts?
Franklin in Norfolk County is the safest city in Massachusetts. It has a violent crime rate of 0.06 and a property crime rate of only 1.85 per 1,000 residents. Both are way too lower than the national average of 4 and 21, making it the safest place to live in the state.
What is the richest town in Massachusetts?
Wellesley is one of the richest towns in Massachusetts with an average household income of almost $227,508.
What is the cheapest city to live in Massachusetts?
Adams is one of the cheapest cities to live in Massachusetts where your median house cost will be around $175,389 which is lower than the national median of $281,370.
What is the most expensive town to live in Massachusetts?
Weston in Middlesex County is the most expensive town to live in Massachusetts. The median home value here is $494,297, which is higher than the national average of $281,370.
Which is bigger NH or MA?
In terms of area, North Hampshire has an area of almost 23,227 sq. km., which is bigger than Massachusetts' total area of around 20,306 sq. km.
Is Worcester bigger than Boston?
In terms of population, Boston has a population of around 695,506 people whereas Worcester has around 185,174 people. So population-wise, Boston is bigger than Worcester.
See also: Moving to Massachusetts | Reasons to Move to New England | Top Moving Companies in Massachusetts