Kentucky DMV Change of Address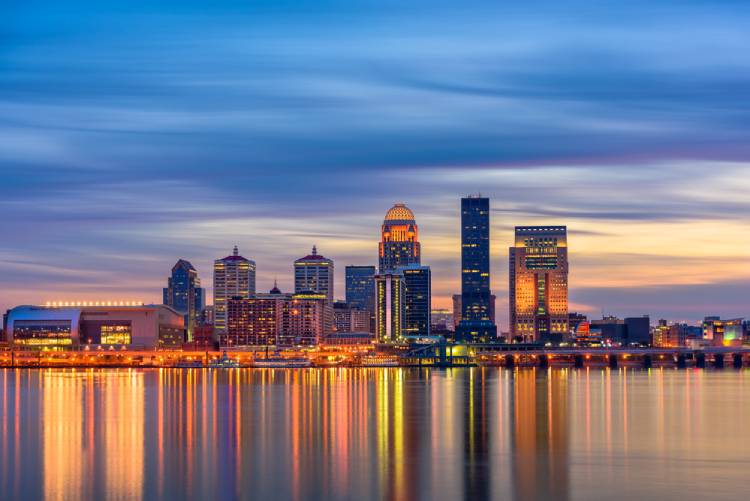 Chicago, Nashville, Cincinnati, Indianapolis and Atlanta – these are just a few of the great cities you can drive to when you move to Kentucky. Reaching such iconic cities and some other cool towns would take you roughly 3-4 hours by car, which is why the location could arguably be the best thing about shifting to the Bluegrass State of Kentucky. Of course, there's also the stunning city parks, bluegrass music and fine bourbon which is the fabric of the lifestyle here that's easy to fall in love with.
So, if you're moving to Kentucky with your car, don't forget the administrative bits that you'll need to involve yourself in. In this blog we'll explain it all so that you're positive about getting your license and registration done successfully.
Read on to learn more about Kentucky DMV change of address and how to go about it.
Who Should You Get In Touch With For A DMV Change Of Address In Kentucky?
To change your address on your driver's license you have to visit the Circuit Court Clerk's office in Kentucky. You would have to get in line with the others who also visit the same office as there is no online protocol to follow. Some states do love an online procedure, however in Kentucky, you would need to drive down to any of the Circuit Court Clerk's branches. There is a driver's license branch in Bowman Field, Dixie Highway, Downtown, Middletown, Outer Loop and West Louisville.
Do note that any individual moving into Kentucky has a period of 30 days to get themselves a Kentucky driving license. To get your license, you'll have to show proof of citizenship and residency, we shall go over that in detail as well.
Any failure to notify the DMV about the change of address for your license and vehicle registration will lead to severe penalties and surcharges being imposed on you. We'd highly recommend that this be one of the top priority things to take care of post your move to the state.
Why To Update Your Kentucky DMV Change Of Address?
To be frank, it is mainly a way of alerting the state of your new address so that any parking ticket or fine directed at you reaches your new home address. If you don't update it, all the mails and requests the DMV wishes to convey or update you about would simply be travelling to your old home address. It's best to prevent any of your mail from reaching someone else's door. Your driver's license is also a way of identifying your identity in the state and if it has an outdated address, it simply defeats the purpose.
Getting A Kentucky Driving License When Moving From Another State
If you have just moved into Kentucky and wish to renew your driver's license you would first need to find the closest Circuit Court Clerk's office in the vicinity. Like we've mentioned earlier there are 6 driver's license branches so be sure to make an appointment since there could be a long queue. Choose the branch most convenient to you for your out-of-state license to be updated.
The next thing you need to organize before reaching the office is your documents. Any administrative work always requires paperwork, so here is the list of documents you need to have with you. Having these documents handy will make things easier at the office.
The various documentation and information needed for applying a new driver's license are:
For the verification process, you must provide the office the following documents:
A document that proves you are a United States citizen. You could either submit your Passport or Birth Certificate issued by any U.S State.
Proof of residency by submitting a lease or mortgage document, W-2 form, Utility Bills or an Insurance Policy.
Your valid out-of-state license must be returned. Note: Take a photocopy of the license before letting it go.
Share your nine digit social security number with the office and carry the original card with you as well.
For the verification process, make sure your name is written in the same way on all your documents. If you have two last names and/or two first names, it should all be in sync with the other documents. Also, make sure the records on your documents are up-to-date before presenting them. It would be your responsibility to correct errors that have crept in your documentation in advance. Marriage certificates and divorce decrees are additional documents you should carry in case required.
Please Note – You have to carry your original documents. Photocopies are not accepted by the office.
Procession Fees – You can choose to get yourself two types of commercial driving license and the price would vary depending on the tenure you select.
For the 4 year commercial driving license you would be charged $21.50.
For the 8 year commercial driving license you would be charged $43.
We'd also like to mention that the cost of CDL would vary depending on the type of license you select. For example, if you wish to get a 'Real ID' license for 8 years, the cost for your license would amount to $48. You have the liberty to choose the type of license you wish to have at this time. We'd recommend having a word with the licensing office employee at the desk about the various options available.
Do note that if your out-of-state license has expired, you would require to take a written test and eye exam at Bowman Field Driver's License Branch. If your license is valid, you don't have to pass any test.
Registering Your Vehicle To Kentucky
When you're new to Kentucky, remember that there are two procedures to complete the registration of your vehicle to the state of Kentucky.
Transfer the title by submitting the application for Kentucky certificate of title or registration (Also known as form TC 96-182).
Renew your vehicle registration at the County Clerk Office.
The transfer of title and registration of your vehicle must be completed 15 days post your arrival in the state of Kentucky.
Here is a list of all the documents you need to carry and information you need to get your vehicle registered.
Photo ID.
Proof of Kentucky Insurance. (Note: The date by which the Insurance Card becomes effective must be within 45 days post presenting the document)
Completed TC 96-182 form and signed over title.
Proof of taxes paid in the previous state you resided in.
Your Social Security Number.
Since an inspection is done for all vehicles that come into Kentucky from another state, ensure you have your vehicle along with you for the Sheriff's inspection.
Processing Fees – There are a bunch of fees involved in the registration process. Such as the following:
Title fee – $9
Inspection fee – $5
Plate fee – $21
Yearly car registration fee – $25
Few things that you must keep in mind for the registration process is that it's necessary to be insured with a company that is registered with the Kentucky Department of Insurance if you want to renew your registration online. Before cancelling the insurance policy, you would need to turn in your license plate to the County Clerk's office.
Getting A Kentucky Driving License When Moving Within Kentucky
If you have changed your place of residence within the state itself, you would need to notify the County Clerk's office by visiting any of the 6 branches near you. You are required to provide the office with proof of your new residential address.
And it's absolutely necessary that you complete this process within 10 days of your move. The office would charge you $12 for renewing your license so that it reflects your new home address.
Please note, you cannot send this request to the office via mail, like it happens in most other states. But in Kentucky, you have to be there to pay the fee and display your new address. You can provide residential proof by showing a lease agreement, property tax receipt or utility bill.
Things To Keep In Mind When Moving Out Of Kentucky
While moving out of the state of Kentucky, you have nothing to do with the County Clerk Office. You can keep your Kentucky driver's license, vehicle registration and license plates with you. But after you have settled into your new residence, you would need to check with the DMV regarding the requirements to change the address on your license and renew your vehicle registration.
You can probably dedicate most of your time to packing and preparing for the move instead. Such as researching the new area and finalizing the quotes with movers. You also need to notify tax agencies, the post office, internet and other utility companies about your move. We'd recommend making a checklist of all the paperwork in store for you when you move houses, so you can tackle them one at a time.
---
Conclusion
We know visiting offices and completing paperwork is not the most fun part about the move. However, we hope that our blog helps you get your binder ready with all the required documents so that at least you have your moving affairs and budget in order.