Indiana DMV Change of Address


VanLines Inc
Secure Storage
Easy Booking Process
Fully Trained Employees
GET A QUOTE

Colonial Van Lines
Storage Services
Long-Distance Moves
Corporate Relocations
GET A QUOTE

Moving APT
Available Nationwide
Award-Winning Movers
Extensive Vetting Process
GET A QUOTE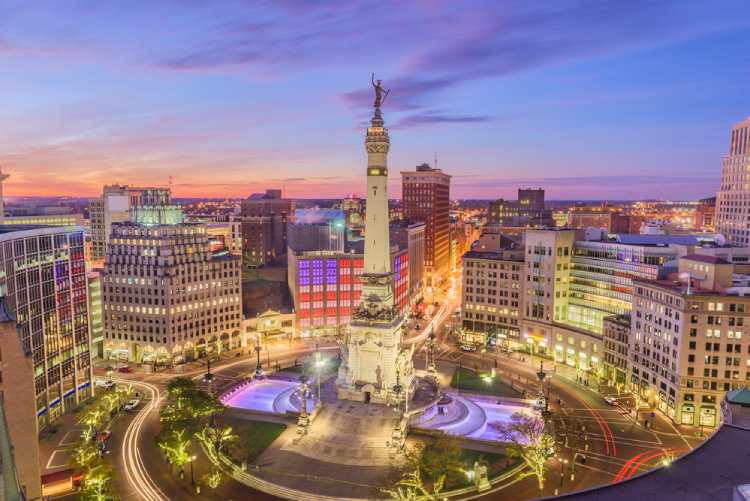 Welcome to Indiana! A state popularly recognized by its nickname 'Crossroads of America'. Wondering how it got this name? Well, it's mainly because several major interstate highways conveniently cross paths in Indiana. And if you're new to the state, it could take you a good amount of time to get familiar with all the intersections.
However, before you take out your car to study these junctions, you would first need to drive to a nearby Indiana BMV (Bureau of Motor Vehicles) office. We shall go over the possible paperwork streaming your way so that you can successfully notify the BMV about your move here. Best to get the boring formalities out of the way soon as possible, isn't it?
Read on to learn more about Indiana DMV change of address and how to go about it.
Who Should You Get In Touch With For A DMV Change Of Address In Indiana?
You would need to get in touch with the Indiana Bureau of Motor Vehicles (BMV) to change the address on your driver's license, once you establish residency in Indiana. The good news is that you don't have to rush yourself, since you would have 60 days to notify the BMV. Most states have a 30 day requirement, so you basically get double the time!
On another note, we'd like to highlight that Indiana requires all new residents to apply and obtain a 'Real ID'. A real ID is identified by the golden star on the upper right corner of the driver's license, permit or state identification card. If you have a real ID, you can present it at the airport while boarding your flight. Starting October 01st 2021, it is mandatory for all residents to have a Real ID instead of the Indiana state ID to board commercial flights. The real ID is a compulsion for those who are already residing in the state, as well as for all new residents.
What is the purpose of the Real ID? The main goal is to make documents of identification more secure in the United States. In order to get a Real ID, residents of the country have to present various documents like passport, residency and citizenship proof for verification. The entire process ultimately leads to a thorough inspection procedure to keep the identity of U.S citizens more secure.
Why To Update Your Indiana DMV Change Of Address?
It is necessary to notify the Indiana BMV about your new residential address, so that they have the right address registered with them in their database. This also ensures that all mail correspondence or notices that are sent out by the BMV reaches you and doesn't travel to the wrong person. On the other hand, your driver's license is also your form of personal identification that needs to remain up-to-date to serve its purpose of qualifying as identity proof. Lastly, if you fail to notify the BMV, you run a risk of paying a hefty fine, or in extreme circumstances, you could be a victim of identity theft.
Getting An Indiana Driving License When Moving From Another State
All BMV branches in Indiana are open for walk-in service and unfortunately, you can't really make an online appointment. However, the key to finishing your paperwork is carrying all the right documents with you, so that you're not running back and forth from your home. Most newcomers visit the office with half the documents. However, we're here to help you avoid making a second visit. To find the right office operating closest to your home, we suggest checking the branch map by using the filter tool to separate BMV branches by county, city and zip code.
And like we said earlier, when you apply for an Indiana driver's license, you would need to carry a bunch of documents to the office in-person. So, below is the list of documents.
The various documentation and information needed for applying a new driver's license are:
1. A proof of citizenship identification by presenting:
An unexpired U.S passport
A U.S passport card
An original birth certificate
Certified copy of your birth certificate
2. Two proofs of Indiana residency by presenting any of these issued within 60 days:
A U.S. Postal Service change of address confirmation
Utility bill
Credit card bill
Doctor or hospital bill
3. Proof of social security by presenting:
Social security card
W-2 form
4. Carry your current out-of-state driver's license to surrender it to the BMV
If your current name does not appear on a few of the documents you're presenting, you don't have to worry about it. You would just need to carry additional documents like a marriage certificate, divorce decree, adoption decree or court sanctioned orders that serve the purpose of explaining why you got the name change.
Do note that you cannot carry an e-copy or photocopies of documents, but it is absolutely necessary to bring along the hard copies of the documents listed above. If your driver's license has expired while moving to Indiana, you would need to take a knowledge test at the DMV. But if you submit an up-to-date license, all you have to pass is a vision screening test.
Once you have presented the documents, the staff member at the BMV who needs time to verify your documents would provide you with an interim license. This license is valid for 30 days and gives you the chance to drive your car until the BMV mails you your new license. You can expect your new license to arrive within 14 days. Or else you can contact the BMV branch in person or by phone on the number 888-692-6841.
Processing fees – The fee for a non-commercial driver's license is $17.50. However, fees could vary depending on the license type and number of duplicates requested. Your license would be valid for 6 years.
See also: Moving to Indiana – Relocation Guide
Registering Your Vehicle To Indiana
If you've established residency in the state and got your out-of-state vehicle along with you, it is necessary to get the car registered at the BMV. This allows you to legally drive the car in the state and avoid any penalties. As a new resident, you would have 60 days to apply for a certificate of title and register your car to the state of Indiana. Once again, there is no online process and you would need to visit the BMV in person with your car.
Here is a list of all the documents you need to carry and information you need to get your vehicle registered.
A Certificate of title that provides evidence of ownership.
All the physical vehicle inspection details against the VIN (Vehicle identification number).
Proof of Indiana residency by presenting U.S. Postal Service change of address confirmation/Utility bill/Lease contract/residence mortgage.
Proof of Social Security Number by showing the card itself or the W-2 form.
Processing fees – To register a passenger motor vehicle, it would cost you $21.35. However, charges may vary depending on the build of your vehicle.
Getting An Indiana Driving License When Moving Within Indiana
If you have recently moved within the state of Indiana itself, you would have 30 days to notify the BMV with your new mailing address. You can't make use of the online services to update your address and would need to visit the BMV along with proof of residence and identification.
You can present proof of Indiana residency by submitting documentation such as your lease, bank statements, utility bills or similar documents. There is no fee to inform the DMV to update your mailing address in their database. However, if you wish to receive new documentation, it would cost you $9. Do note that even though you may go with the intention of changing your address on your license, you may be asked to upgrade to a Real ID that is mandatory for all residents in the state of Indiana.
Things To Keep In Mind When Moving Out Of Indiana
When you move out of the state of Indiana, you are not required to notify the BMV about your life altering decision. You would need to begin research about the processes followed for a new driver's license, registration, vehicle title and license plates in the prospective state you will reside in. After establishing residency, most states give individuals 30-60 days to finish these administrative procedures, but it entirely depends on the state you're moving to. Keep in mind that rules and regulations vary from state to state. Hence, we recommend that you begin research about your new state before moving out of Indiana.
You can refer to similar guides on our website for information on other states as well.
Also See: Best Moving Companies In Indiana | 7 Most Affordable Places to Live in Indiana
---
Conclusion
New residents of Indiana get to enjoy the fact that getting their vehicles registered and address changed is not as time sensitive as it is in other states. And although it might seem like there's a lot of paperwork coming your way, remember one thing – with a little bit of effort and preparation, you can always have a fruitful day with completing these procedures.