Illinois DMV Change of Address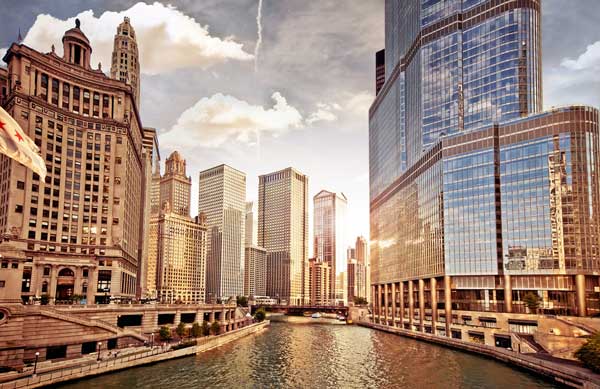 The beauty of our country is that there's so much diversity. So regardless of whether you prefer thrill under your wheels or bliss accompanying your drive, there's always a state waiting to embrace your desires. But if you're someone who loves the sight of vast open fields of corn, setting the backdrop for a blissful drive, Illinois would surely get the engines of your heart running. Don't forget to get your Illinois DMV change of address done before you move though. Keep these things in mind and you'll be all set.
Who Should You Get In Touch With For A DMV Change Of Address In Illinois?
To begin with, know that the Illinois Department of Driver Services will be the branch you'll be dealing with most of the time. This branch of the state government deals with things related to address change, Illinois Driver License and several other services.
One thing you certainly won't have to do is worry about not having enough time to get everything done. Unless of course, bad luck knocks on your door and creates so many obstacles that 90 days couldn't suffice getting your Illinois DMV change of address done.
Why To Update The Illinois DMV Change Of Address?
You might have a valid driver license, but the law requires it to be updated with the details of your new place of residence, based in the new state you have moved to. Till the time that you don't update your address change and driver license to the new state, it can't be considered valid. You can even get in trouble with the law, which is why we always insist on getting this taken care of as soon as possible.
Getting A New Illinois Driver License When Moving From Another State
Let's start with the good news. You get as much as 90 days to get an Illinois Driver License. Not every state in the US is as fortunate, so you better make the time count. Okay now for the not so good news, the only way to get an Illinois driver license is by physically visiting an office of the Department of Driver Services. Both online application and making an appointment are not options for you here.
Although, there are some criterias you must meet for the Illinois DMV to feel like you can be trusted with a driver license to their state. These criterias include having a clean and lawful track record. What this means is, you shouldn't have any outstandings or past records of your license getting revoked and other similar stuff. In any of those scenarios, there is definitely a possibility that you will be denied an Illinois driver license.
Luckily, you're not obligated to give any kind of driving test to get an Illinois driver license. There will only be a state mandated vision test which you can't avoid. However, if you don't hold a valid driver license, just a vision test won't suffice. Depending on your individual situation, you might be required to present some other documents apart from these. For information on that, you can visit the Illinois Department of Driver Services website.
See also: Moving to Chicago, IL
Documents Needed For Illinois Driver License:
1. Existing Driver License from previous state
2. Date Of Birth Proof
(US Passport, Birth Certificate, Certificate of Naturalization, US Adoption Papers, Certificate of Citizenship)
3. Residence Proof
(Property Deed/Title, Rent/Lease Agreement, Mortgage Bill, Utility Bill, Current Bank Statement or Pay Stub from Illinois Address)
4. Social Security Number Proof
(Social Security Administration Card, W-2 Form, SSA – 1099 Form, Non-SSA – 1099 Form)
5. Written Signature Proof
(Signed Credit Card or Debit Card, US passport or US military ID card)
The fee you will be charged for this service would be $30. However, this could vary depending on the nature of the driver license you're applying for.
Registering Your Vehicle To Illinois
One thing we can give credit to Illinois for is their consistency. Which means once again, you only have the option of getting your vehicle registered to Illinois by visiting the office of the Department of Driver Services. While it's not even half as much as what you get for your driver license, Illinois only provides 30 days for people to register their out-of-state vehicles. But if you plan well and keep the engine running though, 30 days should be enough.
One way you could reduce a bit of your time at the office of the DDV is by downloading and printing the form beforehand. If you can do that and fill it up before dropping down there in person, you can cut short the waiting duration by a lot. Apart from that, it's also advisable to drive your vehicle to their office for any kind of checks they might want to conduct.
Do carry the details of your Vehicle Identification Number. You will be required to provide a full description of your vehicle, including information like the type of vehicle, model number, year it was bought, etc. To register your vehicle, you will be charged $101 + additional fees for any other services. For those with a motorcycle, the cost would be $41.
Documents Needed To Register Your Vehicle To Illinois:
1. Manufacturer's Certificate of Origin (MCO)
2. Title and Registration Document from previous state
(Valid car insurance under your name can also be a document that can work.)
3. Proof of Identification
(Can be your US Passport, Birth Certificate, Naturalization Certificate, Citizenship Certificate, Retired/Active Duty US Military Photo ID Card, US Adoption Papers or US Certificate of Birth Abroad)
4. Proof of Residence
(Could be anything like your Mortgage Bill, Lease/Rent Agreement or Updated Bank Account Statement)
5. In case of a leased vehicle, the Power Of Attorney from the company that has leased you the vehicle
6. Odometer Reading
(This is where it would make sense to drive your car to the office. In most cases, just clicking a picture of it works too. But still it's better to just take your vehicle anyway.)
Getting An Illinois DMV Change Of Address Done When Moving Within The State
There sure are many benefits of living in Illinois. In this case particularly, the option to get an Illinois DMV change of address done online is definitely a great advantage. Sure, you could still physically drop down to an office of the Illinois Department of Driver Services. But then again, if you wish to sit in the comfort of your home and visit their official website, you will definitely find an application form and a really convenient way to get the task done.
Once again, the fee remains the same, regardless of whether you're moving to Illinois from another state or moving within Illinois. You pay $30 for getting your address updated on your standard driving license. Do keep in mind that if you're below 18 or a Senior Citizen, the fee would be reduced. Moreover, the advantage of living in Illinois also extends to updating the address on your vehicle's Title, as you can also do that online through the IL DVS website.
Details Needed For A DMV Change Of Address Online
Name
Date of Birth
Social Security Number
Existing Valid Driver License Number
Details Needed For Updating Vehicle Registration:
Beyond the ones mentioned above, you will also need to share your License Plate Number and the Expiration Date of your Title and Registration. And your Vehicle Identification Number will also be required. The amount of time you get to take care of this doesn't change, with a maximum of 30 days given by the Illinois DMV. You will only have to pay a pretty nominal $3 fee for updating the new address on your vehicle's title.
Things To Keep In Mind When Moving Out Of Illinois
Fortunately, there's no obligation for you to get in touch with the Illinois Department of Driver Services or any other branch, when you're moving out of the state. This applies even if you're moving to another state with your vehicle registered to Illinois. Soon after you update your vehicle to the new state you move to, your vehicle Title gets updated after going through the procedures of the new state's DMV and your Illinois Driver License gets scrapped. You don't even have to worry about returning your Illinois License Plates.
Conclusion
Sure, there are advantages of living in the home turf, as you get more days to update your Illinois DMV change of address, or even get an updated Driver License. But you will still have more than enough time even if you're moving to Illinois from another state. Just plan everything well and don't take this duration of 90 days for granted, because there could be fines and late fees incurred if you miss your deadline.
Related: Largest Cities in Illinois | Most Affordable Places to Live in Illinois